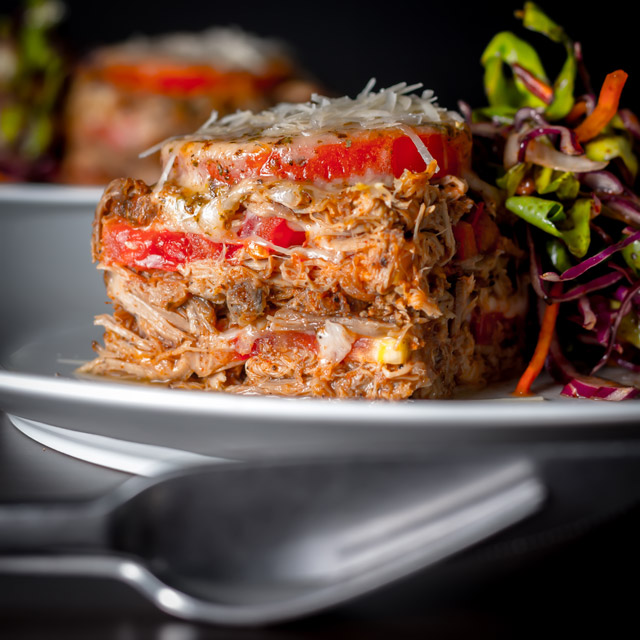 I have recently discovered the wonders of pulled pork but one of the reasons I was so reticent to try it was the amount that most recipes seem to produce, my slow cooker recipe calls for 2kg of pork shoulder and lets face it that is lot of protein for just two people! So I was determined to make sure I worked and planned a few recipes that enabled me to enjoy the pulled pork but not have to eat the same meal day after day. The first thing to note is that pulled pork freezes wonderfully and I budget on around 150-175g of pulled pork a person and freeze up in batches for two and this uses one of those leftover batches. The flavours in this are almost synonymous with a pizza Margherita, cheese, tomato and oregano and they are a perfect match for my paprika rich pulled pork!
This simple dish is a great fall back and is exactly how I used it, you may recall a couple of weeks ago I mentioned we had friends coming to visit and let's just say that their visits are usually an all out beer fest. This time was naturally no different, considering they were only here for 5 days (including one night in Budapest) we managed to consume a vast quantity of beer and to be honest cooking was absolutely the last thing I wanted to do. I needed to recover from a week of abuse and sleep deprivation, yet eating out really was not an appealing option, Hungarian food is big hearty and really very heavy. Occasionally great but not required at the moment, this dish really was perfect, really simple to pull together, hearty enough to fill the gap but surprisingly light. I'll just take a few days of relaxing and recovering and I will be back to fighting form in no time, until the next visit of course 😉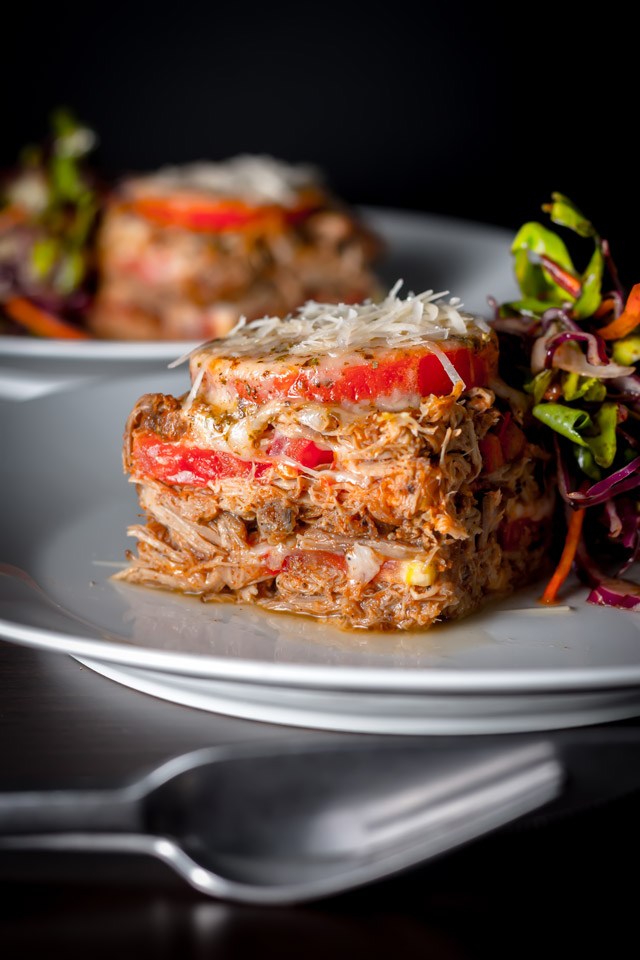 Print
Baked Pulled Pork Stack
Pulled Pork is not just for sandwiches, these tomato and mozzarella cheese stacks are a perfect way to use up left over pulled pork!
Ingredients
350

g

Left Over pulled pork.

Click on the highlighted text for my recipe.

150

g

Mozzarella Cheese:

Sliced into 5mm slices.

50

g

Parmesan Cheese.

Finely Grated.

1

Tsp

Dried Oregano.

2

Large Tomatoes.

Roughly 300g sliced in to 5mm slices.
Instructions
You will need a couple of moulds to form these stacks but any thing you have is good whether they be cookie cutters or something similar, failing that you can always layer this up in a bowl.

Preheat your over to 180°C.

Begin building you stack, start with a layer of pulled pork, followed by some mozzarella slices and some tomato slices to fill the mould, then sprinkle on a little Parmesan cheese and a pinch of oregano.

Add a second layer of pulled pork and compress a little, follow with a another layer of mozzarella, tomato, Parmesan cheese and oregano.

Again add a layer of pulled pork and compress, continue with this process until the mould is full.

Finally finish with a layer of tomato topped with mozzarella cheese, Parmesan and oregano.

Place in the oven and bake for 20 minutes.

Sprinkle with a little more Parmesan cheese before serving.
Recipe Notes
I serve this with a simple leaf salad and it makes a great light meal.