My Balsamic Pumpkin Lasagne evolved from an experimental pumpkin and sage dish, but the cheese sauce and pasta are perfect foils for the earthy pumpkin.
I've taken a break from posting pumpkin recipes for a couple of weeks but I'm back using up our glut with this incredibly delicious balsamic vinegar pumpkin lasagne recipe… I'd been playing around with pumpkin and balsamic for a little while and then added a cheese sauce and my mind immediately ran towards a pumpkin lasagne.
It took a little while to get the right balance but I am so happy I persisted as both myself and my wife love this dish. It is deliberately a little lighter than a my traditional Lasagne with the cheese laden white sauce being deliberately oozy and soft rather than being as structural as it was in my previous recipe.
Using either fresh lasgane sheets or home made pasta lasagne sheets (as I used as our ducks kindly gave us some eggs this week) means I can get away with not having to cook this as long and can also get a reasonable portion size for two rather than an overly large meal which I often find a problem with lasagne.
This is layered up in a couple of moulds and then just run through a hot oven for 20 minutes and job done, 2 perfect portions of balsamic pumpkin lasagne. It also helps avoid the inevitable slop that lasagne has the tendency to become, I have yet to perfect being able to remove a baked lasagne from a dish without it looking like something being dragged up from a lagoon, I know it always tastes great but often it looks a mess.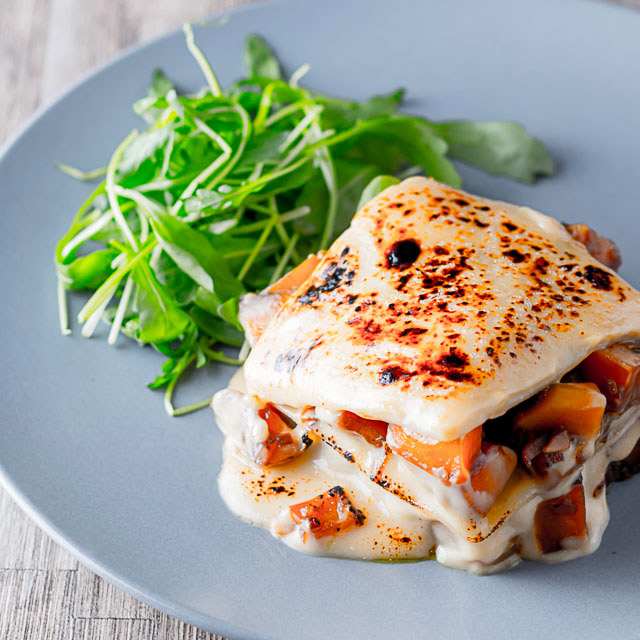 I'm so glad I stuck to my guns and figured out that I do like pumpkin, regular readers will know that I have more than a few really diverse pumpkin recipes here on my site and to date not one of them is pumpkin soup! My little project for this winter is sweet potato, another vegetable that I have not cooked with much but am determined to work with it and see whether or not it warrants a coveted spot in our vegetable plots next year!
This post is coming to you from a rather swanky and very comfortable hotel room in Budapest as we are away this weekend on our annual drinking beer, eating junk food and doing our Christmas shopping retreat and I am typing this last section with a teensie tiny hangover.
I suspect it will get much greater when the remainder of the alcohol leaves my system. We have had a great time and I have a couple of posts heading your way from around the city over the next couple of weeks, but for now I will leave you with my pumpkin lasagne recipe to play with whilst I go and freshen up for more wifey enforced shopping.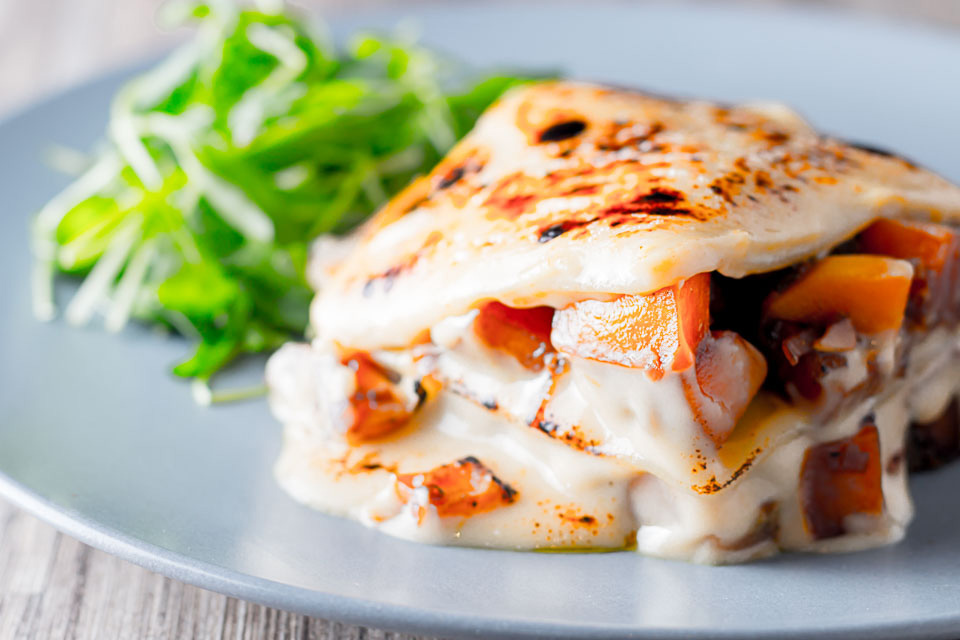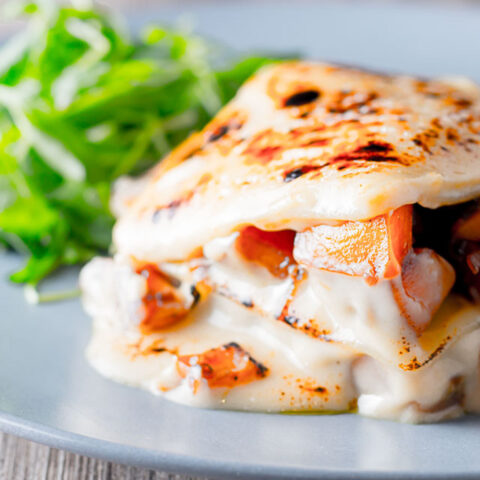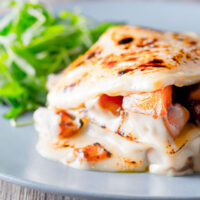 Balsamic Pumpkin Lasagne
Total Time:
1 hour
10 minutes
My Balsamic Pumpkin Lasagne evolved from an experimental pumpkin and sage dish, but the cheese sauce and pasta are perfect foils for the earthy pumpkin.
Ingredients
300 ml Milk
35 g Onion
2 Bay Leafs
6 Black Peppercorns
35 g Onion, Finely Diced
2 Cloves Garlic, Finely Sliced
25 g Butter
350 g Pumpkin, Chopped into a 1cm dice, peeled weight
4 Sage Leaves, Finely Sliced
1/4 Tsp Coarse Sea Salt
2 Tbsp Balsamic Vinegar
30 g Butter
30 g Plain Flour
100 g Sharp Cheddar Cheese
Fresh Pasta Sheets
Salt and Pepper, To taste
Instructions
Preheat your oven to 180°C
Heat the milk in a pan with the bay leafs, pepper corns and half of the onion, the idea is not to boil the milk but to bring it to a simmer and allow the flavours to mingle with the milk.
Melt 25g of butter over a medium heat and cook the onions until translucent, about 5 minutes.
Add the garlic and cook for a further minute.
Increase the heat under the pan to high and add in the pumpkin and sage then cook for 5 minutes until the pumpkin begins to colour slightly at the edges.
Add the salt and a good grind of black pepper then the balsamic vinegar and allow to reduce until almost dry.
Whilst the Pumpkin is cooking make your cheese sauce by heating 30g of butter over a medium heat and when melted but not coloured add in the flour and cook whilst mixing constantly.
Add the warm milk a little at a time until all of the milk is mixed in and a smooth sauce is created.
Add in the cheddar cheese to the white sauce and mix constantly until it is all melted, check for seasoning and set aside.
If using moulds cut out the pasta sheets to fit in the mould and layer up your dish begining with Pumpkin, then cheese sauce, then pasta and repeat until you have three layers and finish with a layer of cheese sauce.
Then bake in the oven for 20 minutes.
If you are using a dish the process is identical however you will need to cook for 5 or so minutes longer as the heat will need more time to penetrate the dish.
Nutrition Information:
Yield:

1
Amount Per Serving:
Calories:

1428
Total Fat:

87g
Saturated Fat:

52g
Trans Fat:

3g
Unsaturated Fat:

26g
Cholesterol:

288mg
Sodium:

2062mg
Carbohydrates:

116g
Fiber:

9g
Sugar:

16g
Protein:

51g
Calorific details are provided by a third-party application and are to be used as indicative figures only.