Krumpli at the movies… Watch the video and if you like it share it 😀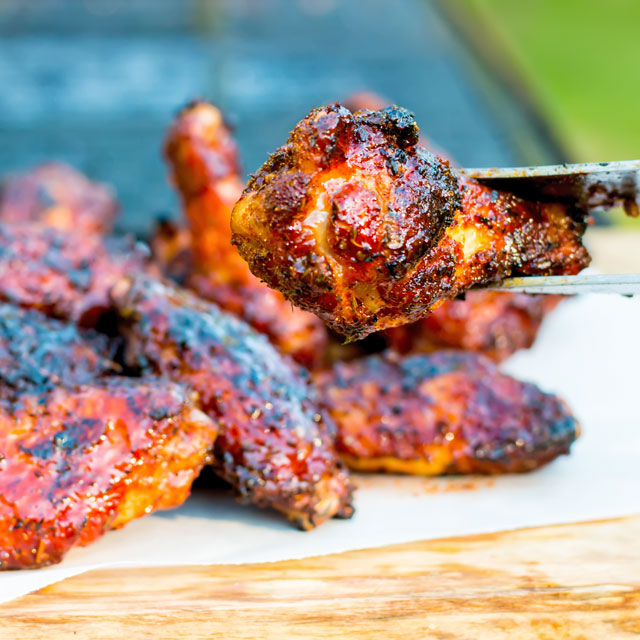 These glorious BBQ Sriracha Glazed Wings are my latest recipe from the grill and bizarrely enough it has been a fairly long time since the last one, both life and the weather got all sort of busy since I posted my Duck Kebab recipe. One of the reasons that this recipe took so long to get out was the transformation of our sleepy idyll into a full on noisy 'metropolis', seriously we can go weeks without seeing or hearing anything in our garden, yet for the last few week we have had everything from weed whackers to crop sprayers, hay bailers to concrete pourers all turn up ever time I click record on my camera. Not to mention the fact that our typical glorious summers days with unbroken clouds, turned into a maelstrom every time I was ready to call 'action'… I really don't do that by the way, or do I, you'll never know 😉 It is important to note that this only ever happened once the coals were hot, not before or after just when I was ready to rock and roll.
Anyway I digress we were talking about these sriracha glazed wings, the two stage process that I favour in a lot of my BBQ recipes really works so well to my mind, allowing the dried herbs and spices to do their thing before the glaze gives you that lovely almost chewy finish to the soft meat beneath and of course the slightly bitter finish to the crispy edges. Ok now I want to do these again, but as I am typing this I am just about to head out to a thermal spa, it's a hard life, but it is work I have a new picnic recipe I am working on and of course it needs to be tried 'on location' just to make sure it works on the road.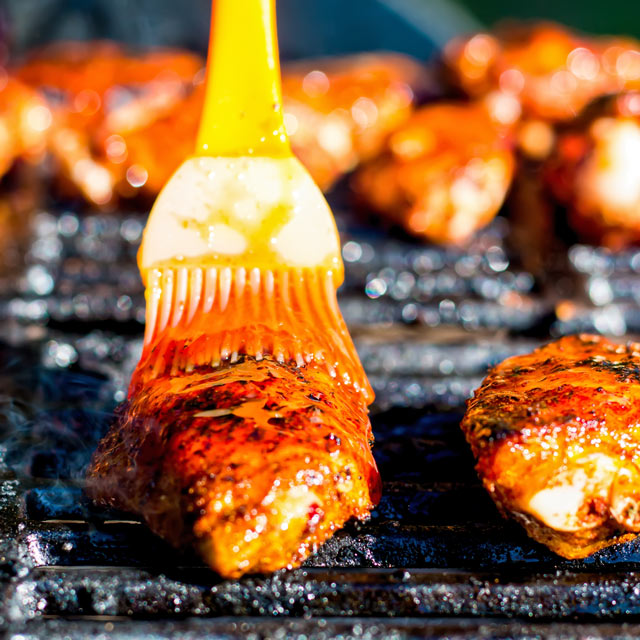 Print
BBQ Sriracha Glazed Wings
These Sriracha Glazed Wings are marinaded in a dry rub before being grilled on the BBQ in a sticky spicy sweet sauce to send them over the edge.
Total Time
2
hours
15
minutes
Ingredients
1.2

kg

Chicken Wings.

Separated into winglets, drumettes and tips. Don't throw away the tips save them and use them to make stock they freeze perfectly.

1

Tbsp

Sweet Paprika.

1/2

Tbsp

Spicy Paprika.

1/2

Tbsp

Garlic Powder.

1/2

Tbsp

Dried Oregano.

1/2

Tbsp

Coarse Sea Salt.

1/2

Tbsp

Dried Thyme.

1/2

Tbsp

Black Pepper.

100

ml

Honey.

50ml

ml

Sriracha Sauce.
Instructions
Prepare your drumsticks by cutting into drumettes and winglets.

Add both types of parpika, garlic powder, oregano, thyme and salt to the wings mix to coat and set aside for a couple of hours, overnight is better.

When ready fire up your grill creating both direct and indirect heat sections, when you do this remove the wings from the fridge to allow them to come up to room temperature.

Whilst the coals are heating it is an ideal time to make the glaze by mixing the sriracha sauce and honey in a saucepan being careful not to burn.

When your wings are hot, get a nice colour on the drumettes first using the direct heat section they take a little longer to cook than winglets. The timing of this will depend on your temperatures so be vigilant.

When all of the drumettes are done repeat the process with the winglets.

When both are coloured up paint on the glaze to both and close the lid and allow to cook for 15-20 minutes.

Then flip over the wings and again paint on the remaining glaze and close the lid again and cook for a further 15-20 minutes.
Recipe Notes
Cooking an a BBQ is very much about feel and being observant as temperatures can very so much, so keep your eyes on things if you are getting too much colour too quickly then close off your vents and reduce the temps a little.