Beef in oyster sauce is an ever-green Chinese takeaway favourite my version adds lots of onions & goes from fridge to table in 15 minutes!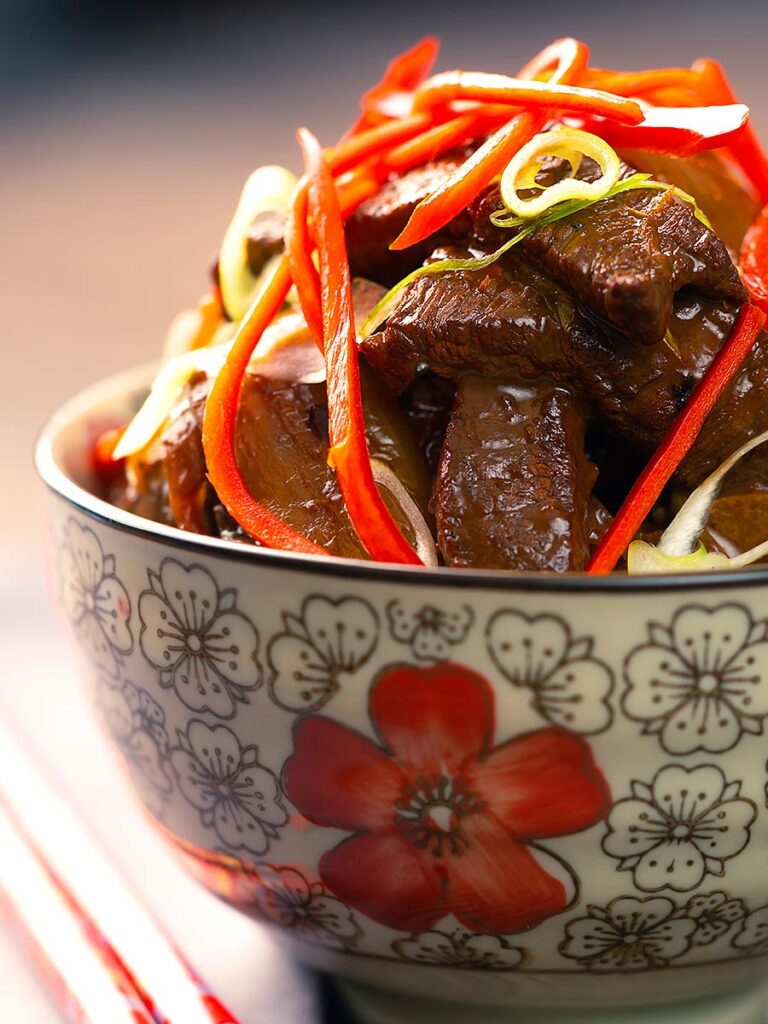 Super Quick Beef Stir Fry.
Before my love of British Indian food really took hold my idea of the perfect indulgence would have been a Chinese takeway.
Growing up I would have had one of two things, either chicken noodle stir fry AKA chicken chow mein or beef & oyster sauce. We did not have a lot of money so takeaways were a treat and choosing beef was even more so!
This recipe is really simple and relies on ingredients that I pretty much always have at home.
It is insanely quick and joins other classic Chinese takeaway recipes like dan dan noodles and kung pao chicken in my line up of takeaway recipes.
All are far easier and quicker to make than you think. None of them take longer than 25 minutes start to finish!
They also use a similar foundation of store cupboard ingredients. Light and dark soy sauce, oyster sauce, hoisin sauce, rice wine and some form of Chinese vinegar.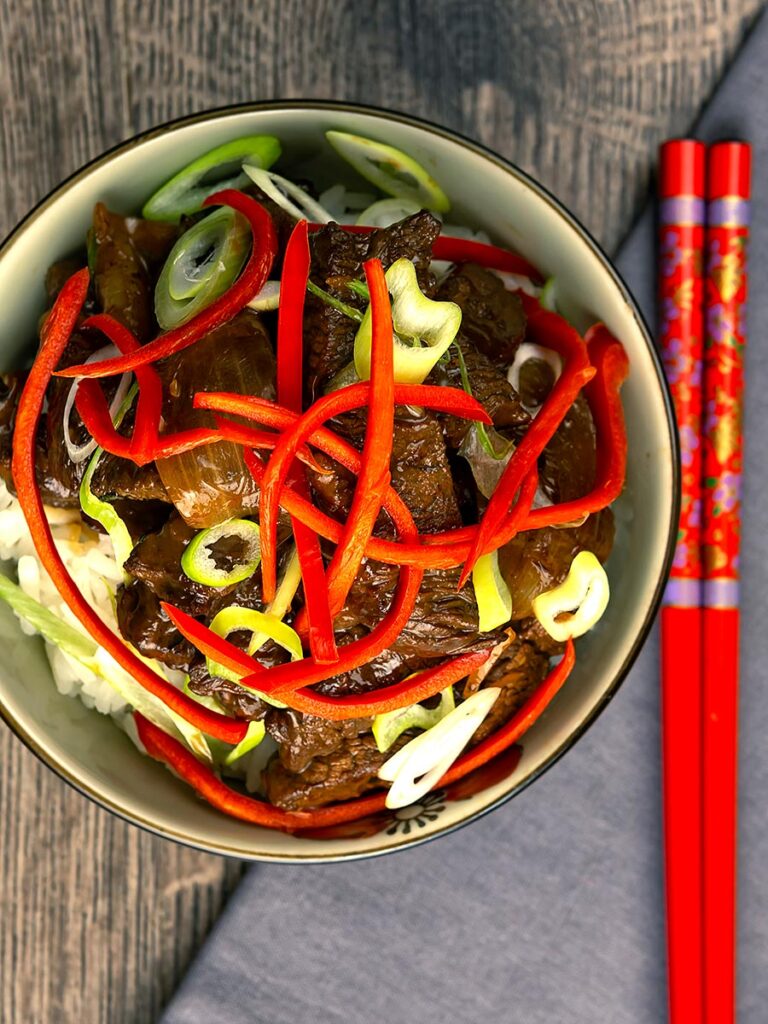 What Beef to Use.
I have tested this recipe with 3 different cuts of beef. You must understand that I do this out of sheer dedication and it has nothing to do with being greedy!
My favourite is rump steak, and it is what this video and the images on this page feature. I think it has the most wonderful flavour and is more than tender enough when cross cut and cooked quickly.
The next cut that I suggest would be sirloin, it has a little less flavour than rump. But it is slightly more tender. This is the cut that I recommend for my chilli beef stir fry with noodles.
We are gonna get international here so hold on to your hats, if you are British you are ok to ignore this next sentence!
If you are from the US rump steak is often called sirloin steak and sirloin steak is often called short loin or porterhouse.
Finally flank or skirt steak, these offer more flavour than either of the first two options. But they are also less tender than the other two options.
It is the cut of beef that I prefer for my sticky crispy chilli beef.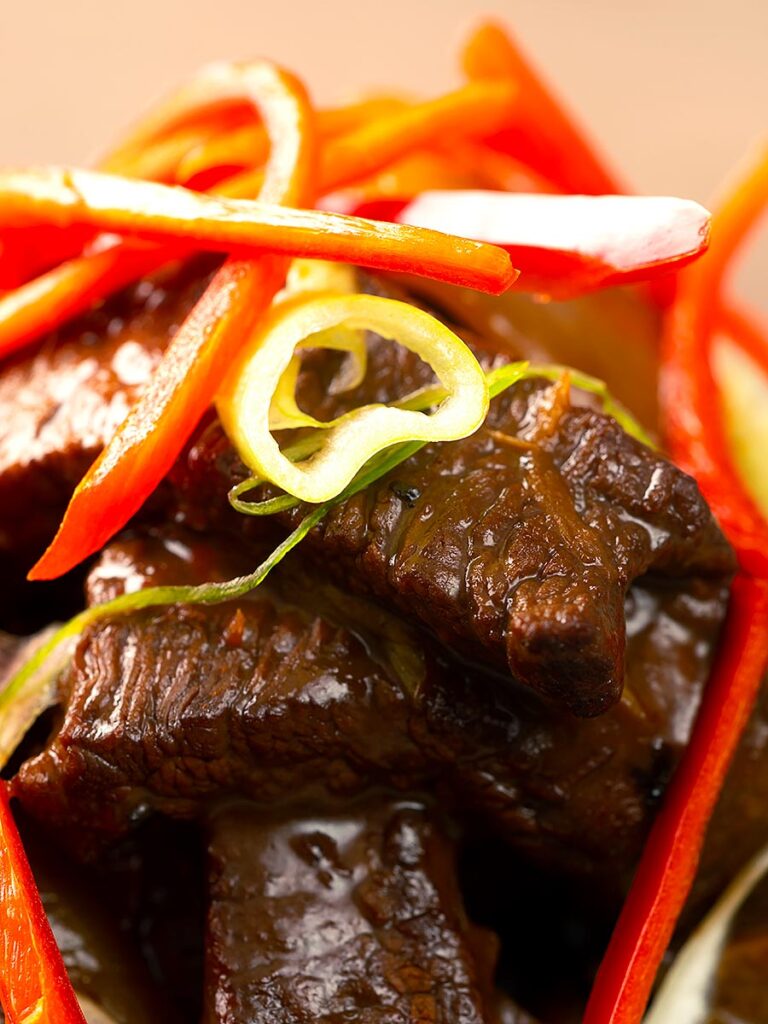 Serving Suggestions.
As with most of my simple fakeaway meals I ordinarily serve this on its own over boiled rice.
Aside from the garnish and lots of fried onions this recipe is very light on vegetables.
As a result the perfect pairing with it would be some veggies.
Either my broccoli stir fry or stir fried asparagus would be perfect.
This quick 10 minute bok choi recipe would be another ideal side dish!
Yield:

2 Servings
Beef in Oyster Sauce Recipe
This beef in oyster sauce recipe is delicious and simple and it cooks in way less time than it takes the delivery chap or chapesse to get to you!
Ingredients
375 g (13.2 oz) Rump Steak
200 g (2 Cups) Onion
1 Medium Hot Red Chili Pepper
1 Spring Onion
1 Tbsp Grated Ginger
3 Cloves Garlic
1 Tbsp Light Soy Sauce
1 Tbsp Dark Soy Sauce
1 Tbsp Shaoxing Wine
1 Tbsp Cornflower
50 g (3 Tbsp) Oyster Sauce
Pinch of Sugar
1 Tbsp Cooking Oil
Instructions
Cut your steak into strips 5mm in profile and around 5cm long.
Mix together the soy sauces, oyster sauce and Shaoxing wine with the cornflower.
Add the beef to the sauce and allow to sit whilst you prepare the remaining ingredients.
Peel, top and tail the onions and cut into wedges 1.5cm wide at the thickest end.
Deseed the chilli and cut into long strips as thinly as you can.
Peel and cut the ginger into batons as finely as you can.
Slice the garlic as finely as you can.
Slice your spring onion at a 45° angle.
Heat a wok over a fierce heat, when shimmering add the cooking oil.
Add the onions and stir fry for 3-4 minutes.
Add the ginger and garlic and stir fry for a further 60 seconds.
Remove the beef from the marinade throw that in and again fry for 3-4 more minutes.
Add the leftover marinade and around half of the spring onions and stir fry for a final 30 seconds.
Serve over rice and with the remaining spring onions and red chilli.
Nutrition Information:
Yield:
2
Serving Size:
1
Amount Per Serving:
Calories:

567
Total Fat:

29g
Saturated Fat:

9g
Trans Fat:

0g
Unsaturated Fat:

17g
Cholesterol:

159mg
Sodium:

1741mg
Carbohydrates:

19g
Fiber:

2g
Sugar:

6g
Protein:

54g
Calorific details are provided by a third-party application and are to be used as indicative figures only.