This BLT Pasta Salad is a perfect Picnic dish as far as I am concerned and this bad boy is loaded with the flavours of a sandwich classic… BLT rah!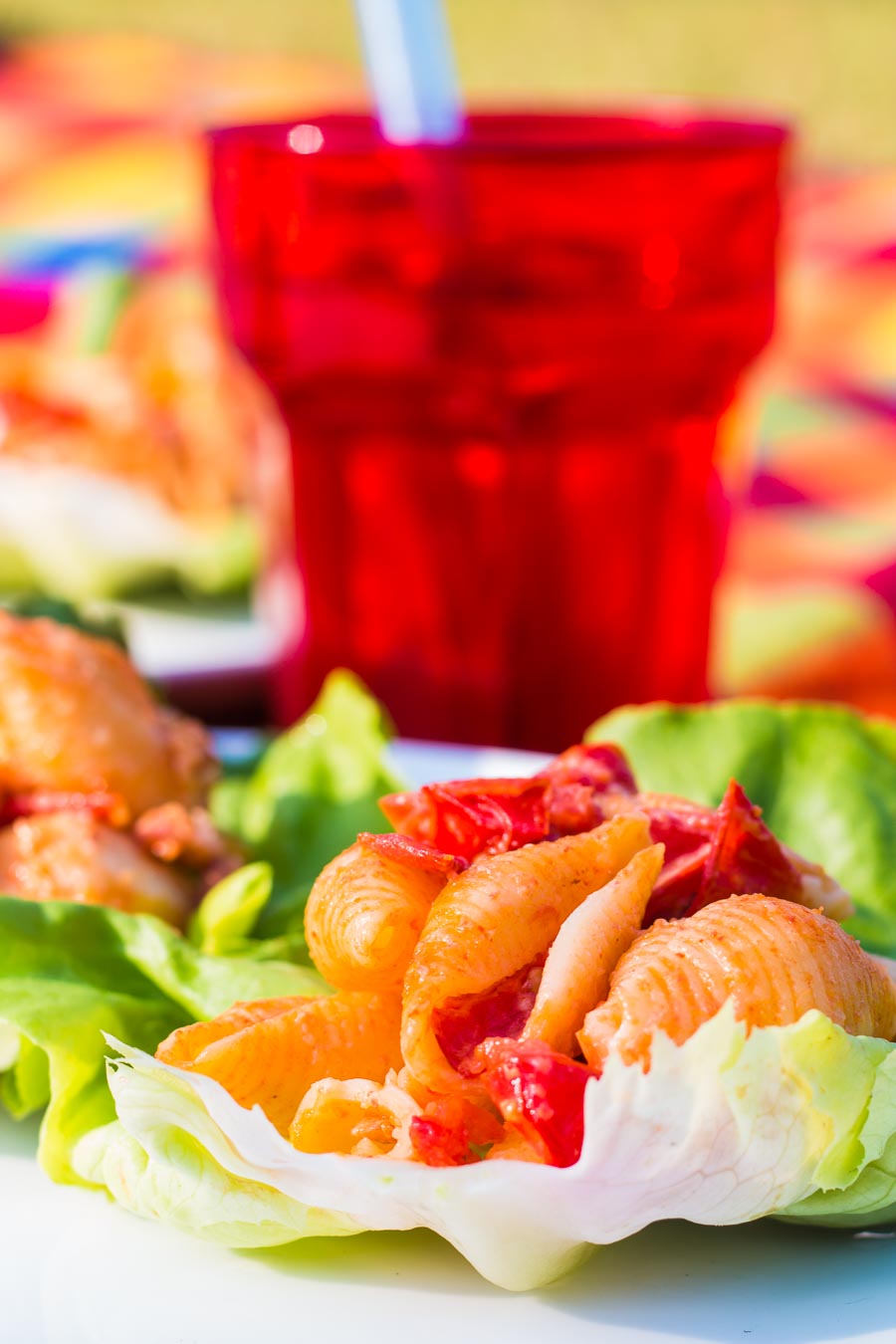 BLT Pasta Salad!
For me a pasta salad recipe is the perfect picnic food. So when we shirked work in the this Saturday to go to a thermal spa I figured I would knock up a batch of my BLT pasta salad.
I typically have two go to pasta salad recipes, both of which use tuna, this almost Nicoise pasta salad and this fairly classic tuna pasta salad. But his one leans on bacon!
There are many people who believe that Bacon makes everything better, particularly as hangover food. A notion that I definitely subscribe too.
So this bad boy full of the flavours of the classic BLT sandwich definitely ticks that box.
The lettuce cups are also a fantastic way to avoid the picnic food dilemma of washing up. Picnic recipes are all about eating in a much more relaxed way and this BLT Pasta Salad Recipe is full on chilled out.
Chilled out also reaches the preparation. This pasta salad recipe is all done in 20 minutes meaning you can throw it together with store cupboard ingredients for that last minute picnic!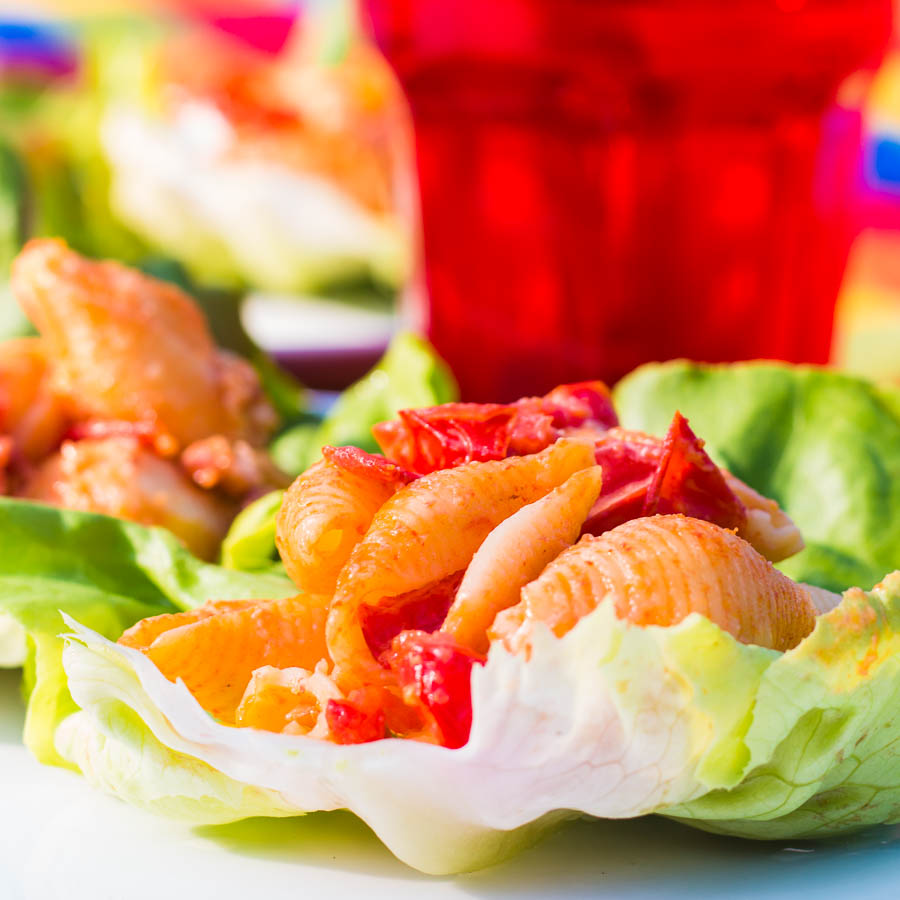 BLT With Chilli!
I firmly believe that there is something that always makes bacon better, chilli… I know there will be some that disagree but you are all wrong!
So this BLT pasta salad has a fabulously simple Chili Mayonnaise to serve as a dressing. Of course, I used homemade mayonnaise but I'll not judge you for using whatever you have knocking around in your refrigerator.
The sweet and salty flavour of bacon for me is just screaming for the addition of a little heat. It is like the magic trifecta of flavours.
The mayonnaise dressing, of course, adds a sour element. Meaning that this BLT pasta salad recipe is rocking the sweet, sour, hot and salty vibe!
As far as I am concerned it works exceptionally well in salad recipes. Hell I thing it works in all recipes!
I know I keep banging on about that particular set of flavours, but they are my favourite. They are an ever-present theme that appear in lots of my recipes. Everything from my Indian Chicken Pathia Curry through to my General Tso's Chicken and even my salmon with harissa 'salad'.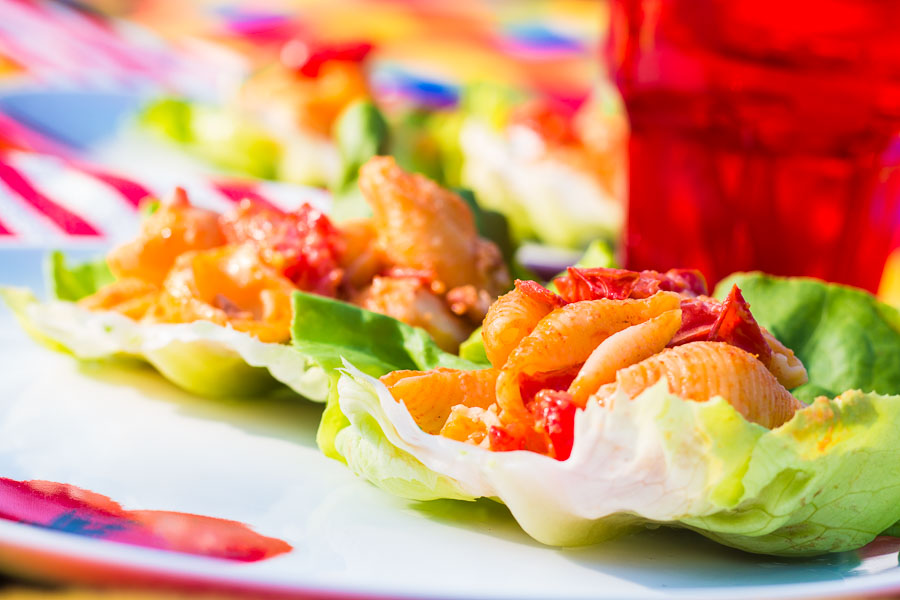 The Perfect Picnic Location!
One of the finest things about living where we live is definitely the thermal spas. No matter the mood, happy, sad, hungover, energetic there is nothing like soaking your bones in some geothermally heated water.
It always makes the day a little better.
We are fortunate enough to have 5 thermal spas within a 30 minute drive from home and our picnic home on Saturday was Berekfürdő. Probably my favourite of all of our local spas.
In fact probably one of my favourites of the 3 dozen I have visited so far in Hungary.
Most importantly it is just 20 minutes from home and has a dozen pools. Including an Olympic sized swimming pool for those with more will than I to do exercise. It is also all set in 8 Hectares of parkland.
Oh yes it also has just about the best cocktail bar in the area…
Of course, I was there to work, I had a BLT pasta salad recipe to shoot. I could not do a pasta dish and not shoot on location could I?
So dear reader I subjected myself to all the points above just so I could show you how pasta salads look in their natural environment! Honest!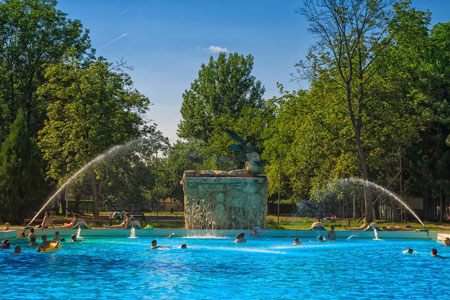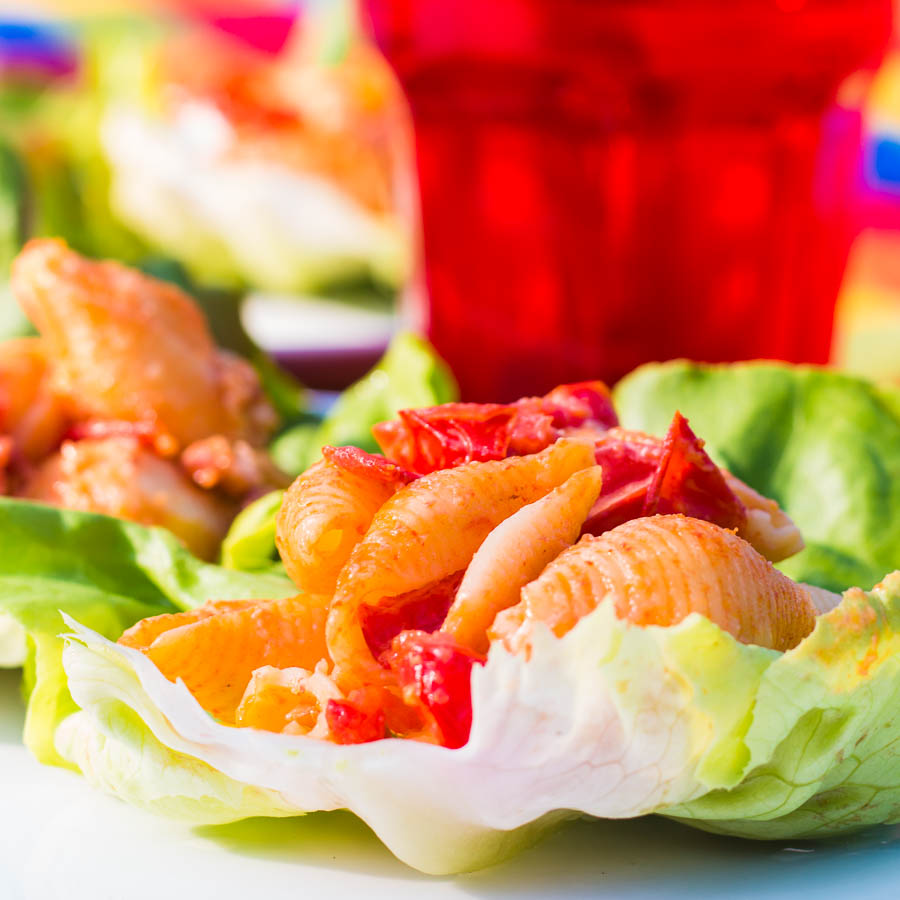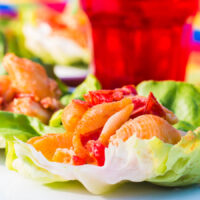 BLT Pasta Salad, Picnic Perfection!
This BLT Pasta Salad is a perfect Picnic dish as far as I am concerned and this bad boy is loaded with the flavours of a sandwich classic... BLT rah!
Ingredients
200 g Dried Pasta, I used Conchiglie shells
150 g Cherry Tomato, Cut in to quarters
125 g Smoked Bacon, Cut into small dice
1 Head of Lettuce, Small
2 Tbsp Mayonnaise
1/2 Tbsp Sriracha Sauce
Salt and Pepper to Taste
Instructions
Cook your pasta as per the instructions on the packet in lots of salty water.
Heat a dry pan over a medium/high heat and cook the bacon until crispy which should take about 10 minutes.
When the bacon is crispy add in the tomatoes and toss around for 1 minute, the idea is not to cook them but just to pick up the flavour of the bacon fat and just get the tomatoes bursting.
By now you should be ready to drain the pasta and mix in the bacon and tomato mix and allow too cool for a couple of minutes.
Mix together the mayonnaise and sriracha sauce and then mix in to the pasta salad and check for seasoning.
Spoon in to leaves of the lettuce and use it as a wrap for the perfect simple picnic treat.
Notes
If I am taking this on a picnic I pack the lettuce whole in a cool box and break off the leaves when serving, this helps keep the lettuce crunch
Nutrition Information:
Yield:

2
Serving Size:

1
Amount Per Serving:
Calories:

699
Total Fat:

35g
Saturated Fat:

10g
Trans Fat:

0g
Unsaturated Fat:

23g
Cholesterol:

68mg
Sodium:

1422mg
Carbohydrates:

62g
Fiber:

10g
Sugar:

7g
Protein:

35g
Calorific details are provided by a third-party application and are to be used as indicative figures only.