Brined pork chops paired with some sweet yet salty glazed nectarines are a great alternative to the traditional pork with apple sauce combination.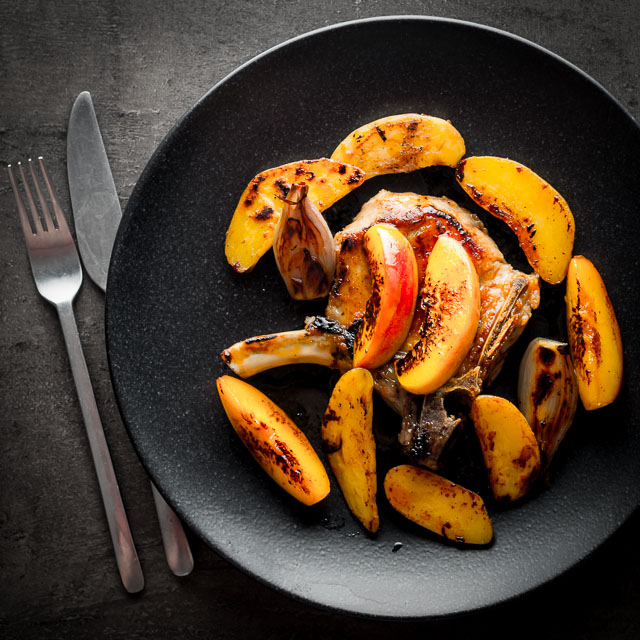 I have heard many say that brined pork chops remain juicier and are less prone to drying out than their none brined counterparts, I think that is utter poppycock. Rather than assisting to keep the meat juicy I find it cures the meat a little which gives it a slightly different texture than a straight up roasted piece of meat and I am rarely an either or kinda guy when it comes to cooking.
If it tastes good then as far as I am concerned it is right and these brined pork chops tasted fabulous. One thing I do try and avoid though is allowing meat to sit in the brine solution for too long.
I don't want to be roasting a ham I want just a subtle change in texture some nice seasoning and just a really subtle hint of the flavourings I have used in the salt solution.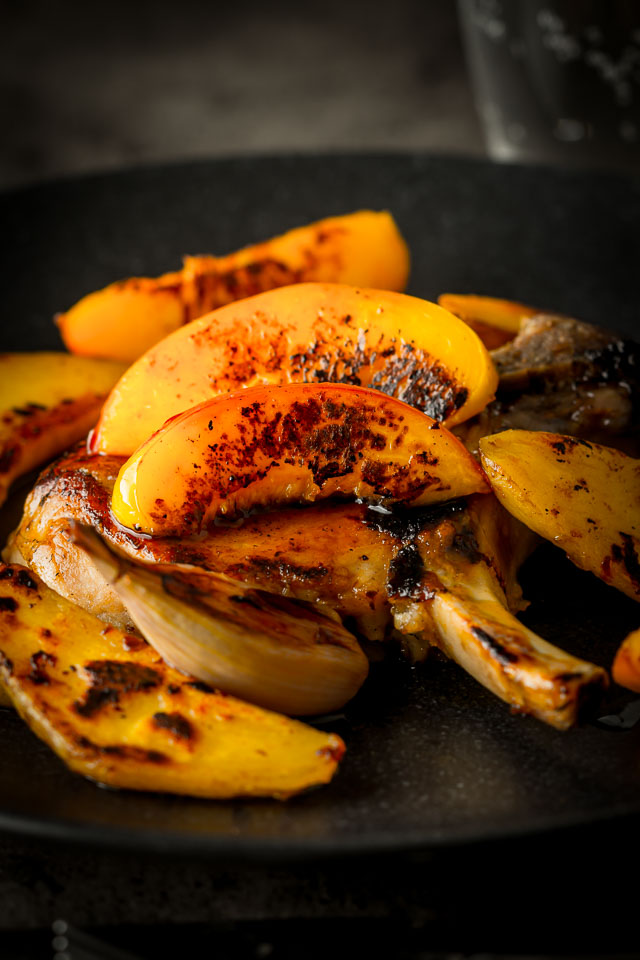 Like many people I find that pork works really well with fruit, but this very same recipe would work just as well with peaches or apricots. The sweetness of the honey with the mirin and soy sauce plays the perfect foil for the juicy pork chop and the colours are just perfect for the coming of autumn.
I would urge you to try and get pork chops on the bone if you try this recipe, there is something about meat on the bone that makes me smile, I think it is possibly the aroma as it roasts and it imparts a nice alternative little flavour into any sauces you make with the roasting juices which of course you should never let go to waste.
So my view on brined pork chops or in fact any brined meat is that it does not make it juicer or reduce the chances of it drying out, but it does give it a little change in direction on texture making the meat a little firmer but it also imparts a completely different flavour, would I do it with every pork chop I cook?
Definitely not, would I say it is not worth bothering with? Again definitely not! But without question it is a tasty and different way to prepare meat that is nice occasionally!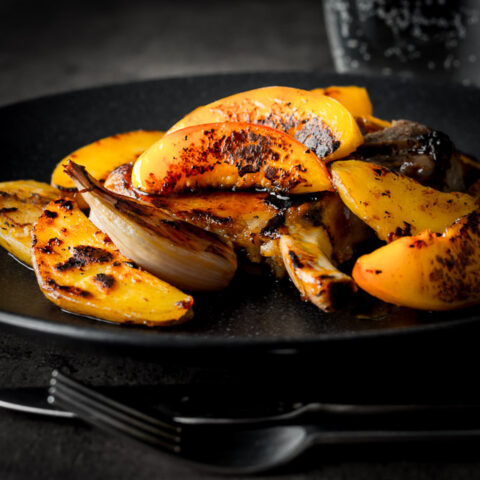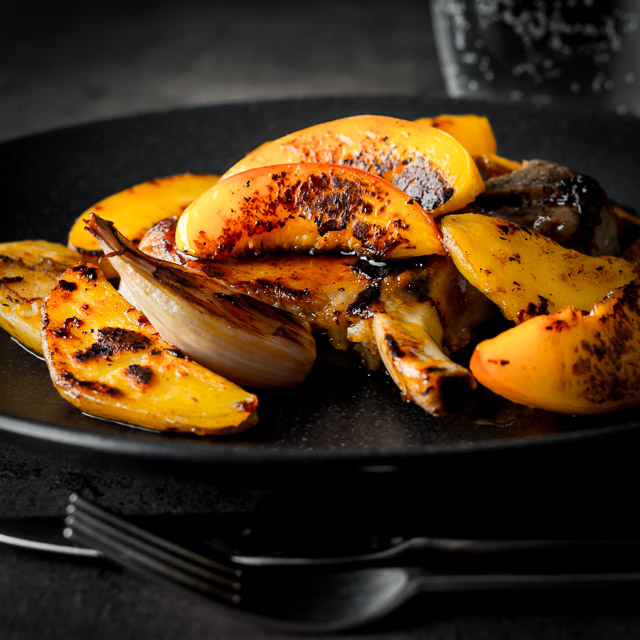 Yield:

2 Servings
Brined Pork Chops & Glazed Nectarines
Total Time:
3 hours
30 minutes
Brined pork chops paired with some sweet yet salty glazed nectarines are a great alternative to the traditional pork with apple sauce combination.
Ingredients
Ingredients
2 Pork Chops, Get something thick in the region of 2.5-3.5cm around 350-400g
Cooking Oil, Neutral
For the Brine
750 ml Water
1 Bay Leaf
3 Tbsp Coarse Sea Salt
1 Tsp Black Pepper Corns
1 Tsp Chili Flakes
For the Nectarines
1 Nectarine, Cut into 8 wedges and and the stone removed
1 Tbsp Honey
1 Tbsp Mirin
1 Tbsp Light Soy Sauce
For the Potatoes and Shallots:
200 g Fingerling Potatoes, Cut in half
2 Banana Shallots, Cut in half
Salt
Instructions
Directions
For the Brining
Bring 375ml of the water with the bay, Salt, Pepper and chili to the boil and when the salt has dissolved and water boiled remove from the heat and add the remaining 375ml of water
Allow the water to cool completely and place in a covered bowl with the pork chops and allow them to brine for a 2 or 3 hours. You can do this over night if you wish but the flavour becomes to pronounced for my taste
Bringing it all together
Preheat your oven to 200°C
Bring a large pan of water to the boil add a good amount of salt and boil the potatoes for 10 minutes.
After your potatoes have been in for a few minutes place a heavy based frying pan on your stove top on a high with a splash of oil.
Remove the pork chops from the brine solution and dry them thoroughly with kitchen towels and add them into the searingly hot pan and leave them on one side for 2-3 minutes resisting the urge to push the around or sneak a peak.
After a couple of minutes turn them over ensuring that the cooked side has got a nice colour with some searing around the edges.
Now add the shallots to the pan, cut side down, followed by the potatoes.
Transfer them to the oven and cook for 15-20 minutes depending on the thickness of the chop.
Now prepare your nectarines by cutting them in half removing the stone and cutting each half into 4 pieces.
Now time to bang on about a meat thermometer again, in order to check how you meat is cooked, stick the meat thermometer into the thickest part of the chop taking care not to rest on the bone. You are looking for an internal temperature of 62°C-65°C if you like a touch of pinkness in your pork chop like me or up towards 70°C if you like it well done.
Empty the pan and cover the food whilst we glaze the nectarines and make the sauce.
Heat the pan over a high heat and then add the nectarines, allow them to sit for 60 seconds to allow them to caramelise then flip them over and add the honey, soy sauce and mirin and allow it to reduce into a sauce for a minute and serve over your pork chop.
Notes
Your butcher should be more than happy to prepare a larger pork chop for you, it is well worth it and they are much better than a couple of measly skinny chops that seem to be ubiquitous on supermarket shelves.
Nutrition Information:
Yield:
2
Serving Size:
1
Amount Per Serving:
Calories:

742
Total Fat:

26g
Saturated Fat:

6g
Trans Fat:

0g
Unsaturated Fat:

16g
Cholesterol:

132mg
Sodium:

11420mg
Carbohydrates:

83g
Fiber:

9g
Sugar:

37g
Protein:

48g
Calorific details are provided by a third-party application and are to be used as indicative figures only.