Few flavours work together quite like cheese and onion for me so this blue cheese and onion salad takes that idea and turns it up to 11.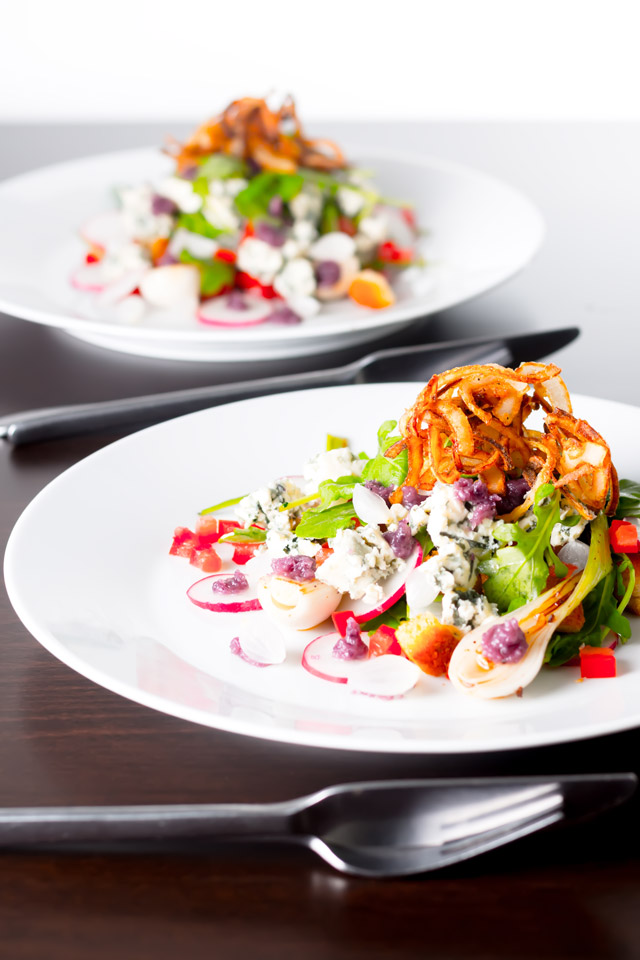 Few flavours compliment each other quite like cheese and onion as far as I am concerned and this blue cheese and onion salad takes that idea and turns it all the way up to full. The inspiration for this dish came from an unlikely source, if you follow me on Instagram you may have noticed that I went to a food festival in Debrecen a couple of weeks ago. The sort of thing where loads of restaurants rock up and set up a small kitchen and offer mini bites of what they do best.
Well the best dish I tried was a 'catfish sausage' with octopus dish. It may sound odd but it was amazing but the thing that really stood out was the different textures and flavours of onion that they used in the dish. Whilst driving home I kept bleating on about how great it was and said it would make the most incredible idea for a cheese and onion salad.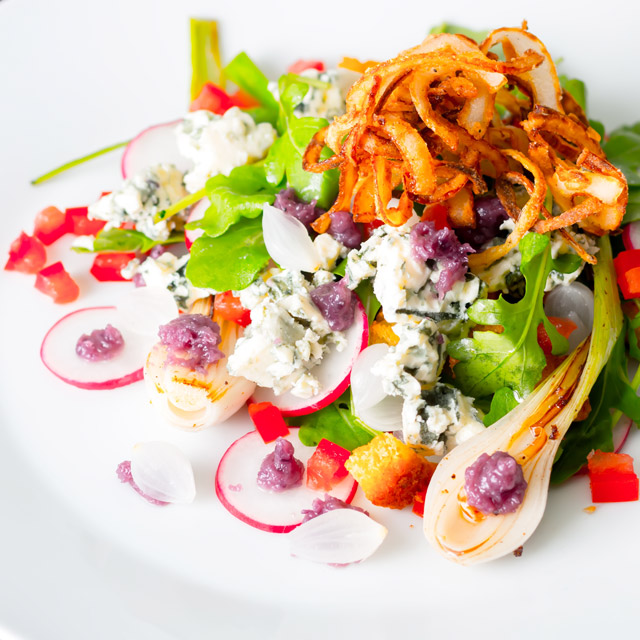 So have been working on this dish loads over the last fortnight and really nailed it, trying to get the right balance between sweet and sharp as well as a good textural balance whilst keeping the pungency of onion without it being overpowering is key to this salad.
Finally adding in a bit of pepperiness with the rocket and radish mixed with the creamy saltiness of the blue cheese makes this onion salad probably the best salad I have ever made!
I know many people see salads as something boring and a bit of a thrown together dish, I disagree… I think that a salad deserves every bit as much attention paid to it as any other dish so there are a few processes in this blue cheese and onion salad but none of it is difficult and the final dish is well worth playing around with.
Just like my roasted radish and duck salad this dish is a meal all on its own, perfect for these summer days as the mercury is definitely rising in our corner of Hungary with temperatures regularly hitting 35°C with plenty of room for more in the coming couple of months.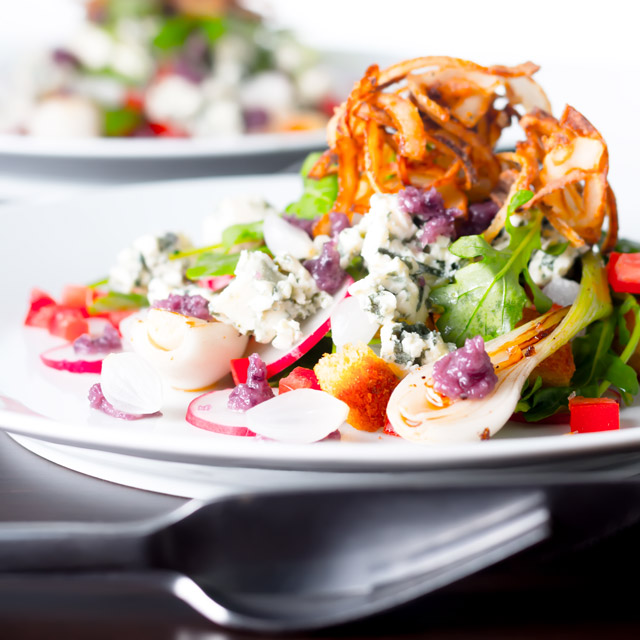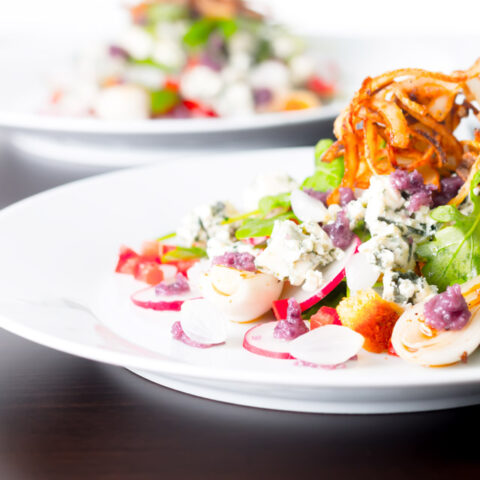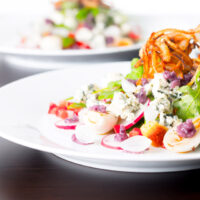 Blue Cheese and Onion Salad with Arugula
Few flavours work together quite like cheese and onion for me so this blue cheese and onion salad takes that idea and turns it up to 11.
Ingredients
25 g Butter
100 g Red Onion, Coarsely chopped
1 Tsp Honey
1 Clove Garlic, Minced
1 Tsp Cider Vinegar
100g White Onion, Sliced in half and pealed and then sliced into 2mm half moons
1 Tomato, Cut into quarters, seeds removed and finely diced
50 g Radish, Finely Sliced
25 g Pickled Onion, I used some tiny pearl onions I pickled last year but if you are using larger onions gut them into 5mm dice
2 Salad Onions, Topped and tailed and cut in half
35 g Arugula, AKA Rocket
100 g Blue Cheese, I used a mild Danish blue but go with what you like
1 Slice of bread, Cut into 1cm cubes
Olive Oil, For dressing rocket leaves
Cooking Oil, For Frying
Plain Flour, For fried onions
Instructions
Melt the butter in a pan over a low-medium heat and cook down the red onion until very soft which should take around 30 minutes.
Now add in the honey, balsamic vinegar and garlic clover and cook down for a further 5 minutes.
Now take the mixture and season to taste with salt and pepper, the mixture should be fairly dry and blitz to form a puree, pass through a fine sieve and set aside to cool.
You can skip steps 1-3 if you like and use a shop bought onion chutney or jam if you wish, and blitz it down to a puree... Obviously it really speeds up this recipe.
Once you have your puree you just need to fry off your croutons and set aside when golden.
When you have fried off your croutons, turn the heat up to high and very quickly sear the cut side of the salad onions.
Then build as you want, I like to start with some radish, diced tomato, pickled onion and add a few dots of the red onion puree.
I then follow up with one of the salad onions, some rocket and more tomato and puree.
Now for the cheese, croutons, tomato, more pickled onion, more onion puree and more dressed rocket and finally a good handful of fried onions.
Notes
This salad works because there are lots of different textures and flavours of onion so play with it and add some new ones of your own.
Nutrition Information:
Yield:

2
Serving Size:

1
Amount Per Serving:
Calories:

1000
Total Fat:

55g
Saturated Fat:

20g
Trans Fat:

1g
Unsaturated Fat:

31g
Cholesterol:

109mg
Sodium:

1265mg
Carbohydrates:

106g
Fiber:

8g
Sugar:

28g
Protein:

25g
Calorific details are provided by a third-party application and are to be used as indicative figures only.