Pickled chillies really are one of my favourite bar snacks, this is my guide to making them quickly at home.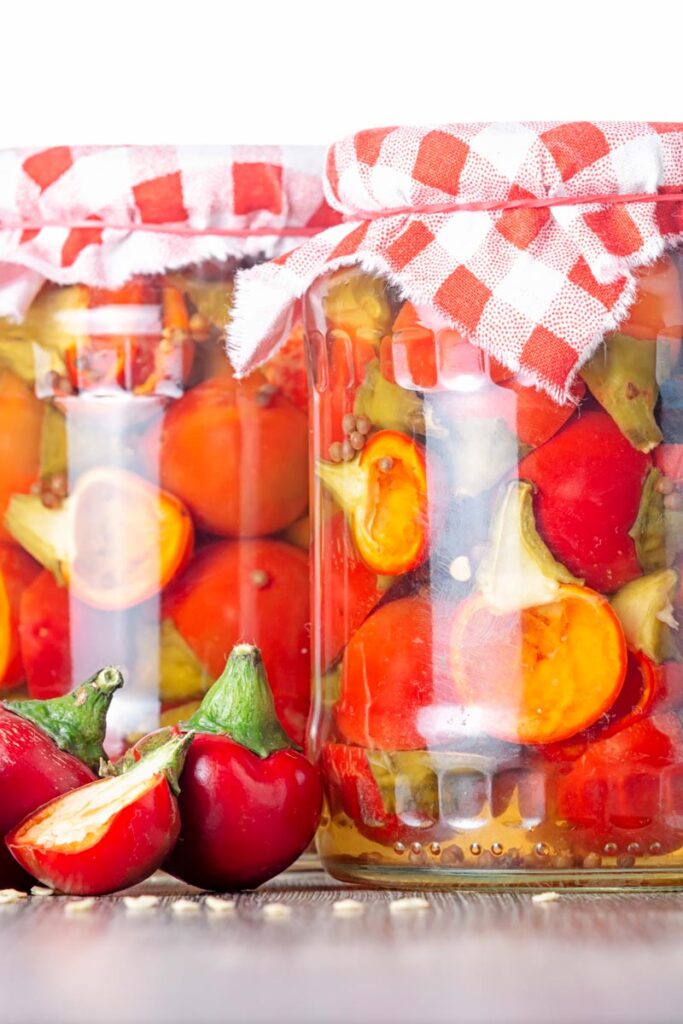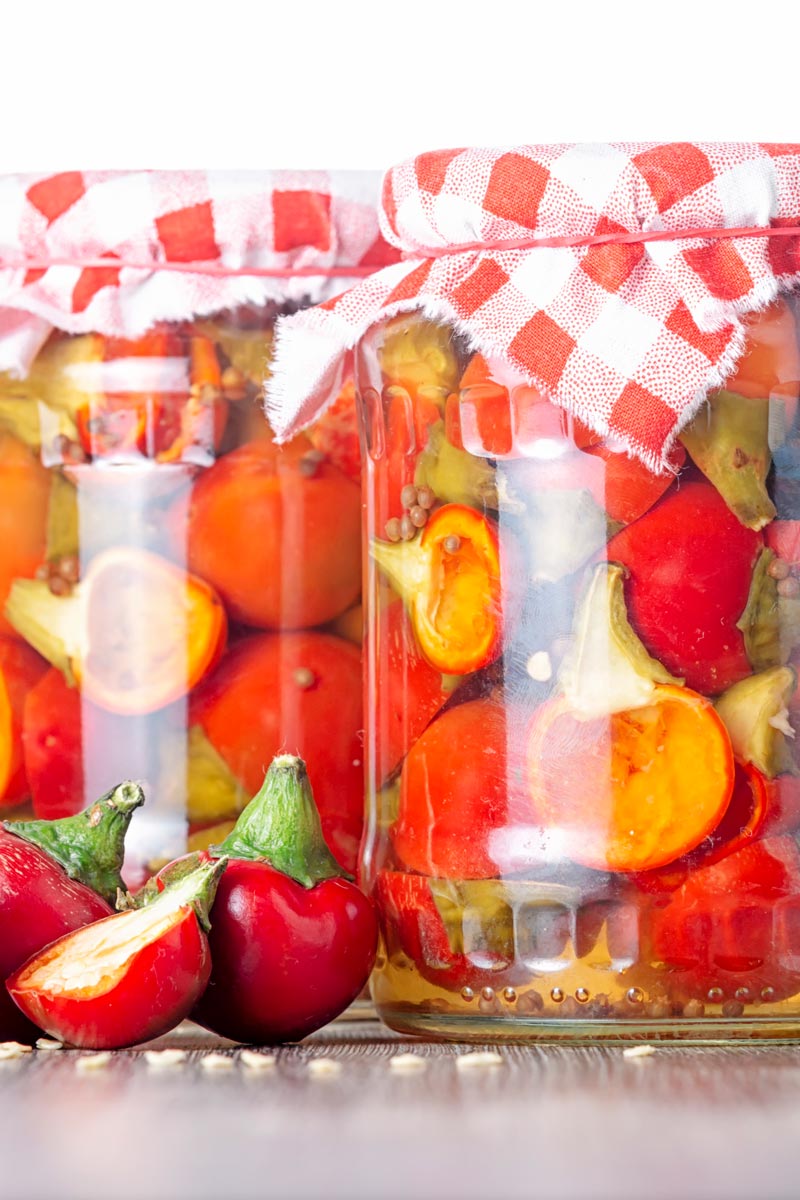 How to Pickle Chillies.
Pickles are very common here in Hungary, they are everywhere, everything from whole cabbages to baby watermelons get the treatment!
Chillies are my favourite though and no matter what chillies you use the process is the same.
You need nothing more than some chillies, vinegar, salt and sugar I throw in some whole seeds too.
Whilst they make great finger food they are often served here as a side to many meals. In fact, you can see these pickled chilli bomb peppers served this way in my Marha Porkolt recipe.
The process of pickling is simple, heat up all of the ingredients and pour them over the chillies.
Then seal and let them sit, it really is as simple as that!
A little hint from me to you, rub your hands with oil before preparing your chillies.
It will prevent the capsaicin from penetrating the skin, meaning that it will wash off and not get into "sensitive" areas later!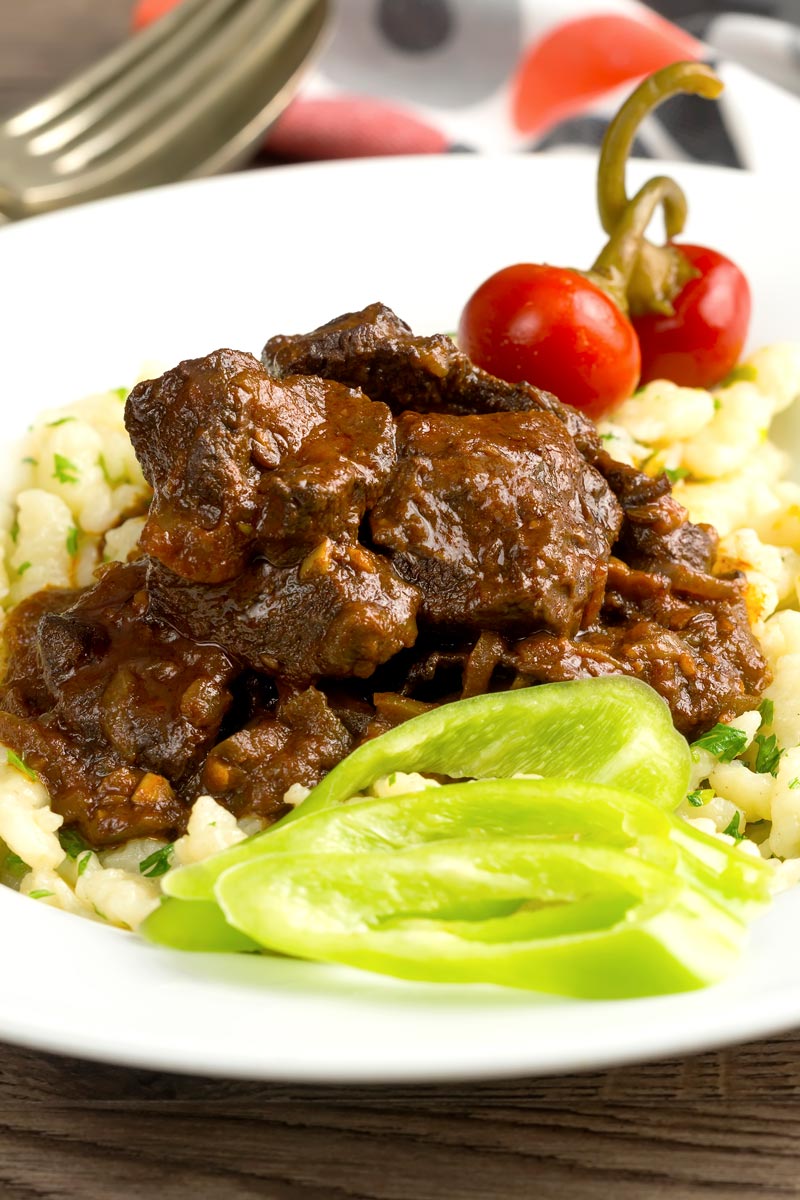 Choosing the Chillies.
My favourite chillies to use are these chilli bomb peppers. They have a wonderful sweet bitterness that marries so well with the pickling process.
On the heat scale, they are similar to Jalapeno chillies, although one in every hundred or so is real firecracker.
I have no idea why this is and have been in tears many a time. Odd really as we grow them at home so same plant, same source but BOOM!
But you can use any chilli you like, I prefer larger chillies as one of my favourite things to do with them is stuff them.
So I always remove the seeds, so I have perfect scoops for soft cheese and then I wrap them in bacon before eating them… Eating them all, you seriously will not be sharing!
If you are using them in cooking, I use them in my spicy bean burger, then you can leave the seeds in.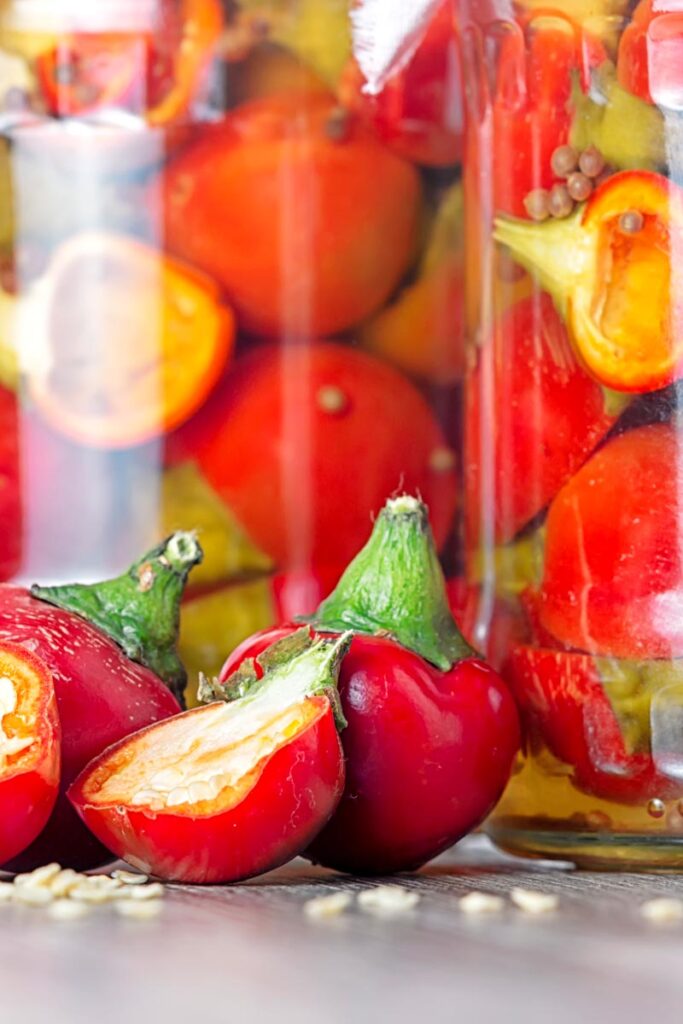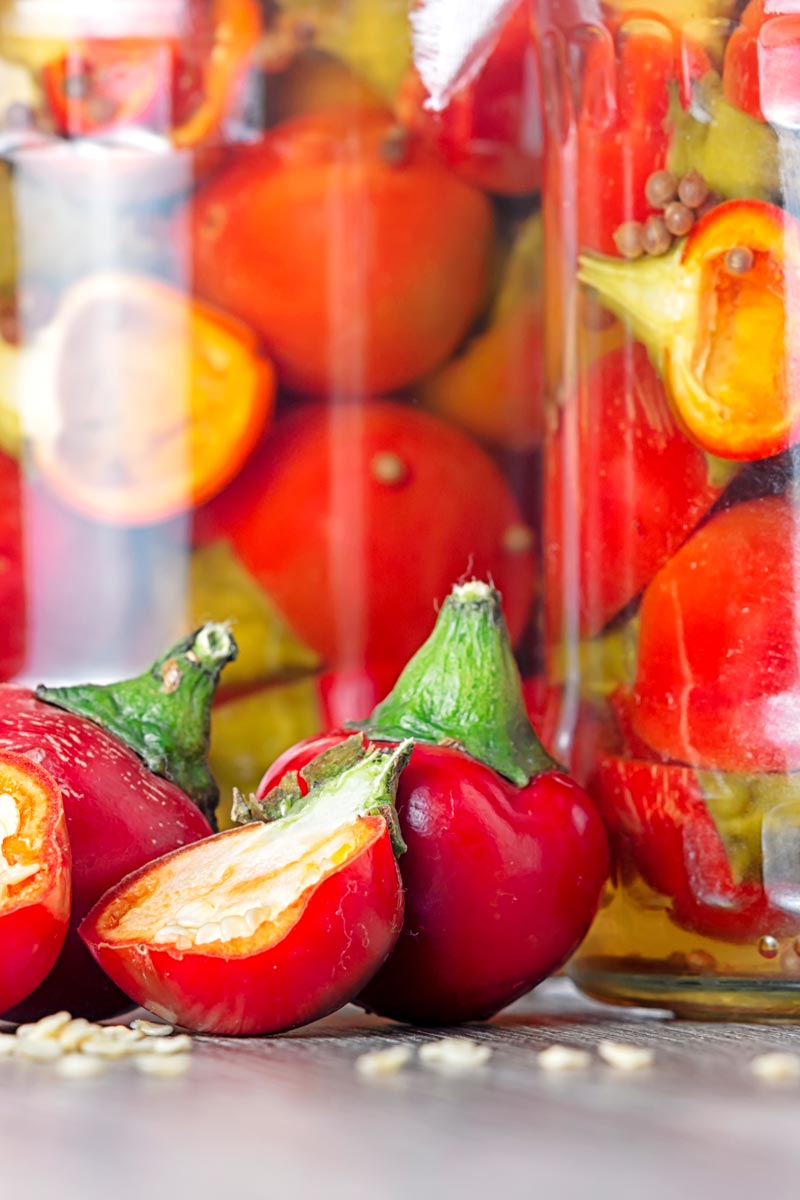 Preserving Chillies.
I usually consume these chillies within a week of making them.
However, if I am making a larger batch I will seal them in sterilised jars.
This is not strictly canning and is not advised for long term preservation but it will increase the shelf life by 10 days or so.
Heat jars in the oven at 100°C or 212°F for an hour.
Pour in the hot pickles to fill the jar completely and then add a lid that I have sterilised in hot water.
You must be careful not to burn yourself doing this!
As the jars cool the lids should begin to pop, creating a seal. If the lids do not pop, consume the chillies within a week.
If you want to preserve these long term please search out a recipe with an appropriate acid content in order to remain safe.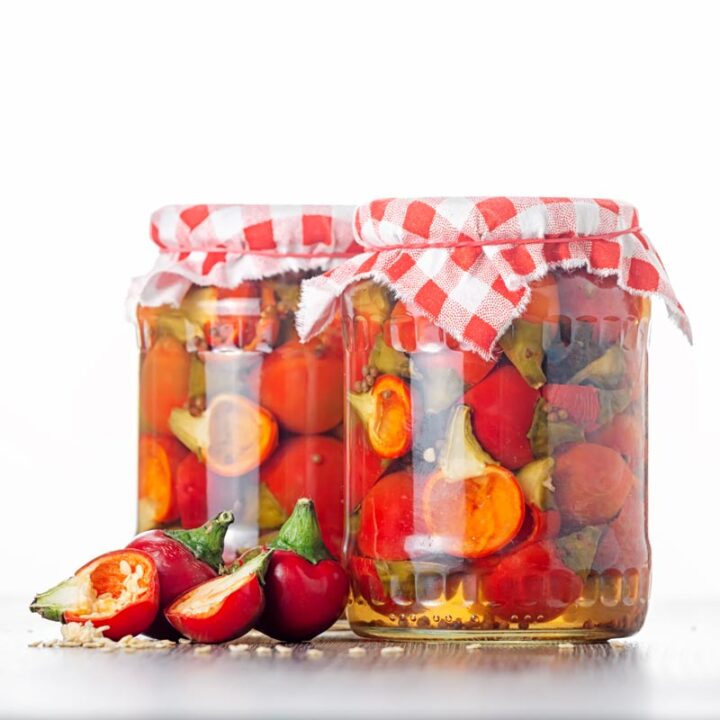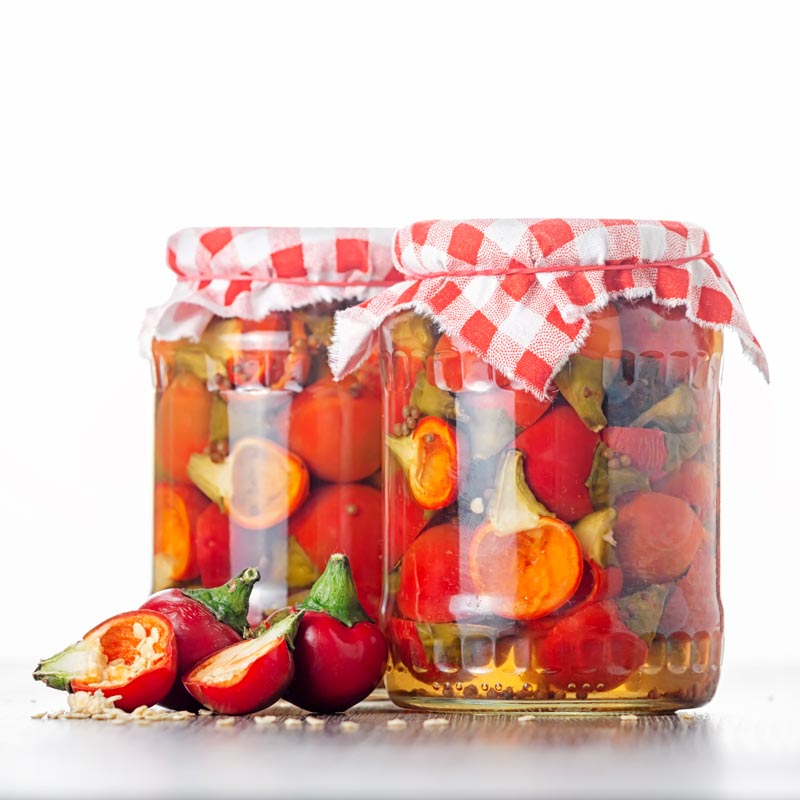 Yield:

250 Grams
Quick Pickled Chillies Recipe
Total Time:
1 hour
1 minute
These little pickled cherry bomb chillies are my favourite form of beer food, stick them out on the table with some soft cheeses and watch them disappear!
Ingredients
300 g Chillies
200 ml White Wine Vinegar
200 ml Water
1 Tsp Salt
2 Tbsp Sugar
1 Tbsp Coriander seeds
1 Tbsp White Mustard Seeds
Instructions
Chop chillies in half and then scoop out the seeds.
Heat the vinegar, water salt and sugar in a pan and bring to the boil
Toast off the coriander and mustard seeds in a dry pan for a couple of minutes until the aromas are released.
Pack the chillies tightly into a jar and pour over the pickling liquid the sprinkle in the toasted seeds.
Add a lid and allow to cool and steep for 24 hours.
Consume within a week.
Notes
This should yield two jars of pickles that hold 600ml of water packed to the gunnels with chili goodness, you can also add a little of the pickling liquid to dressings or a mayo to stretch it even further.
Calorific value refers to the full recipe.
Nutrition Information:
Yield:
1
Serving Size:
1
Amount Per Serving:
Calories:

300
Total Fat:

4g
Saturated Fat:

0g
Trans Fat:

0g
Unsaturated Fat:

3g
Cholesterol:

0mg
Sodium:

2361mg
Carbohydrates:

58g
Fiber:

7g
Sugar:

41g
Protein:

8g
Calorific details are provided by a third-party application and are to be used as indicative figures only.