Lovely rich duck breast is the perfect match to seasonal cherries and the sharp sweetness of balsamic in this great summer duck salad.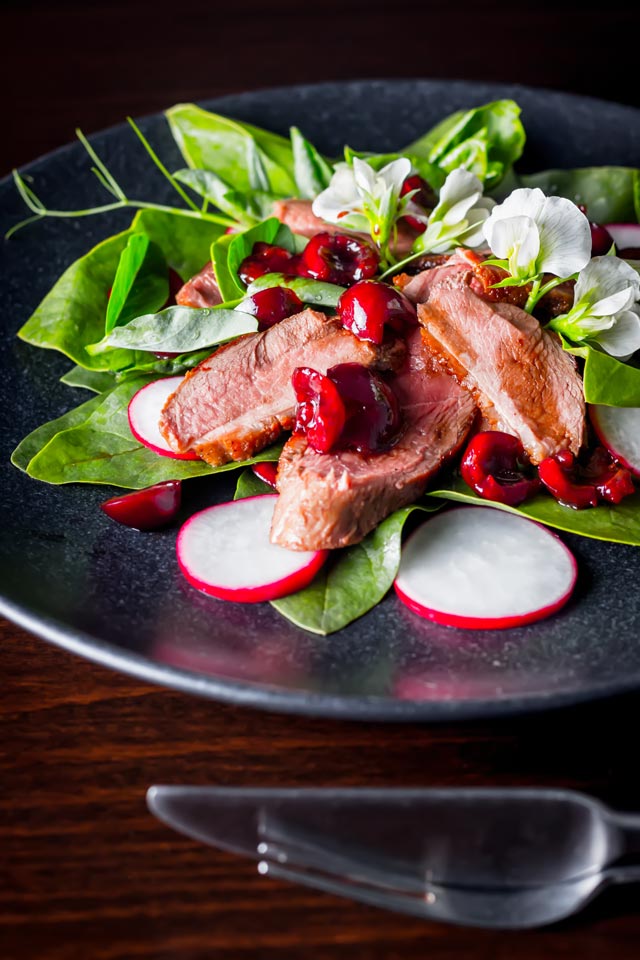 I posted a duck salad a while ago and it really has become my favourite meat to have in a salad. The strong flavour permits the use of less meat and it really stands up well against strong flavours and as far as I am concerned every salad needs strong flavours.
This duck salad is 100% inspired by my garden at this time of the year. Whilst I do have ducks in the garden rest assured none were harmed in the making of this recipe. It is the time of year when our garden sounds like a scene from 'The Birds', starlings adore cherries and the first of our cherry trees is now heavy with ripe fruit.
Which now means that said tree now looks and sounds like a starling tree and I need to get them used up before the starlings take them all. Add a little spinach, pea shoots and maybe the odd blossom or two. Then some radishes from the garden mixed with a little store cupboard love and you have one seriously delicious salad.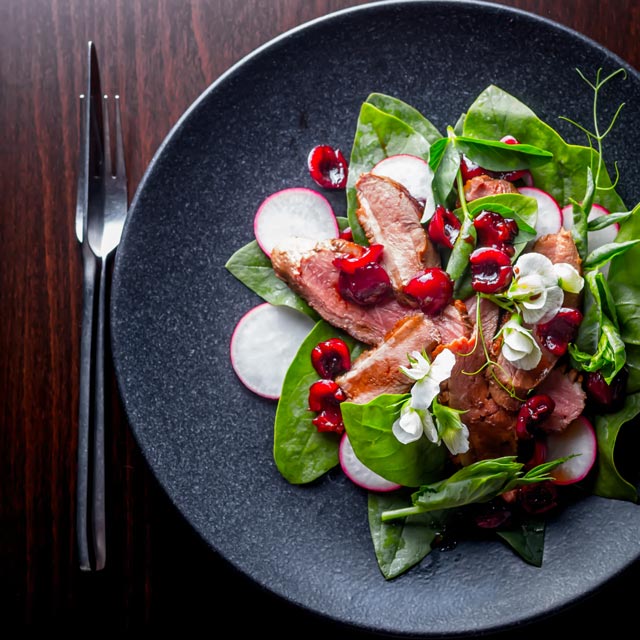 This time of the year is so very exciting for the kitchen gardener. Whilst many of the spoils of war are still in the flourishing stage there are still many things you can play around with and create wonderfully simple but fresh and beautiful dishes.
This food is far from complicated but it looks spectacular and eats really well with the added bonus of being really nutritious and perfect for a days when the temperatures are rocketing. Admittedly I do have a large garden, 1,000m² set aside for growing vegetables alone, but you can do a huge amount with just a small space or even a balcony.
You can grow potatoes in a bin, whilst planting enough peas to get a good pea harvest in a small space is tough but pea shoots and flowers as in this recipe provide a lovely light pea flavour to a dish. We all know how much shop bought herbs cost, stick out a pot and grow your own, it really is very simple.
As with all cooking of meat you should have it to your liking and using a meat thermometer is the perfect way to nail the cooking process, here are some guidelines for duck after resting.
Rare: 57°C, Medium: 62°C, Well Done: 67°C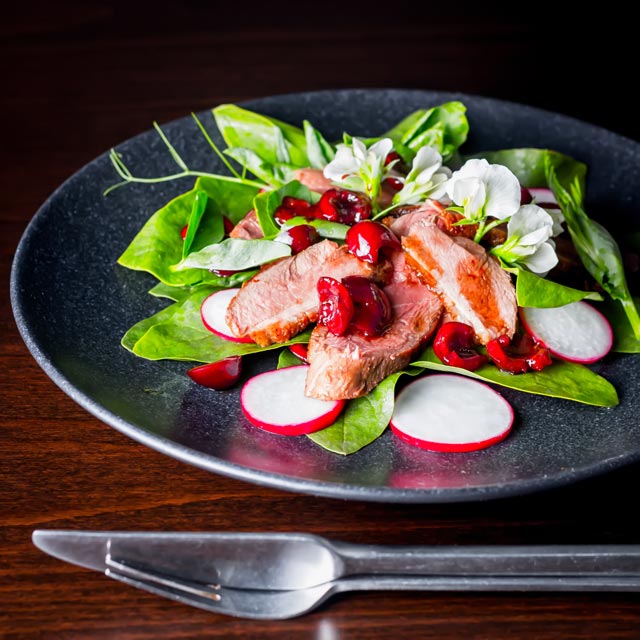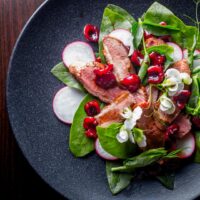 Cherry Duck Salad with Spinach and Radish
Lovely rich duck breast is the perfect match to seasonal cherries and the sharp sweetness of balsamic in this great summer duck salad.
Ingredients
300 g Duck Breasts
50 g Baby Spinach
8-10 Pea shoots, optional
4 Pea Flowers, optional
100 g Radish, Sliced into 3mm 'coins'
100 g Cherries, Pitted and cut in half
1 Tbsp Balsamic Vinegar
Instructions
Clean the radish and slice into 3mm slices.
Pit the cherries with a cherry stoner or olive pitter and cut in half.
Meanwhile heat a dry frying pan over a medium high heat.
Score through the duck fat in a hatch pattern and then season the duck breast with salt and pepper and place in the frying pan skin side down until the skin is crispy, this should take 3-4 minutes.
Then flip and cook to your liking, I like medium for this dish so cook until the internal temperature reaches 56°C before removing from the pan. This should take around 15 minutes in total.
Set the duck breast aside and allow to rest for 5 minutes covered with some baking foil before slicing thinly on the diagonal.
Pour out the duck fat from the pan leaving just a scant covering, then add in the balsamic vinegar and the cherries and bring heat to just warm.
If you are not using pea shoots or blossoms you can add in some lambs lettuce or rocket.
Notes
You can keep aside the duck fat and use it to roast potatoes at a later date, trust me... Best ever roast potatoes 😀
Nutrition Information:
Yield:

2
Serving Size:

1
Amount Per Serving:
Calories:

355
Total Fat:

17g
Saturated Fat:

4g
Trans Fat:

0g
Unsaturated Fat:

11g
Cholesterol:

204mg
Sodium:

167mg
Carbohydrates:

12g
Fiber:

2g
Sugar:

9g
Protein:

38g