This main course duck salad features one of my favourite food combinations. Duck with cherries is a classic and delicious combination, a splash of balsamic and some peppery radish makes it all come together.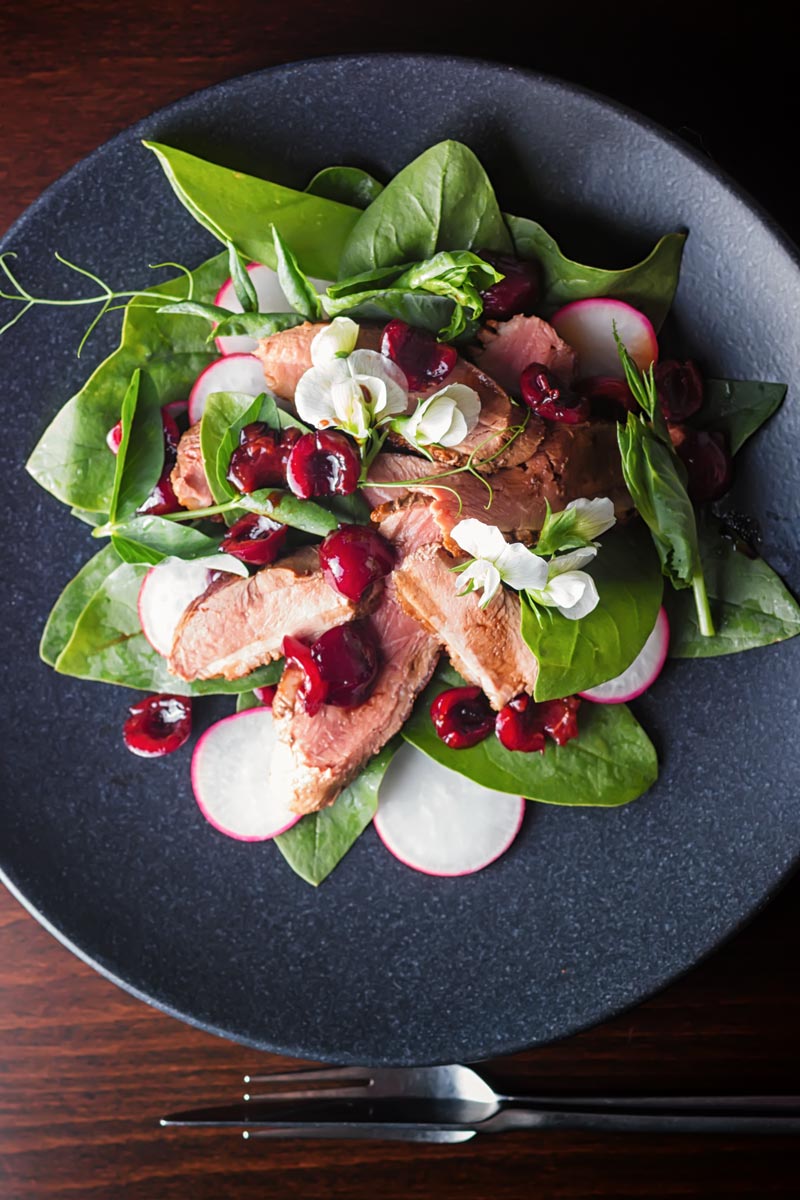 Duck Salad with Balsamic Cherry, Spinach and Radish.
Fruit and duck is a match made in heaven, whether it is cherries in this main course salad or the classic orange in this fennel and orange salad served with a rosy pink duck breast.
The rich nature of duck just loves the sharp sweetness of fruit. It is also a fantastic meat to use in a salad if you ask me.
This recipe takes a single large duck breast and shares it between two people.
It is loaded with so much natural flavour that I rarely add anything to a roasted duck breast other than salt and pepper.
That is very much the case here! We rely on the balsamic cherries to add a flavour high point to compliment the duck breast.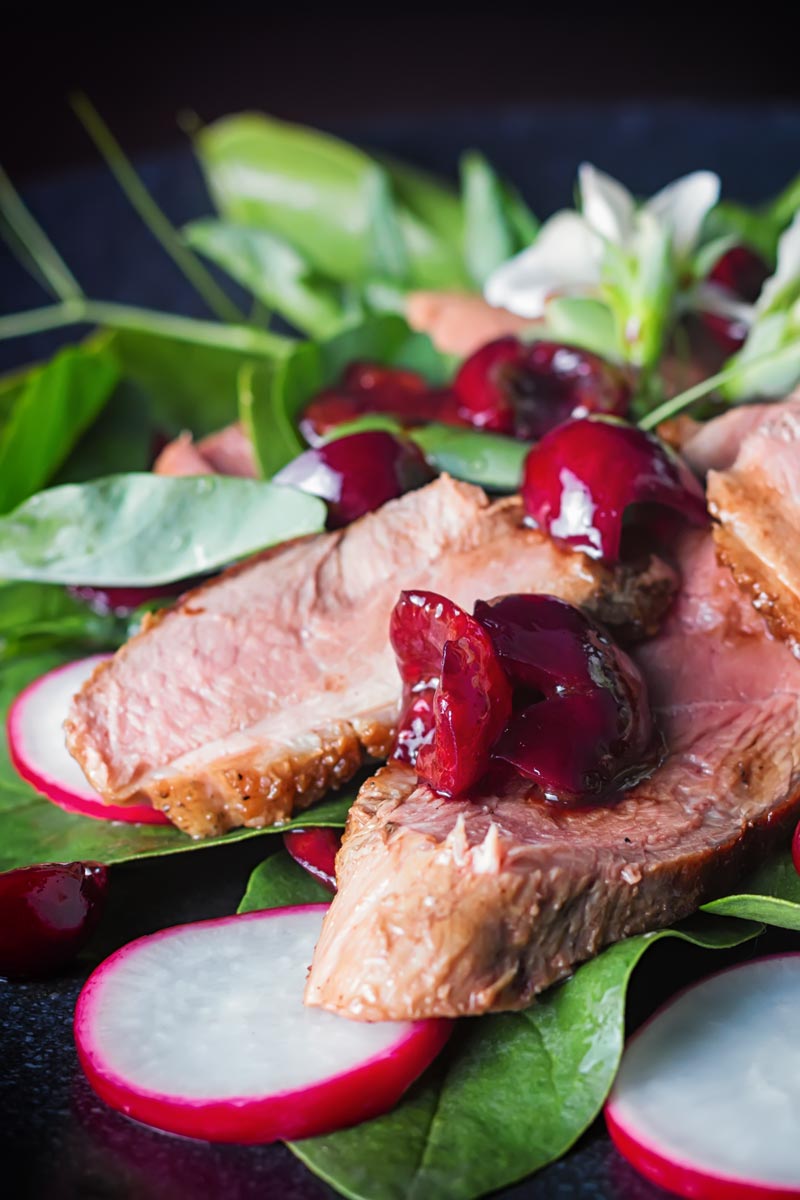 How to Cook Duck Breast.
In the main, there are two ways that I rely on to cook duck breast.
Both are in reality a twist on pan frying.
This duck salad recipe uses the hot pan method of cooking, it involves putting a scored duck breast into a hot pan. Then you sear flip and cook on.
The other approach is the cold pan method. That method puts the duck in a cold pan and brings it to temperature.
I cover this method in this recipe for pan fried duck breast with parsnips and red currant sauce.
In recent years I have moved personally to using the cold pan method.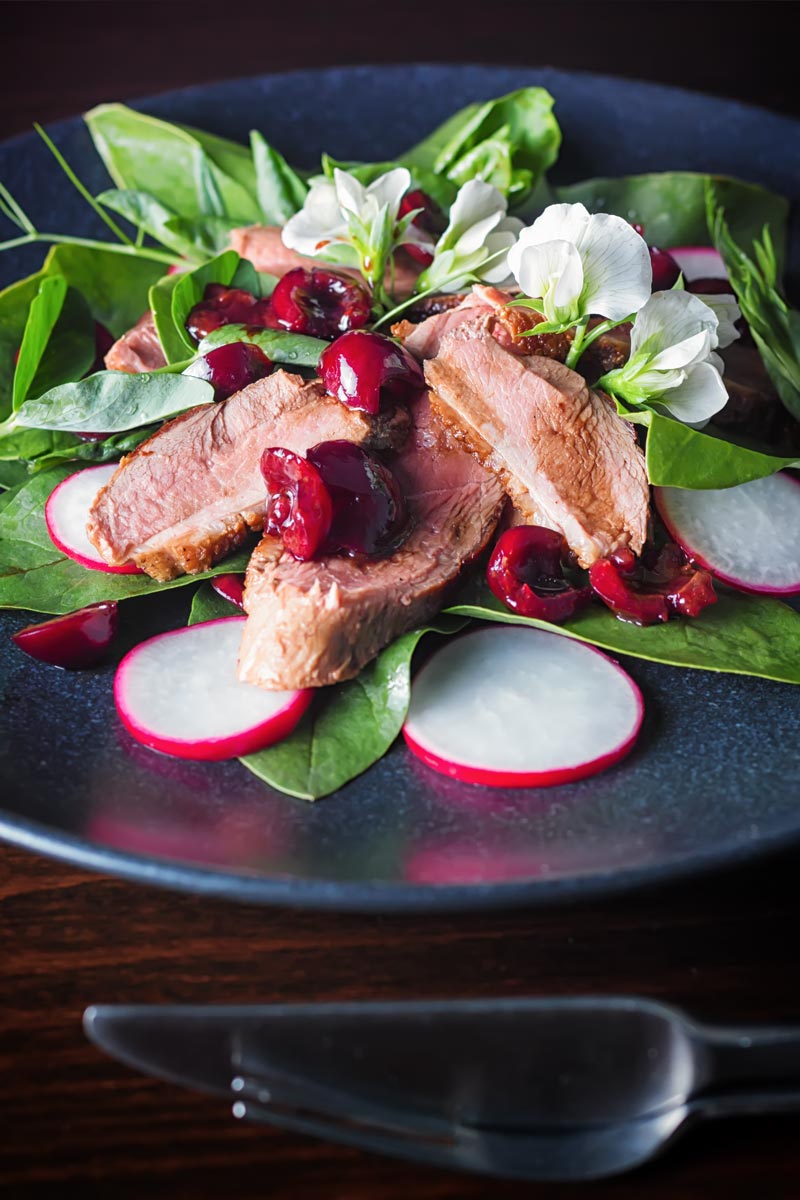 The Importance of Scoring a Duck Breast Before Cooking.
As with all duck breast, this recipe calls for the skin to be scored.
This needs to be done carefully, you need to use a sharp knife and only score through the skin. You need to avoid going through to the flesh of the duck!
Why do we do it? Well, it simply helps render out the fat from under the skin efficiently and because duck is such fatty meat this is important!
No one likes that almost jelly-like white unrendered fat under the crispy skin! As a result of this, we score the skin!
You can see how I do this in the video on my Duck a l Orange Recipe
Because we all like our meat cooked to a different level you should get yourself a meat thermometer.
If you like your duck cooked medium or well done I would transfer to the oven after flipping. This is because leaving it sat on the stove top runs the risk of overcooking the base when cooking longer.
After resting here are the guidelines you are looking to reach to get duck the way you like it. Your duck will increase in temperature by 3-5°C during resting.
Rosy Pink: 57°C 135°F.
Medium: 62°C 144°F.
Well Done: 67°C 153°F.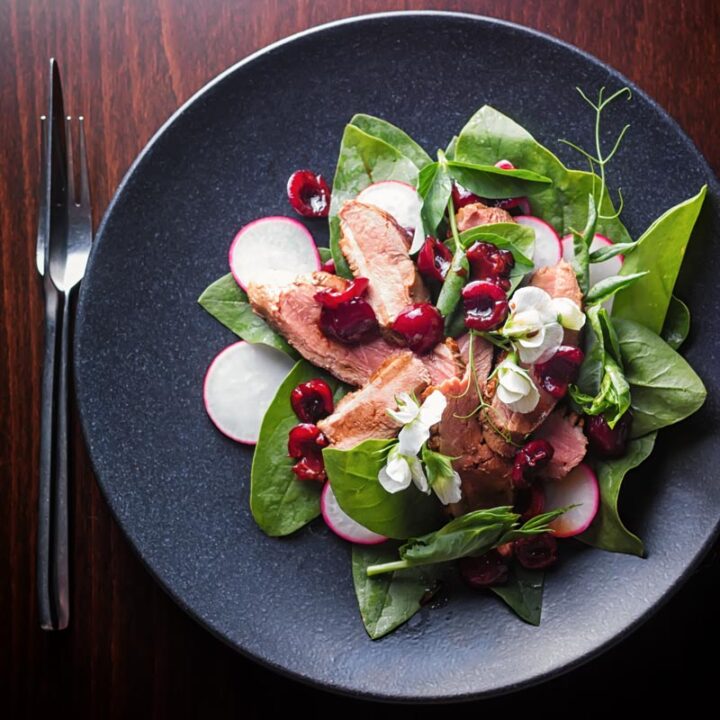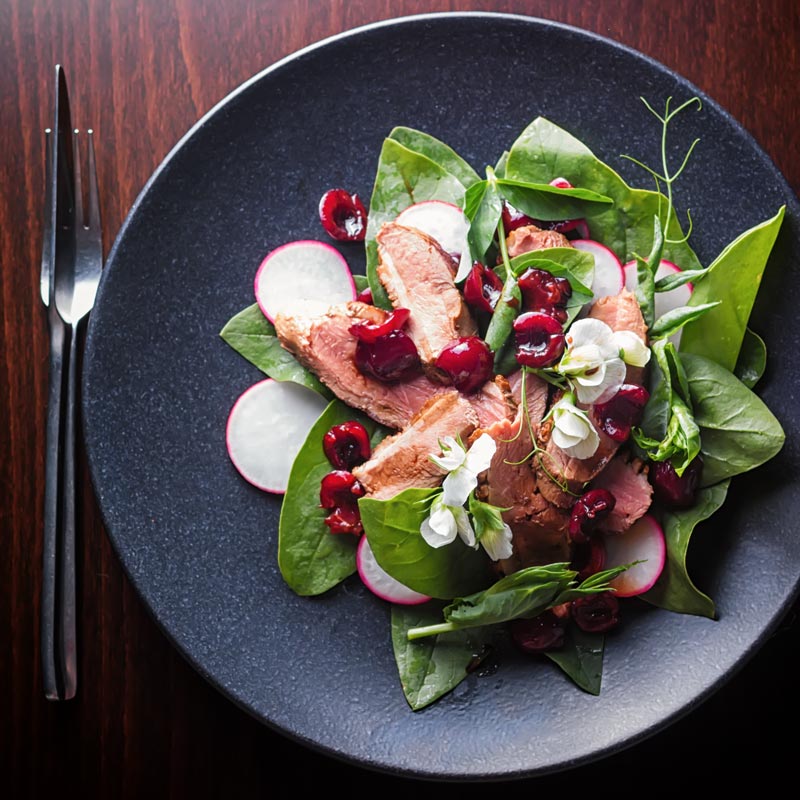 Yield:

2 Servings
Duck Salad with Balsamic Cherry, Spinach and Radish
Lovely rich duck breast is the perfect match to seasonal cherries and the sharp sweetness of balsamic in this great duck salad.
Ingredients
300 g Duck Breast
50 g Baby Spinach
8-10 Pea shoots (Optional)
4 Pea Flowers (Optional)
100 g Radish
100 g Cherries
1 Tbsp Balsamic Vinegar
Salt and Pepper to taste
Instructions
Clean the radish and slice into 3mm slices.
Pit the cherries with a cherry stoner or olive pitter and cut in half.
Meanwhile heat a dry frying pan over a medium high heat.
Score through the duck fat in a hatch pattern and then season the duck breast with salt and pepper and place in the frying pan skin side down until the skin is crispy, this should take 3-4 minutes.
Then flip and cook to your liking, I like medium for this dish so cook until the internal temperature reaches 56°C or 133°F before removing from the pan. This should take around 15 minutes in total.
Set the duck breast aside and allow to rest for 5 minutes covered with some baking foil before slicing thinly on the diagonal.
Pour out the duck fat from the pan leaving just a scant covering, then add in the balsamic vinegar and the cherries and bring heat to just warm.
When warmed slice the duck breast and get creative with the plating.
If you are not using pea shoots or blossoms you can add in some lambs lettuce or rocket.
Notes
Keep the duck fat and use it to roast potatoes at a later date, trust me... Best roast potatoes ever!
Nutrition Information:
Yield:
2
Serving Size:
1
Amount Per Serving:
Calories:

356
Total Fat:

17g
Saturated Fat:

4g
Trans Fat:

0g
Unsaturated Fat:

11g
Cholesterol:

204mg
Sodium:

315mg
Carbohydrates:

12g
Fiber:

2g
Sugar:

9g
Protein:

38g
Calorific details are provided by a third-party application and are to be used as indicative figures only.