This Chicken and Chickpea Soup feels light and summery but is hearty enough to keep you going an packed with flavour.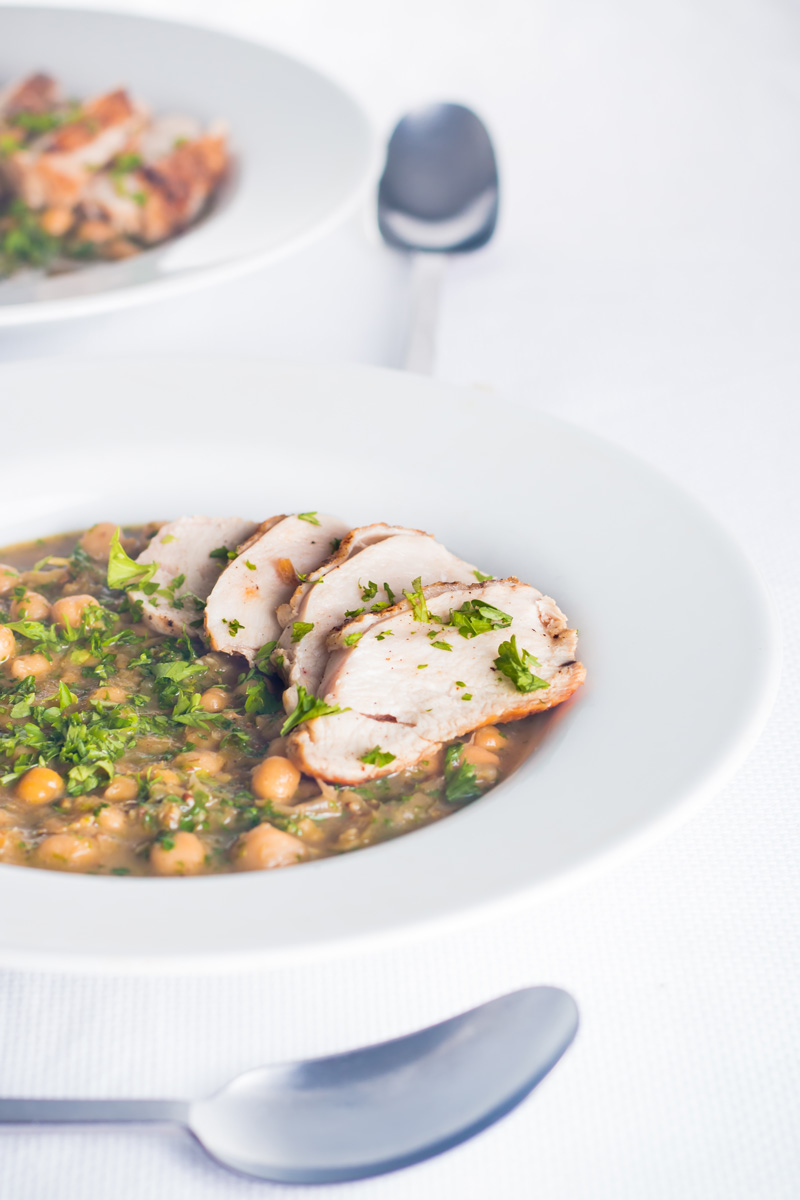 This Chicken and chickpea soup with lemon sits perfectly as a dish at the end of summer, it has all the lovely citrus flavours to give hints of what is passing and the earthy chickpeas offer a note of what is to come.
I love chickpeas, they are such a marvelously versatile ingredient, whether it is hummus, a chickpea soup, a curry or a tagine, they are just pure magic. I usually use dried chick peas and soak overnight but always have a few tins in the cupboard in case I forget to soak for our planned meal.
Which incidentally happens far too often, I have always had a pretty crap memory, well when I say a crap memory I am just far to easily distracte… Oooo look a squirrel.
Naturally I forgot to soak my peas for this dish today so was more than happy to swap out and used canned chickpeas it really is no issue and there is no difference between them so use what ever floats your boat.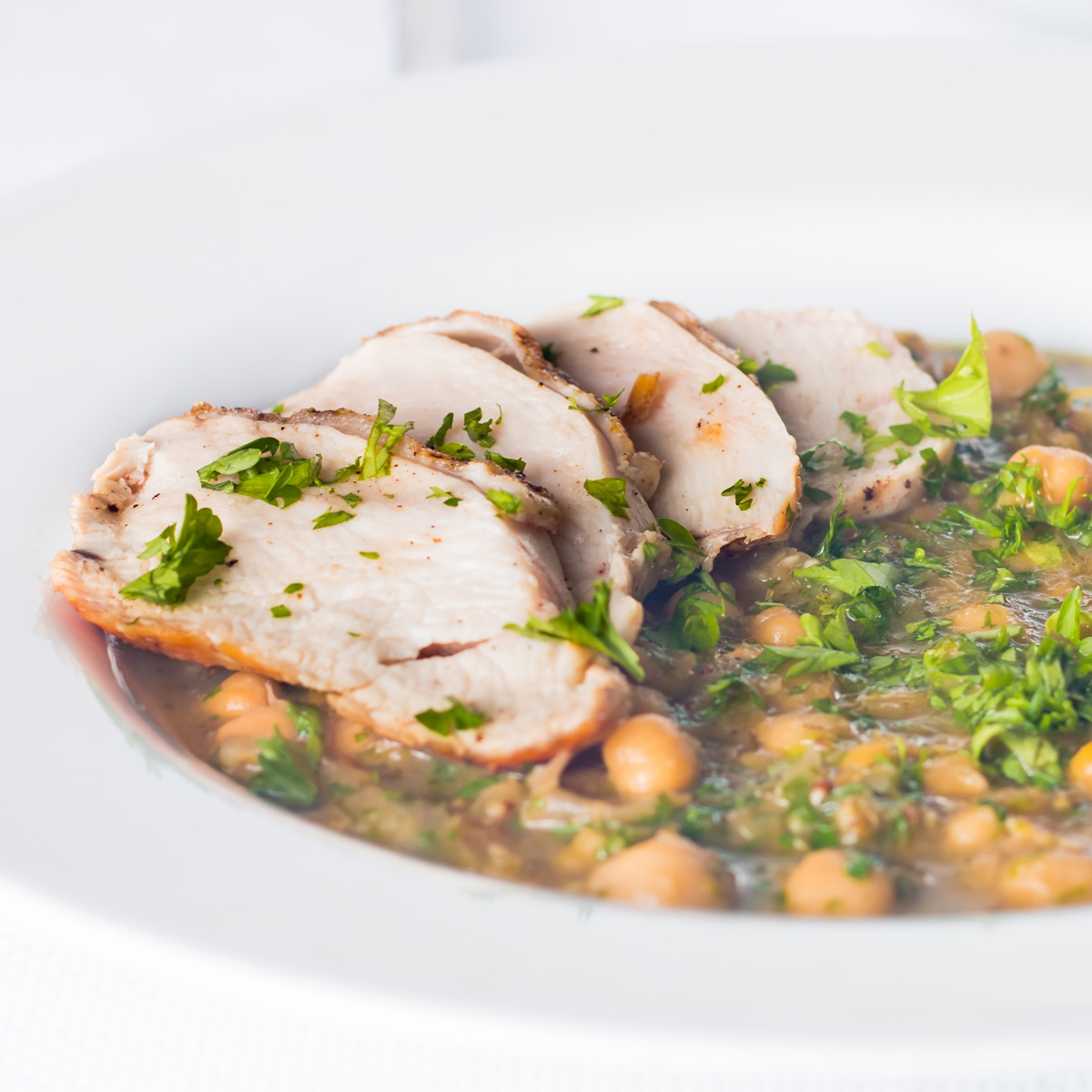 We did grow chickpeas in our garden at home in year two of growing and they grow really wonderfully in our climate. However the pain of harvesting of them means it is something we will never ever do again!
They grow on a bush that is about 45cm tall or so and they the peas like all peas form in a pod. That pod is the epitome of pure evil, it is covered in tiny 'thorns' that really screw with your finger tips leaving them in pain for days.
The solution is of course gloves, however as the pods produce only one or two peas they are quite small making wearing gloves a little awkward. So you have been warned, possibly the only ingredient I would say don't bother trying to grow, buy them if you value your sanity and any form of sensation in your finger tips.
However do buy them, whether it is in this chickpea soup or in a hummus (which I incidentally am thoroughly ambivalent about), chickpeas are a wonderful ingredient!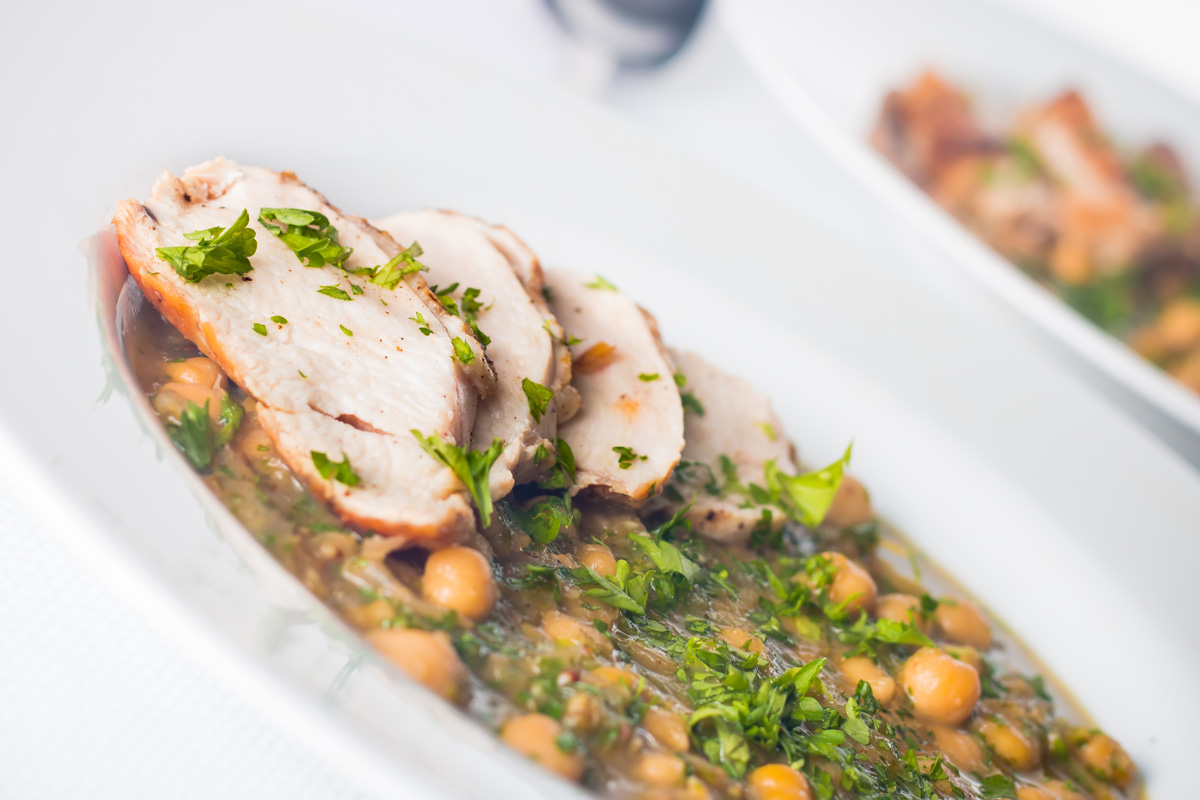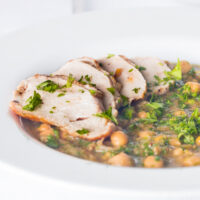 Chicken and Chickpea Soup with Lemon
This Chicken and Chickpea Soup feels light and summery but is hearty enough to keep you going an packed with flavour.
Ingredients
100g Onion, Roughly chopped
6 Garlic Cloves, Skinnned
40 g Parsley, Leaves and stalks separated stalks roughly chopped and leaves finely chopped
2 Tbsp Olive Oil
1 Lemon, Cut in half
1 Tbsp Ground Cumin
1 Can Chick Peas, 400g
1 Chicken Breast, Skin on
50 g Butter
500 ml Chicken Stock
Instructions
Place the onion, garlic and parsley stalks into a blender with 1 tablespoon of olive oil and blend to a paste.
Heat a flat bottomed pan over a high heat and when hot sear off the lemon halfs cut side down and when blackened set aside.
Cool the pan a little and add the remaining olive oil and add in the onion and garlic paste and cook down for 5 minutes over a medium heat.
Add in the cumin and stir for 30 seconds before adding in the chick peas.
Whilst the chick peas are coming up to temperature crush around a 3rd of them with the back of a fork.
Add in the chicken stock and lemon juice and simmer for 20 minutes now is a great time to check for seasoning and add salt and pepper as required.
Season the chicken breast with salt and pepper and place skin side down in a frying pan and cook until the skin goes crispy.
When crispy flip over the chicken turn down the heat to medium add in the butter and cook until the internal temperature reaches 73°C which should take about 20 minutes, basting occasionally with the butter in the pan.
When cooked allow to rest for 5 minutes before slicing thinly.
Finally add in most of the finely chopped parsley leaves to the soup and ladel into a bowl and top the soup with the sliced chicken and add a little more parsley.
Nutrition Information:
Yield:

2
Serving Size:

1
Amount Per Serving:
Calories:

977
Total Fat:

51g
Saturated Fat:

18g
Trans Fat:

1g
Unsaturated Fat:

28g
Cholesterol:

144mg
Sodium:

627mg
Carbohydrates:

78g
Fiber:

18g
Sugar:

17g
Protein:

56g