This chicken dinner recipe encapsulates the way I love to cook. Three simple recipes, a perfectly roast chicken breast, a silky white bean puree flavoured with garlic and blanched then seared asparagus in an orange butter sauce. The combination of elements is just as important when creating a meal as the preparation and cooking of the ingredients!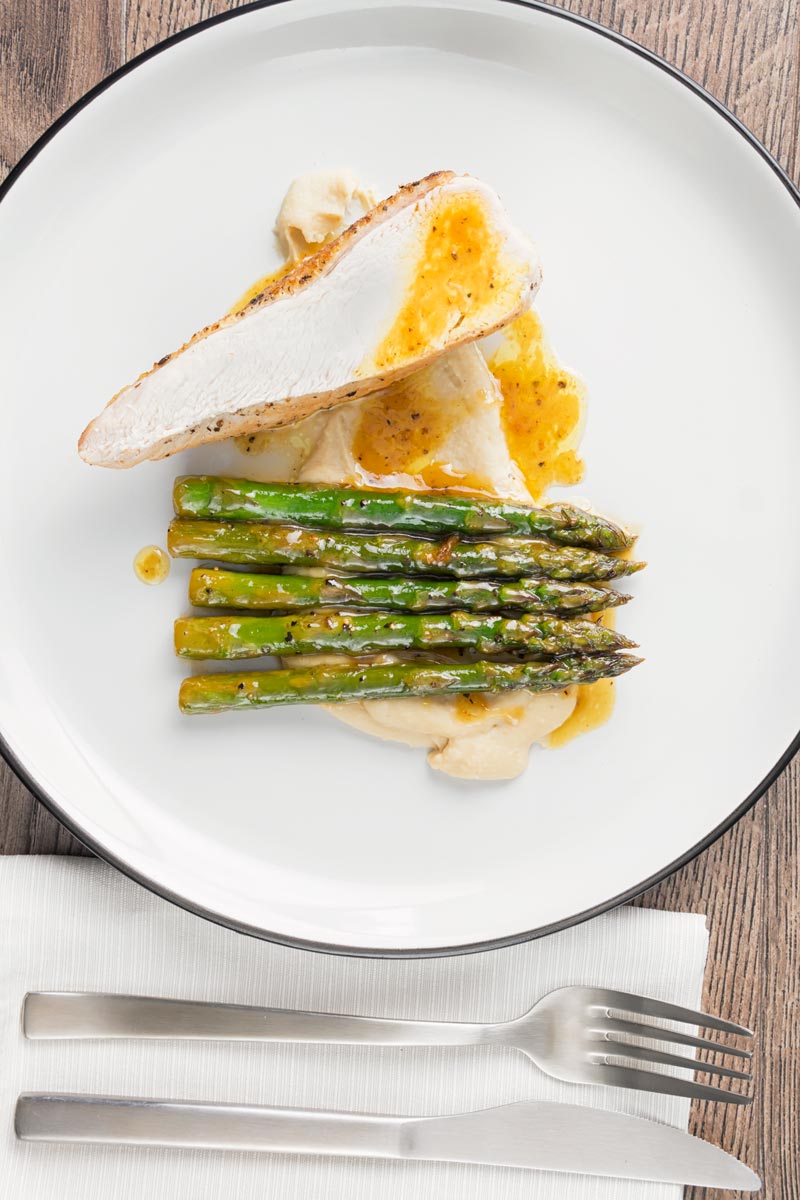 The Perfectly Roast Chicken Breast.
So let's break down this recipe…
The centrepiece of this chicken dinner is the perfectly roast chicken breast. Roasting a chicken breast is super simple and if done well should be succulent and full of light chicken flavour.
As with all cooking there are a million ways to end up in the same place.
Here I rub the chicken lightly with oil, season well, and then fry in a dry pan to crisp up the skin. All that is left to do then is transfer to the oven to cook for 20 minutes.
You could also do the 'butter' thang which is really good, I use it for the chicken breast I serve with my petits pois a la Francaise.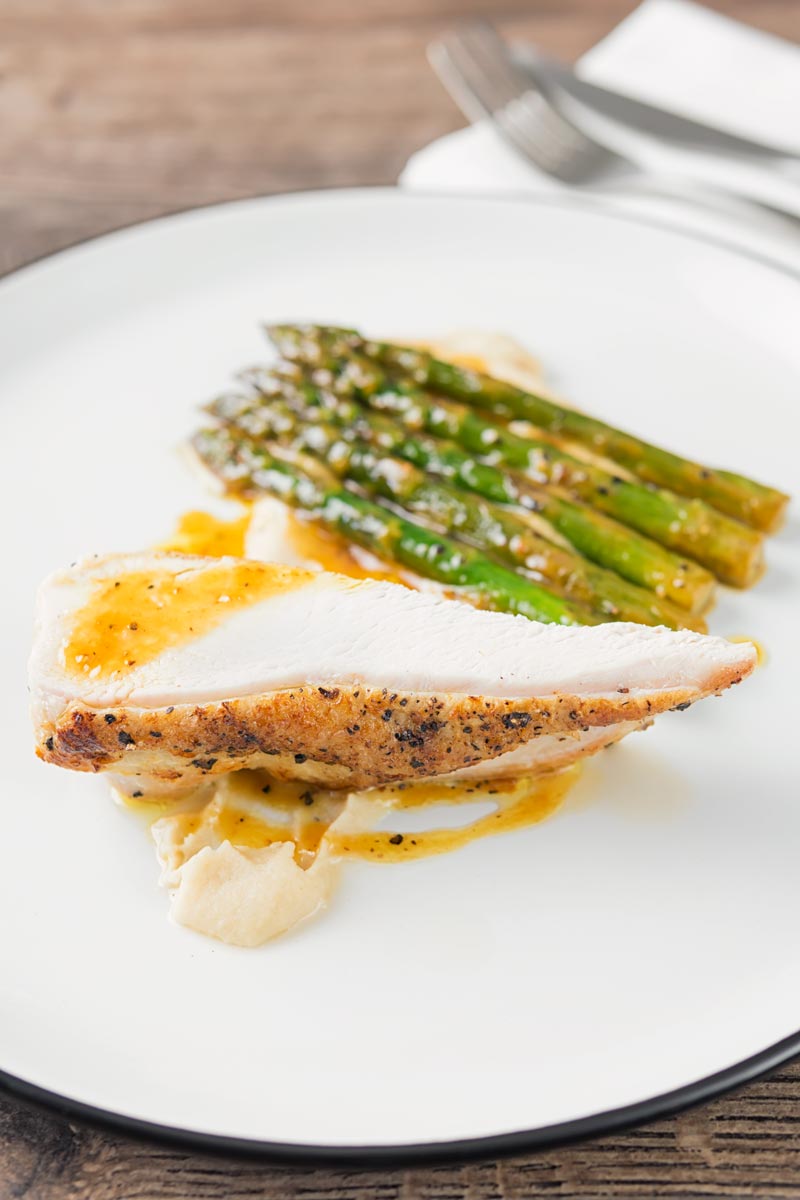 The White Bean Puree.
The white bean puree is the bedrock of this meal and it is the 'glue' that holds it all together.
It is a simple case of infusing the beans with a little garlic and bay, then blending to form a puree. Seriously it is that simple!
I always pass my purees through a fine sieve, it takes just a couple of minutes. But it really is the secret to a perfect silky puree.
As for the choice of beans, choose whatever variety of white bean is convenient. Likewise with the preparation, use canned or dried and then cooked, it makes no difference to this recipe.
For the record I use cannellini beans, aka white kidney beans. They are the same bean I use in my fagioli all'uccelletto recipe (Italian baked beans), but you could use navy beans or great northern beans.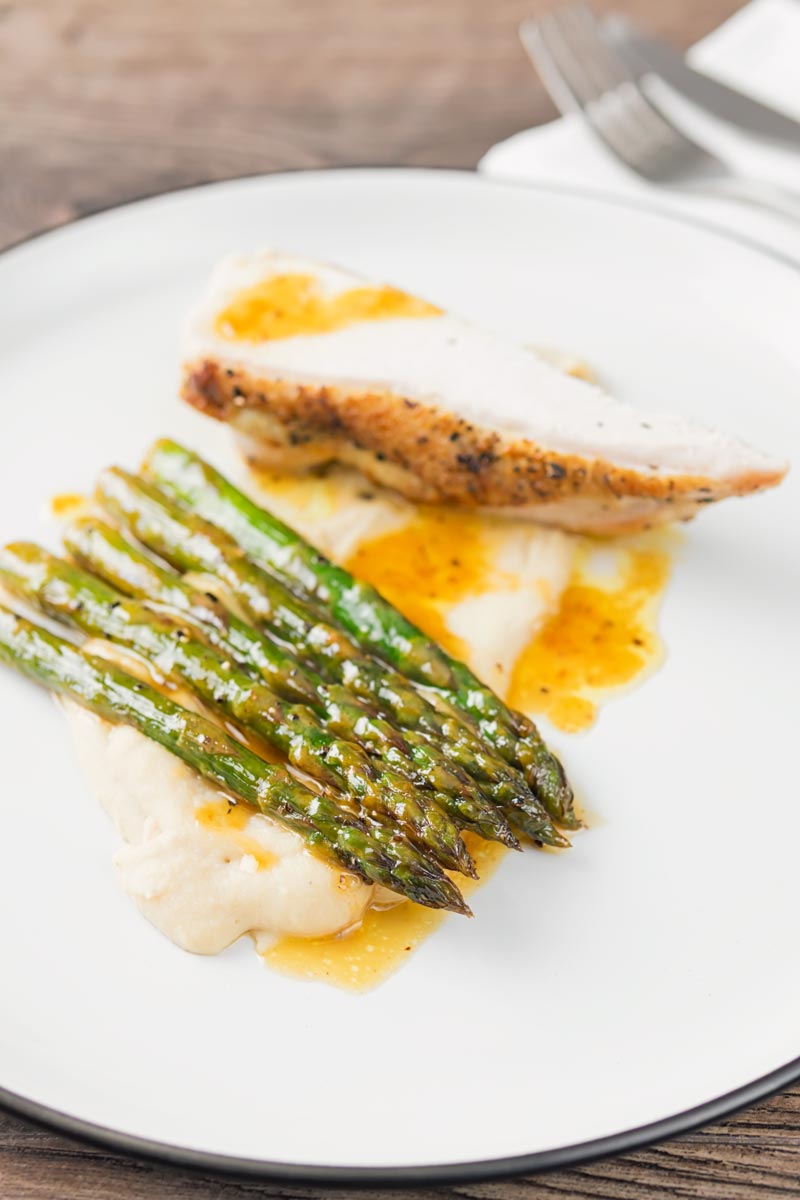 The Asparagus with Orange…
Oh Look, asparagus, what a surprise to see this ingredient in a recipe here at this time of year!
Asparagus is unashamedly my favourite seasonal vegetable and it appears here a lot at this time of year.
This recipe treats it very simply, it is simply blanched in boiling salted water. Then it is thrown into the pan and seared in the chicken juices. Finally it is finished with butter, and fresh orange.
That's it just a few minutes and it is done!
You can alternatively cook the air fryer asparagus and swap out the lemon juice for the orange that we use here.
Most importantly the flavours just work, orange chicken is typically associated with Westernised Chinese recipes but it works really well all ways round.
Orange and asparagus is a classic combination and one I use in my grilled spatchcock chicken with marmalade recipe.
And the white bean puree just sits there providing the earthy backdrop holding together the flavours!
So there you go, dinner, done!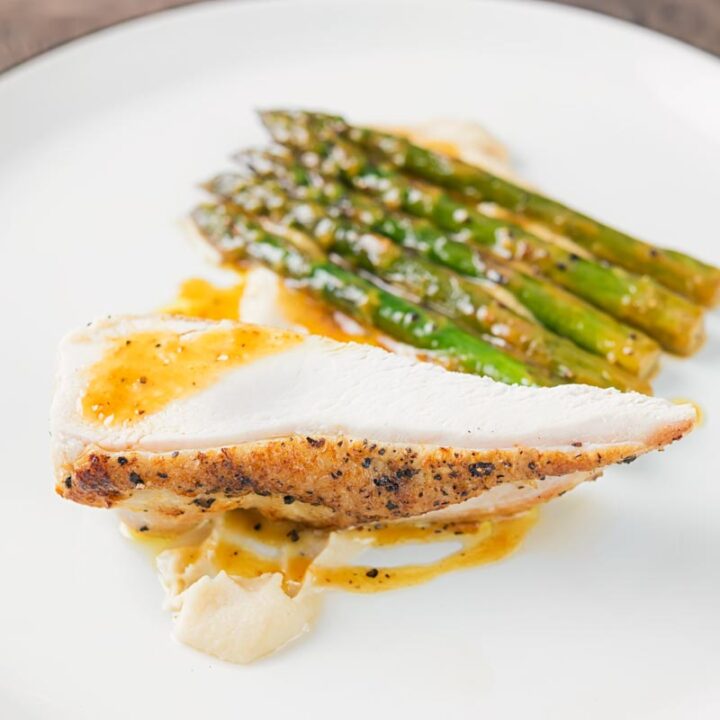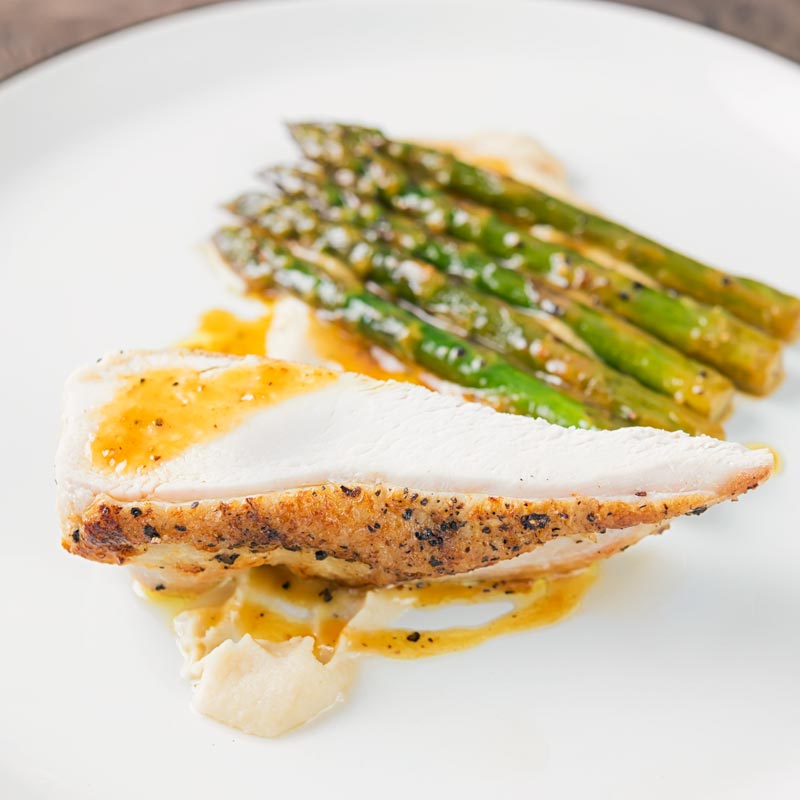 Yield:

2 Sevings
Roast Chicken Breast with White Bean Puree and Asparagus
This meal is how I love to cook, 3 simple recipes come together to create a dinner that is far more than it's parts. We have a perfectly roasted chicken breast, a lightly garlic flavoured white bean puree, some simply cooked asparagus and a simple butter and orange pan sauce.
Ingredients
For the Chicken Breast:
300 g Chicken Breast
1 Tbsp Olive Oil
Salt and Pepper to taste
For the White Bean Puree:
125 g Cooked White Beans
60 ml Milk
15 g Butter
1 Garlic Clove
1 Bay Leaf
Salt to taste
For the Asparagus:
10 Spears Asparagus
30 g Butter
1 Orange
1/4 Tsp Black Pepper
Salt to Taste
Instructions
Begin by putting the milk, butter, garlic clove, and bay leaf for the white bean puree into a small pan and bring to a simmer.
When the milk is simmering add the beans and a lid and turn the heat as low as it will go whilst we prepare the remaining ingredients.
Prepare the asparagus by snapping off the woody ends and trimming up with a knife.
Rub the chicken breast with a little oil and then season generously with salt and pepper.
Place the chicken skin side down in a hot pan that you can transfer to the oven.
Cook until golden which should take 3-5 minutes.
Then flip and transfer to the oven and cook at 190°C or 375°F for 15-20 minutes.
Whilst the chicken is cooking take the bean mix puree in a blender and then pass through a fine sieve.
Taste and season to taste with salt and pepper and place in a pan with a lid.
Just before you remove the chicken from the oven bring a shallow pan of well seasoned water tto the boil.
Blanch the asparagus spears for 2 minutes on a rapid boil and then remove.
Your chicken is ready to be removed from the oven when the internal temperature reaches 70°C or 158° F.
Tent the chicken with foil and then rest for 5 minutes, after resting the chicken should reach the safe temperature of 73°C or 165°F.
When you remove the chicken place the pan on the stove over a high heat.
Add the drained asparagus and sear for 2 minutes occasionally shaking the pan.
After two minutes squeeze the juice from the orange over the asparagus and then add the butter for the asparagus followed by the black pepper and then swirl together to form a sauce.
Bring the white bean puree back to temperature.
We are now ready to serve, begin by cutting a small slither from each side of the chicken breast and then cut in half length ways.
Add a swipe of the puree to the plate, followed by the asparagus spears.
Then a swirl of the sauce made with the orange juice, butter, and chicken juices.
Finally add the chicken breast half and then a little more sauce.
Nutrition Information:
Yield:
2
Serving Size:
1
Amount Per Serving:
Calories:

625
Total Fat:

31g
Saturated Fat:

14g
Trans Fat:

1g
Unsaturated Fat:

15g
Cholesterol:

178mg
Sodium:

1016mg
Carbohydrates:

30g
Fiber:

7g
Sugar:

7g
Protein:

56g
Calorific details are provided by a third-party application and are to be used as indicative figures only.