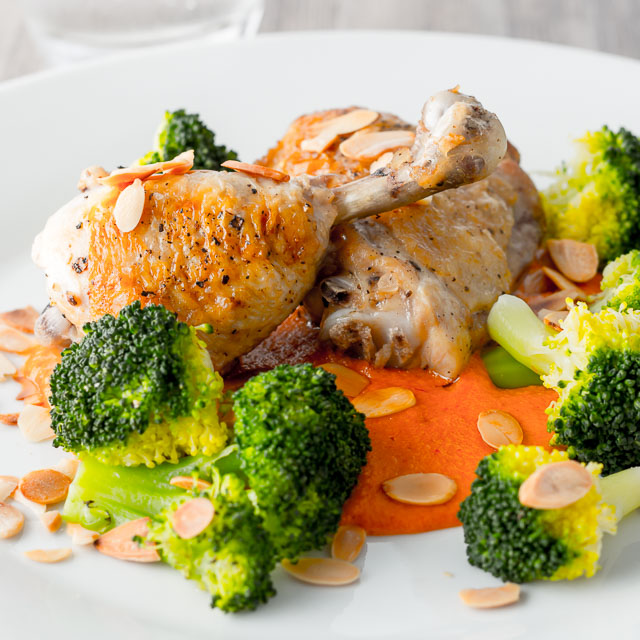 Romesco sauce is a Spanish stalwart and at it's heart is a pepper sauce with almonds and roasted garlic, traditionally is made with very specific peppers, often dried that are pretty difficult to find. So like most I have amended the recipe to reflect ingredients that are a little easier to find, but the almonds, fried bread, sherry vinegar and roasted garlic all remain and guess what it is awesome. Romesco sauce freezes wonderfully and this recipe scales fabulously and can be broken out of the freezer for a quick and flavour packed meal in a heartbeat. I don't cook much Spanish food but am really glad to add this to my collection as with all my recipes little heed is given to authenticity, I'm all about taking old ideas and making them work in my Hungarian kitchen and this Romesco sauce does contain a splash of heat, 'cuz', well 'cuz' I like it you can of course leave this out and go sweet, traditional Romesco seems to swing both ways on chili so at least I'll not upset the traditionalists on that front!
Apparently Romesco sauce is traditionally served in the Catalan region of Spain with fish, something that my classically minded food brain really struggles with, this sauce is big, I mean really big so many flavours and just can't see it with fish… In all fairness much like Halászlé which is a rustic fish stew/soup here in Hungary, it is packed with huge flavours that the subtlety of the fish is masked somewhat, but for some reason it still works.  In other news it has finally cooled down, gone are the 30 degree days and I even have to take a jacket to the football now, this makes me very happy. Give it 3 months time it will make me very sad but for now not sweating when I walk the dogs first thing in the morning is a very positive thing, although trying to teach the dogs to wipe their paws on the welcome mat when we come back in proves to be as frustrating and fruitless as it is every other year 😀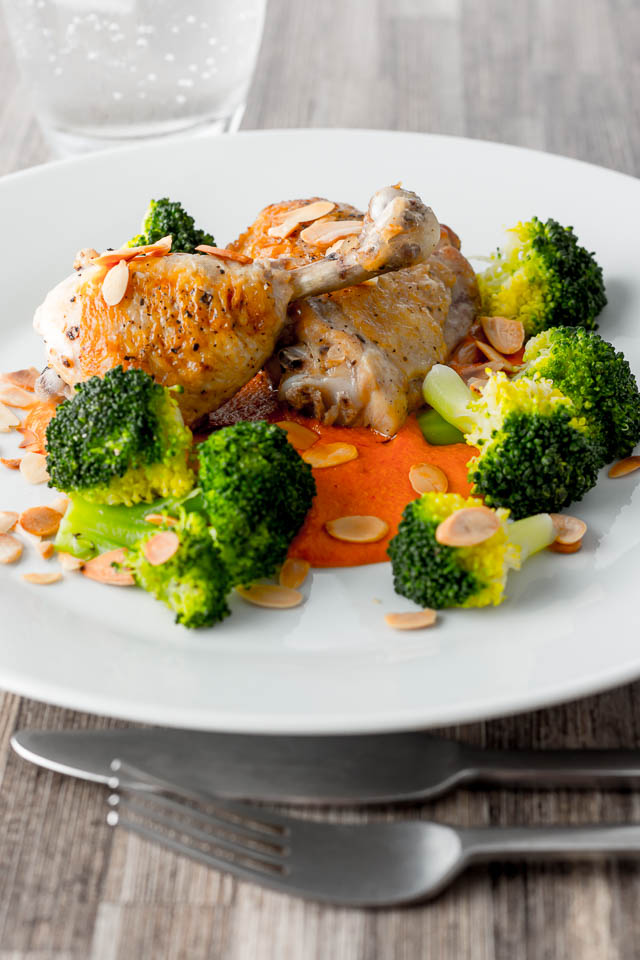 Print
Chicken Legs with Romesco Sauce
Romesco sauce is a Spanish stalwart and is in the main a pepper sauce with almonds, I have adapted the main ideas but used ingredients easily found.

Total Time
1
hour
10
minutes
Ingredients
For the Chicken and Broccoli:
2

Chicken Legs:

Separated into thighs and drummers.

180

g

Broccoli.

Broken down into florets the same size as each other.

1

Tbsp

Cooking Oil:

Neutral.

Salt.

Pepper.
For the Romesco Sauce:
1

Head

Garlic

Around 65g.

125

g

Plum Tomatoes:

Very ripe.

10

g

Chili.

Deseeded, something like a cayenne chili would work perfectly.

100

g

Red Pepper.

Deseeded.

100

ml

Olive Oil:

Plus 2 Tbsp.

35

g

Almonds.

25

g

Bread:

From a single slice with no crust.

15

ml

Sherry Vinegar.

10

g

Almond Flakes.
Instructions
For the Romesco Sauce:
Take the head of garlic and cut it in half through its 'belly' and wrap each half in tin.

Place the tomatoes, chili and red pepper in a roasting tin with half of the olive oil and a pinch of salt and a good grind of black pepper.

Nestle in the two tin foil packets of garlic and roast for 20 minutes.

Take a dry frying pan heat over a medium high heat and toast your almonds, watching carefully so they do not burn.

When the almonds are toasted set aside and add the remaining olive oil into the pan and fry off the bread until golden brown.

When roasted pop the garlic cloves out of their jackets and add everything for he sauce to a blender and blitz with 100ml of olive oil.

I like to pass my sauce through a fine sieve but it is optional, seasoning with salt as required.
For the Chicken and Broccoli:
When the ingredients for the sauce come out of the oven turn up to 200°C.

Season the chicken parts and brown on the stove top until golden the transfer to the oven and cook until the internal temperature reaches 70°C, 20-30 minutes depending on the size of your legs.

Remove from the oven cover with foil and allow to rest.

Drop the broccoli into a streamer and steam for 5 minutes whilst you are waiting for the chicken to rest.

Whilst the broccoli is streaming toast off the almond slithers and reheat the sauce.