A fairly classic Waldorf salad featuring celery and apple forms the base for these picnic friendly Waldorf Salad Wraps. A fantastic summer treat!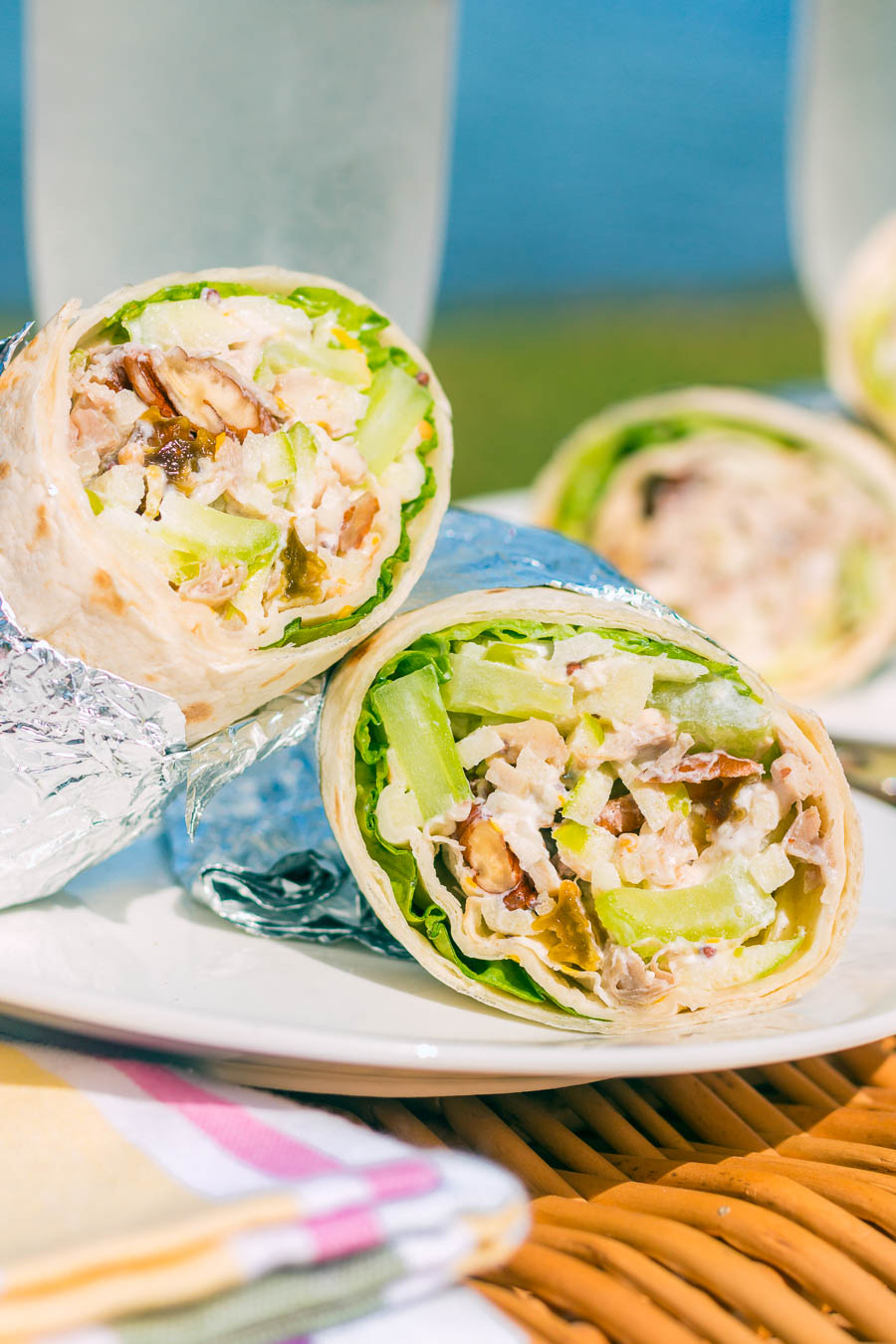 Chicken Waldorf Salad Wrap.
Summer is most definitely here in central Europe and I headed out to our favourite picnic spot to photograph these wonderful Chicken Waldorf Salad Wraps. I know the sacrifices I make for you guys!
Now whilst I consider these wraps the perfect picnic food but they are also a great lunchbox filler. But hey, I left the workplace 10 years and have no need for such nonsense.
These wraps are packed full of bright zingy flavours. As a result are for me a perfect for a summer lunch option. Apples, celery, nuts and golden raisins all feature as high notes. Set against the juicy chicken and of coarse a pretty traditional Waldorf Salad dressing.
On the point of chicken I usually just roast off a couple of chicken legs at 180°C or 350°F. But you can, of course, use a rotisserie chicken, they are so convenient. Well for most people they are, the nearest place I can buy a rotisserie chicken is a 100km round trip from home.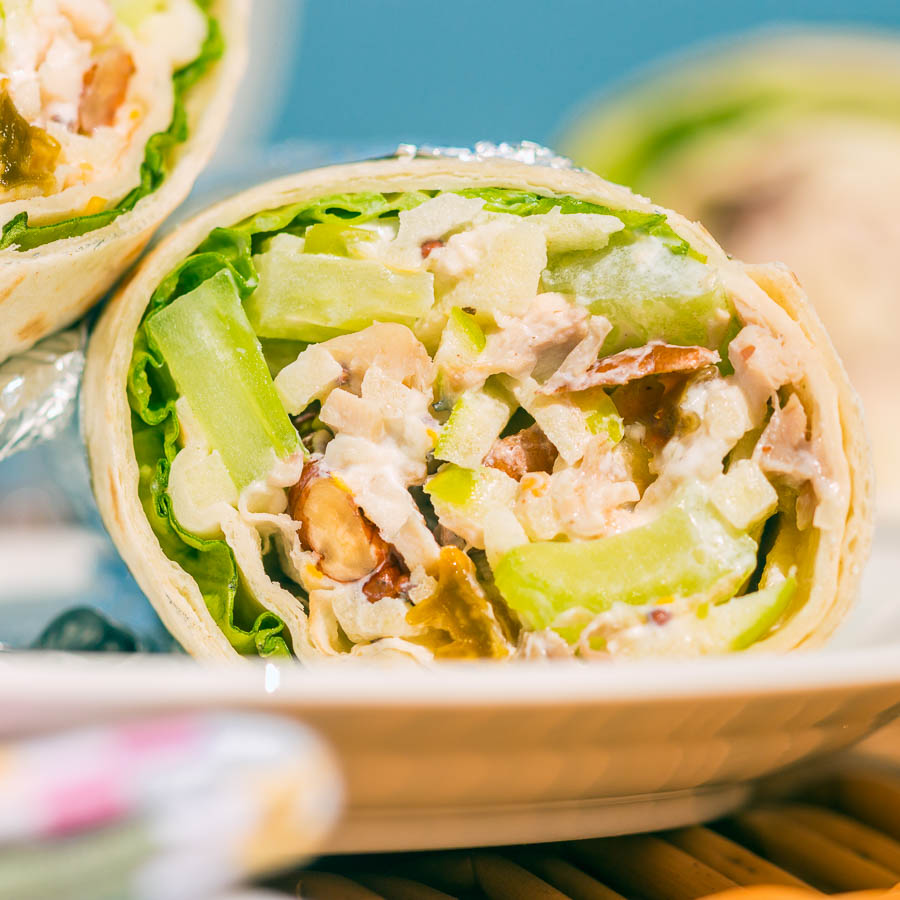 What is a Waldorf Salad?
As the name implies, this salad was first introduced at the Waldorf Astoria hotel in 1896. It was a light starter featuring celery, grapes and apples in a Mayonaise sauce.
The now ubiquitous nuts in a Waldorf salad were added much later and it traditionally had nothing to do with chicken.
But who cares right? Times change and I don't eat starters unless I am eating out. This perfect picnic food sticks quite closely to the flavours and ideas of the original recipe but then makes it relevant to the way I eat today.
The other major change is sour cream instead of mayonnaise. Now I love a good homemade mayo, but I am less keen on the jarred stuff.
Add that to the fact that sour cream is practically Hungary's favourite ingredient. I kid you not it is as common in recipes here as paprika. It also feels a little lighter which is great for summer.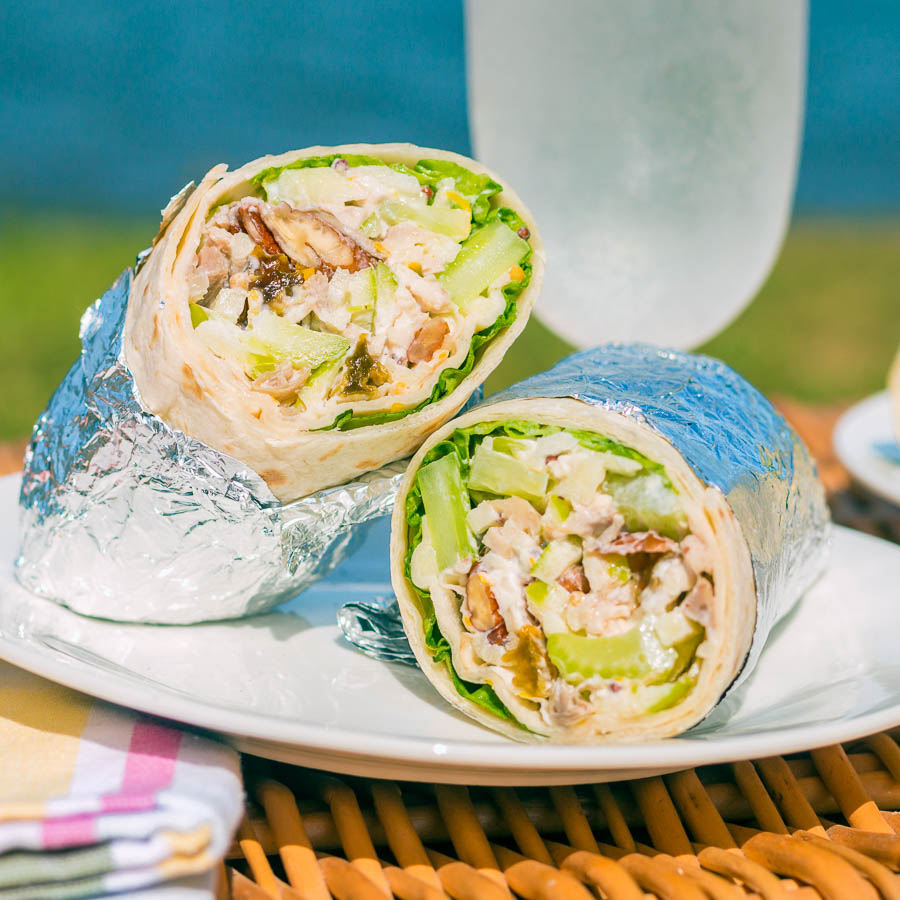 Perfect Picnic Food!
Last summer I introduced picnic recipes to my website and apparently you guys loved them. These chicken Waldorf salad wraps kick off where those left off!
I love nothing more than packing up our picnic basket, yes I bought a proper old school wicker picnic basket, and head off to our favourite spots.
Now I am not greedy so it all needs some pretty ninja level thinking and thinking out. Do I go pasta salad, scotch eggs, pork pie, quiche, or indeed wraps… And then which version of these do I chose? Seriously people, these decisions keep me awake at night!
Anyway this time around it was these glorious Waldorf salad wraps, I'm already planning my next picnic so who knows where we go next.
Go ahead, tell me what your favourite picnic food is and inspire me for my next recipe!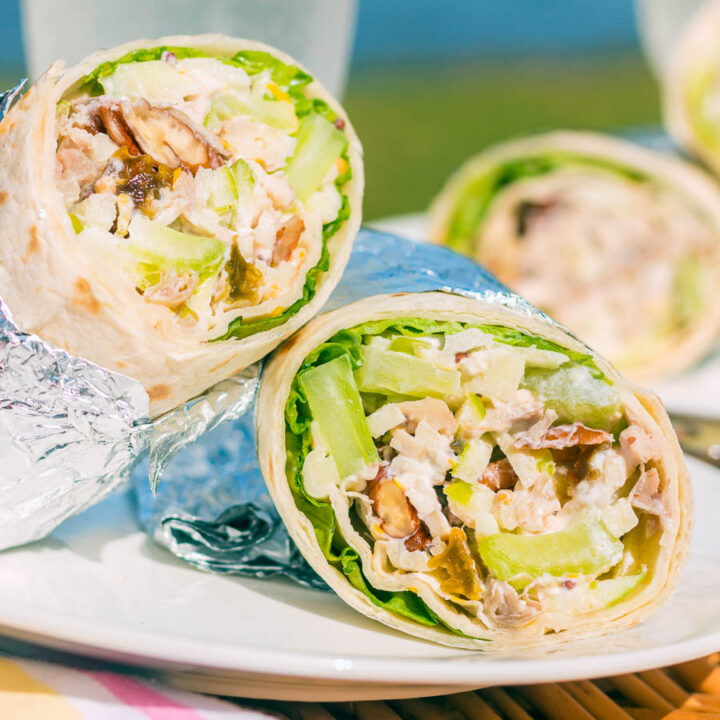 Yield:

4 Wraps
Chicken Waldorf Salad Wrap
A fairly classic Waldorf salad featuring celery and apple forms the base for these picnic friendly Waldorf Salad Wraps, a fantastic summer treat!
Ingredients
200 g Cooked Shredded Chicken, Dark meat works best
100 g Celery, 1cm dice
60 g Golden Raisins
1 Apple, Cut into batons
60 g Pecan Nuts
1 Head Romaine Lettuce
4 Flour Tortilla, 25cm
For the Dressing:
100 g Sour Cream
1 Tbsp Wholegrain Mustard
1 Tsp Cider Vinegar
1 Lemon, The zest of the whole lemon and juice of half
Salt and pepper, To taste
Instructions
Begin by mixing together the ingredients for the dressing and set aside.
Dice your celery and apple, squeezing a little lemon juice over the apple to stop it from going brown.
Separate your lettuce into leaves.
Now mix together everything, with the exception of the lettuce and of course the tortilla.
Now time to build.
Lay out a tortilla then add a few lettuce leaves to create a base. This will stop the tortilla going soft.
Add a quarter of the salad to each tortilla and roll tightly.
The best way to roll is to fold in the sides and then roll from the bottom up.
Finally, wrap in tinfoil which will help hold the shape in your picnic basket.
Nutrition Information:
Yield:
4
Serving Size:
1
Amount Per Serving:
Calories:

607
Total Fat:

27g
Saturated Fat:

7g
Trans Fat:

0g
Unsaturated Fat:

17g
Cholesterol:

78mg
Sodium:

490mg
Carbohydrates:

67g
Fiber:

10g
Sugar:

26g
Protein:

30g