Toasted fresh coconut is joined by fresh and bright carrot, cucumber and red onion in this Thai salad. At the centre is a thinly sliced and perfectly roasted chicken breast that has a Thai red curry coating. And I have not even mentioned the stunning dressing!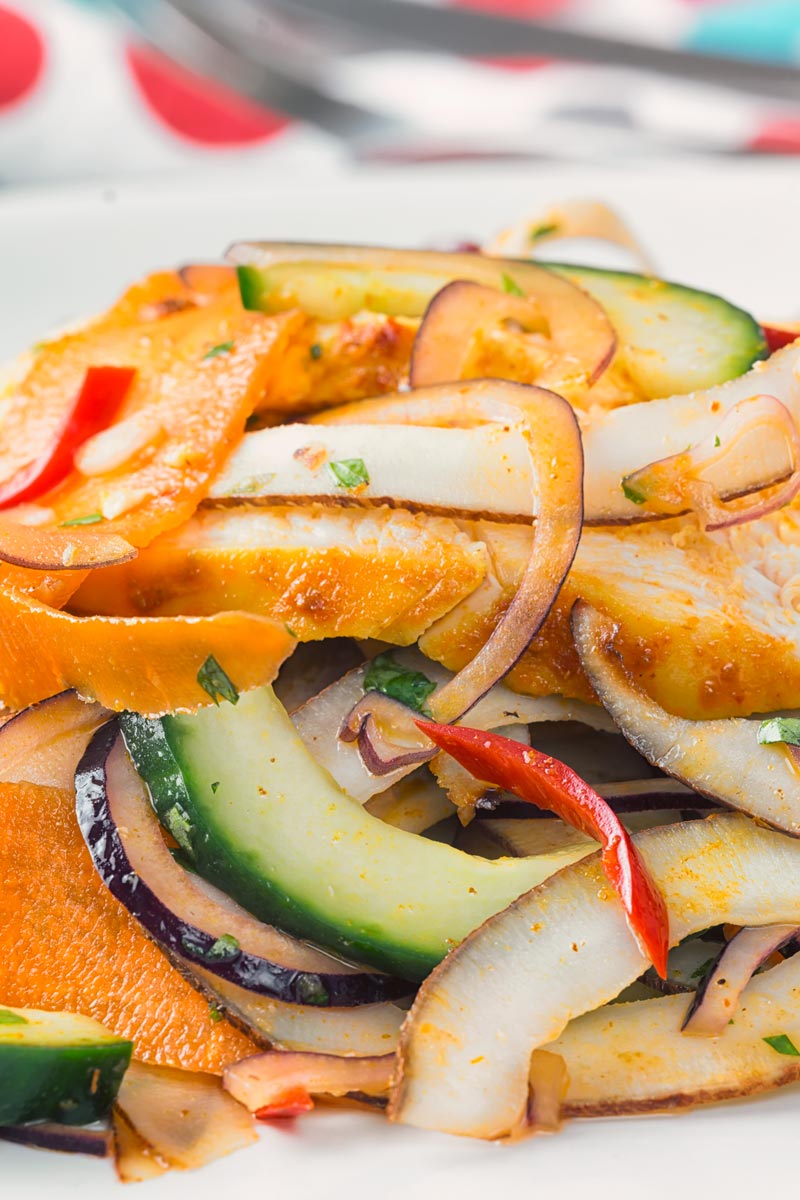 Coconut & Chicken Thai Salad.
Salad season is most definitely here and at this time of year, I love to eat like this. Simple raw vegetables and fruits paired with simply cooked meats.
The meat in question in this recipe is a single skinless chicken breast which is plenty to serve two people for a light meal.
It is rubbed in Thai red curry paste that is let down with a little sesame oil.
You can use your favourite brand of curry paste or you can make my version which you can find in this Thai Duck Curry recipe.
The other stand out part of this recipe is the toasted fresh coconut, it is stunning. It is not something I cook with often but when I do I always say I need to cook with it more often.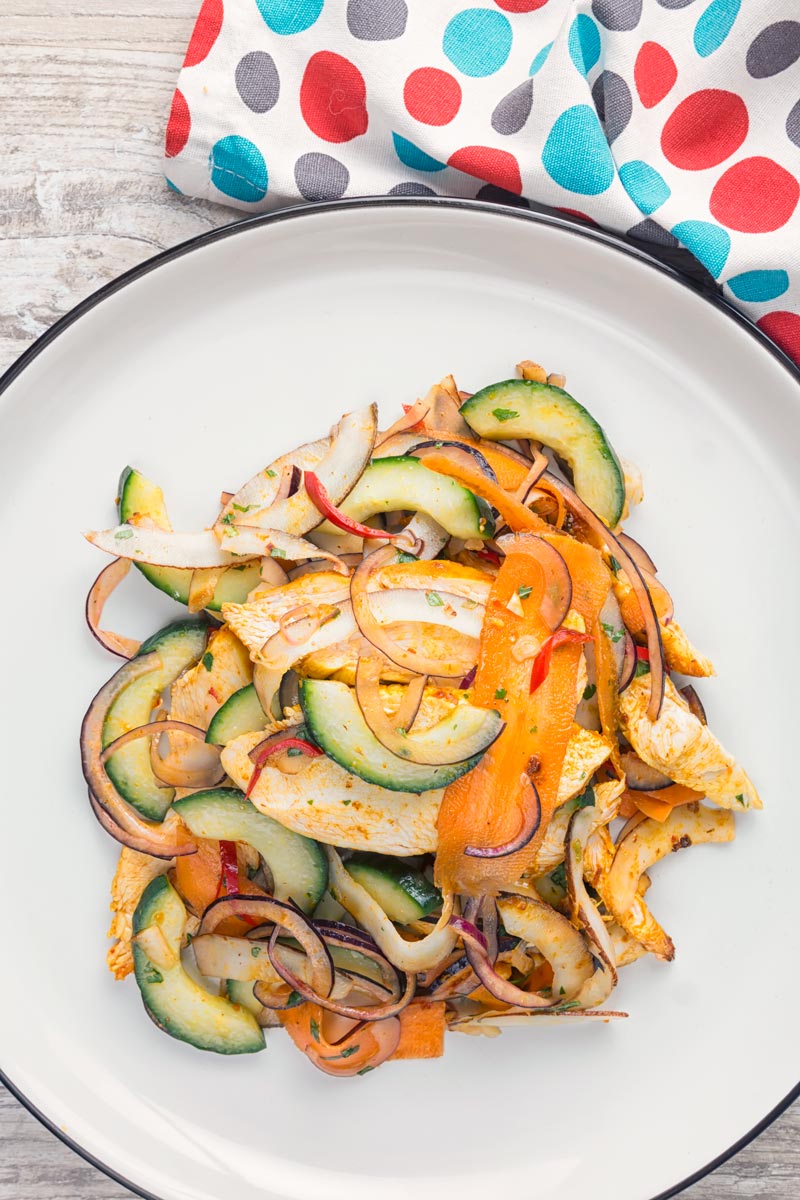 How to Open a Fresh Coconut.
Like many people, I always struggled with working out how to open a fresh coconut.
But once you know the secret it is simple and takes no more than a couple of minutes.
You need a single tool, a hammer! C'mon who else encourages you to get a hammer out in the kitchen?
Take a look at your coconut, there will be three spots that look like the holes where you stick your fingers in a bowling ball.
From those holes if you feel you will be able to find something that feels like a seam.
Cradle the coconut in the palm of your hand with the holes pointing at you and the seam pointing at the ceiling.
Now it is hammertime… If you did not sing "Stop" and do a daft dance at that point you are dead to me.
Then firmly strike the seam, but you do not need to leather the snot out of it you just need to give it a firm bash.
The coconut should crack, then keep going up and down the seam. You should then be able to peel off the outer layer and cut centre in half allowing access to the flesh.
This Thai salad uses just half of a small coconut but you can freeze the rest for a couple of months.
You can use the leftover coconut to make this rather foxy coconut chicken curry.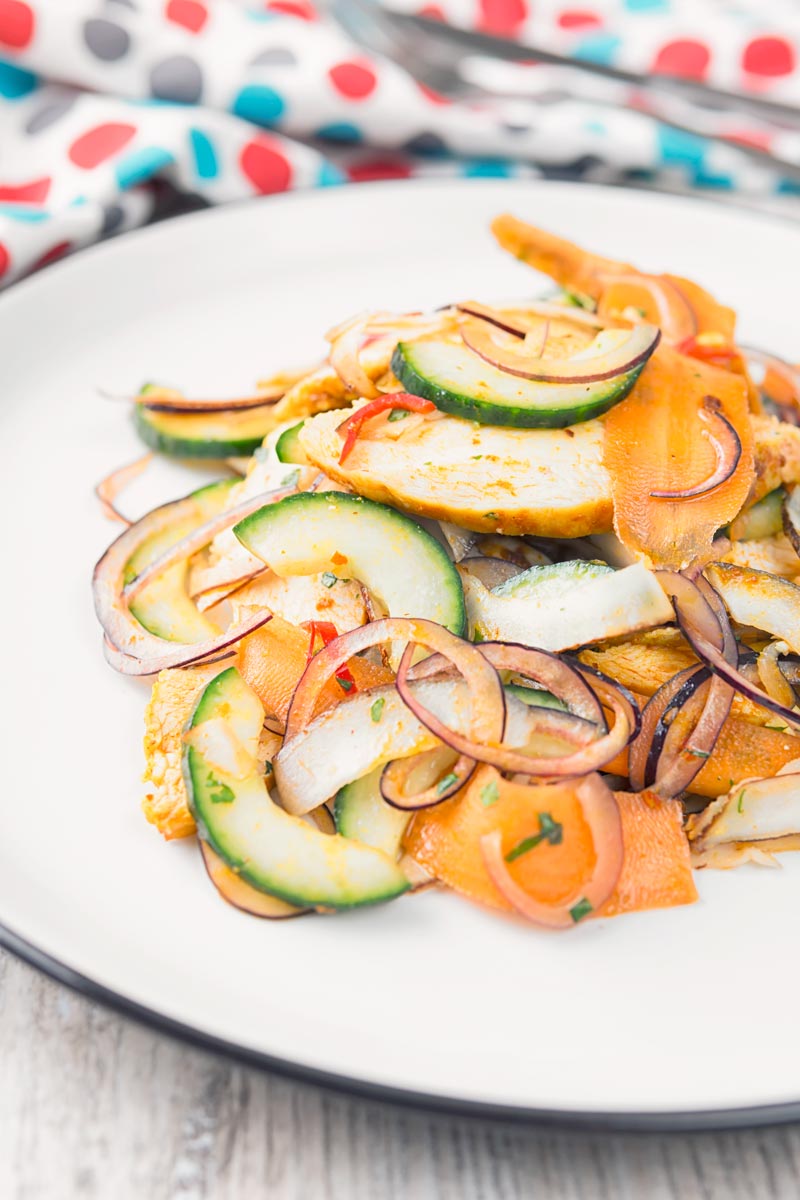 The Thai Inspired Dressing.
The dressing for this chicken salad is simple but packed with lots of flavour.
I have an old jam jar in the kitchen that I keep for making dressings. There really is no excuse for buying store bought dressings.
Most of the ingredients like oils, vinegars and soy sauces have an insanely long shelf life.
Usually making a dressing involves no more work than chucking stuff into a jar and shaking.
This dressing calls for a little chopping of chili and coriander but other than that. We are again all about chucking stuff in a jar and shaking.
It is in many ways very similar to the dressing in my Thai Beef salad recipe.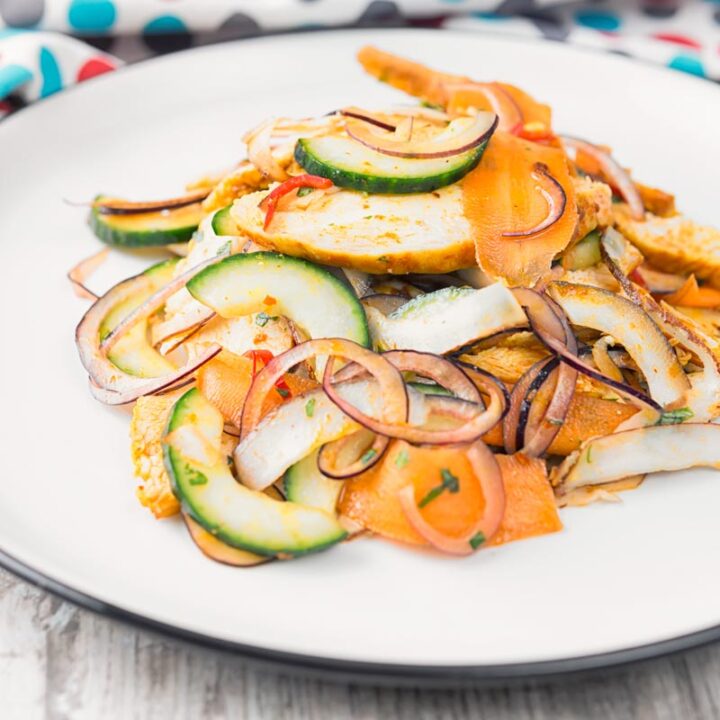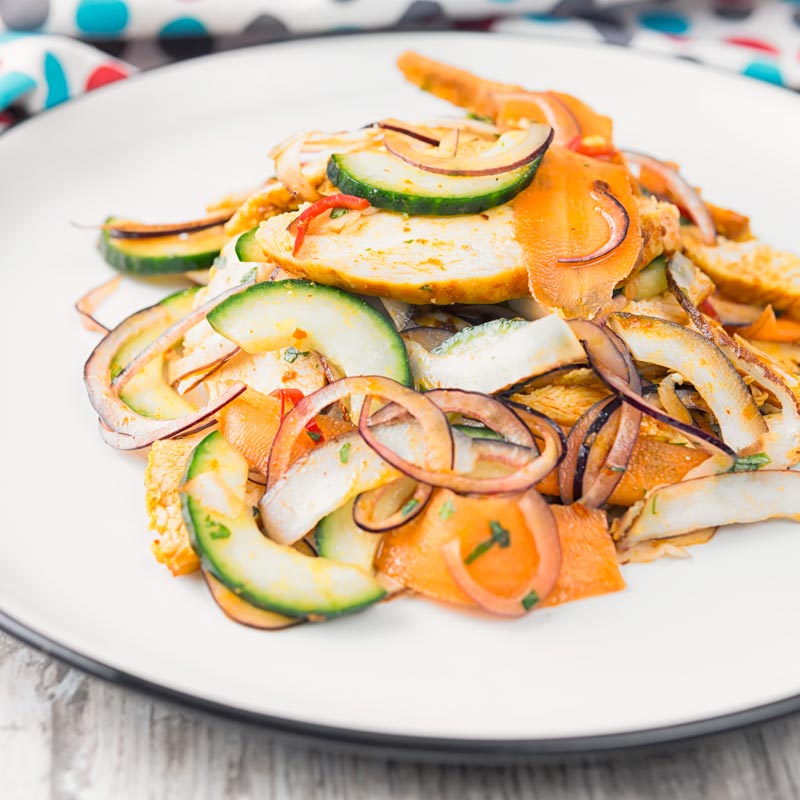 Yield:

2 Servings
Coconut and Chicken Thai Salad
This bright and vibrant almost Thai salad features a chicken breast roasted in thai red curry paste and pairs it with fresh coconut. The dressing is worth the price of entry alone!
Ingredients
300 g Chicken Breast
100 g Fresh Coconut
1 Tbsp Thai Red Curry Paste
1 Tbsp Toasted Sesame Oil
150 g Cucumber
50 g Carrot
75 g Red Onion
Salt and Pepper to taste
For the Dressing:
1 Lime
1 Red Chili pepper
1 Tbsp Brown Sugar
1 Tbsp Fish Sauce
2 Tbsp Toasted Sesame Oil
2 Tbsp Coriander Leaves
Instructions
Mix together together the red curry paste with one tablespoon of sesame oil.
Season the chicken breast with salt and pepper.
Rub the chicken with the curry paste mix and the roast in the oven at 200°C or 400°F for 20-25 minutes.
Shred the coconut into ribbons using a vegetable peeler.
Heat a dry pan over a medium heat and then toast the fresh coconut until it starts to colour. This should take 7-8 minutes then remove and allow to cool.
Cut the cucumber in half length ways and then remove the seeds.
Cut the cucumber into 3-4mm slices on a slight angle and place in a large bowl.
Cut the carrot into ribbons with a vegetable peeler and place in the bowl with the cucumber.
Finely slice the red onion into half moons and then mix into the bowl with the carrot and cucumber.
By now your chicken should be ready to remove and rest, it should reach an internal temperature of 73°C or 165°F after resting. I remove from the oven at around 70°C or 158°F.
Begin the preparation for the dressing.
Zest and juice one lime and place in a bowl.
Finely slice the chili, keep or remove the seeds depending how much spice you like, and then add it to the lime juice.
Chop the coriander leaves and add to the mix.
Then add the remaining ingredients for the dressing and mix together, taste and adjust to your liking.
Thinly slice the chicken.
Finally dress the salad and then add in the chicken and serve!
Notes
100 g of fresh coconut is around half of one small coconut. Scroll above the recipe to find out how to open a coconut.
Nutrition Information:
Yield:
2
Serving Size:
1
Amount Per Serving:
Calories:

694
Total Fat:

43g
Saturated Fat:

19g
Trans Fat:

0g
Unsaturated Fat:

21g
Cholesterol:

128mg
Sodium:

1173mg
Carbohydrates:

30g
Fiber:

8g
Sugar:

15g
Protein:

51g
Calorific details are provided by a third-party application and are to be used as indicative figures only.