Coronation Chicken was developed for the Coronation of Queen in 1953, mine takes the classic inspired recipe and does something different a little different.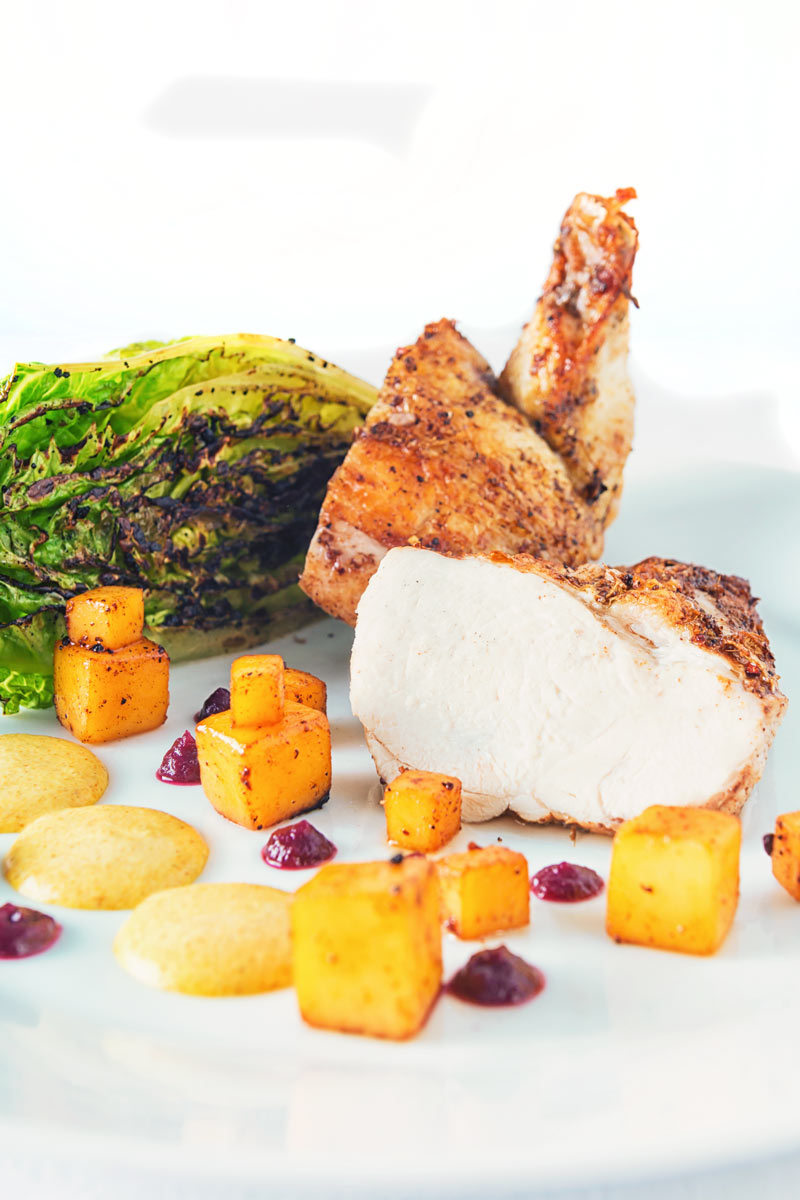 Coronation Chicken Rebooted…
Well, where do I start with my Coronation Chicken Recipe? It's a curry recipe, well kinda, it's a chicken and mango recipe, well kinda. It's a chicken and mango curry salad, kinda… But close enough!
Coronation Chicken was a dish developed for the banquet of Queen Elizabeth II coronation in 1953. It seems to follow on nicely from Jubilee Chicken which was developed for the Silver Jubilee of King George V in 1935. Although they are very different dishes.
The original recipe was a cool chicken salad with a mayonnaise-based 'curry sauce', or coronation sauce. See Queenie was loving the Curry even back in 53.
Very much like good ol' Queen Victoria who was rather fond of a good Ruby Murry (curry) too. As you know I am also really rather fond of the occasional Britsh Indian curry recipe.
Over the years Coronation Chicken has graced many a sandwich and buffet table in the UK. The poor sad old beast even became a nasty horrid insipid filling in garage sandwiches.
It has now been ousted by the more trendy but equally as insipid Chicken Tikka Sandwich. Which by now has probably become a Chicken Tikka Wrap with Quinoa. Whilst we are on the topic of chicken tikka, you should definitely check out my Chicken Tikka Masala recipe.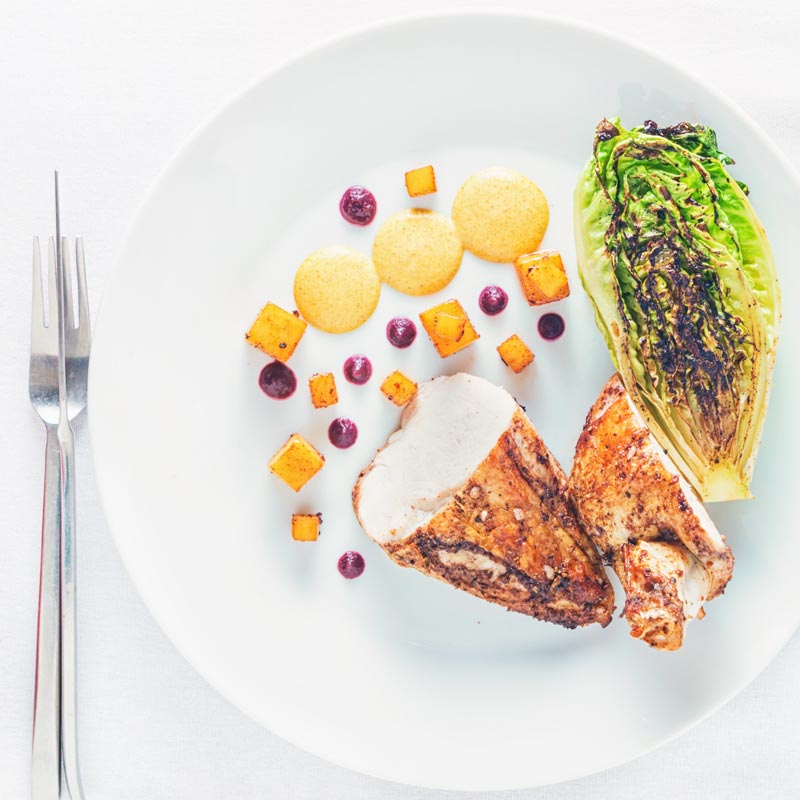 Reimagining Old Recipes!
I apologise I was not intending to launch into a sarcastic history lesson, but I did, hey ho, back to my rebooted version of Coronation chicken.
I love taking old-school recipes and giving them my own personal spin, it makes me smile as a cook. Alongside this coronation chicken recipe, you should really check out my chicken Waldorf salad wraps. They take a traditional light starter and turns it into a filling for some awesome picnic wraps.
Then maybe try out my Thai Red Curry. It takes a comforting curry to a rather elegant duck breast dinner recipe without losing any of the flavour.
In many ways this coronation chicken is fairly similar to the 1953 recipe all be it a little more simple (despite what it looks like on the plate). As is normal I have taken the liberty of moving to mango rather than apricot because… Well because I could and I like it.
Just like in the original recipe the base of the 'sauce' or dressing as it was then is fruit puree with curry flavourings and mayonnaise. Despite my love of Indian food, this is the first time I have recommended curry powder in a dish.
Yes, I made up my own curry powder but I'm a bit of a 'git' like that and suspect that few others out there are. Use something you like and only buy a small jar or packet, it has a really short lifespan.
I would also recommend making up some extra Coronation sauce and red onion puree. They make great accompaniments to lots of meals.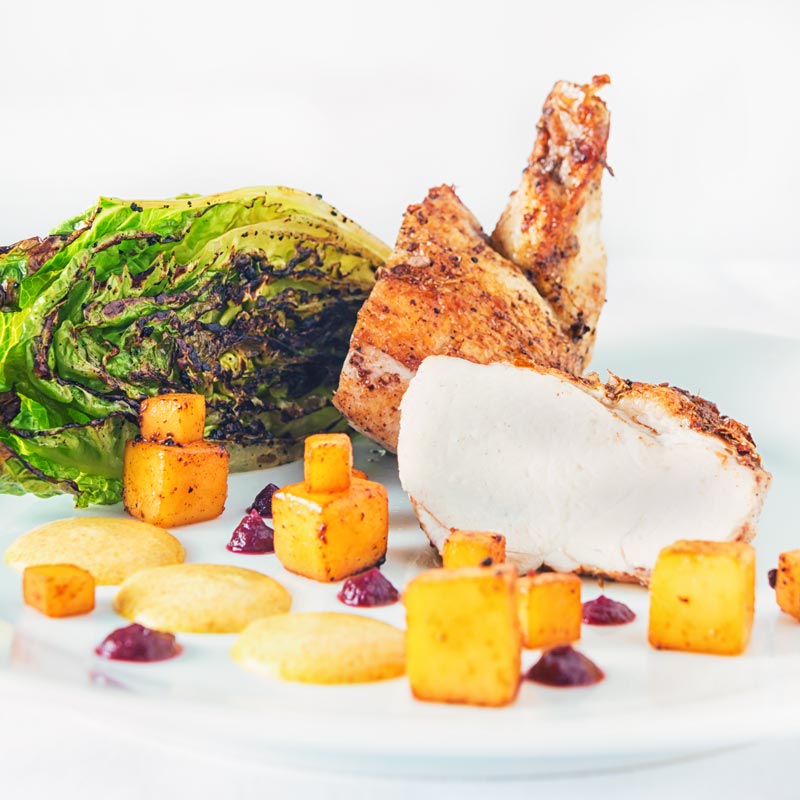 Playing With Food Presentation.
The plating of my Coronation Chicken recipe, is just me playing. As you delve further back through my website you will find fewer and fewer dishes put on a plate because I was… Who am I kidding, I am pretty rubbish at it.
It is something I am trying to improve and something I practice all the time. Doing stuff like this helps me improve. So yes you guys are my plating guinea pigs.
You may have noticed unlike many other food bloggers I don't use a lot of props or sprinkle a load of stuff on my table, that is because it is my dinner…
Just a few short minutes after these 6 photographs were taken the white backdrop was removed my chair was pulled up and I ate my still warm meal. Props and sprinkles would get in the way of that so I do not use them.
I also swear profusely at foodies that season their table. I'd walk out of a restaurant that served food like that!
Unfortunately, that leaves my food being the sole focus of the images I take, so please stick with me. I am working on improving and hopefully, you will see a whole host of different styles from me in the near future…
By the way, you should definitely give it a try. It takes next to no time and is actually quite a lot of fun. Does that make me sad?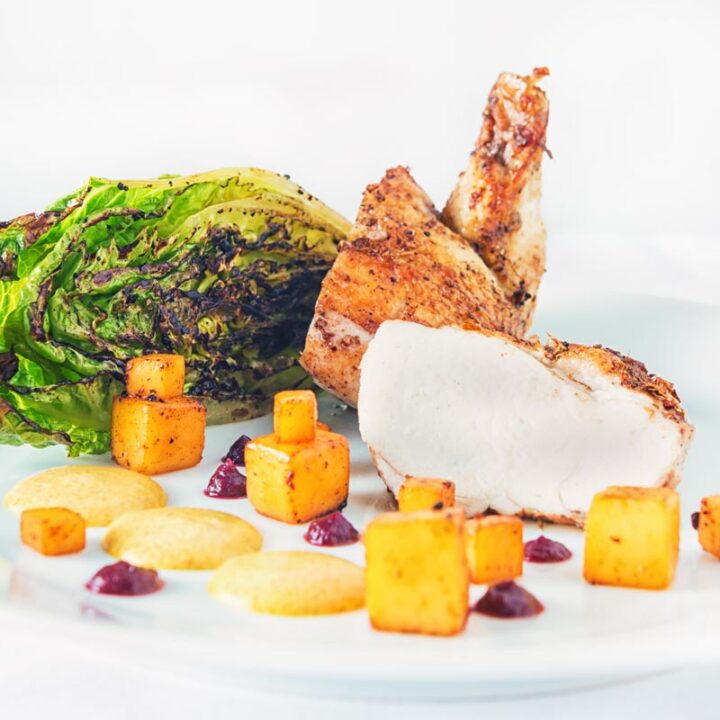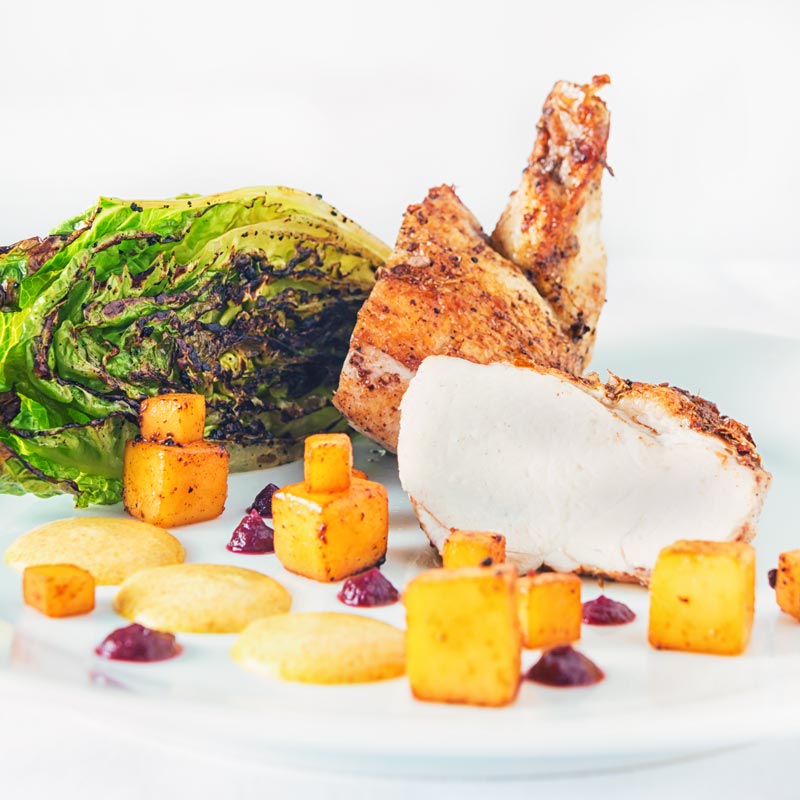 Yield:

2 Servings
Coronation Chicken Rebooted
Coronation Chicken was developed for the Coronation of Queen in 1953, mine takes the classic inspired recipe and does something different a little different.
Ingredients
2 Chicken Skin On Breasts: I favour the 'Supreme' cut for this recipe
1 Baby Gem Lettuce: Cut in half
Flesh of Half a Ripe Mango: Diced
1 Tsp Garam Masala
1 Tsp Flavourless Cooking Oil
1/4 Tsp Salt
50 g Butter
Chat Masala, To season
For the Sauce
100 g Mango
50 g Mayonnaise
50 g Sour Cream
3 Tsp Mild Curry Powder, I make my own blend but use something you like
Salt to taste
For the Red Onion Puree
1 Red Onion, Finely Sliced
1 Tbsp Ghee
1 Tbsp Water
1 Cinnamon Stick
Pinch of Salt
Instructions
Take the mango flesh for the sauce and blend and pass through a fine mesh sieve.
Now roast off your curry powder in a dry pan over a medium heat until fragrant and mix with the mango.
Then add in the mayo and sour cream and set aside.
Heat the ghee and water in a pan over a medium heat, then add the onion, cinnamon stick and salt and cook down for 20 minutes until very soft but not coloured.
When softened remove the cinnamon stick, blend and pass through a fine mesh blender and set aside.
Preheat your oven to 200°C.
Mix together the oil, garam masala and salt and massage in to the skin of the chicken breast.
Now melt butter over a medium heat in a frying pan that can be transfered to the oven, when the butter begins to foam add the chicken breast skin side down and cook untiol you have a nice colour, which should take 3-5 minutes.
When coloured flip over and transfer to the oven and cook until the internal temperature reaches 72°C which should take 20 minutes.
When the chicken comes out of the oven it will need to rest for 5 minutes under a foil tent, we will use this time to caramlise the mango and sear the baby gem lettuce.
Pour out all but a scant covering of oil from the base of the frying pan the chicken was cooked in and heat over a medium high heat.
Now sauté the mango cubes until nicely coloured which should take 3-4 minutes.
Finally remove the mango and turn the heat up to maximum and when the pan is smoking sear the cut side of the lettuce for 60 seconds.
Dust the chicken breast and seared side of the lettuce with chat masala before placing on the plate.
Notes
You can make the sauce and red onion puree up days in advance and I often make these in bulk and use them to top sandwiches for lunch.
Nutrition Information:
Yield:
2
Serving Size:
1
Amount Per Serving:
Calories:

798
Total Fat:

76g
Saturated Fat:

29g
Trans Fat:

1g
Unsaturated Fat:

42g
Cholesterol:

142mg
Sodium:

1017mg
Carbohydrates:

17g
Fiber:

4g
Sugar:

10g
Protein:

14g