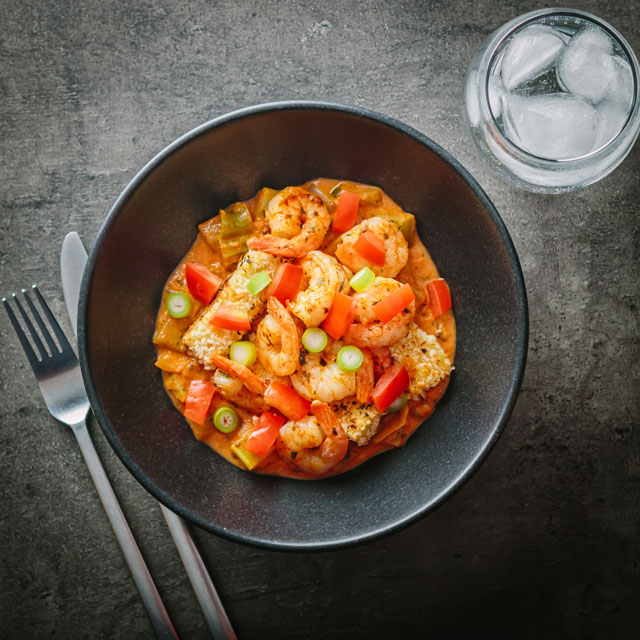 This creole shrimp recipe comes with a little help from my friends, there are some foods that tend not to travel around the world, for instance Mexican food aside from a very pale imitation really is scarcely heard of over here in Europe. Likewise, Creole and Cajun foods are a mystery to us, so every month or so I try and pick up on an idea I am not to comfortable with and expand my food horizons a little, this time round I am posting it here as it worked so well. Scott cooks and writes over at "I'd rather Be A Chef", which has him marked out as a crazy dude in my eyes as lets face it them there hours and remuneration really aint no fun. That aside his food is superb, much like mine his food inspiration is sourced from around the world and his recipes are fabulously written and easy to follow.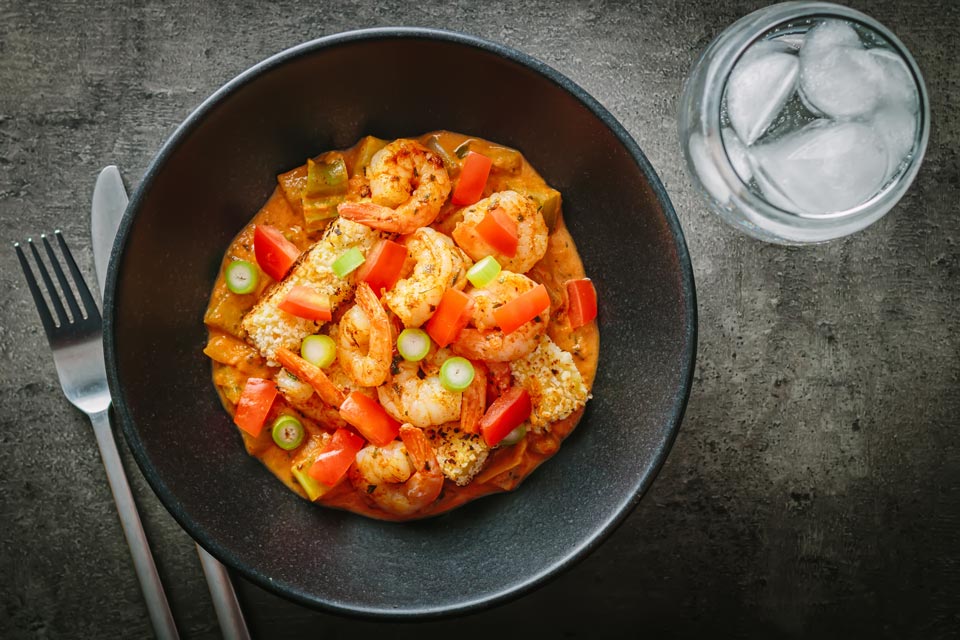 So what do I think of this Creole shrimp? Well yummy really the flavours are a little different but really so familiar, Scott describes Creole Shrimp a melting pot of cooking styles and some in your face spices… And that is hard to argue with really, in fact that line was pretty much the reason I cooked this dish, it describes all of my favourite things about cooking. Sure sometimes there is a place for simple elegance like my cream of asparagus soup, but my preferred style is definitely to beat you around the head with big complimentary flavours and if they are a little hot then all the better.
In other news the halcyon days of summer has arrived, it has been hot enough and dry enough for long enough for us to not have to cut the grass every week, so our weekends are now very much freed up to allow me to spend more time doing my favourite thing, cooking. Of course our pitched battle with Mother Nature continues, the long and dry period means we have to water pretty much every day but we are keeping up on it and our quieter year on the planting front means spending time cooking recipes like this creole shrimp is not done in a sweaty post gardening state.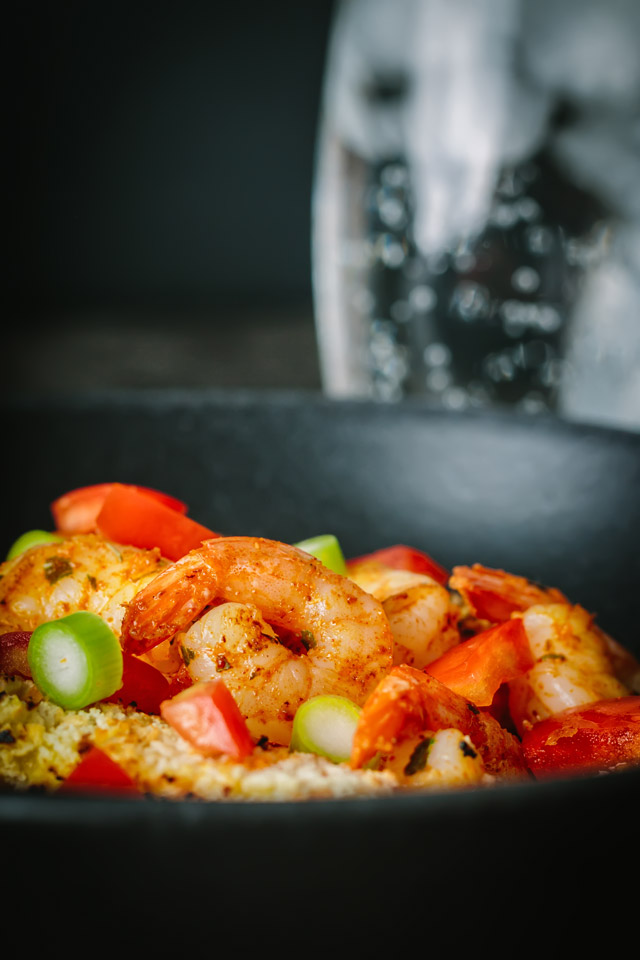 Print
Creole Shrimp With Fried Polenta
This Creole shrimp recipe is a delicious meal wrapping up the flavours of paprika, cayenne and garlic with shrimp, tomato, green pepper and celery.

Total Time
1
hour
30
minutes
Ingredients
For the Polenta:
500

ml

Vegetable Stock.

85

g

Polenta.

50

Butter.

Salt.

To taste.

50

g

Bread Crumbs.

Oil for frying.

Enough to cover the bottom of your pan by 1cm.
For the Sauce:
75

g

Green Pepper.

1cm dice.

50

g

Celery.

1cm dice.

100

g

Onion.

1cm dice.

1

Tbsp

Cooking Oil.

Neutral.

50

ml

White Wine.

250

ml

Tomato passata.

50

ml

Double Cream.
For the Seasoning:
1/4

Tsp

Dried Thyme.

1/4

Tsp

Dried Oregano.

1/2

Tsp

Sweet Paprika.

1/2

Tsp

Garlic Granules.

1/2

Tsp

Black Pepper.

1/2

Tsp

Dried Celery Leaves.

1/4

Tsp

Coarse Sea Salt.
For the Shrimp.
200

g

Shrimp.

Cleaned if fresh defrosted if frozen.

1

Tbsp

Cooking Oil.

Neutral.

1

Tsp

Lemon Juice.

1

Pinch

Coarse Sea Salt.
Instructions
We are gonna begin this recipe the day before or the morning before cooking by preparing our polenta,

Bring your vegetable stock to the boil and pour in the polenta.

The stir, keep on stirring every couple of minutes for 50 minutes over low heat.

Fold in your butter and stir until melted, then test for salt and add as necessary before setting aside to cool for 5 minutes.

Line a shallow tin, 23cm by 16cm by 2cm with cling film then pour in the polenta and flatten before covering the top with more cling film and allowing to set in the fridge.

Before you start work on the remainder of the dish take your polenta and cut in to strips roughly 7 cm long and 2cm square in profile.

Roll each piece in breadcrumbs and return to the fridge.

Heat a frying pan over a medium high heat and when warm add in the oil for the sauce and when warm toss in the onion, green pepper and celery and cook down for 10 minutes.

Whilst the vegetables are frying mix together the seasoning blend setting 3/4 of a teaspoon aside for the shrimp.

Now turn the heat up high under the vegetables and add in the white wine and reduce until almost dry.

Now add the spice mix with the exception of the bit we set aside in section 9.

Cook down and reduce for 5 minutes before adding in the cream and stirring to combine.

Our last two tasks need to be done together and will take just 2 or 3 minutes. Heat two frying pans one with a tsp of oil in and one with enough oil to cover to a depth of 1cm.

When both are hot, fry the polenta sticks for 30 seconds on each side in the deep oil.

At the same time fry off the shrimp in a hot pan and after 6 seconds add in the spice blend we set aside in step 9.

Flip and add the lemon juice and finish cooking for another 60-90 seconds.

Serve up starting iwht a bed of the sauce followed by the polenta strips and finally the shrimp with some optional green onions and tomato concassé.