This Shrimp Creole recipe is a delicious meal wrapping up the flavours of paprika, cayenne and garlic with shrimp, tomato, green pepper and celery.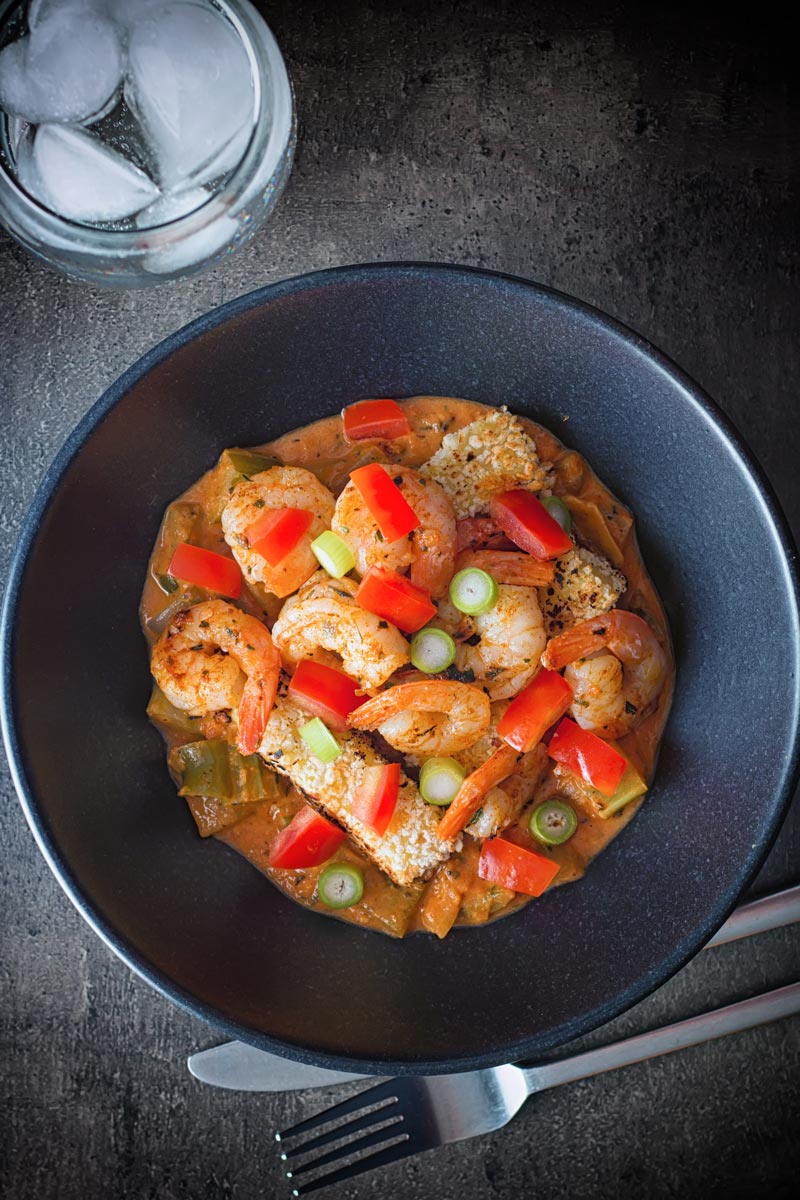 Shrimp Creole with Fried Polenta.
There are vast swathes of foods that are relatively unknown in Europe. Creole cuisine is one of them, I see that as a source of inspiration and a challenge!
The inspiration for this recipe comes courtesy of a blogger friend.
Scott cooks and writes over at "I'd rather Be A Chef", which makes him out to be mad to my mind! Those hours for that pay do not even register as something I would even consider.
The flavours are put together a little differently than they would traditionally in European food.
But they remain really very familiar! Scott describes Creole Shrimp a melting pot of cooking styles and some in your face spices.
That is hard to argue with really. In fact, that line was pretty much the reason I cooked this dish, it describes all of my favourite things about cooking.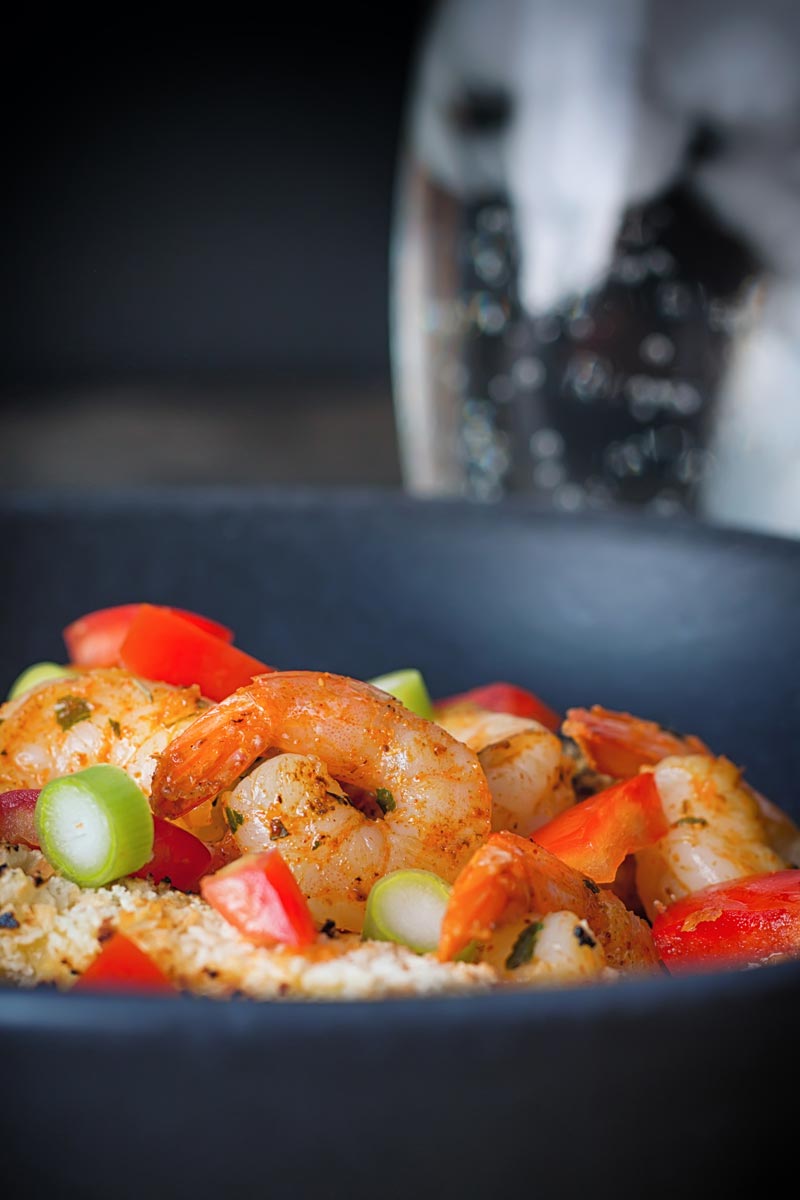 Fried Polenta.
That melting pot idea continues with my own addition to this recipe… Some fried polenta, that provides the cooling and smooth and crispy element to the recipe.
I use polenta as a side dish here on Krumpli a lot.
Most of the time it forms an alternative to mashed potato. Not that I have an aversion to mash, but hey why have one favourite comfort side when you can have two?
It appears in recipes like my beef Osso Bucco and my braised pork meatballs in a beer and BBQ sauce (seriously you must check out this one)!
Here, however, a buttery polenta is made and then allowed to cool. I then cut it into strips and shallow fry.
They are to die for and can be used in so many different ways. You can even make this element in advance and leave in the fridge for a few days!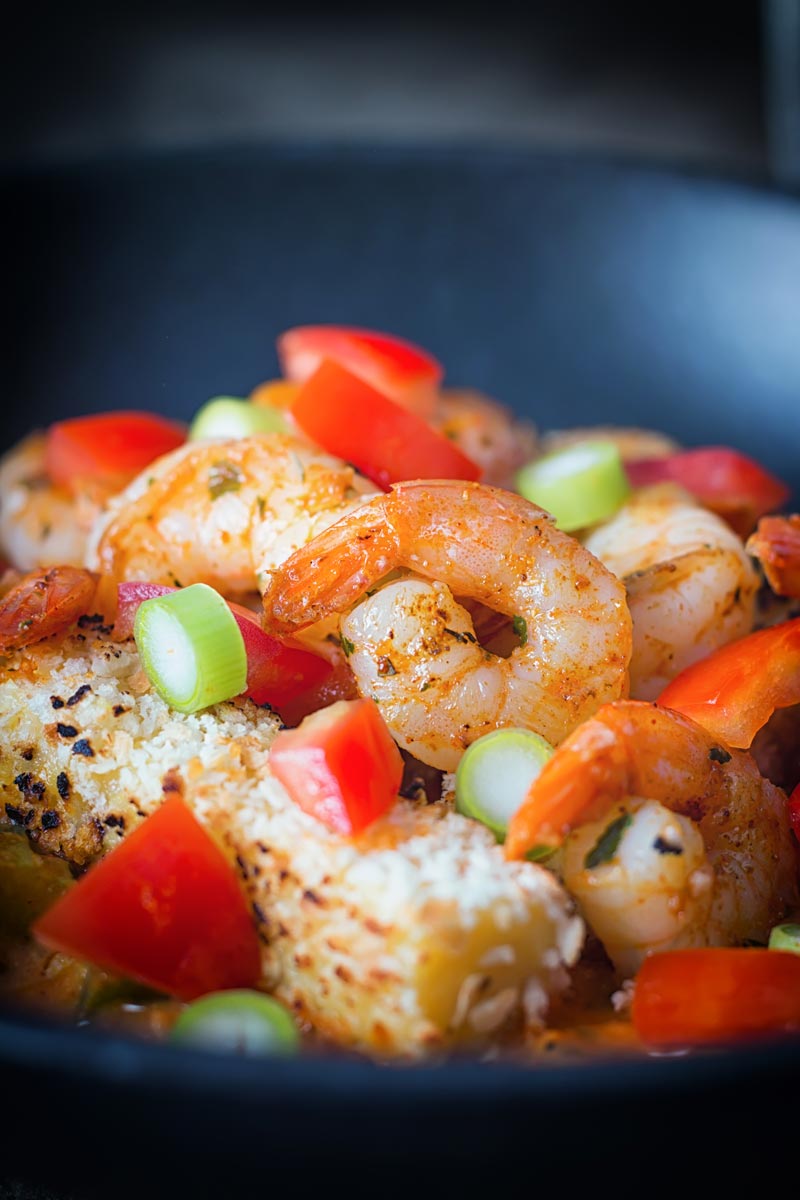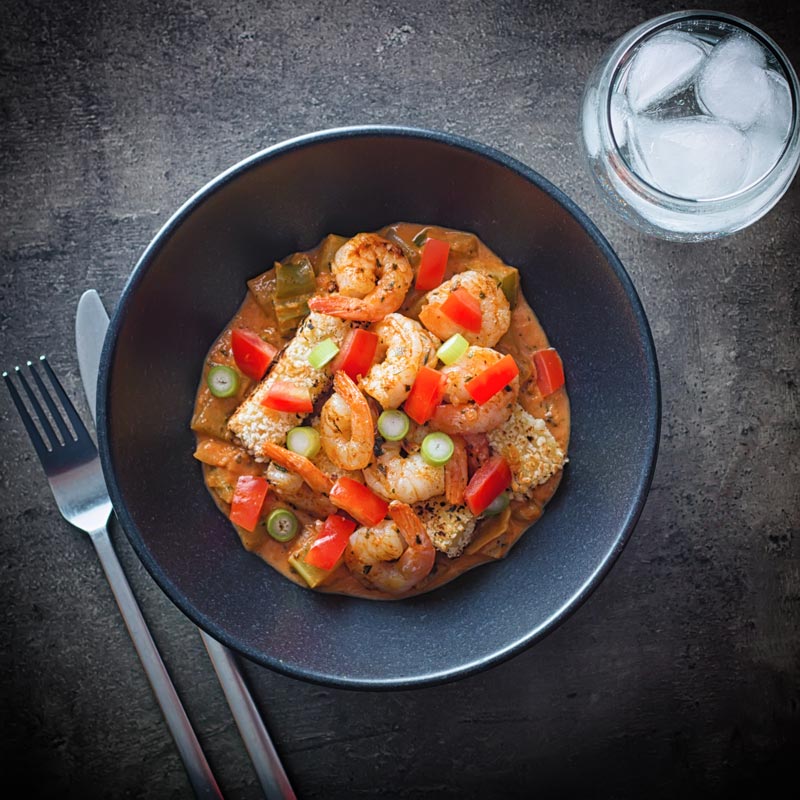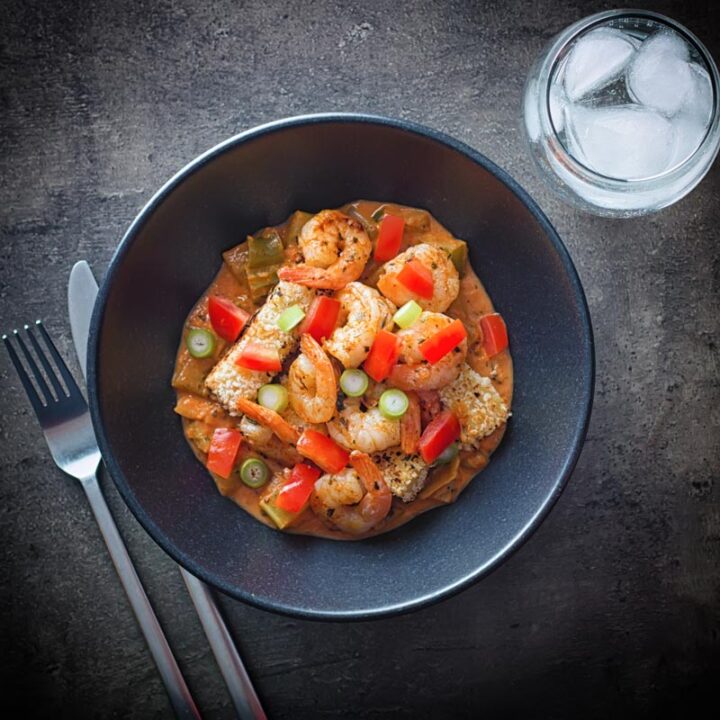 Shrimp Creole with Fried Polenta
Total Time:
1 days
1 hour
30 minutes
An eclectic mix of European influences colour Creole food and this shrimp Creole recipe epitomises that and the fried polenta pushes that influence a step further.
Ingredients
For the Polenta:
500 ml Vegetable Stock
85 g Polenta
50 g Butter
Salt, To taste
50 g Bread Crumbs
Oil for frying
For the Sauce:
75 g Green Pepper
50 g Celery
100 g Onion
1 Tbsp Cooking Oil
50 ml White Wine
250 ml Tomato passata
50 ml Double Cream
For the Seasoning:
1/4 Tsp Dried Thyme
1/4 Tsp Dried Oregano
1/2 Tsp Sweet Paprika
1/2 Tsp Garlic Granules
1/2 Tsp Black Pepper
1/2 Tsp Dried Celery Leaves
1/4 Tsp Coarse Sea Salt
For the Shrimp.
200 g Shrimp
1 Tbsp Cooking Oil
1 Tsp Lemon Juice
1 Pinch Coarse Sea Salt
Instructions
We are gonna begin this recipe the day before or the morning before cooking by preparing our polenta,
Bring your vegetable stock to the boil and pour in the polenta.
The stir, keep on stirring every couple of minutes for 50 minutes over low heat.
Fold in your butter and stir until melted, then test for salt and add as necessary before setting aside to cool for 5 minutes.
Line a shallow tin, 23cm by 16cm by 2cm with cling film then pour in the polenta and flatten before covering the top with more cling film and allowing to set in the fridge.
Before you start work on the remainder of the dish take your polenta and cut in to strips roughly 7 cm long and 2cm square in profile.
Roll each piece in breadcrumbs and return to the fridge.
Dice your onion, green pepper and celery into a 1cm dice.
Heat a frying pan over a medium high heat and when warm add in the oil for the sauce and when warm toss in the onion, green pepper and celery and cook down for 10 minutes.
Whilst the vegetables are frying mix together the seasoning blend setting 3/4 of a teaspoon aside for the shrimp.
Now turn the heat up high under the vegetables and add in the white wine and reduce until almost dry.
Now add the spice mix with the exception of the bit we set aside in section 9.
Cook down and reduce for 5 minutes before adding in the cream and stirring to combine.
Our last two tasks need to be done together and will take just 2 or 3 minutes. Heat two frying pans one with a tsp of oil in and one with enough oil to cover to a depth of 1cm.
When both are hot, fry the polenta sticks for 30 seconds on each side in the deep oil.
At the same time fry off the shrimp in a hot pan and after 6 seconds add in the spice blend we set aside in step 9.
Flip and add the lemon juice and finish cooking for another 60-90 seconds.
Serve up starting iwht a bed of the sauce followed by the polenta strips and finally the shrimp with some optional green onions and tomato concassé.
Nutrition Information:
Yield:

2
Serving Size:

1
Amount Per Serving:
Calories:

796
Total Fat:

56g
Saturated Fat:

22g
Trans Fat:

1g
Unsaturated Fat:

30g
Cholesterol:

298mg
Sodium:

2813mg
Carbohydrates:

40g
Fiber:

5g
Sugar:

11g
Protein:

31g
Calorific details are provided by a third-party application and are to be used as indicative figures only.