Dan Dan noodles is a classic Szechuan Chinese takeaway dish that is very easy and super quick to make at home and full of big flavours!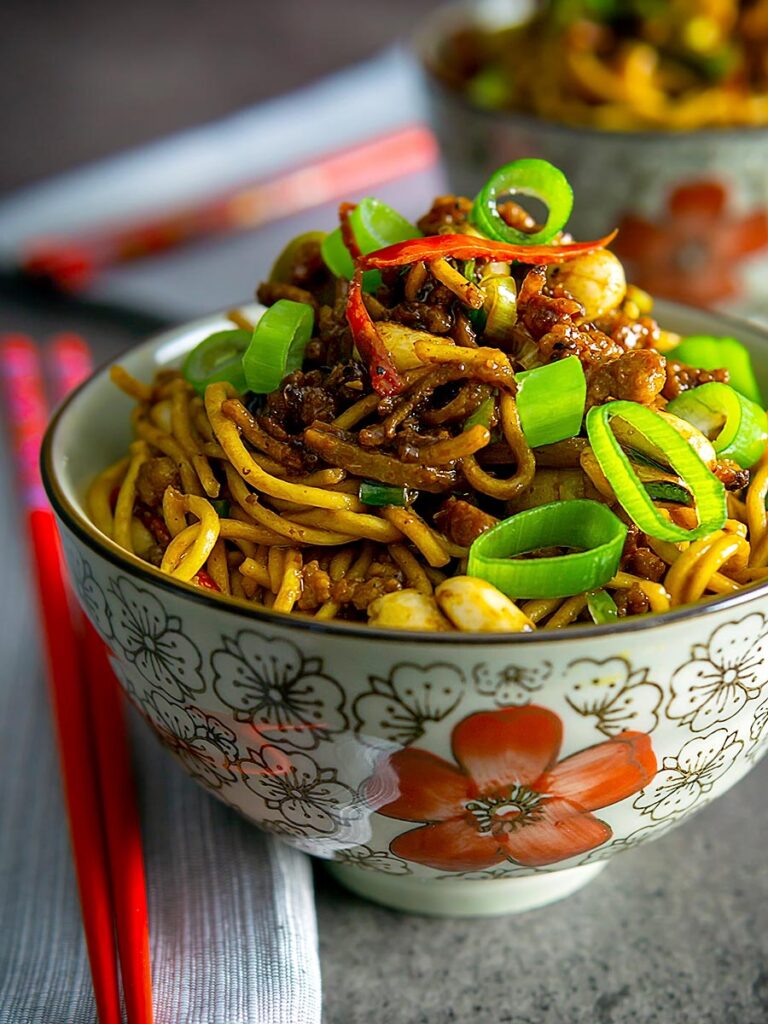 Dan Dan Mian
I love the Chinese name of this heavenly spicy dish from the Szechuan province.
Dan Dan Noodles are often served as a "wet dish" resembling a soup, however it is best known here in the "west" as a dry dish.
Containing minced pork, chilli oil and Szechuan pepper it is no wallflower in the flavour department.
Just like kung pao chicken, it fixes with the almost citrus flavour of Szechuan peppercorns. It is also the dish that most influenced my ginger pork stir fry, which uses pork tenderloin rather than ground pork.
My version of dan dan noodles replaces the sesame paste with peanut butter for practical purposes. I add the sesame flavour with good toasted sesame oil in the sauce.
And just like many of my takeaway recipes, this cooks in under 30 minutes. This means that it is not only cheaper than a takeaway but quicker too!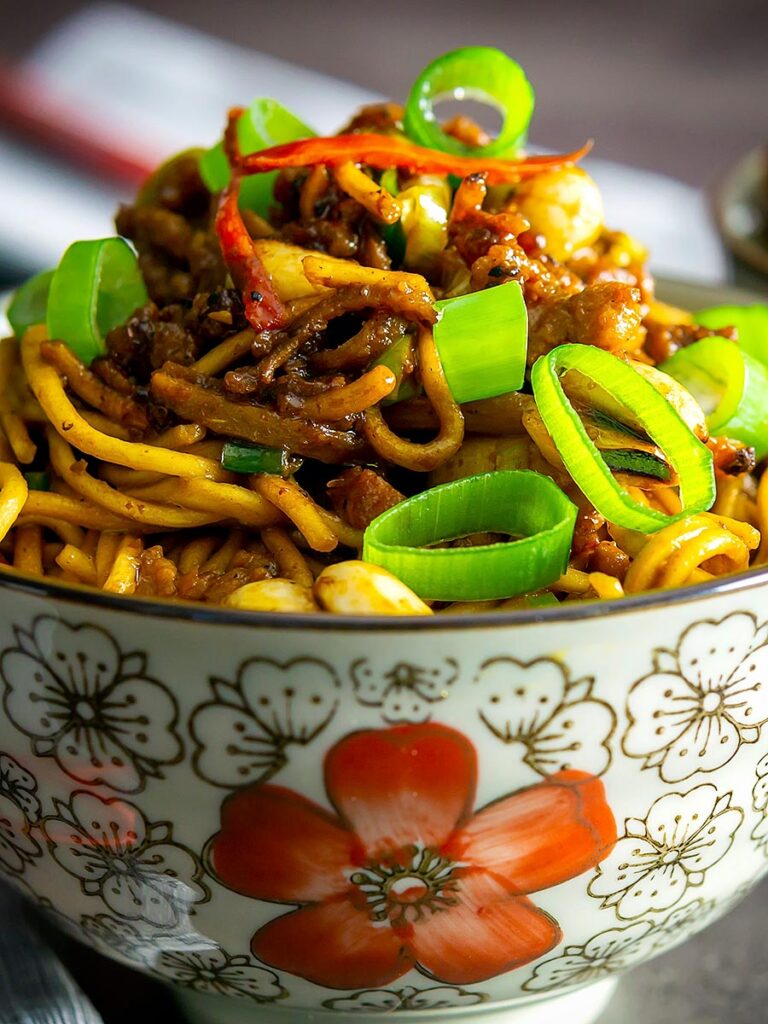 Ingredient Advice.
Let me start off by saying that this dan dan noodles recipe needs unsweetened peanut butter!
Sweetened peanut butter will throw the balance off in this recipe completely. It should be available in most stores and should not be more expensive than the sweetened stuff.
If you are as daft as me you can even make it at home, it is super simple… you need peanuts, and erm that's it! Check out my homemade peanut butter recipe for more details.
Or you can use sesame paste if you can get it, just omit the sesame oil in the sauce.
Next up Szechuan or Sichuan pepper. Do not try and substitute this for any other pepper, it will not work! This ingredient is a MUST for this recipe.
Don't worry, I love Szechuan pepper. If you want to explore its uses beyond dan dan noodles you should check out my Szechuan shrimp or Szechuan beef recipes.
Finally if you are struggling for Hoisin sauce you can try this homemade recipe, it works a treat in a pinch.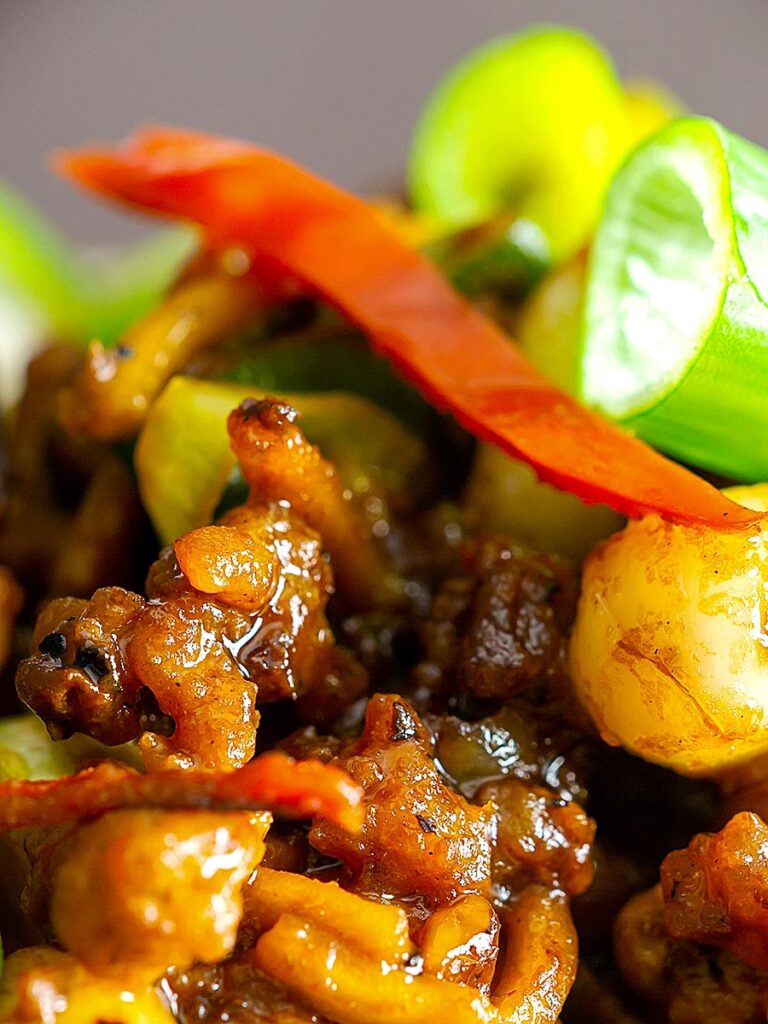 The Secret to Perfect Stir Fries!
There are two things that you need to do to get this stir fry, or indeed any stir fry bang on right.
The first is preparation!
GET EVERYTHING READY FIRST! I mean everything, soak and refresh your noodles, mix your sauce, toast and grind the Szechuan pepper and toast yer nuts.
Only when everything is done and put into little bowls should you put your oil in your wok and start cooking your dan dan noodles.
And that then leads neatly us onto the second secret.
Heat, lots of it your wok should be searingly hot at all times! If it is not things will not fry, they will braise, and that means soggy and flacid food.
You should be able to see the air shimmer above the wok before you add your oil.
Then you just need to keep everything moving in the wok all of the time.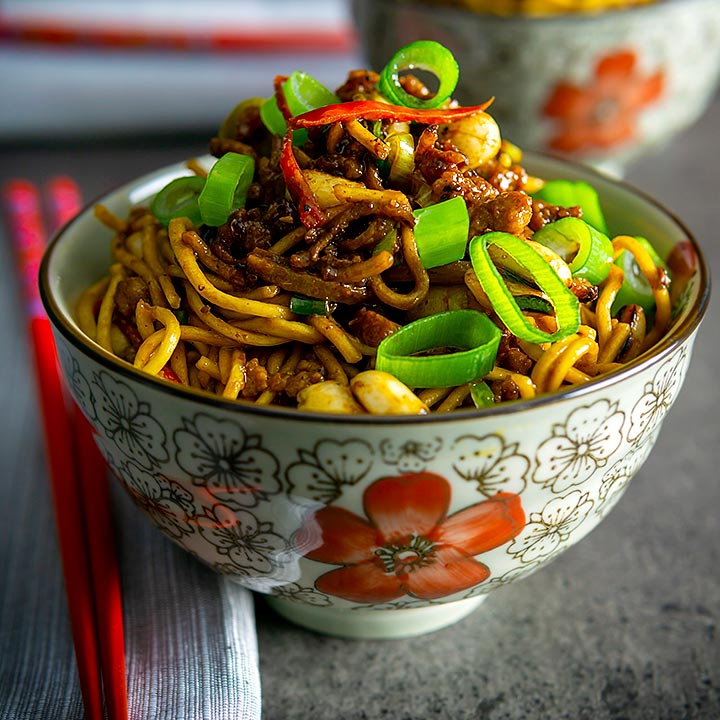 Yield:

2 Servings
Dan Dan Noodles Recipe
Dan Dan noodles is a spicy noodle dish traditionally featuring ground pork, chilli oil and Szechuan pepper, a perfect midweek fakeaway.
Ingredients
250 g (8.75 oz) Ground Pork
100 g (3.5 oz) Dried Egg Noodles
30 g (1 oz) Ginger
1 Garlic Clove
1 Red Chilli Pepper
50 g (1.75 oz) Bamboo Shoots
75 g (2.75 oz) Spring Onions
1 Tbsp Szechuan Pepper Corns
50 g (1.75) Peanuts
1 Tbsp Crunchy Peanut Butter
2 Tbsp Hoisin Sauce
2 Tbsp Shaoxing Wine
1 Tbsp Light Soy Sauce
1 Tbsp Dark Soy Sauce
2 Tbsp Chilli Oil
1 Tbsp Cooking Oil
1 Tbsp Toasted Sesame Oil
Instructions
Begin by cooking the noodles as per the instructions on the packet and then drain and refresh in cold water.
Whilst the noodles are cooking cut your ginger and chilli pepper into matchsticks sized pieces.
Mash your garlic clove.
Slice your spring onions into rounds 2-3mm thick.
Mix together the soy sauces, hoisin sauce, Shaoxing wine, sesame and chilli oil.
Heat your wok over a high heat and whilst it is heating toast off your peanuts.
When your peanuts are toasted remove them from the wok and return it to the heat.
Add the Szechuan peppercorns to the wok and toast.
Grind the Sechuan pepper in a pestle and mortar or spice grinder.
Reheat the wok and when hot add the cooking oil.
Add the ginger, garlic and chilli and stir-fry for 30 seconds.
Then throw in the pork and cook for 4-5 minutes over a high heat tossing all of the time.
Add in the Szechuan peppercorns and cook for a further minute.
Now add the bamboo shoots, most of the spring onions (retain some for garnish) and the sauce and cook for 60 seconds.
Finally, add the noodles and the peanuts and toss through until they are hot.
Nutrition Information:
Yield:
2
Serving Size:
1
Amount Per Serving:
Calories:

856
Total Fat:

52g
Saturated Fat:

10g
Trans Fat:

0g
Unsaturated Fat:

36g
Cholesterol:

128mg
Sodium:

1532mg
Carbohydrates:

50g
Fiber:

8g
Sugar:

12g
Protein:

50g
Calorific details are provided by a third-party application and are to be used as indicative figures only.