The Dobos Torte named after its creator József Dobos is a cake of legendary status in Hungary with its 6 layers, chocolate butter cream frosting and caramel topping.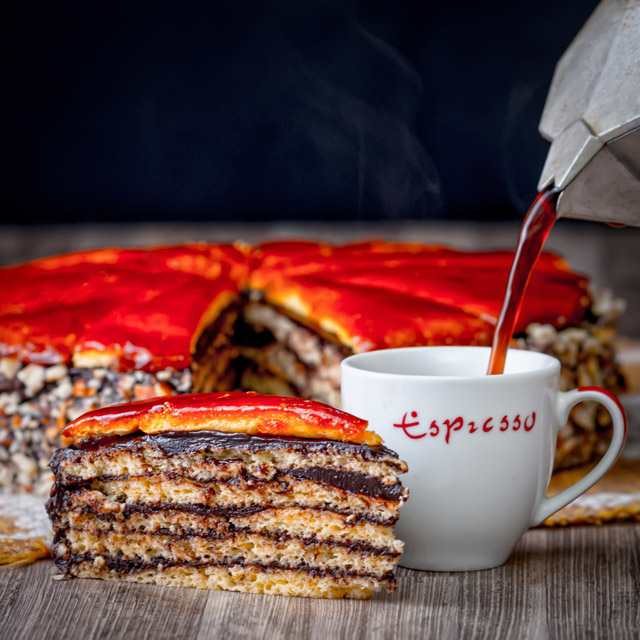 Regular readers will know that I am not much of a baker primarily becasue I don't have a sweet tooth but I am determined to improve but my decision to try a legendary Dobos Torte Recipe (pronounced dobosh) is definitely one of those kill or cure moments. I will not lie and say this is easy, but judging by the Oo's and Ahh's made by the people it was served too it was effort really well spent.
As neither my wife or I hanker after sweet food, desserts tend to by cooked when we have visitors and the return of a couple of British people to our village meant a wee cook out and a rather brave or stupid decision to take on this recipe.
When I say that the Dobos Torte Recipe is something of a Hungarian legend I really mean it as a result there is not a single coffee shop or cafe that will not have one or several of these in pride of place. Having made my own all I can do is doff my cap at the craft involved.
I was under the impression that the Dobos Torte was named as it looked like a drum as the Hungarian word for drum is Dobos and it would seem many folk on the web think the same too.
However the original dobos torte recipe was developed by a József Dobos which would probably be a much more sensible origin for the name.
I do love the story behind the original dobos torte recipe, it was developed for the National Exhibition of 1885 for Franz Joseph I and Empress Elizabeth to much success. He even traveled globally on the back of it introducing the cake where ever he went.
Apparently back then butter cream was very much a rarity that he kept top secret until he retired in 1906 when he donated the dobos torte recipe to the confectioners chamber of industry where it became a matter of public record and the secret was uncorked. Allowing the Dobos Torte to become the legend it is today.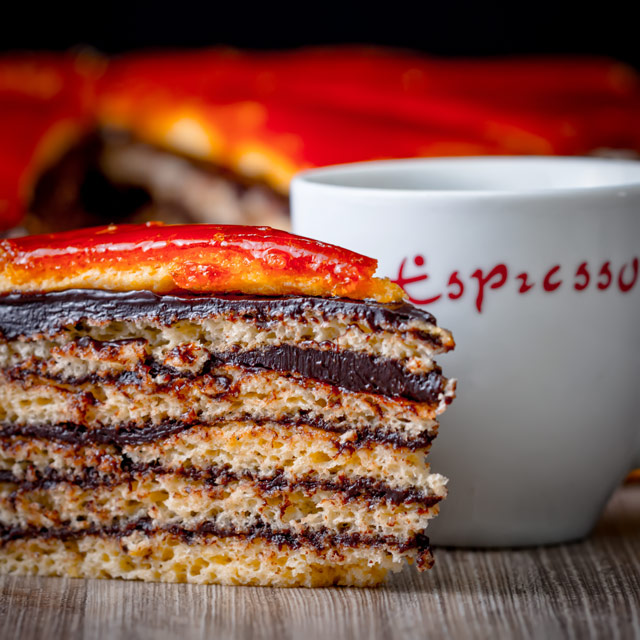 Anyway, enough of the history lesson lets get back to how this novice baker got on with this Dobos Torte recipe. Well the blunt answer to that was terribly to begin with, I had been using a book called Culinaria Hungary which has been translated to many languages and the English version is translated pretty poorly.
However the problem, I had was not with translation but with quantities. Once I had made my first layer it became patently obvious that there was something wrong, there was just nowhere near the sort of quantity of batter required to make up 6 layers of sponge.
Not being a particularly confident or experienced baker I naturally assumed the problem was in something I did. But as time went on I had come to the realisation that I had been duped and would need to start all over again.
I was buoyed by the fact that the sponge was incredibly light and really beautiful and the butter cream was smooth dark and unctuous. As a result I spent the evening of bake number 1 with a calculator and a piece of paper trying to scale the recipe.
On to day 2 of my adventures in baking and the by now rather intimidating Dobos Torte recipe armed with my incredibly complex mathematics I entered the furnace of our kitchen. I went at it again knowing that I only had a short window to get it right as our guests were coming for dinner that night. Well it went like a dream, hard work and precision yes but actually second time around really simple.
Even the mercury rising to 38°C outside and working in a kitchen with the oven on and no air con barely raised a single curse word out of me. If I was to be completely honest I would actually say I really enjoyed the process, eventually. Although am glad I don't have a sweet tooth or stuff like this could become a regular occurrence, there was many a kind word said about the cake which was ready when our friends arrived.
This sort of cake is the ideal accompaniment to a cup of coffee, sponge that is as light as a very light thing, and the bitter cocoa I used in the butter cream matched perfectly well with the over proofed rum. It created a very grown up chocolate feel to the whole cake and the crispy crackle of the caramel layer on top is just pure genius.
Overall I would say I am really proud of this, sure it is not quite up to the legendary Gerbaud Cafe standard but for a dude who does not really bake and does not have a sweet tooth it really was a show stopper, and trust me if I can do it anyone can!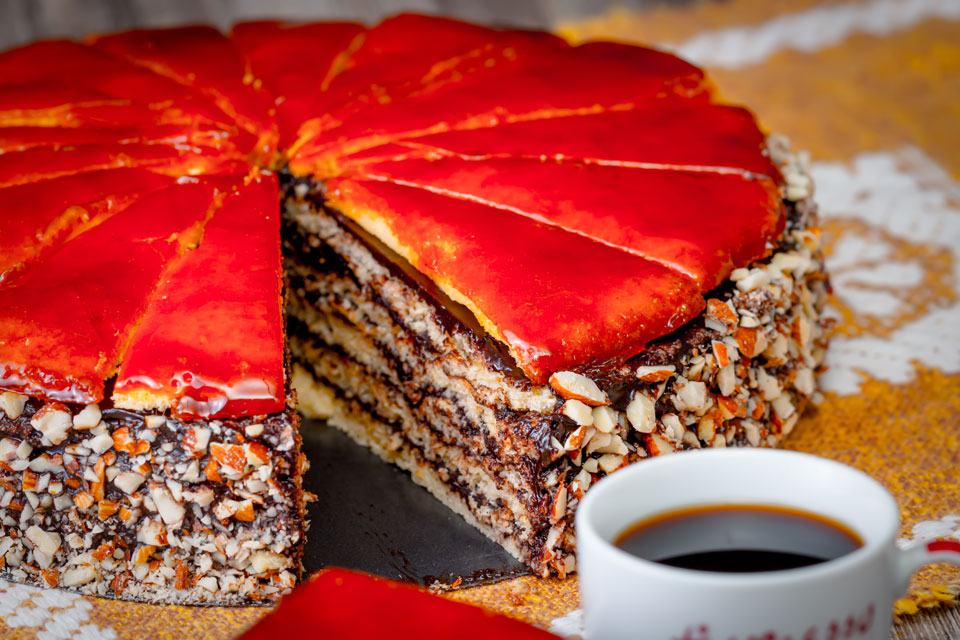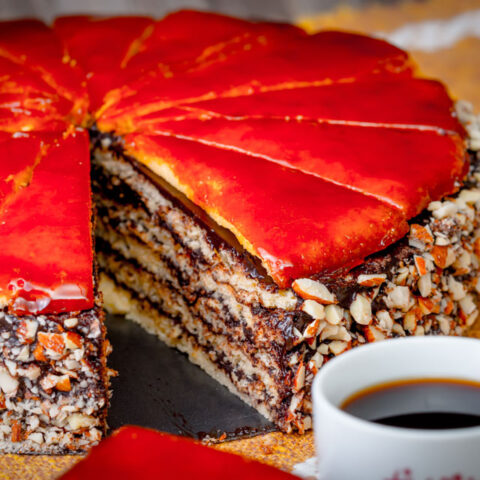 Yield:

12 Servings
Dobos Torte
Cook Time:
1 hour
45 minutes
Total Time:
3 hours
45 minutes
The Dobos Torte named after its creator József Dobos is a cake of legendary status in Hungary with its 6 layers, chocolate butter cream frosting and caramel topping.
Ingredients
For the Sponge Batter
8 Eggs
200 g Caster Sugar
1 1/2 Tsp Vanilla Sugar
1 Lemon, Zested and Juiced
160 g Plain Flour
For the Butter Cream
200 g Caster Sugar
300 g Unsalted Butter, Softened
80 g Cocoa Powder
2 Tbsp Dark Rum
For the Caramel Topping
150 g Sugar
1 Tbsp Lemon Juice
For the Decoration
Instructions
Instructions
For the Sponge Batter
Preheat your oven to 200°C
Separate the eggs and whisk the yolks with the 100g of the caster sugar until it changes to a pale yellow colour and has increased in volume by about half
Add the vanilla sugar and lemon juice and rind and fold in
In a separate bowl whisk together the egg yolks and remaining caster sugar until the mix reaches a firm peak
Fold the egg white into the mix ensuring that you do not knock the air out of the mixture
Finally fold in the sifted plain flour until the mix is combined
Now it is time to break out the baking parchment, you will need 6 pieces with circles 23cm in diameter drawn on them
Measure out 1/6th of the sponge batter which should amount to approximately 125g of batter and spread to fill the circle on a piece of baking parchment using a spatula. This should be around 5mm thick
Bake in the oven until it starts to brown at the edges which should take about 10 minutes
You can get a nice production line going whilst one is cooking, prepare the next and swap the one in the oven with the next ensuring you remove the baking parchment from the cooked cake immediately
Place the cooked sponge cakes on a cooling rack until completely cool
Repeat this process until all of the cakes are cooked
For the Butter Cream
Place the sugar in a pan with 7 Tbsp of water and bring to the boil, as soon as the syrup boils remove from the heat and allow to cool for 10 minutes
Meanwhile mix together the softened butter and cocoa powder until completely combined
Add the sugar syrup to the butter & cocoa mix mixing continuously until the mixture cools to room temperature
Add the rum and mix until combined and the refrigerate until it become almost the same texture as peanut butter
Assembly
If you are anything like me then you sponge cakes will not be very uniform so create yourself a circular template and trim the up, the off cuts are awesome!
Save the best looking piece for the final layer
You are no read to begin dressing the cake, take the first layer and smother with a layer of chocolate butter cream trying to keep it smooth and as uniform as possible at about 3mm thick, place the next layer on top and repeat
This process should be undertaken with 5 layers with the 6th being left for the final caramel layer
when you have completed covering all five layers with butter cream spread the remaining on the side trying to create a cake with corners as square as possible
Once this is complete place into fridge and we can dress the final layer of the cake
Final Dressing
Place the final layer of cake onto a piece of baking parchment
Add the sugar and the lemon juice into a frying pan over a medium high heat until it reaches a golden brown caramel colour ensuring you do not stir until the caramelisation process has begun
Once the caramel has formed you need to pour over the final layer working quickly to ensure it is completely covered and spread evenly
Whilst the caramel is still warm mark out where you are going to cut on the final layer (16 wedges so in half, then half again and then each quarter in half again) with a very hot knife that has bee dipped into boiling water
When the caramel has cooled you can cut all the way through the final layer and trim away any bits from the edge
Finally toast off the almonds and blitz to make a coarse crumb
Remove the butter creamed cake from the fridge and apply to the edges of the cake and then rearrange the caramel layers on top of the cake and serve to the baying crowds who will be amazed!
Notes
I am sure experienced bakers or ones with double ovens could cut the preparation and cooking time in half!
Adapted from Culinaria Hungary
Nutrition Information:
Yield:
12
Serving Size:
1
Amount Per Serving:
Calories:

524
Total Fat:

28g
Saturated Fat:

14g
Trans Fat:

0g
Unsaturated Fat:

11g
Cholesterol:

178mg
Sodium:

82mg
Carbohydrates:

62g
Fiber:

2g
Sugar:

47g
Protein:

8g
Calorific details are provided by a third-party application and are to be used as indicative figures only.