These Golden Baked Chicken Drummers are perfectly cooked and every bit as crispy as their deep fried brethren!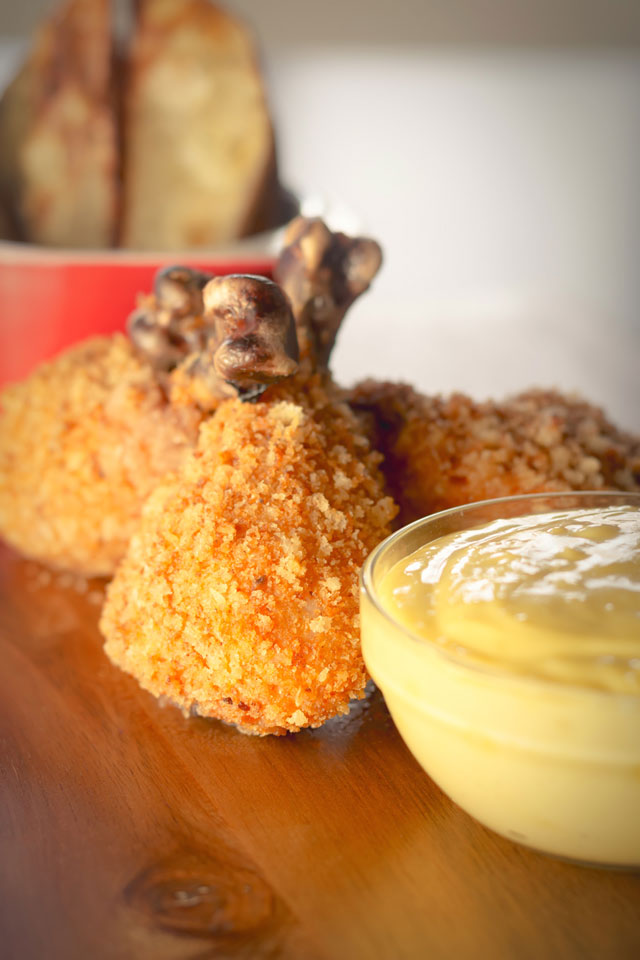 It would seem that my golden baked chicken drummers is the latest in my latest love affair with chicken, oopsie! But what the heck, lets rock the common and fairly frugal bird. Now I love me some fried chicken but sometimes I can't be bothered to break out the deep fat fryer but still want a crispy golden breadcrumb on some chicken or pork.
Add that to the fact that I have eaten out a lot over the last two weeks and Hungarian food is often deep fried, it does taste wonderful but it is really over facing. This baked chicken drummer recipe is how I I get my fix without the deep fat fryer.
The panée method is pretty simple and will be familiar to most cooks, flour, egg and breadcrumbs, however as the crumb is only going to be baked at a relatively moderate temperature I think it needs a little help. Frying off those breadcrumbs in butter, garlic and anchovy gives them both a beautiful colour but also a flavour that just lurves brown chicken meat.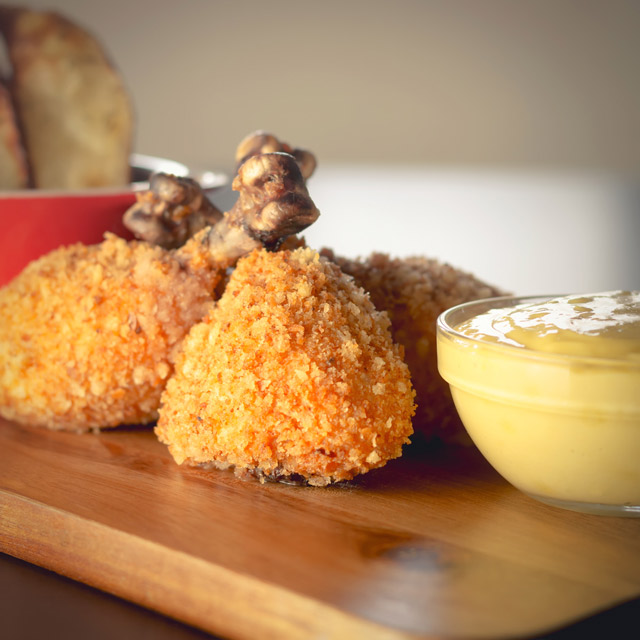 These baked chicken drummers match up so well with something rocking a load of garlic and citrus so I usually whip up a batch of homemade mayonnaise which is remarkably quick and then when it is done I add a bucket load more lemon juice and some ground raw garlic.
Trust me this mayo is proper punchy and not for those who share a bad with someone not so fond of garlic, but it is a really wonderful match, you can tweak the flavours to your own palate and make the mayo what ever you want.
Add just a few baked potato wedges cooked with more thyme and garlic and you have what I consider to be a feast to keep away the vampires. You must remember Transylvania is not to far away from I live and all appropriate precautions must be taken, well that'my excuse and I am sticking to it 😉
I have to admit to being exhausted at the moment, all of our 'vacations' seem to result in us needing a break when people return home, we typically lead a fairly quiet life until visitors arrive… Then it is all busy busy busy, lots of spas, trips to cities, plenty of booze and of course a load of thermal spas. But I am looking forward to getting back to cooking this week and maybe beginning to feel a little more human.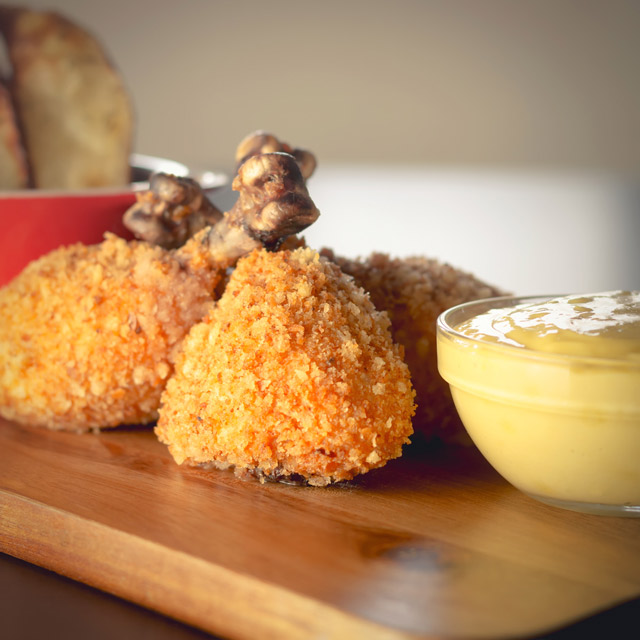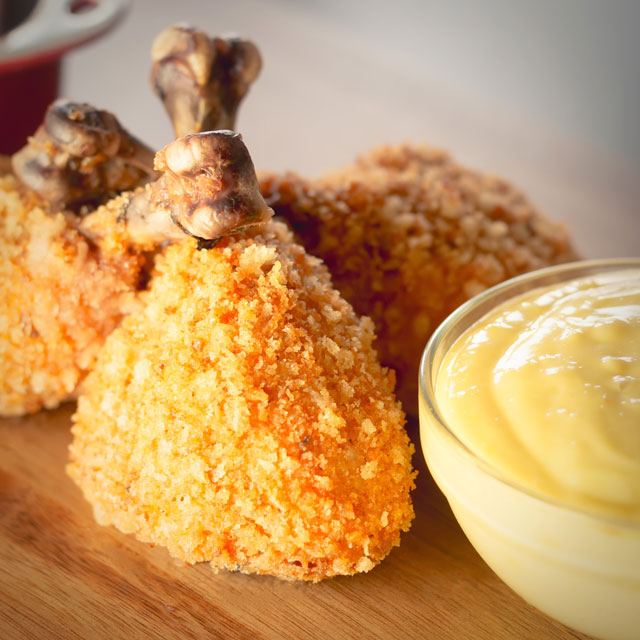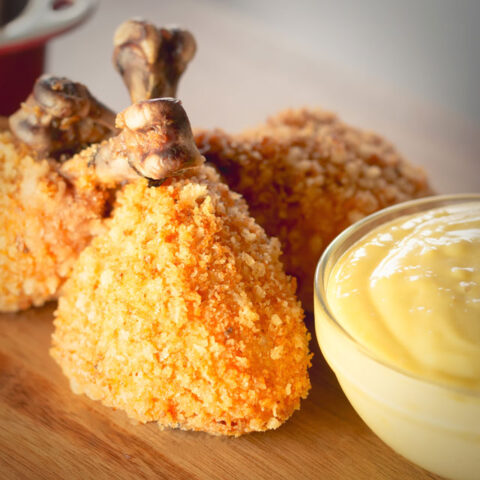 Golden Baked Chicken Drummers
These Golden Baked Chicken Drummers are perfectly cooked and every bit as crispy as their deep fried brethren!
Ingredients
For the Chicken
1 tsp oil
50 g butter
2 Anchovy fillets
2 Garlic Cloves, Mashed
100 g Breadcrumbs
6 Chicken Drumsticks
1 Egg, Beaten
50 g Plain flour
1 Tsp Sweet Paprika
1/4 Tsp Salt
Black pepper, Good grind
For the Garlic and Lemon Mayo Dip
150 ml Mayonnaise
1 Lemon, Juice and zest
1 Clove Garlic, Mashed
Black Pepper, Good grind
Instructions
Heat the oil an butter together in a frying pan over a medium heat and add in the anchovy fillets and garlic and cook for 1-2 minutes, the should begin to break up.
Add in the bread crumbs and cook until golden brown which should take 5 minutes.
When the bread crumbs are golden turn out on to some kitchen towel and allow to cool completely before coating the chicken thighs.
I like to remove the knuckle from my cicken drumstick so I have a nice 'bone' to eat from although this isn't necessary. However it is a simple job, just take a really sharp knife and run it around the base of the drumstick meat ensuring you cut all of the tendons, then roll the knuckle backwards using your thumbs, it should take a bit of pressure but it should pop right off and then you can just cut the remaining tendons from the side of the knuckle joint.
Preheat your oven to 180°C.
Then dip the chicken first in the flour and paprika, then into the egg and then coat with the breadcrumbs.
Then bake in the oven until the meat at the thickest part of the drummer reaches 74°C, which should take about 50 minutes depending on the size of the drummers.
For the Garlic and lemon Mayo dip mix together all of the ingredients and allow to set aside for at least 20 minutes to allow the flavours to marry.
Nutrition Information:
Yield:

2
Serving Size:

1
Amount Per Serving:
Calories:

1526
Total Fat:

105g
Saturated Fat:

29g
Trans Fat:

1g
Unsaturated Fat:

69g
Cholesterol:

526mg
Sodium:

1714mg
Carbohydrates:

59g
Fiber:

4g
Sugar:

4g
Protein:

81g
Calorific details are provided by a third-party application and are to be used as indicative figures only.