This BBQ Pork Sandwich is cooked in the InstantPot and then blasted in the oven, served on a ciabatta style loaf with lots of pickles.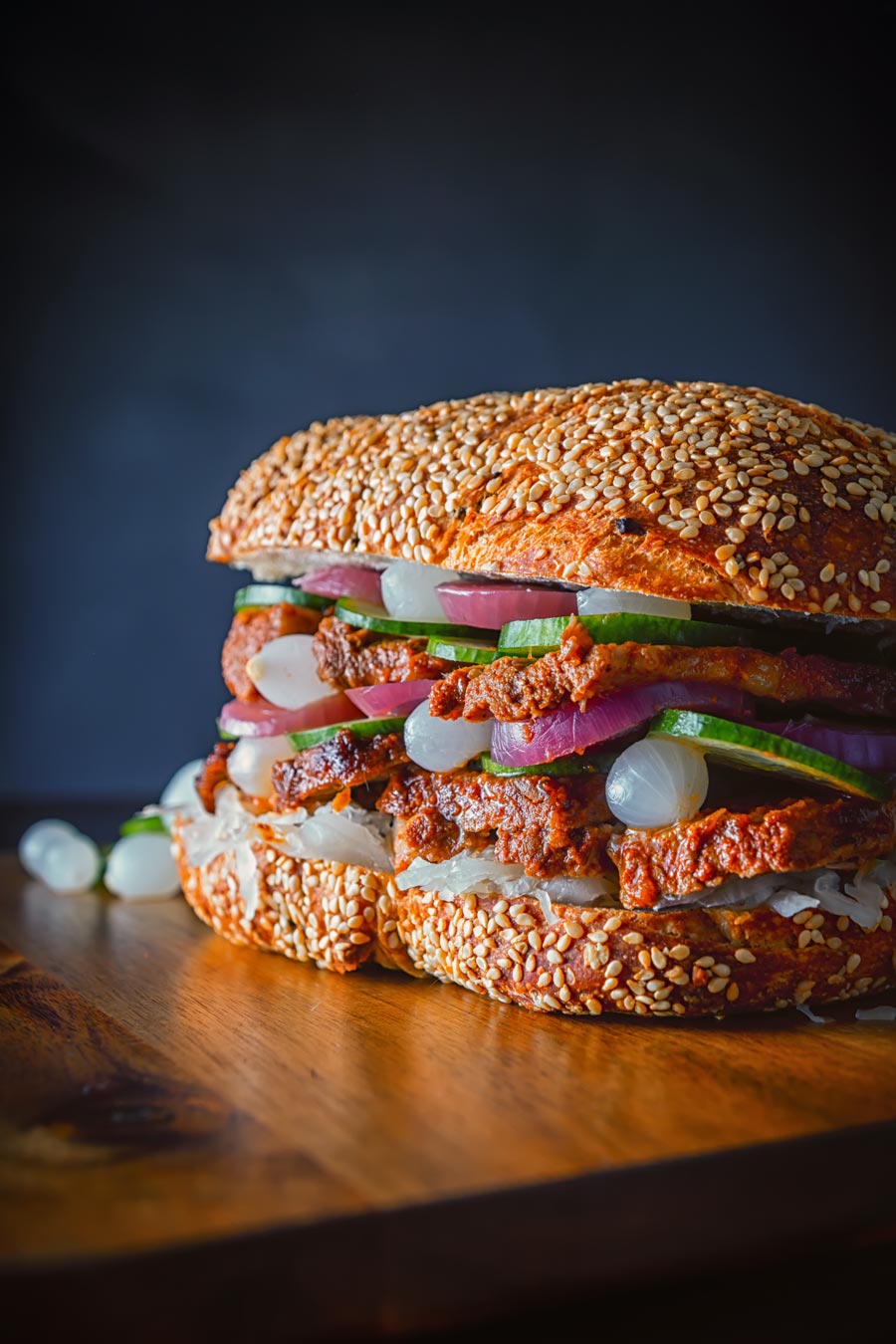 BBQ Pork Sandwich
This BBQ Pork Sandwich is the latest in a number of BBQ pork ideas I have here on Krumpli, to date I have, slow cooker, oven and BBQ versions and this one rounds out my kitchen gadgets by being cooked in the Instant Pot. The concept of this dish was to avoid the idea of a pulled pork sandwich but a beautifully cooked carving piece of meat with a lightly sweet fragrant BBQ sauce.
For me that means using a cut of meat called Tarja here in Hungary or Pork Collar in the UK and my research leads me to believe that it is called Boston Butt in the US but I am ready to be corrected on that. It is a cheap cut of meat that has enough fat to make it interesting but not too much sinew, as with cooking most meat in the InstantPot I am discovering the structure and shape of the meat has just as much influence over cooking times as the weight. So for reference I usually buy a centre cut joint.
As with all pot roasted meat the one thing you do not get with this BBQ Pork Sandwich is any caramelisation from the high temperatures so this recipe is cut short in the InstantPot and flashed through a really high oven just to get the sugars crystallising a little before carving and serving.
It is of course an optional step, if you are not going to do this then cook for a few more minutes in the Instantpot. If you want to see my other BBQ Pork recipes just press the magnifying glass in the menu above and type in BBQ Pork 😉
There is a word of caution on the notes for this BBQ Pork recipe, some of you may find it a little pink, I take this particular cut of pork to 65℃ so that it renders down the fat a little more than the minimum 62℃ would but it is still a long way from the old school 70-71℃ reference that was so prevalent in the past.
So please feel free to cook on longer if you wish, my timing still fall within all safe guidelines, although they would not if I were cooking loin which I like very much more pink.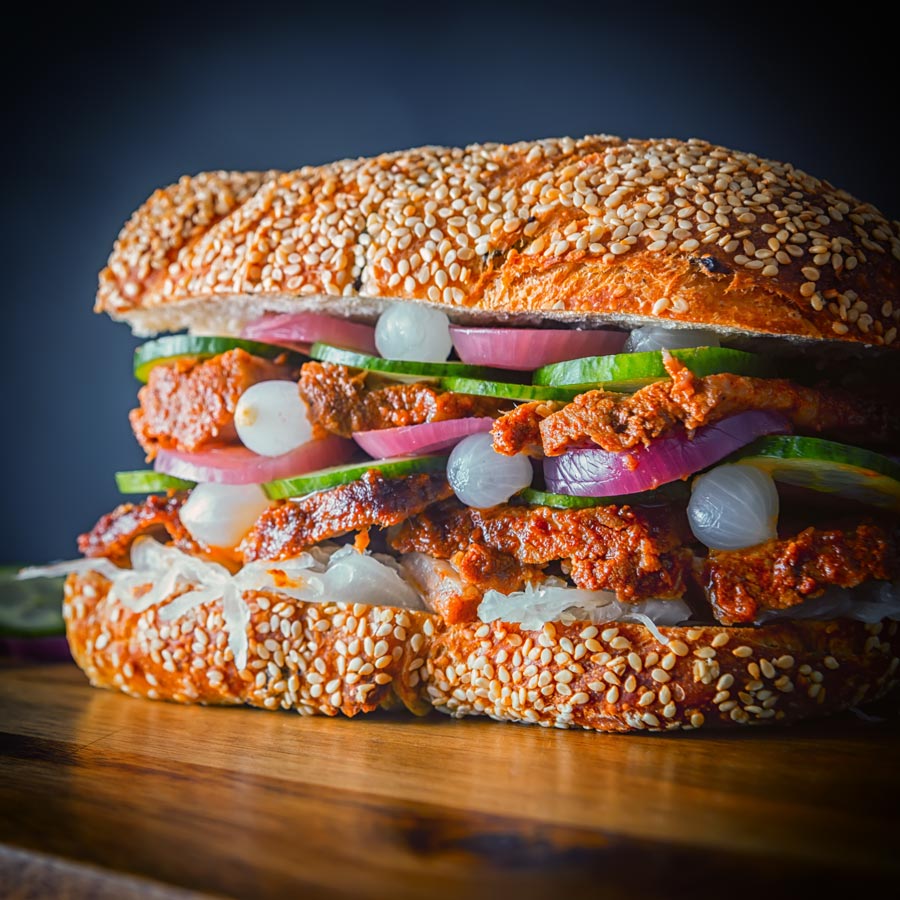 I have to confess that this dish is one that sees my frustration with winter showing through, I do try and cook with seasonal ingredients where ever I can but as we draw towards the end of the seasons I am bored of the repetition of the same old ingredients and yearn for new seasons produce to arrive.
So as we sit here at the start of February I am definitely leaning a little more on my stock of pickled vegetables make my BBQ Pork Sandwich a little more vibrant, and by does it work. Those sharp tones really bounce so well off the sweet and fragrant notes of the BBQ Pork.
Now you can of course use your favourite shop bought sauce and rub for this if you wish, which if course makes it a really simple dish, rub on stuff, let sit, open jar add more stuff, let sit and cook.
But you all know that aint my thing and love to make my own sauce and rubs, they just seem to have much more 'life' in them than store bought rubs and sauces. I aint no kitchen angel though, I can't be doing with baking bread on a regular basis, life is way to short as far as I am concerned and our family of two is way to small for me to be dicking around making a loaf every time I want a sandwich. Todays choice was a sesame coated ciabatta style loaf from a local baker and it was a gabizillion times better than anything I would make at home.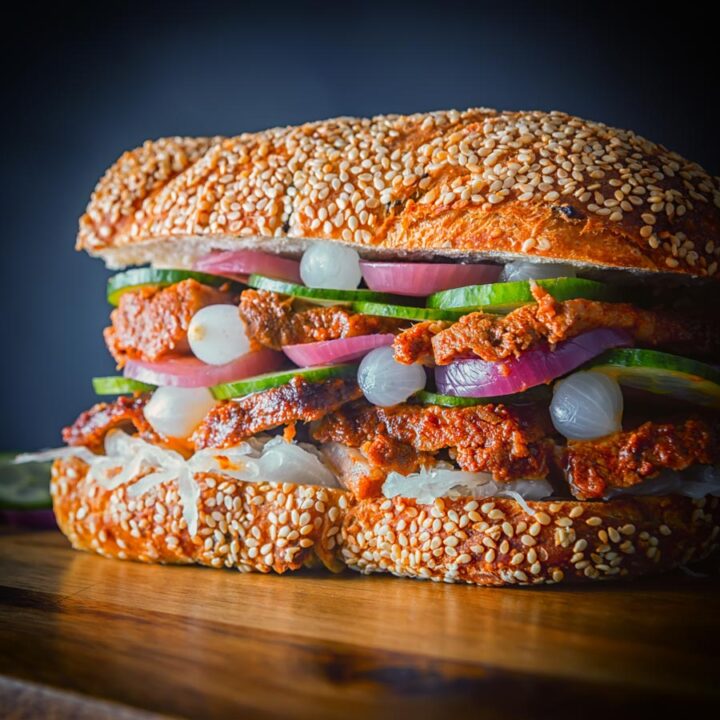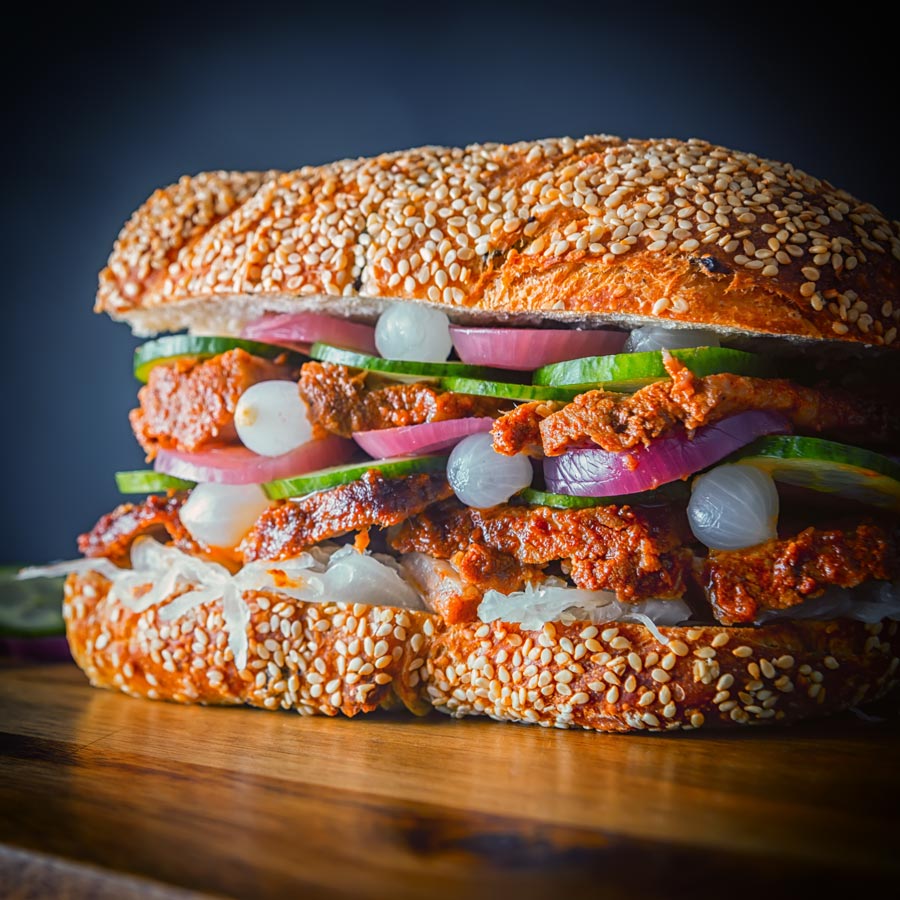 Yield:

4 Sandwiches
InstantPot BBQ Pork Sandwich
Total Time:
5 hours
15 minutes
This BBQ Pork Sandwich is cooked in the InstantPot and then blasted in the oven, the served on a ciabatta style loaf with lots of pickles.
Ingredients
1 kg (2.2lb) Pork Collar or Blade (Boston Butt)
Pickled Red Onions
Sauerkraut
Tiny Pickled Silverskin Onions
Cucumber
Ciabatta Bread
For the Rub
1/2 Tbsp Coarse Sea Salt
1 Tbsp Sugar
1 Tsp Ground Coriander
1/2 Tsp Ground Cumin
1 Tbsp Sweet Paprika
1/2 Tsp Ground Fennel Seeds
1 Tbsp Ground Oregano
1/2 Tbsp Ground Black Pepper
For the BBQ Sauce
1 Tbsp Cooking Oil, Neutral
150 g (1 Cup) Onion: Finely Diced
2 Garlic Cloves, Mashed
125 ml (1/2 Cup) Tomato Passata
1 Tbsp Worcestershire Sauce
1 Tbsp Tomato Puree
1 Tbsp Cider Apple Vinegar
4 Tbsp Molasses, Black Treacle
1 Tbsp Mustard
1/8 Tsp Tabasco Sauce
Salt and Pepper, To season
Instructions
Mix together the salt, sugar, coriander, cumin, paprika, fennel, oregano and black pepper in a large ziplok bag and then add the add the pork and massage the pork with the rub and set aside for 4 hours.
To make the BBQ glaze cook the onions in a pan over a medium heat in the oil for about 10 minutes or until softened and lightly browned, then add in the Garlic and cook on for a further minute.
Now add in the passata, Worcestershire sauce, tomato puree, vinegar, mustard, Tabasco & molasses and allow to reduce by a third.
When reduced blitz the sauce in a blender to form a smooth sauce, check the seasoning and adjust and then allow to cool.
Around one hour before you cook the pork pour the BBQ Sauce into the bag with the pork and allow to sit, do not leave this in the fridge as you want the pork at room temperature.
Remove the pork from the marinade and add 100ml of water to the marinade, pour this into the base of the InstantPot, then add a trivet and sit the pork on top.
Cook for 27 minutes on manual with a 10 minute natural pressure release.
Your oven to 230°C so that it is ready for when the natural pressure release is done, all ovens are different so use your experience.
Once released check the internal temperature of the pork with a meat thermometer, we are aiming for approximately 57°C, then transfer to the oven for 10 minutes to get some nice texture on the sauce. This should then increase the temperature of the pork to 65°C, which is perfect for me.
Meanwhile turn the InstantPot to sauté and reduce the sauce by half and serve as a dip, any left over is great for sandwiches or to serve on chips.
Notes
Do not allow the marinade in step one to site much longer than 8 hours as it will cure the meat too much.
If you want your pork to reach a temperature of 71°C internally then increase the cooking time in the InstantPot to 30 minutes, these are guidelines as the structure and shape of your pork will effect the cooking time more than the weight.
Nutrition Information:
Yield:
4
Serving Size:
1
Amount Per Serving:
Calories:

844
Total Fat:

43g
Saturated Fat:

14g
Trans Fat:

0g
Unsaturated Fat:

25g
Cholesterol:

238mg
Sodium:

1623mg
Carbohydrates:

37g
Fiber:

5g
Sugar:

25g
Protein:

74g