A real hearty and comforting dish, a perfect Italian sausage ragu over a rich and indulgent cheesy polenta, pass me the red wine!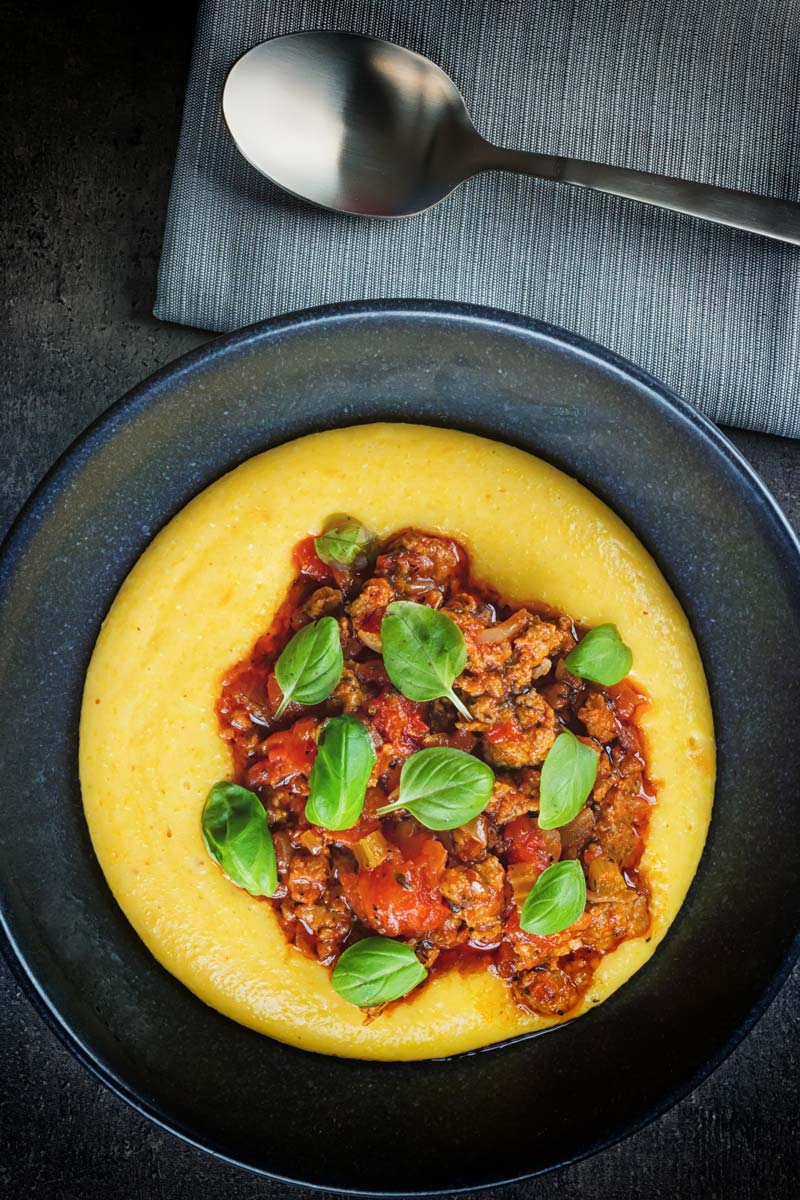 Italian Sausage Ragu With Cheesy Polenta.
I've been intrigued by sausage ragu recipes on t'interweb for a while, and I figured that it would be a good way to expand my sausage repertoire.
Especially as I have been homemade sausages for years. As a result, the process was not too intimidating and they were yummy.
I typically see sausage ragu recipes served with pasta, but I love a cheesy polenta.
I use smoked Gouda in this recipe it marries really well with the flavours, but you can use any cheese you like.
Obviously, if you can find a good smoked cheese I would urge you to give it a try.
This ragu recipe unusually for me serves four rather than two. It does, however, save wonderfully for a few days in the refrigerator or for a month in freezer.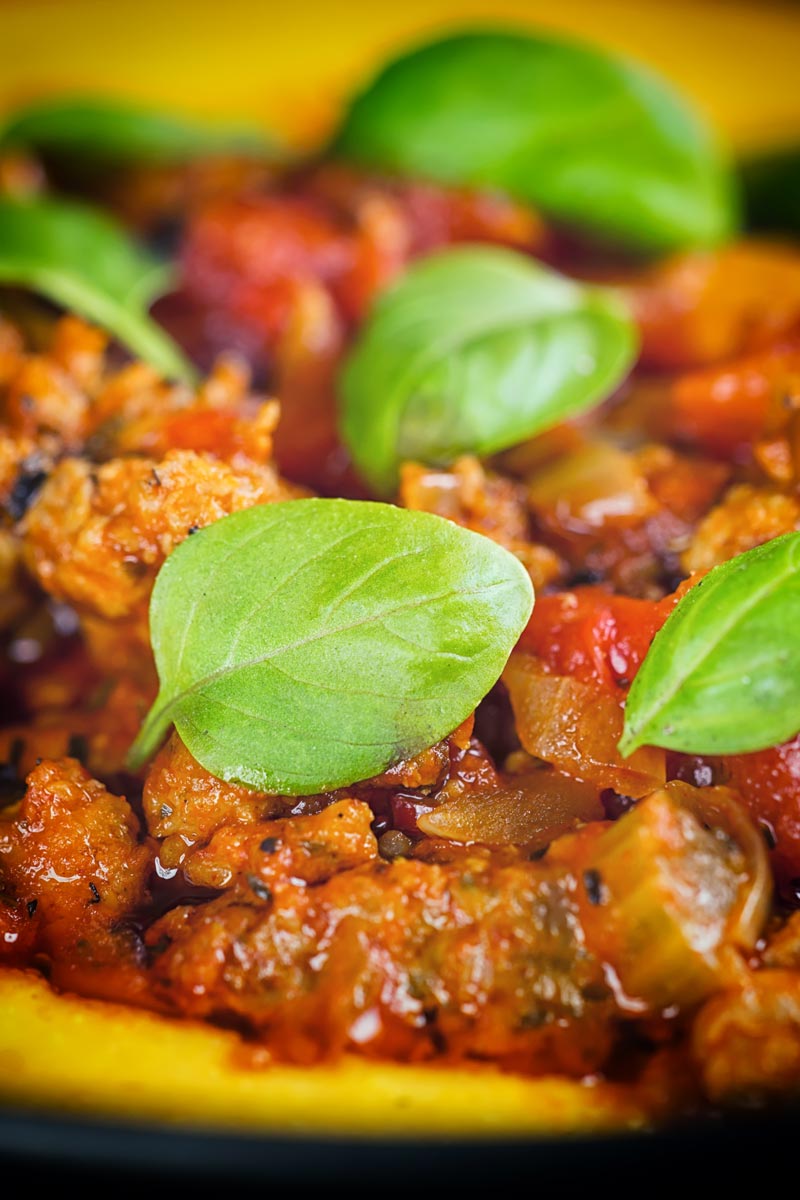 The Secret to Big Flavour.
This sausage ragu recipe already starts out with boatloads of flavour from the sausages.
But that is not all we have here, we are braising that sausage in a tomato sauce.
That tomato sauce must bring flavour to the party too or there is no point it being there!
Tomato sauces can err on the side of bland, the secret is to reduce off water from the sauce.
This leaves all of the flavour behind and creates a thick unctuous sauce for the ragu.
A reduction is a technique I use in sauces as varied as my beef vindaloo to the gravy for my whole roast duck.
It is simple and it works and requires nothing but patience!
Do not turn up the heat too high though or you will burn your dinner!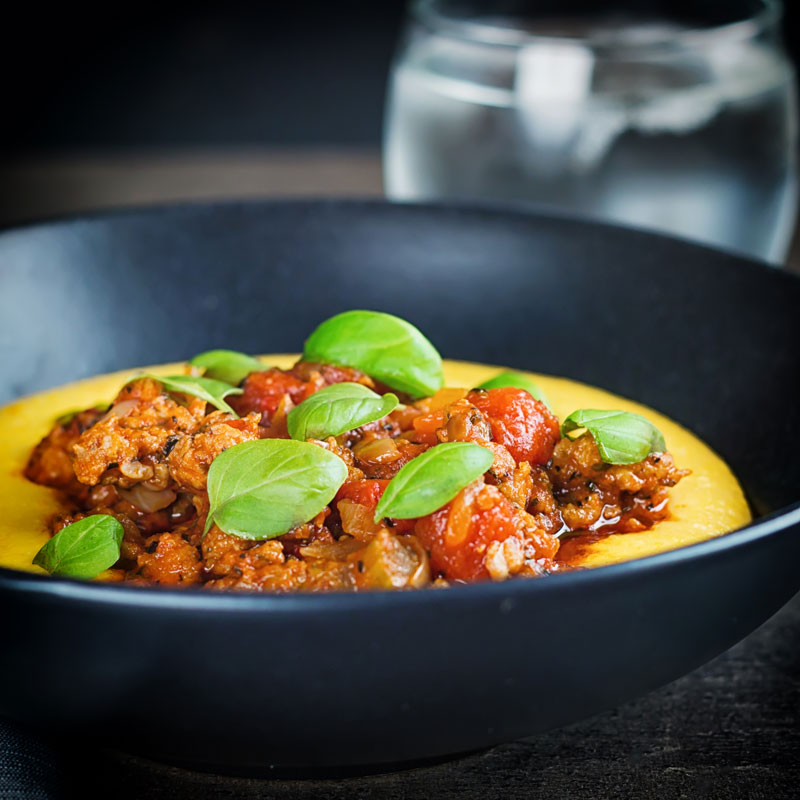 What is Italian Sausage?
Given that most of you are American I'm guessing both sweet and spicy Italian sausage is not an unusual ingredient to you.
For those of you less familiar, Italian sausage is more of an American Italian thing.
It is typically made with pork, red wine vinegar, salt pepper, paprika, garlic powder, onion powder sugar, oregano and basil (and chili flakes if spicy).
It is also really simple to make at home. Mix together the ingredients, then fry off a patty to test the flavours and seasoning and you are sorted.
If you are feeling adventurous stuff into casings and you have a real treat. Here is my complete recipe for Italian Sausages. The links are perfect for this Italian sausage pasta recipe.
Don't forget to check out the video on this Cumberland sausage recipe. It shows how simple making sausages really is.
If you have any other 'Italian sausage' ideas or recipes drop me a comment because I'd love to read your recommendations.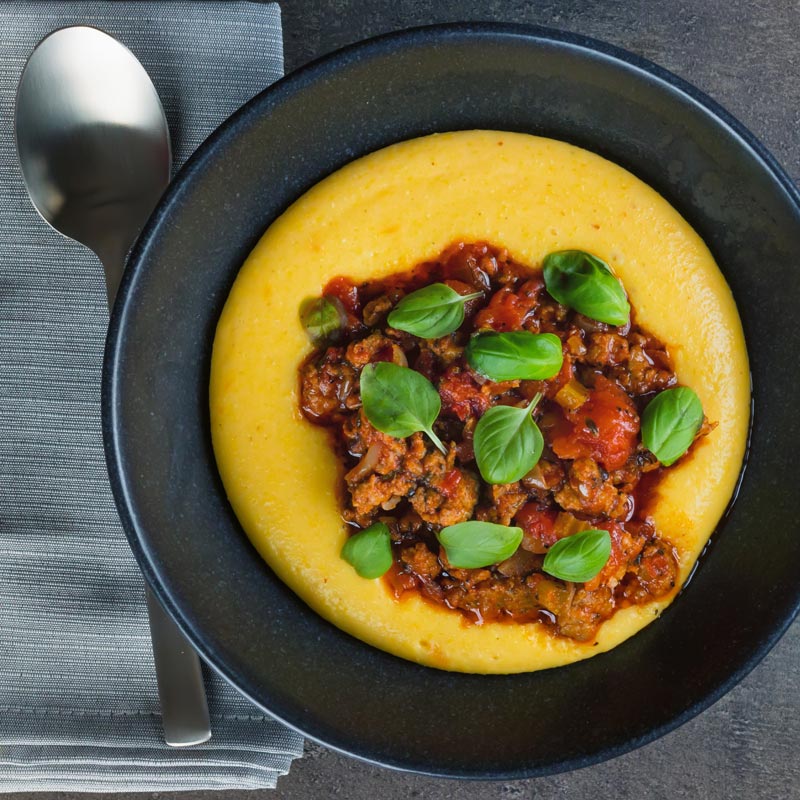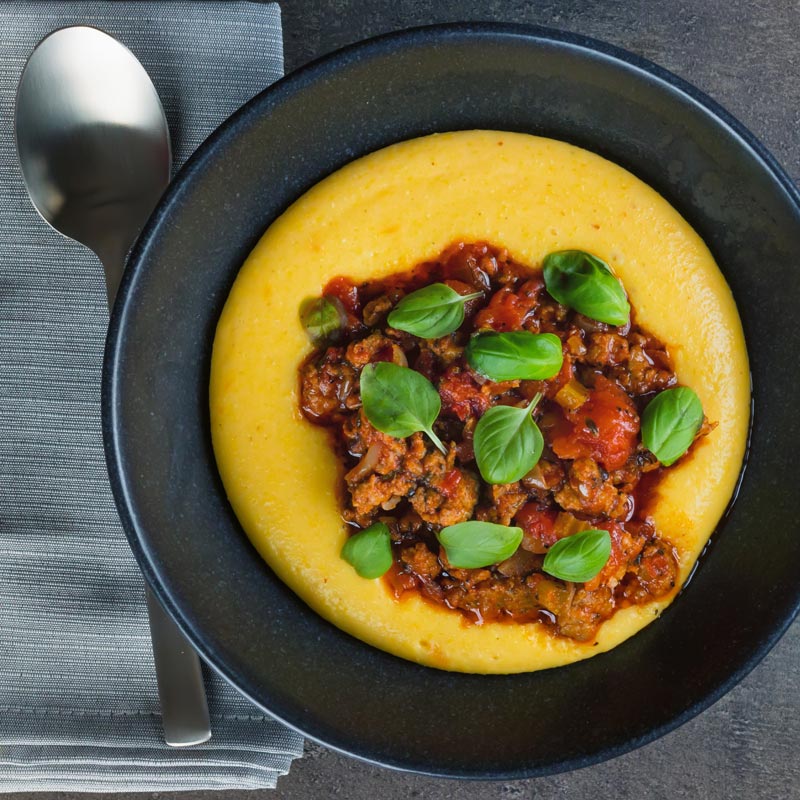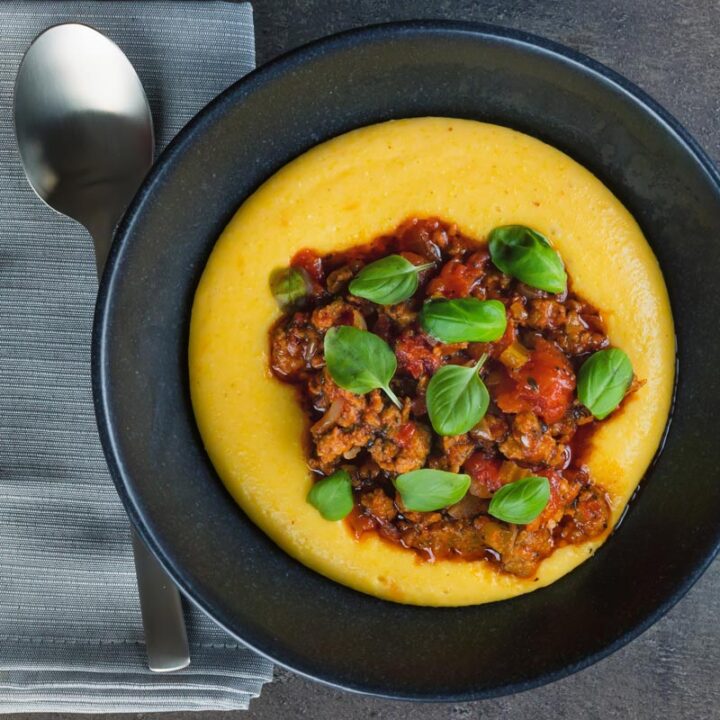 Italian Sausage Ragu With Cheesy Polenta
Cook Time:
1 hour
5 minutes
Total Time:
1 hour
10 minutes
A real hearty and comforting dish, a perfect Italian sausage ragu over a rich and indulgent cheesy polenta, pass me the red wine!
Ingredients
400 g Hot Italian Sausage, Skins removed
50 g Onion, Finely diced
35 g Celery, Finely diced
1 Tsp Olive Oil
350 g Plum Tomatoes, From a can is fine, it is what I use at this time of year
1 Tsp Dried Thyme
1 Bay Leaf
1/2 Tsp Black Pepper
1 l Chicken Stock
170 g Polenta
150 g Smoked Gruyere Cheese
100 g Butter
Instructions
Heat the olive oil in a large frying pan over a low to medium heat.
Add the onion and celery and cook for 10 minutes until softened but not coloured.
Mash the skinless sausage in a bowl and then turn up the heat to high and fry off for 10-15 minutes until nicely coloured.
Add in the tomatoes, thyme, black pepper and bay leaf cover and cook for 30 minutes.
Now we can start the polenta which should take 45 minutes.
Bring your chicken stock to a boil then reduce to a simmer.
Pour in the polenta slowly whilst continuously stirring and continue to stir until cooked.
After 30 minutes remove the lid from the ragu and allow to finish for 15 minutes with the lid off to reduce.
Stir in your cheese and butter until it is melted then serve.
Notes
The sausages will likely contain enough salt for the ragu however have a taste and add more if required.
Nutrition Information:
Yield:

4
Serving Size:

1
Amount Per Serving:
Calories:

839
Total Fat:

66g
Saturated Fat:

32g
Trans Fat:

1g
Unsaturated Fat:

35g
Cholesterol:

165mg
Sodium:

1678mg
Carbohydrates:

23g
Fiber:

2g
Sugar:

9g
Protein:

39g
Calorific details are provided by a third-party application and are to be used as indicative figures only.