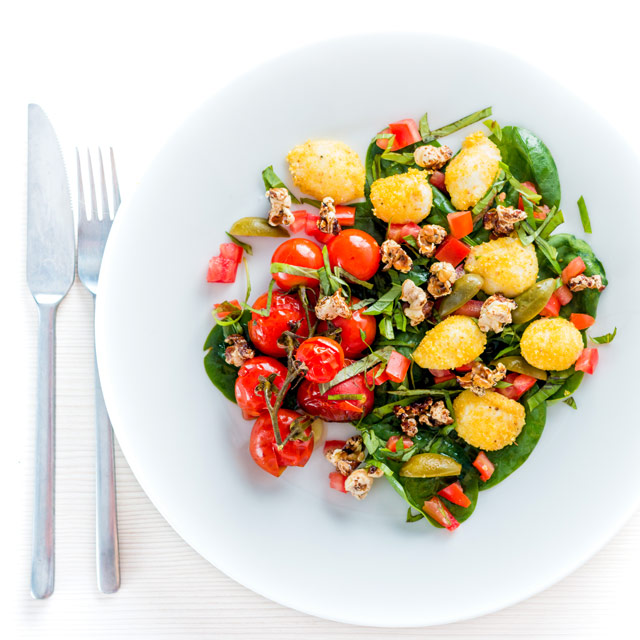 Here I go again playing around with classical dishes which I am sure will horrify some. Of course a classic Caprese salad is a wonderful thing the cream milky mozzarella cheese with sweet ripe tomatoes and almost metallic basil is a match made in heaven, all I have done is added a little spinach, balsamic and popcorn… "Whoooahhhh, hold on" I hear you shout you added popcorn? My answer would be "yup"! Popcorn has a long association with a trip to the movies and I have played with an Indian variation on popcorn here on Krumpli. This idea I got whilst visiting one of many food festivals this summer and a restaurant had put together a rabbit rillettes and rolled it in popcorn and served along side some more popcorn tossed with pomegranate molasses and it was a genius way of adding texture and a new flavour sensation. Well I think it works wonderfully in this Caprese salad that in the main comes straight from our garden, with the tomatoes, basil and spinach all costing us nothing but a little bit of hard work, which makes it even more awesome!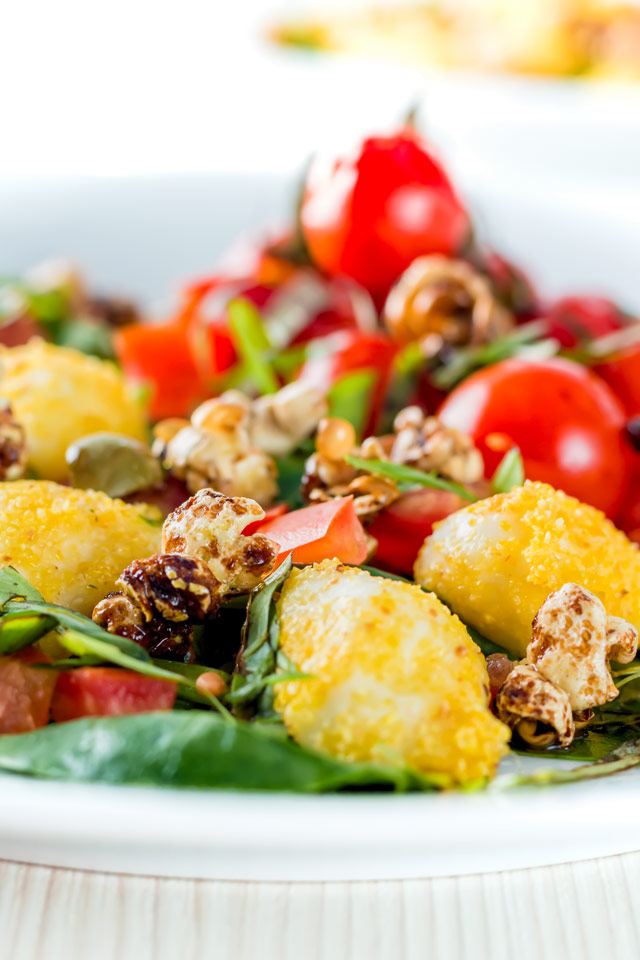 Print
Kinda Caprese Salad
The classic flavours of a Caprese salad get all adventurous in this recipe to add a bit of body and substance to what is usually a light lunch dish or starter.
Ingredients
200

g

Cherry Tomatoes:

On the vine if possible.

1

Tbsp

Olive Oil.

2

Tbsp

Balsamic Vinegar.

10

g

Butter.

125

g

Mozzarella:

The mini balls are perfect for this.

35

g

Polenta:

Fine, aka corn meal.

1

Handful

Spinach leaves.

36

Basil Leaves:

Approximately

10

g

Popcorn:

Unpopped.

75

g

Tomato:

One medium-large san marzano would be great for this.

3

Giant Capers:

Cut into quarters.

Olive Oil:

Extra for dressing the spinach leaves.

Salt:

To taste.
Instructions
Preheat your oven to 180°C.

Heat the olive oil in a pan over a medium high heat and when hot add in the cherry tomatoes and olive oil and transfer to the oven for 10 minutes.

Take the single tomato remove the seeds and slice into a 3.5mm dice and set aside.

Take the butter and place in a small pan over a medium heat with a lid and when hot add the popcorn and pop.

When popped, pick through and discard any un-popped pieces and set aside.

Take a dry frying pan and add the polenta and toast it off you just want a nice nutty flavour and texture, this should take 2-3 minutes.

Finely shred your basil leaves.

When the tomatoes come out of the oven remove from the pan and set aside, do not throw away the cooking liquid we are going to use this.

Dress your spinach leaves in olive oil and place them on the plate.

Add the diced and roasted tomatoes.

Sprinkle with the capers and basil.

Roll the mozzarella balls in the toasted polenta and add to the plate.

Finally dress the popcorn in the liquid from the roasted tomatoes and add to the plate before drizzling with a little of the left over liquid and serve.