The classic flavours of a Caprese salad get all adventurous in this recipe to add a bit of body and substance to what is usually a light lunch dish or starter.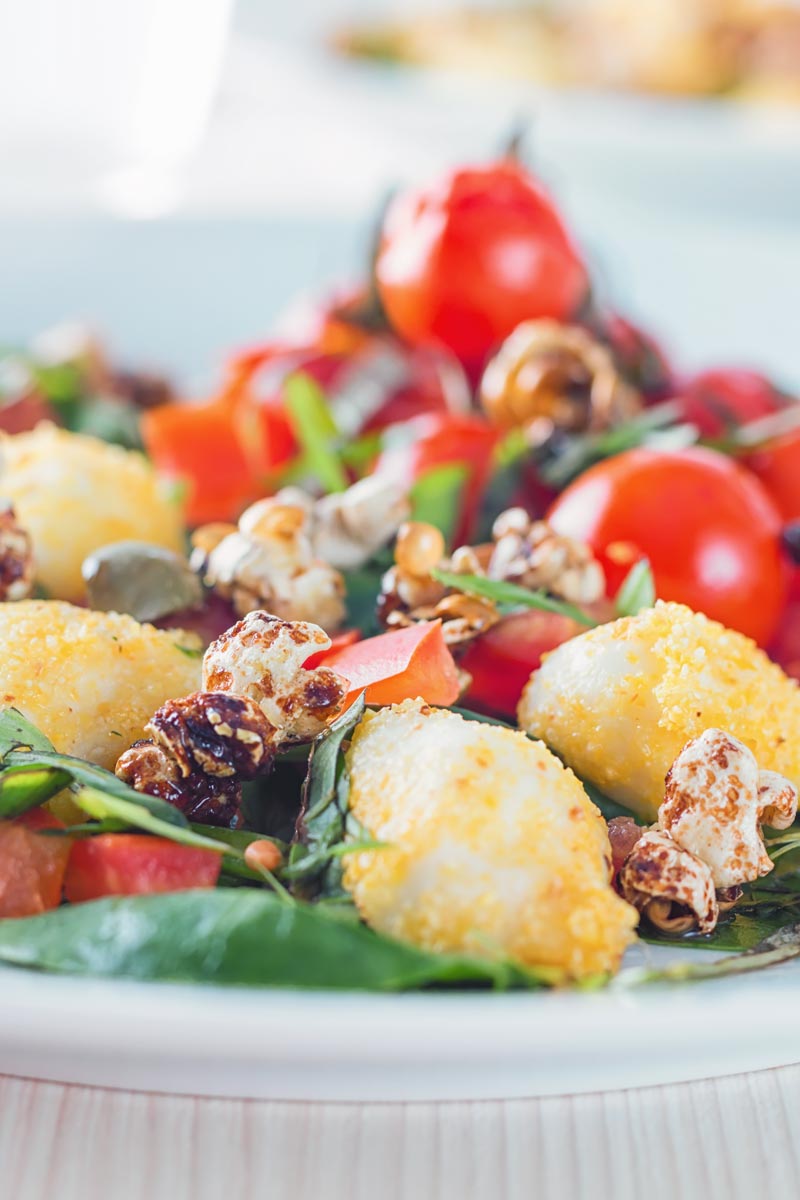 Caprese Salad… Kinda!
Here I go again playing around with classical dishes which I am sure will horrify some.
Of course, a classic Caprese salad is a wonderful thing the creamy milky mozzarella cheese with sweet ripe tomatoes and almost metallic basil.
It is a match made in heaven.
I like to play with food and play with ideas. I rarely stray a million miles from where recipes originate and I don't claim to make them better. The same would go for my Tuna Nicoise Pasta Salad or indeed my BLT pasta Salad.
Just different!
All I have done in this case is add a little spinach, balsamic and popcorn…
"Whoooahhhh, hold on" I hear you shout you added popcorn? My answer would be "yup"!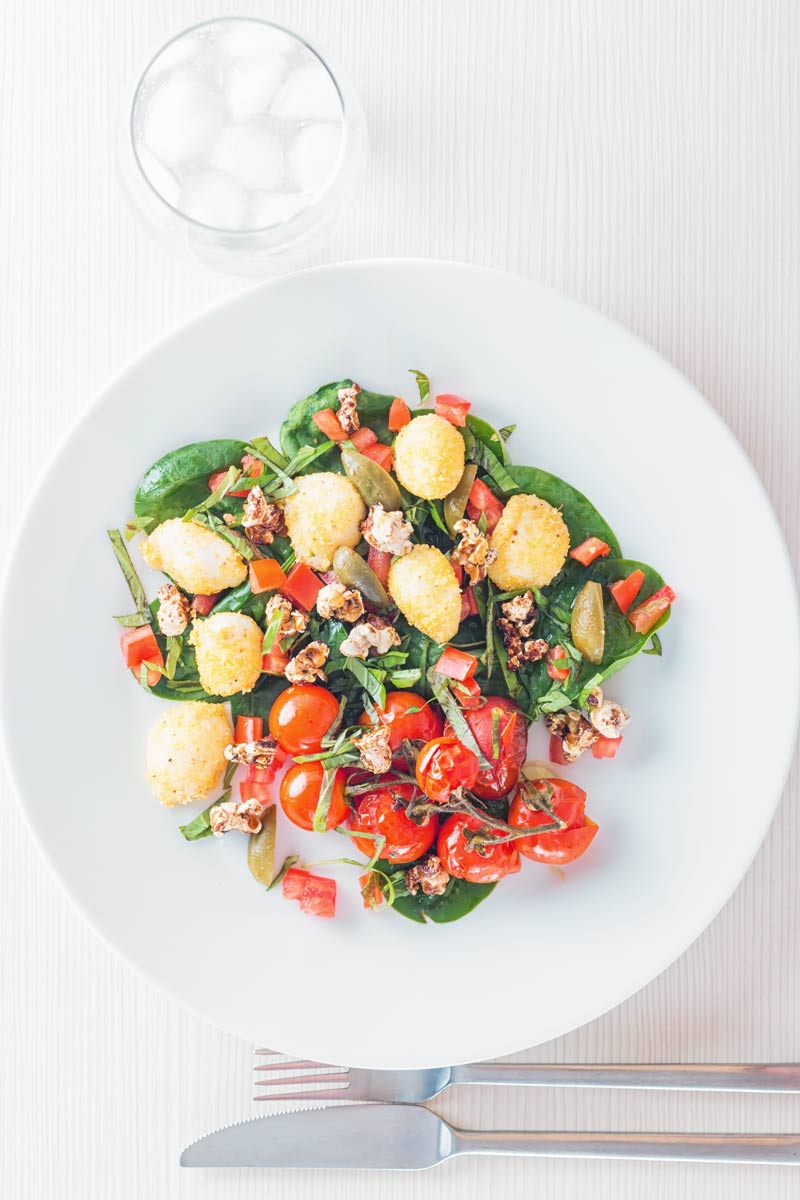 How to Cook the Popcorn.
Popcorn has a long association with a trip to the movies and I have played with an Indian variation on popcorn here on Krumpli.
And I go the idea of adding popcorn to a salad after visiting one of many food festivals this summer.
A swanky restaurant had put together a rabbit rillettes and rolled it in popcorn.
It then served it alongside some more popcorn tossed with pomegranate molasses that replaced croutons in a salad.
It was a genius way of adding texture and a new flavour sensation.
Well, I think it works wonderfully in this Caprese salad!
Cooking the popcorn is ridiculously easy. You need a pan, some oil, in this case butter and a lid.
Then you melt the butter chuck in the popcorn and add a lid, a few minutes later you have popcorn!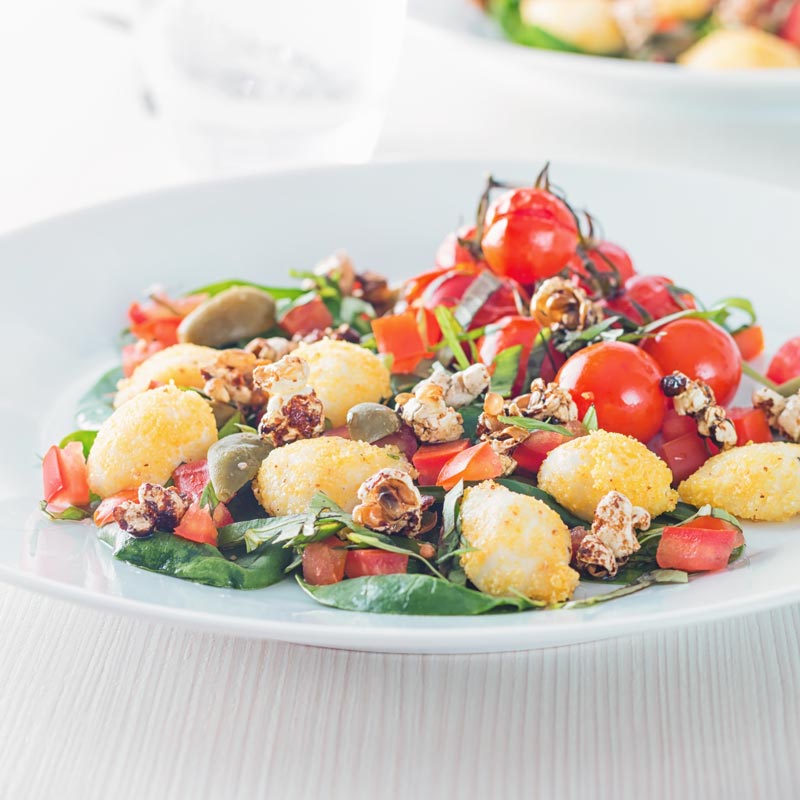 The Tomatoes.
Traditionally this recipe would have featured relatively thickly sliced ripe tomatoes.
I have gone with roasted cherry tomatoes on the vine and some deseeded plum tomatoes.
Any gardener will tell you that most of the aroma from a tomato comes from the plant rather than the fruit.
Aroma is such an important aspect of food, as a result, roasting the tomatoes on the vine adds a great sniff to the recipe.
Unfortunately, cherry tomatoes are not blessed with the most flavour but because these are roasted tomatoes we are adding flavour too!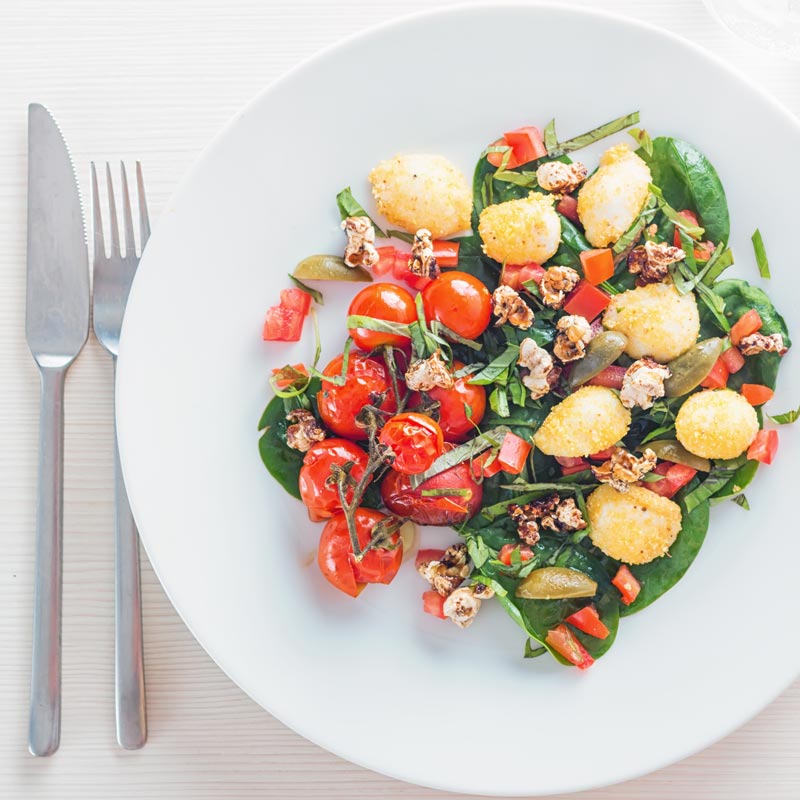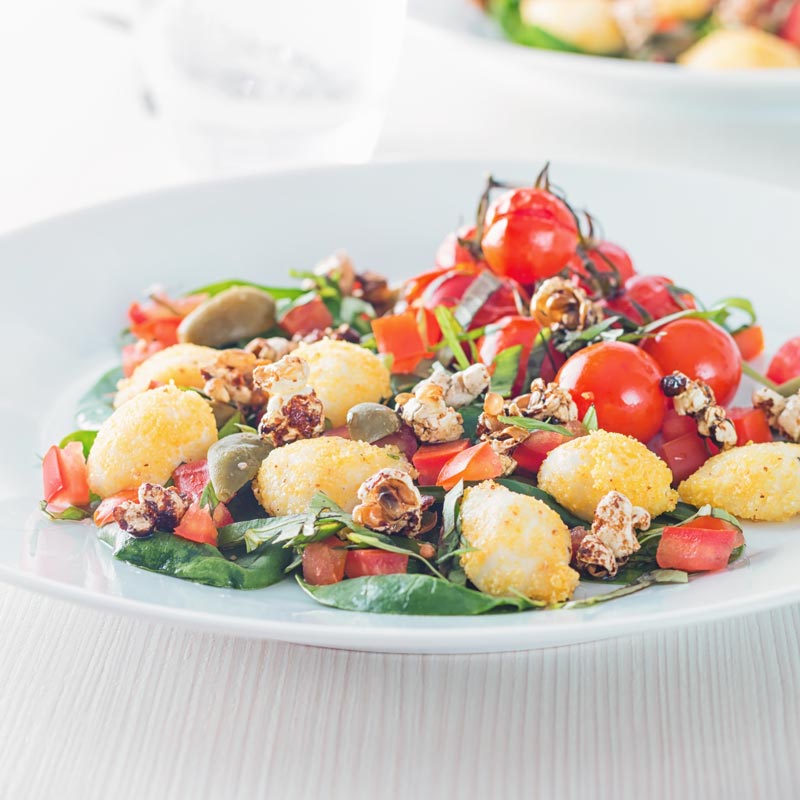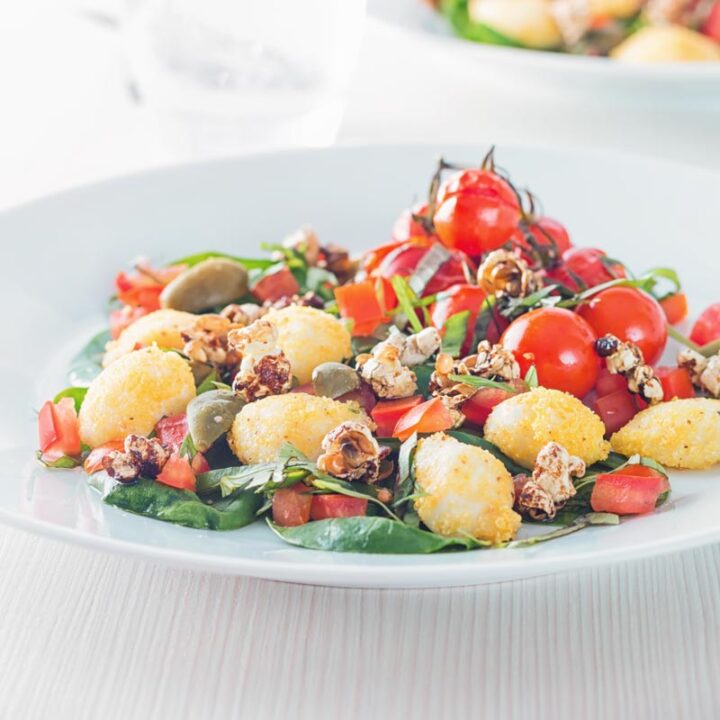 Kinda Caprese Salad
Definitely, a twist on a classic to divide hearts and minds, but I love this twist on a Caprese salad that adds body, texture and structure to the classic flavours.
Ingredients
200 g Cherry Tomatoes on the Vine
1 Tbsp Olive Oil
2 Tbsp Balsamic Vinegar
10 g Butter
125 g Mini Mozzarella Cheese
35 g Polenta
1 Handful Spinach leaves
36 Basil Leaves
10 g Unpopped Corn
75 g Tomato
25 g Capers
2 Tbsp Olive Oil
Salt, To taste
Instructions
Preheat your oven to 180°C or 350°F.
Heat the olive oil in a pan over a medium high heat and when hot add in the cherry tomatoes and olive oil and transfer to the oven for 10 minutes.
Take the single tomato remove the seeds and slice into a 3.5mm dice and set aside.
Take the butter and place in a small pan over a medium heat with a lid and when hot add the popcorn and pop.
When popped, pick through and discard any un-popped pieces and set aside.
Take a dry frying pan and add the polenta and toast it off you just want a nice nutty flavour and texture, this should take 2-3 minutes.
Finely shred your basil leaves.
When the tomatoes come out of the oven remove from the pan and set aside, do not throw away the cooking liquid we are going to use this.
Dress your spinach leaves in olive oil and place them on the plate.
Add the diced and roasted tomatoes.
Sprinkle with the capers and basil.
Roll the mozzarella balls in the toasted polenta and add to the plate.
Finally dress the popcorn in the liquid from the roasted tomatoes and add to the plate before drizzling with a little of the left over liquid and serve. 
Nutrition Information:
Yield:

2
Serving Size:

1
Amount Per Serving:
Calories:

520
Total Fat:

40g
Saturated Fat:

14g
Trans Fat:

0g
Unsaturated Fat:

23g
Cholesterol:

62mg
Sodium:

1089mg
Carbohydrates:

27g
Fiber:

4g
Sugar:

18g
Protein:

17g
Calorific details are provided by a third-party application and are to be used as indicative figures only.