A Lamb Madras Curry in a British Indian Curry House has become synonymous with a fiercely hot curry and not much else. Not my version which packs many more complex flavours but still keeps a punch of heat from chilli and black pepper.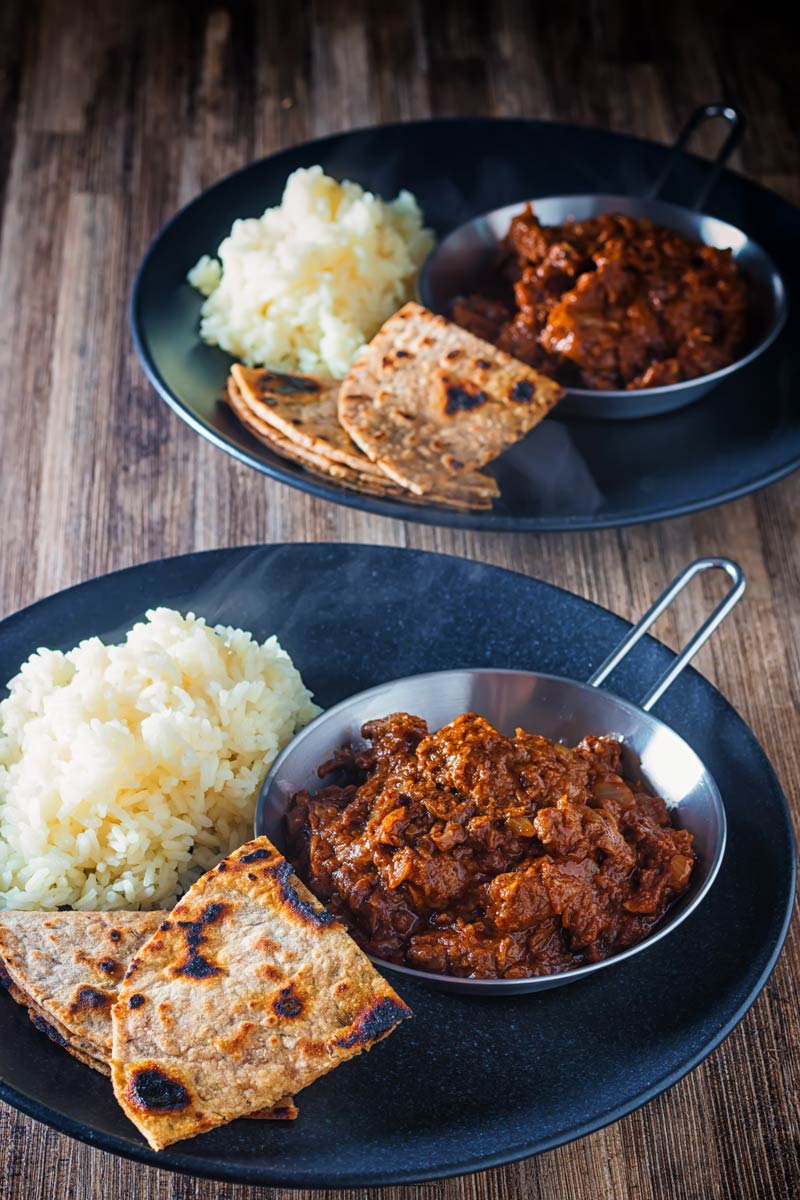 Lamb Madras Curry.
I love this lamb curry recipe, it is a real treat as lamb is a relatively expensive meat. This recipe adds lots of big flavours but ensures that the lamb still sings through as the base flavour for the dish.
It retains a fierce heat from the dried chilli, I use cayenne and lots of black pepper.
All of it tempered with coconut milk, you can use the more typical yoghurt if you want.
The cut of meat I choose for this lamb curry is typically shoulder, although you could use leg if you wanted to… If you have mutton then please use it because the flavour is really amped up.
Just cook it on low for a couple of hours, rather than one hour.
The name Madras Curry is not really used in India and it is a name that came from Bangladeshi Indian restaurants in the 1970's.
My recipe is an ode to the curries I grew up eating in the 80's and 90's.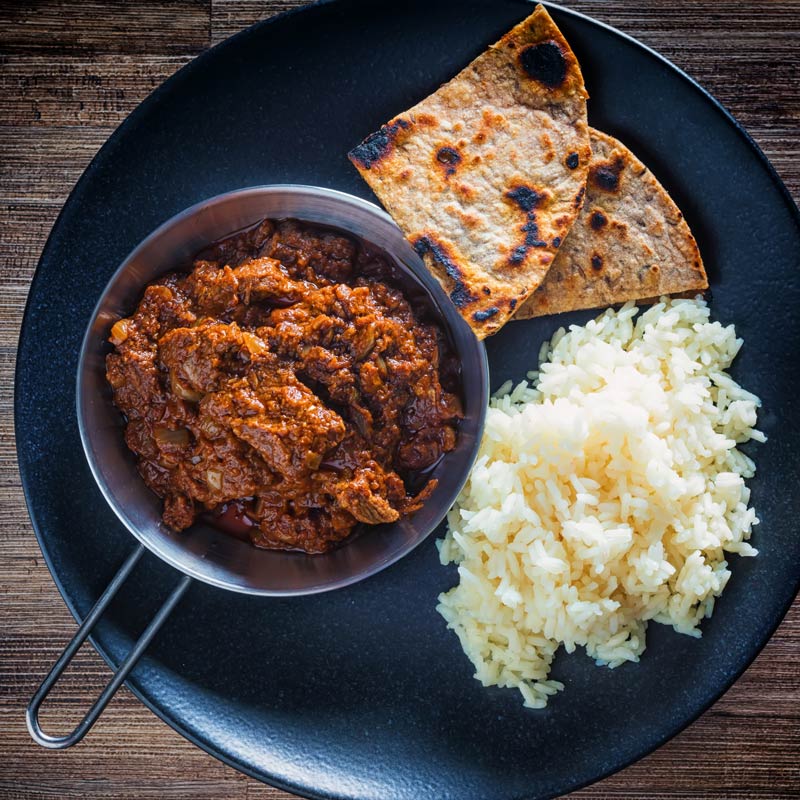 How Hot Is a Madras Curry?
Individual tolerance to spice from chilli is so personal so this is a difficult question to answer.
We can, however, look at it in terms of comparison to other curry recipes.
A madras curry would be considered a curry at the hotter end of the spectrum.
On the spice scale, it typically sits between a jalfrezi curry and a vindaloo curry.
If you do struggle with chilli a great way to calm down the burn is bread.
I would most definitely insist on a chapati to be served with this Madras curry!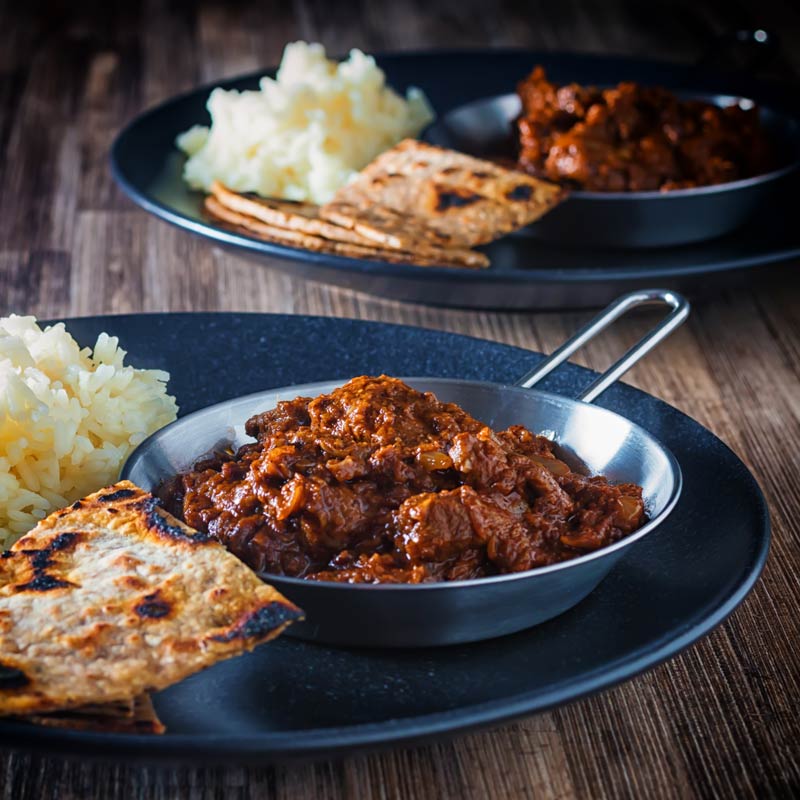 Cooking With Whole Spices!
If you are a relative newcomer to cooking with whole spices you may wonder "why bother"?
Surely some ground spices would work or even a madras curry spice blend.
Well yes, they would work… However, they will never give you a flavour profile quite like whole spices.
Once you grind spices the begin to lose their flavour much quicker than whole seeds.
This means that whole seeds have a much longer shelf life and it does not matter how you store your ground spices… They will never last as long!
They also deteriorate at a different rate, so that spice bland that may have left the factory with a good mix will change over time.
Most importantly toasting those whole seeds unlocks a level of flavour that you just cannot replicate with ground spices.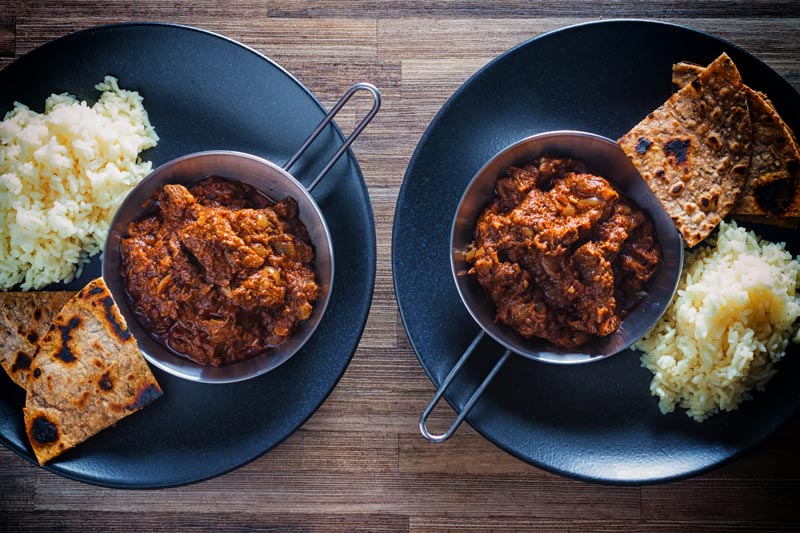 British Indian Curry Recipes.
I am not really all that interested in replicating authentic recipes when it comes to food.
I want food that makes me and more importantly my wife smile and this certainly does that.
A British Indian curry makes no attempt at being an authentic Indian Curry.
It is a cuisine developed by migrants to a new country. Embracing both an older food history and what is available in their new home.
I have to say as fully-fledged migrant never have I understood British Indian food more than I do today!
You should definitely check out a few of my favourites!
It is not fusion food, it is a new food, filled with love for the past and curiosity of the present!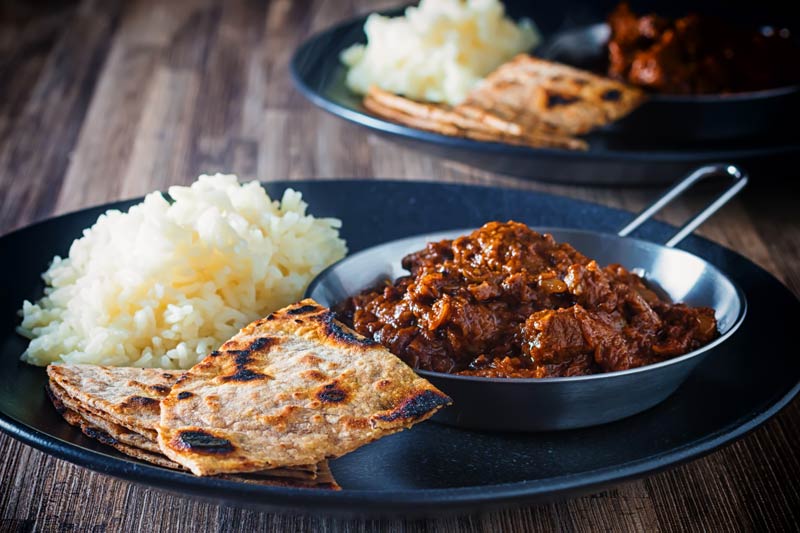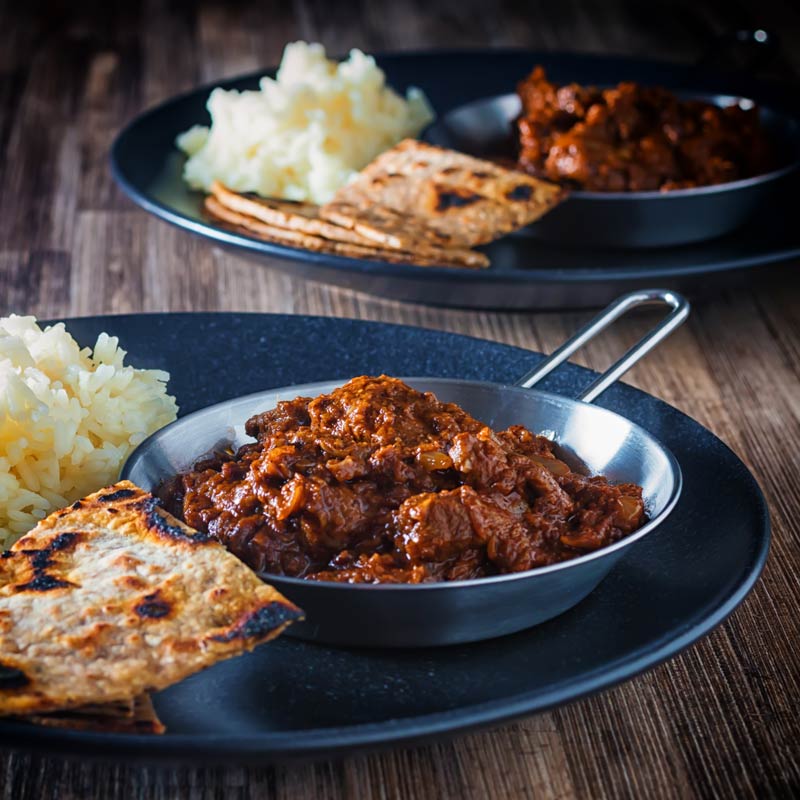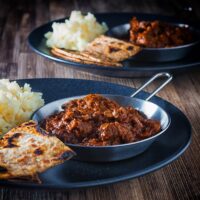 Lamb Madras Recipe
Cook Time:
1 hour
20 minutes
Total Time:
1 hour
35 minutes
My Lamb Madras curry is an ode to the Bangladeshi British Indian restaurants of the 1980's... Featuring a spicy sauce made from freshly toasted spices and using coconut milk rather than yoghurt to temper the spicy burn!
Ingredients
400 g Lamb Shoulder, Diced
1/2 Tbsp Coriander Seeds
1 Tsp Black Peppercorns
1/2 Tsp Fennel Seeds
1/4 Tsp Fenugreek Seeds
2 Cloves
2 Dried Red Chili Pepper
2 Tbsp Cooking Oil
100 g Onion
20 g Ginger
6 Cloves Garlic
2 Tbsp Tomato Puree
150 ml Coconut Milk
1/2 Tsp Salt
1/2 Tbsp Garam Masala
Instructions
Cut the onion into a medium dice and crush the garlic into a paste.
Grate the ginger.
Heat a heavy-based dry pan that has a lid over a medium high heat.
Add the coriander seeds, peppercorns, fennel seeds, fenugreek seeds, cloves, and dried chili, then toast until they become fragrant.
When the spices are toasted crush them into a fine powder in a spice grinder or pestle and mortar.
Add the oil to the pan.
When hot cook the onion until they begin to colour which should take 5-6 minutes.
Add in the garlic and ginger and cook for a further minute.
Now add in the lamb and cook for 5 minutes stirring occasionally.
Stir in the tomato puree, coconut milk, ground spices from step 5, and salt.
Cover and allow to cook for 1 hour over a very low heat.
After 1 hour remove the lid and reduce the remaining liquid to form a thick sauce.
Remove from the heat and stir in the garam masala and allow to sit for 2 minutes before serving.
Notes
Serve with boiled rice and chapati and maybe a beer if you want the full British curry house experience.
Nutrition Information:
Yield:

2
Serving Size:

1
Amount Per Serving:
Calories:

604
Total Fat:

41g
Saturated Fat:

19g
Trans Fat:

0g
Unsaturated Fat:

19g
Cholesterol:

128mg
Sodium:

747mg
Carbohydrates:

18g
Fiber:

4g
Sugar:

4g
Protein:

44g
Calorific details are provided by a third-party application and are to be used as indicative figures only.