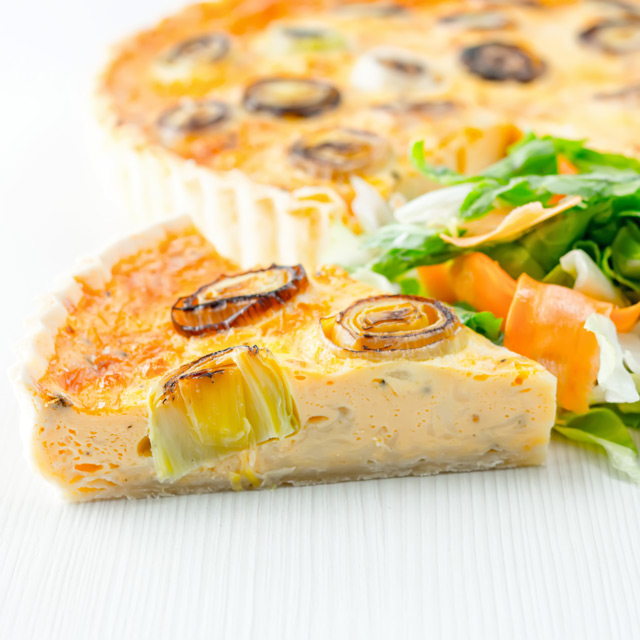 This leek and Gruyere quiche is my second quiche of the summer and I make no apologies for it, these tarts have been a bit of a go to this summer for us. We were determined to head out more and take picnics with us this summer and stuff like quiche, sausage rolls, pork pies and Scotch eggs have all had a bit of a renaissance in our kitchen, if good old traditional grub can have a renaissance? It has also been a bit of a personal battle with my old nemesis, baking and pastry, it has never been a thing I have indulged in a great deal so whilst I am an experienced cook give me a pastry task and I will be cursing like a mother flipper quicker than you cans say 'for fecks sake', but I am certainly getting better at my handling of pastry and have learned to work quick and work cold and I am no long left with a sticky mess on the work surface when I am making tarts and rolls (stop it you filthy minded people).
Anyway back to this leek and Gruyere quiche, it is I guess another play on probably my favourite flavour combination, cheese and onion… So many ways of pairing it and this one uses nutty almost smokey Gruyere cheese and pairs at against leeks for the allium hit and I love it, neat and subtle with lots of beautifully complex flavour profiles. Cut into wedges and pack in your picnic basket and don't forget a little sticky balsamic sauce which really compliments the flavours in this leek and Gruyere quiche so very well!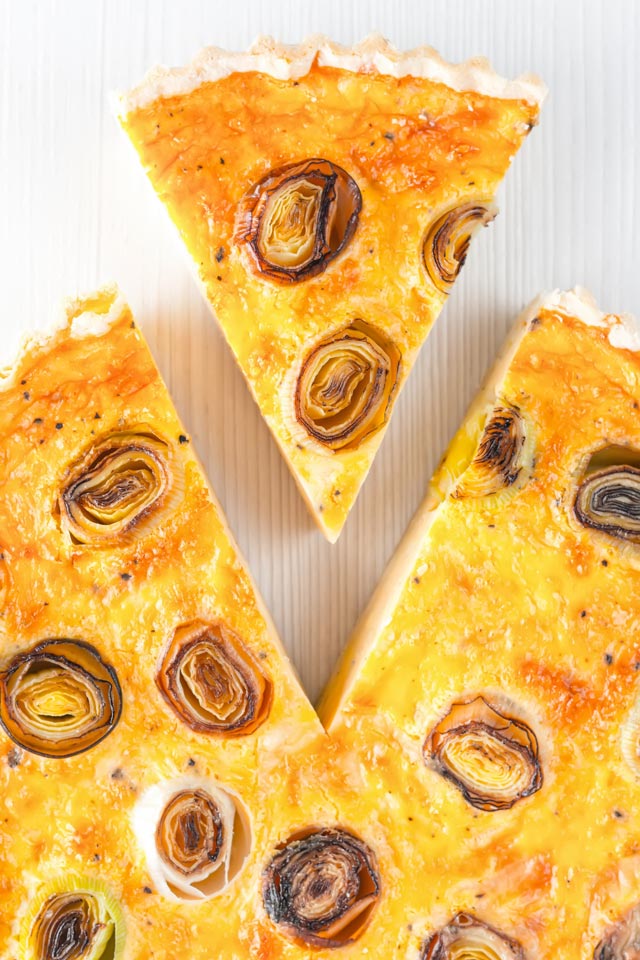 Print
Leek and Gruyere Quiche
This Leek and Gruyere Quiche is a little play on the classic idea of a cheese and onion quiche using nutty almost smoky Gruyere cheese & charred leeks.
Cook Time
1
hour
5
minutes
Total Time
1
hour
55
minutes
Ingredients
For the Pastry:
300

g

Plain Flour.

1/8

Tsp

Salt.

150

g

Butter:

Cold and diced, if you are not going vegetarian replace 50g of this butter with lard for an even shorter pastry.

75

ml

Water:

Make it cold by keeping it in the fridge, you may need a little more or less so trust your judgement.

1

Tsp

Lemon Juice.
For the Quiche Filling:
250

g

Leek:

Cut into rounds roughly the same depth as the quiche mould.

150

g

Gruyere Cheese.

1

Tbsp

Cooking Oil:

Neutral.

8

Eggs:

Large.

200

ml

Double Cream:

Heavy cream in the US.

1

Tsp

Black Pepper:

Freshly ground.

1/2

Tsp

Salt.
Instructions
For the Pastry:
Add the flour and salt to a cold bowl and mix together.

Now add in the cold butter and rub through the flour and salt mix until it forms breadcrumbs.


Mix together the water and lemon juice and slowly add to the breadcrumb mix until it begins to form a ball.


When it forms a ball tip out on to a floured work surface and knead it gently until a single ball is formed.


Wrap in cling film and refrigerate for 30 minutes.

To Make the Quiche:
Now remove from the fridge, roll out to a 3-5mm thick circle and use to line two a single 25cm quiche mould, pricking the base with a fork at regular intervals.


When lined return to the fridge to rest for 15 minutes whilst your oven warms to 190°C.

When the case has rested fill with baking parchment and baking beans and cook for 25 minutes.


Whilst the pastry case is baking heat the cooking oil in a frying pan and use it to caramalise the cut side of the leek rounds. This is optional.

The remove the baking beans and then cook for another 5 minutes.


When the pastry cases have been part cooked, trim off the remaining pastry being careful as it will be hot.


Whisk together the eggs, cream, black pepper, salt adding 100g of the Gruyere cheese at the very end.

Sprinkle the remaining 50g of grated Gruyere on the bottom of the tart case before pouring in half of the egg mix.

Now randomly drop in the leek rounds seared side up and top up the tart and bake in the oven at 190°C for 35-37 minutes.