My Mango chicken stir fry draws on all sort of influences but at its heart it is a play on a sweet and sour chicken idea and is super quick!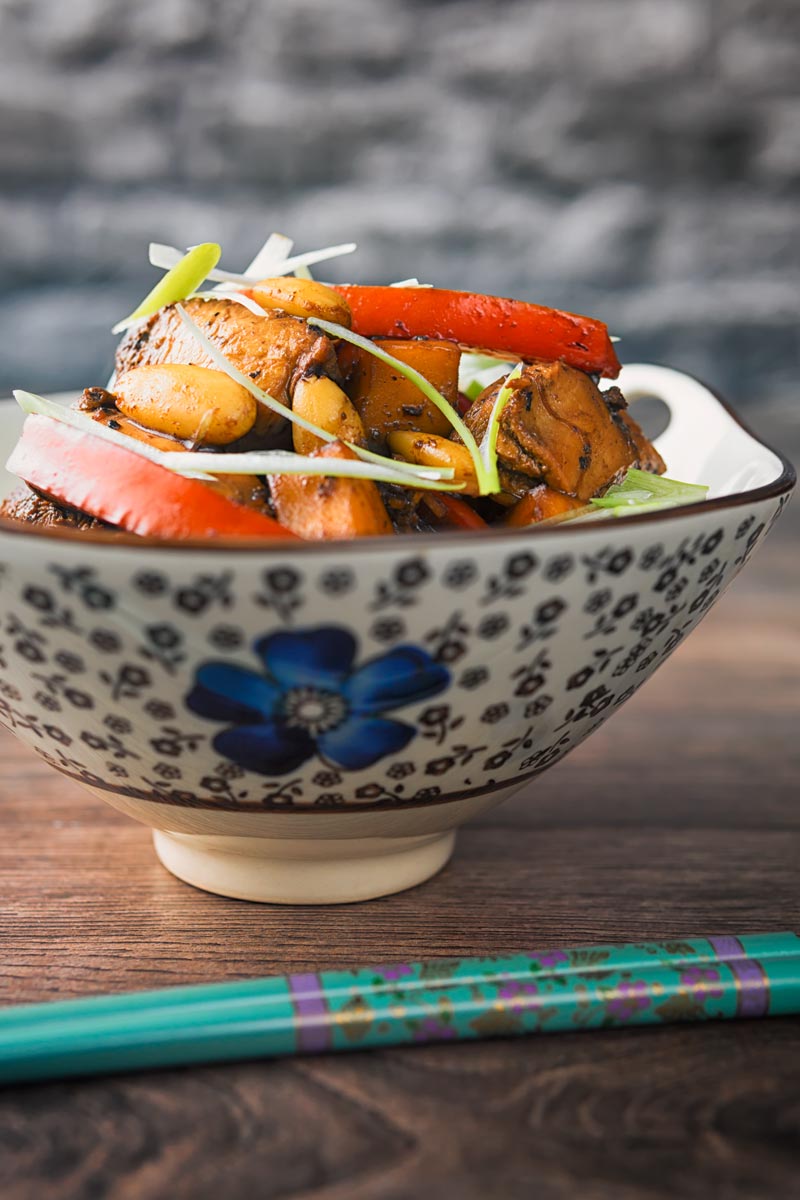 Mango Chicken Stir Fry.
Mango chicken is such a great and well-trodden path when it comes to food pairings. This recipe plays with my favourite sweet and sour flavour profile and is all done and dusted in 25 minutes.
The last time mango and chicken got an outing here it was in a mango chicken salad. Just like that recipe this one is very much influenced by Asian flavours.
This recipe very much feels like a bit of a winter warming fakeaway.
Dark and rich with grown-up sweet and sour flavours, mango provides the sweetness in the recipe.
The sourness comes from the gloriously dark Chinkiang Vinegar.
Almonds provide a bit of texture and ginger provides a real strong background flavouring.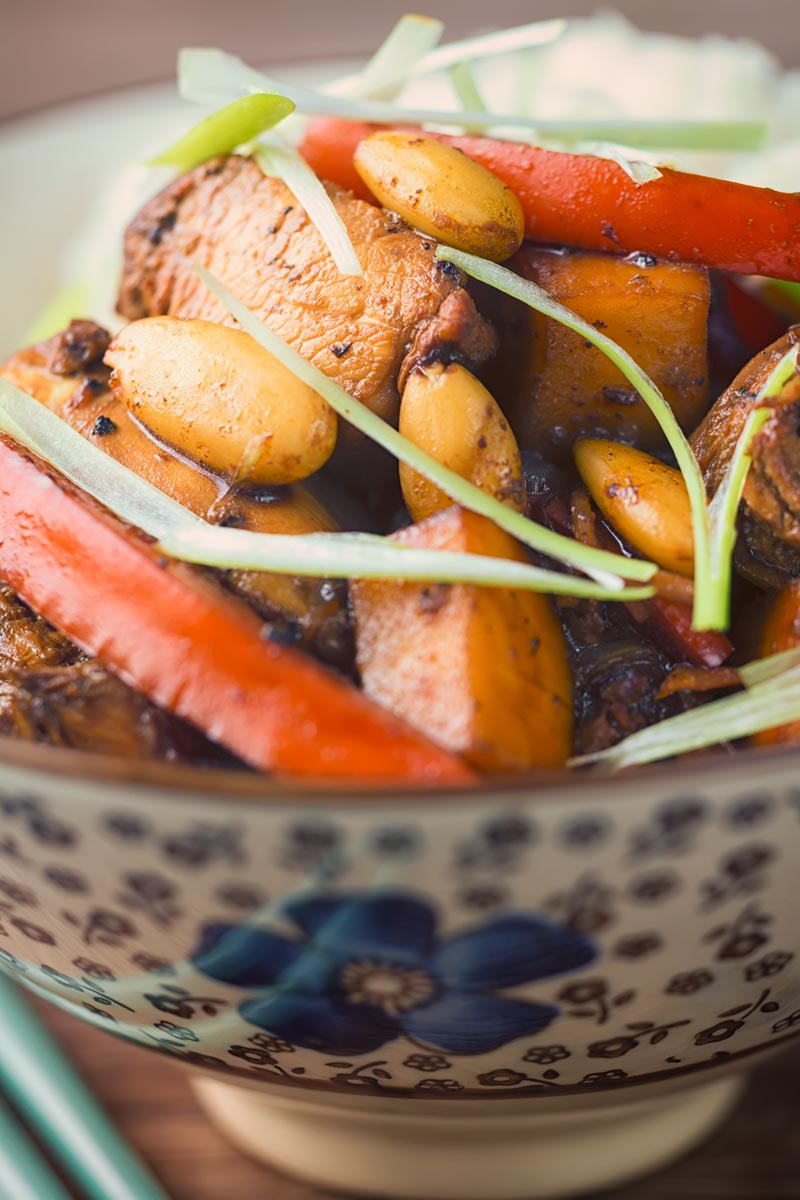 Cooking With Nuts…
Considering how few dessert recipes I cook I certainly get through a lot of nuts in my cooking.
I love the contrasting and firm texture and earthy flaovur that nuts bring to recipes.
This quick stir fry uses whole blanched almonds in much the same way as my butternut squash tagine does.
It is not as uncommon as you think with dishes like dandan noodles relying on peanuts, in much the same way that kung pao chicken does.
In fact, the classic Indian Butter Chicken uses nuts and seeds to thicken the sauce.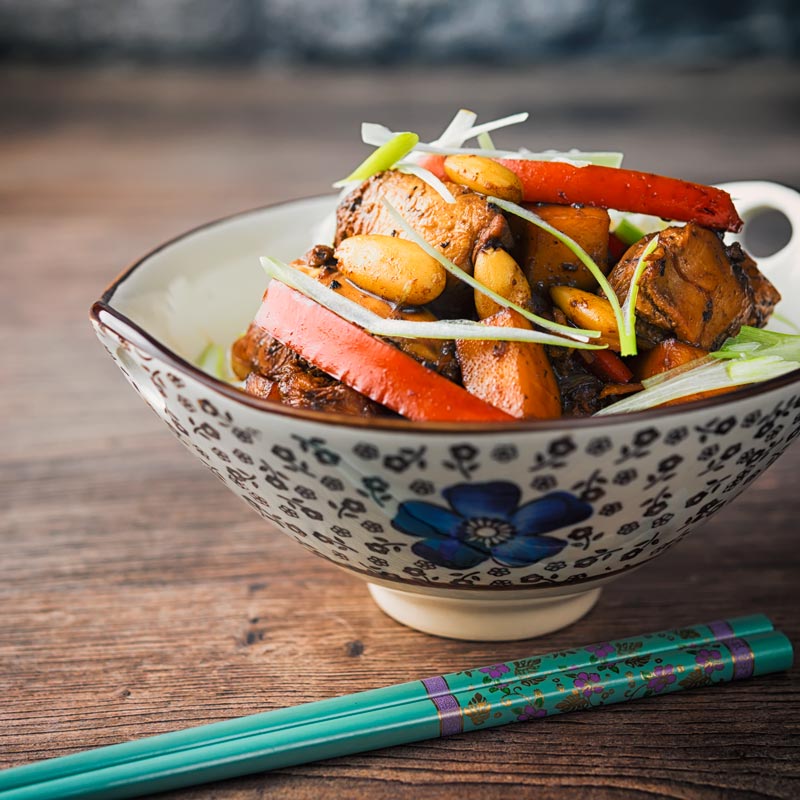 What is the Difference Between Light and Dark Soy Sauce?
If you head to an Asian store you will find rows and rows of different Soy sauces.
You would need a pretty cultured palate to tell too much difference between many of them. However, there are two principal types of soy sauce.
Light Soy Sauce: AKA Thin Soy Sauce
Dark Soy Sauce: AKA Thick Soy Sauce
These are fundamentally different products that I may have touched on before.
Light soy sauce is typically found in dipping sauces and is light on flavour and heavy on seasoning.
Dark soy sauce, on the other hand, is heavier and more complex in flavour and lighter on seasoning.
Dark soy sauce is aged for much longer and is usually a little sweeter thanks to the addition of molasses.
It is relatively unusual to use dark soy sauce without cooking it. The cooking process helps unlock some of the flavour.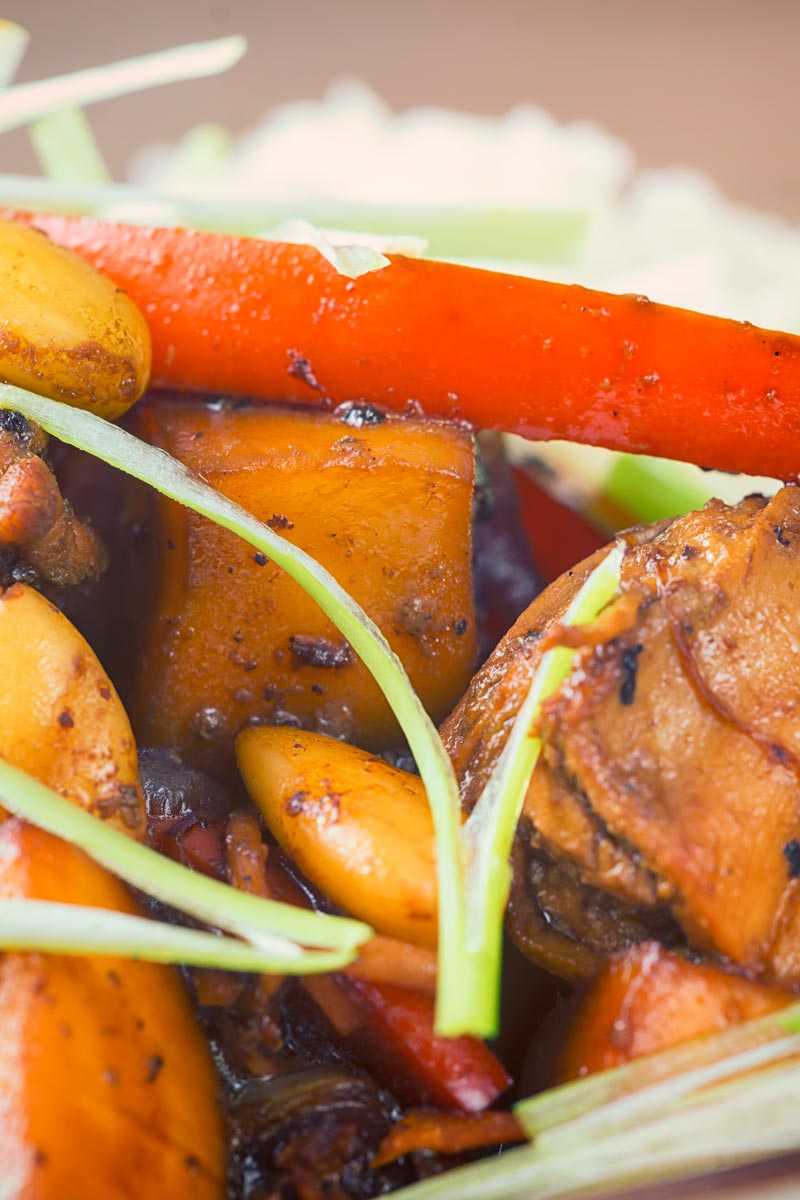 The Importance of Preparation.
I mention this on all of my stir fry recipes, so if you have read this before sorry… But it is important!
The only way to cook a good stir fry is to prepare in advance!
A quick glance through my instructions will tell you why.
It is chuck this in and cook for 1 minute, add something else, 2 minutes, add something else 90 seconds.
You seriously have no time to either hunt for ingredients, yet alone chop them!
This mango chicken stir fry is easy, the only way to screw it up is to not prepare your ingredients. You have been warned.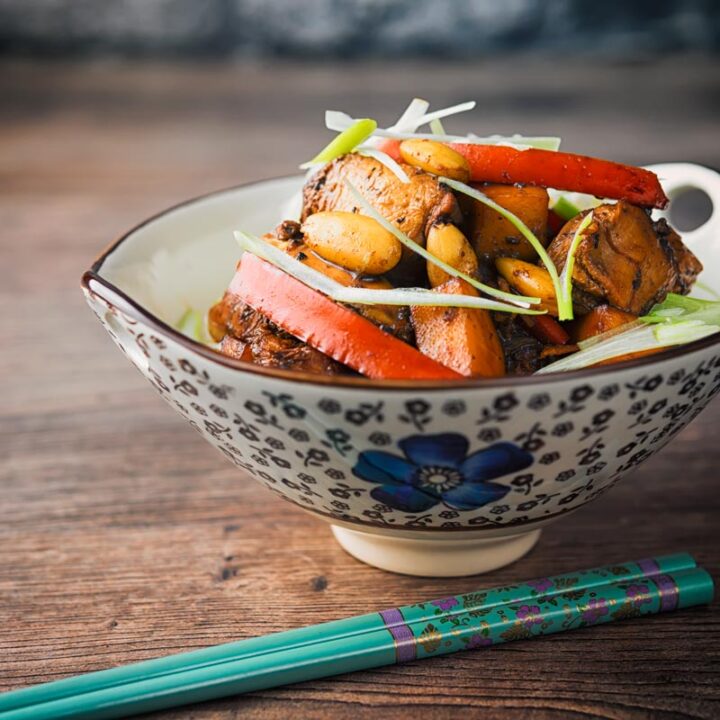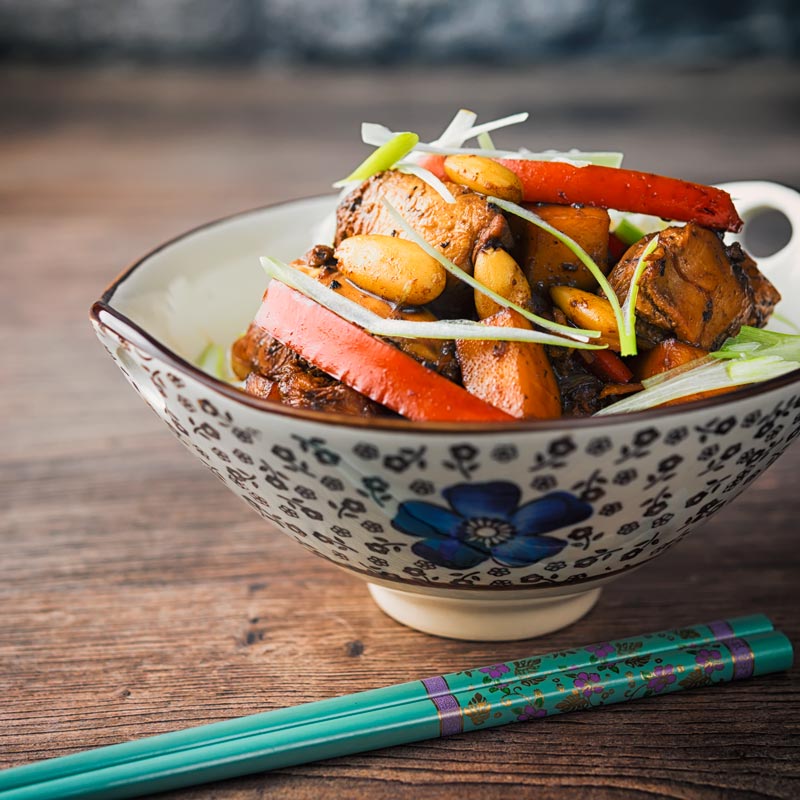 Yield:

2 Servings
Mango Chicken Stir Fry
This mango chicken stir fry is a mish-mash of South East Asian and Chinese influences, it is sweet and sour and on your table in just 25 minutes!
Ingredients
350 g (12.3 oz) Chicken Breast
1 Tbsp Rice WIne
1 Egg White
1 Tbsp Cornflour
100 g (3.5 oz) Red Pepper
100 g (3.5 oz) Onion
150 g (5.3 oz) Mango
50 g (1.75 oz) Blanched Almonds
30 g (1 oz) Ginger
2 Tbsp Dark Soy Sauce
1 Tbsp Light Soy Sauce
1 Tbsp Chinkiang Vinegar
2 Tbsp Cooking Oil
1 Tbsp Toasted Sesame Oil
2 Spring Onions
Instructions
Dice the chicken breast into 2-2.5cm cubes.
Lightly beat the egg white and then add the cornflour to it and mix.
Add this to the diced chicken along with the rice wine and combine and then marinade whilst we prepare the remaining ingredients.
Slice the red pepper into strips and the onion into fine half moons.
Take your mango and dice it, you want 150 grams of prepared weight.
Cut the ginger into batons as finely as you can.
Mix together the two soy sauces and the vinegar and set aside.
Cut the spring onion in to fine lengths around 3-4 cm long.
Heat 1 tablespoon of the oil in a hot wok.
When hot add the chicken and marinade and allow it to site for 60 seconds.
then stir fry for another 60 seconds until you have a nice colour.
Remove from the wok and set aside.
Return the wok to the heat and when hot add the remaining tablespoon of oil.
Add the ginger and onion and stir fry for 2 minutes.
Throw in the red pepper and cook for 60 seconds.
Return the chicken to the pan and add the almonds and stir fry for 2 minutes.
Pour in the sauce and add the mango and cook for a further 90 seconds.
Drizzle over the sesame oil before serving and garnish with the spring onions.
Nutrition Information:
Yield:
2
Serving Size:
1
Amount Per Serving:
Calories:

752
Total Fat:

41g
Saturated Fat:

5g
Trans Fat:

0g
Unsaturated Fat:

33g
Cholesterol:

149mg
Sodium:

1712mg
Carbohydrates:

30g
Fiber:

6g
Sugar:

17g
Protein:

66g