This simple roast pork loin is coated in mustard and maple syrup and cooked to perfection. The smaller portion yields a meal for two with no waste and comes with a glorious cabbage and potato side!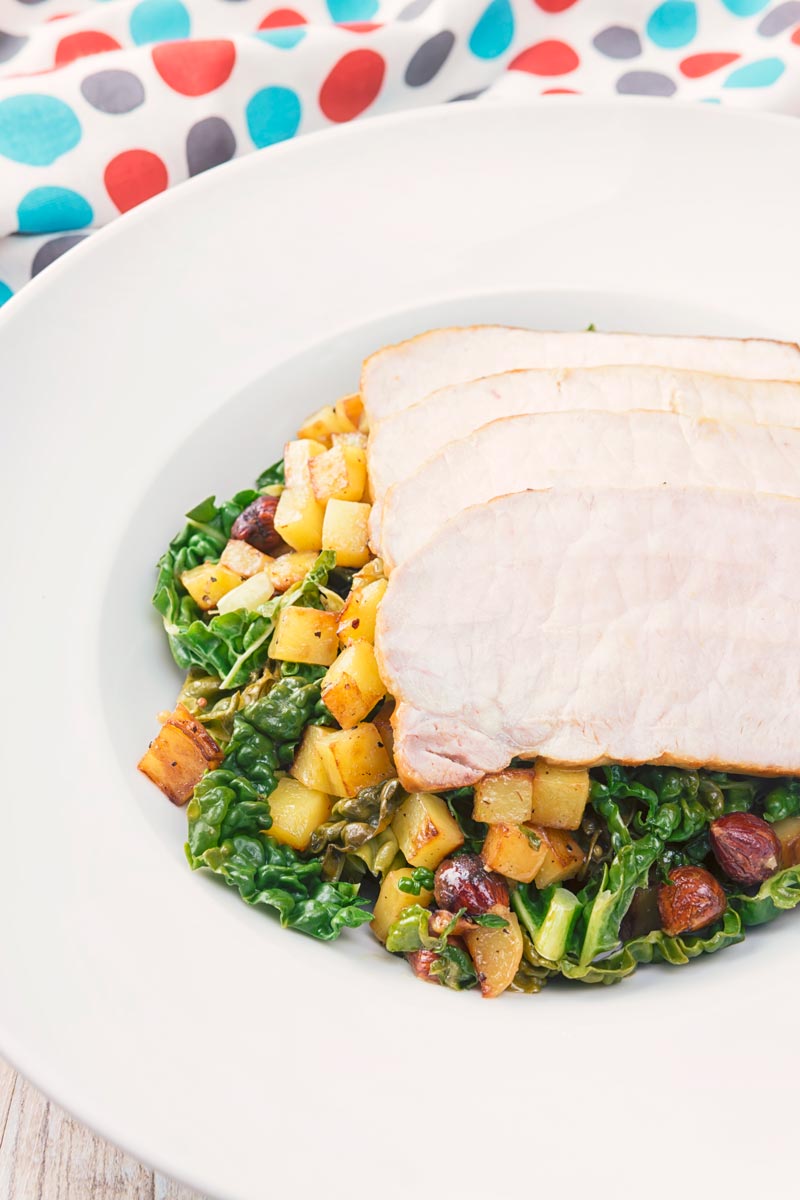 Maple Syrup and Mustard Roast Pork with Cabbage.
Roasting pork loin for two is something of an institution on my site.
The old adage of 25 minutes plus 20 minutes per 'pound' genuinely does not work with a smaller piece of pork. You will end up with meat that is as dry as a dry thing.
This pork loin is cooked in a maple syrup and mustard glaze and served with a fantastic cabbage and potato side.
To be honest it is as British or Irish as it gets. Pork cabbage and spuds, but it is a little lighter than the fayre I grew up with.
Utilising a similar technique to my pork with carrots recipe this dish is a perfect mid-week meal.
It is all done and dusted in around 45 minutes and requires no real technical ability.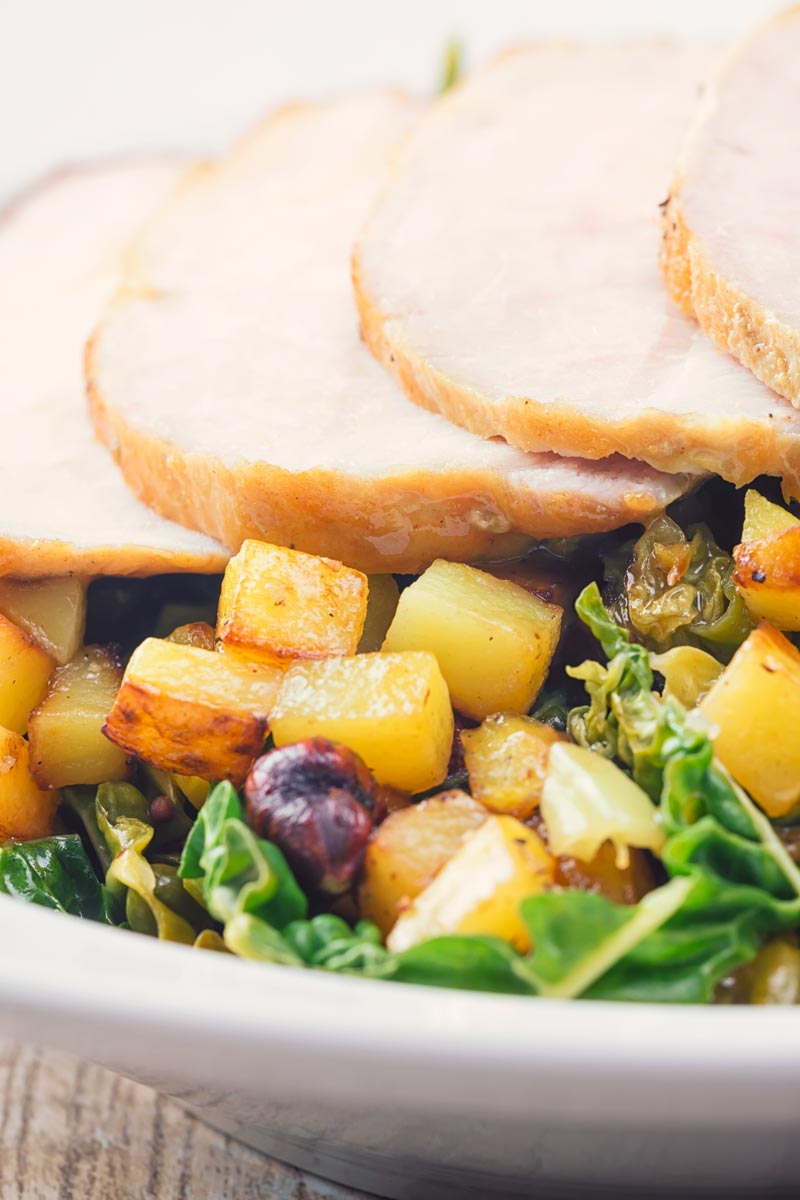 The Secret to Cooking a Smaller Joint of Pork.
There is a single tool that I swear by when cooking meat… I've mentioned it countless times. It is a meat thermometer, they are cheap and will instantly improve your meat cooking.
I mentioned earlier the common roast pork approach of 25 minutes plus 20 minutes per 'pound'.
That works great with a larger cut of pork but here we are talking about a piece of meat that is not a big roasting joint.
Around 300-350g is a perfect sized piece of meat for two portions. It will overcook in 25 minutes!
My approach is to season and sear, then glaze or not and finally into the oven.
A 350g portion will take between 20 and 22 minutes to cook perfectly.
You want to remove it from the oven when the temperature of the thickest part of the meat reaches 58°C-60°C or around 140°F.
Then you rest the meat for 10 minutes and carve. It will be juicy with a slight pink tinge and cooked to perfection.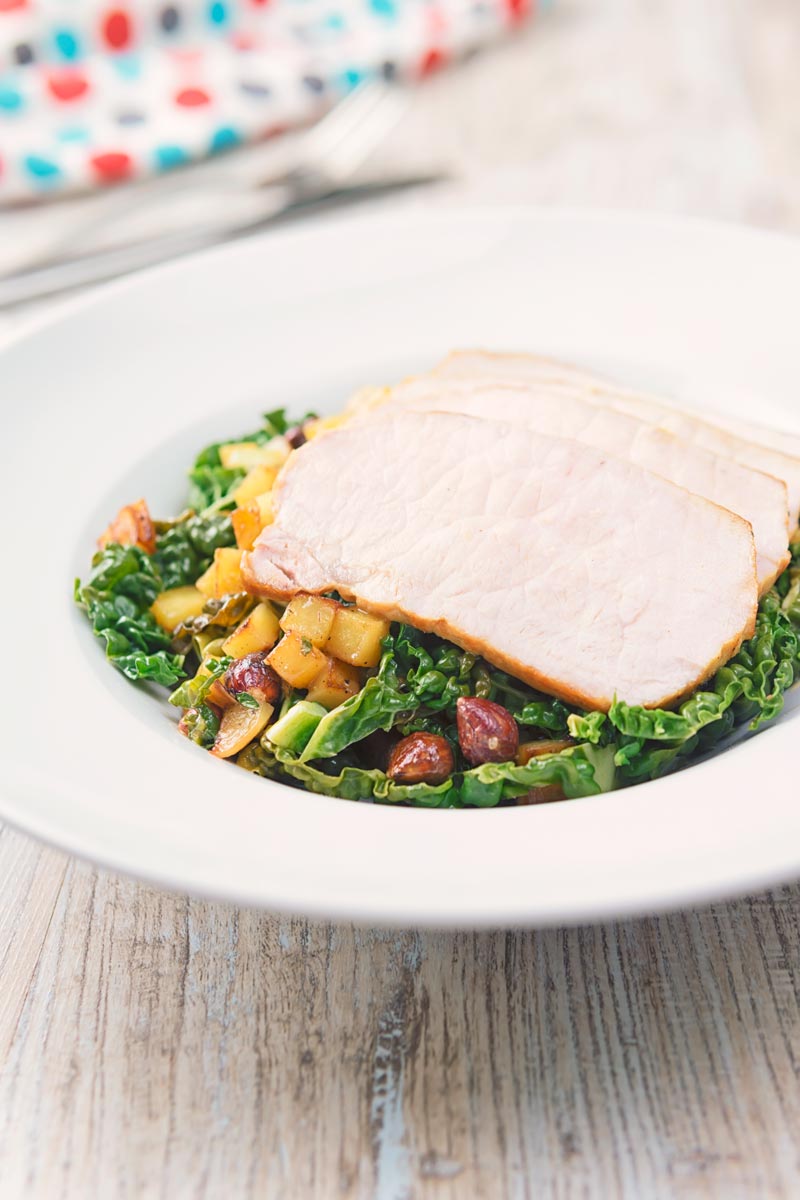 How to Cook Cabbage.
I could not count how many times the core ingredients of this roast pork loin recipe were served on our table as a child.
Pork, cabbage and potatoes are wonderful frugal ingredients. They are available all year round and taste wonderful
Growing up the cabbage would have been boiled until it was grey, but we don't do that any more thankfully.
Cooking cabbage perfectly requires very little time, the secret is not adding too much liquid. The cabbage is almost steamed in its own liquid and we add a little vinegar for flavour.
In this recipe, I use savoy cabbage in much the same way as this bacon wrapped pork tenderloin. The main difference is that in this recipe I leave the stalk in and as a result cook it a little longer.
I personally like the stalk of cabbage, it adds a great texture.
If you do not want the texture then remove the stalk and reduce the cooking time by 4-5 minutes.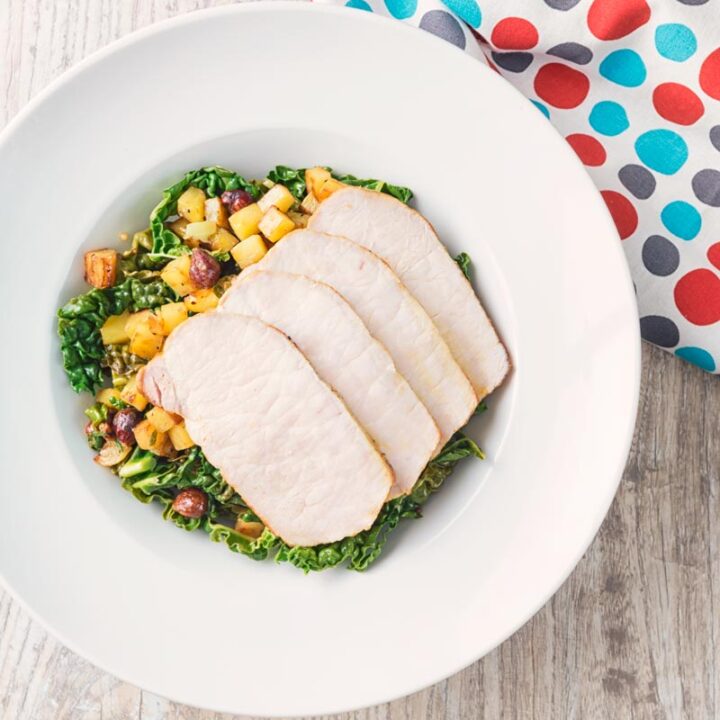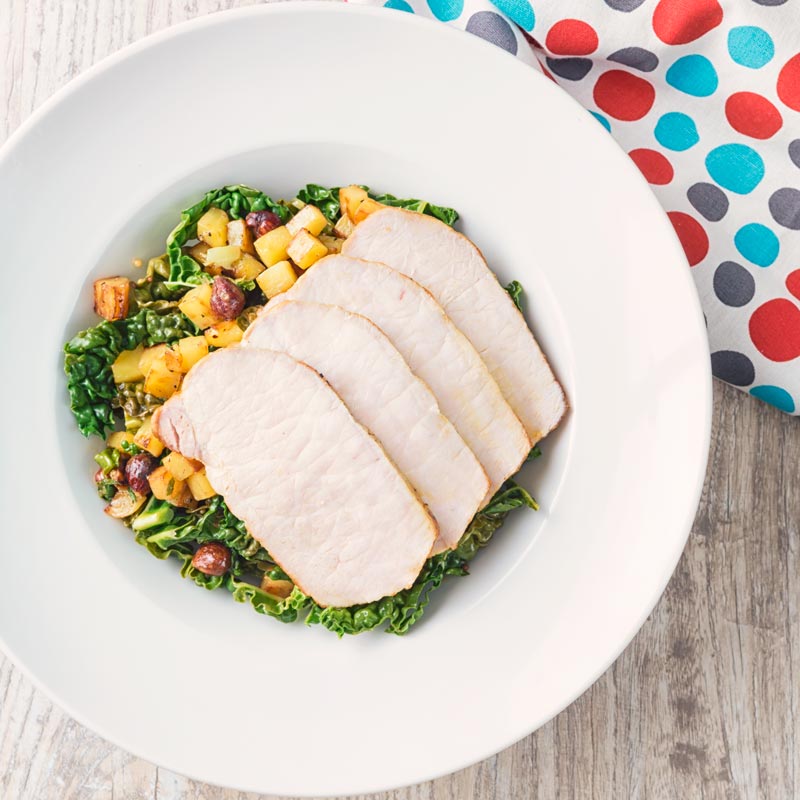 Yield:

2 Servings
Maple and Mustard Roast Pork with Cabbage
A perfect roast pork loin is a beautiful thing. This loin is perfect for two, fancy enough for date night, simple enough for any night this recipe elevates pork, cabbage and potatoes to a different level!
Ingredients
350 g (12 oz) Pork Loin
2 Tbsp Maple Syrup
1 Tbsp English Mustard
75 g (1/2 Cup) Hazelnuts
150 g (2/3 Cup) Potato
300 g (3.5 Cups) Savoy Cabbage
1 Tbsp Wholegrain Mustard
1 Tsp White Wine Vinegar
2 Tbsp Cooking Oil
Salt and Pepper to taste
Instructions
Heat a small pan that can be transferred to the oven.
Season the the pork with salt and pepper and then sear the pan in a little oil.
Whilst this is happening mix together the maple syrup and English mustard.
When the pork is seared on all sides pour over the maple and mustard mix making sure the pork loin is completely covered.
Transfer to the oven at 200°C or 400°F and roast for 20 minutes or until the internal temperature of the pork reaches between 58°C-60°C (around 140°F).
Take another large pan and toast the hazelnuts over a dry heat.
Peel the potato and cut into a 5mm dice.
Remove the hazelnuts and set aside.
Add a splash of oil to the pan we toasted the walnuts in and then fry the potatoes over a medium high heat for 5 minutes.
Season the potatoes generously with salt and pepper.
Shred the savoy cabbage.
Add the cabbage, grainy mustard and white wine vinegar with a generous amount of salt to the pan and then add a lid.
Reduce the heat to low medium and cook for 10 minutes.
By now the pork should be done, remove from the oven and allow to rest for 5-10 minutes before carving.
Nutrition Information:
Yield:
2
Serving Size:
1
Amount Per Serving:
Calories:

871
Total Fat:

54g
Saturated Fat:

8g
Trans Fat:

0g
Unsaturated Fat:

42g
Cholesterol:

140mg
Sodium:

443mg
Carbohydrates:

45g
Fiber:

10g
Sugar:

15g
Protein:

57g
Calorific details are provided by a third-party application and are to be used as indicative figures only.