Any pork chops are great but these maple glazed pork chops are good to the power of maple syrup and mustard and that is before we even get to the Cauliflower and Leeks!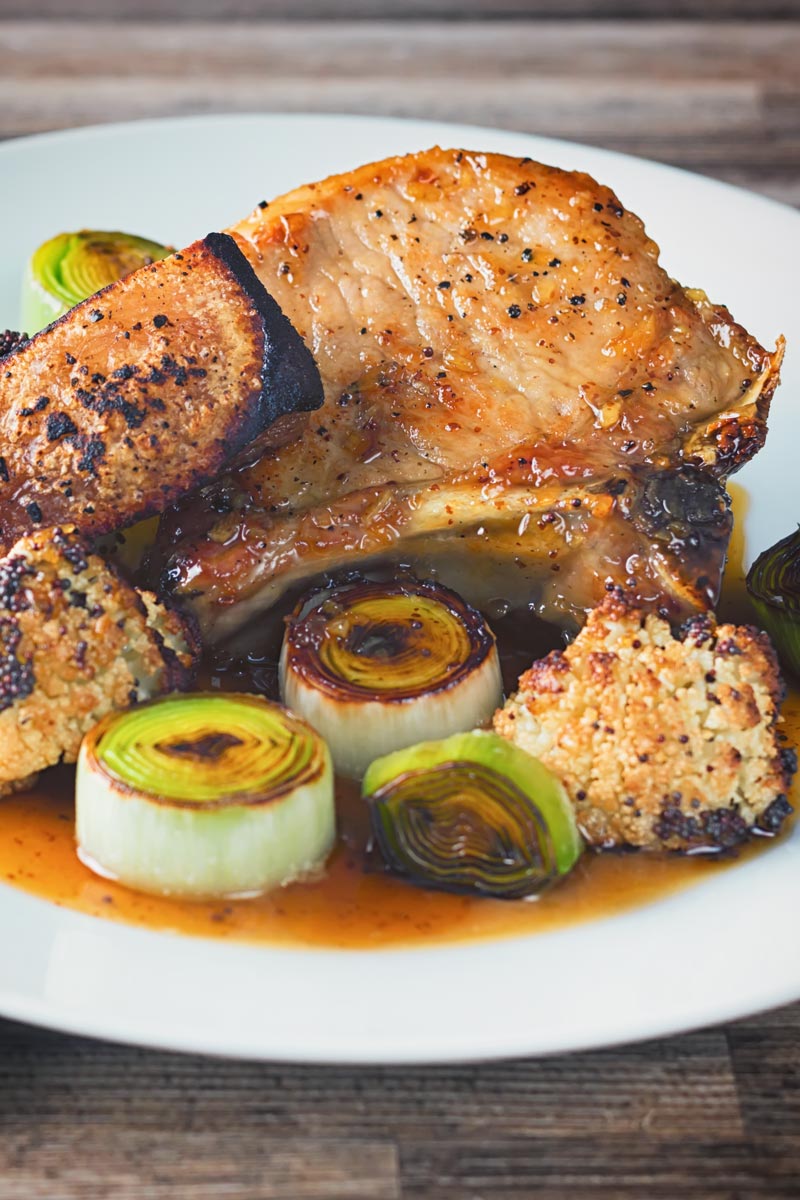 Maple Glazed Pork Chops With Cauliflower and Leek.
I love pork chops, and these maple glazed pork chops are a real favourite of mine.
I have no idea why they hold such a special part in my heart, mind and belly but they just do.
I'm sure the relative price is part of it and let's face it pork is much more interesting than chicken.
This pork chop recipe contrasts the mustard flavour with maple syrup…
This helps form a nice shiny glaze on the pork chops.
Pork has such a great affinity with sweetness which often appears in the form of fruit. Great examples of this are my Pork Chops with Blackberries or Pork Chops with Pear.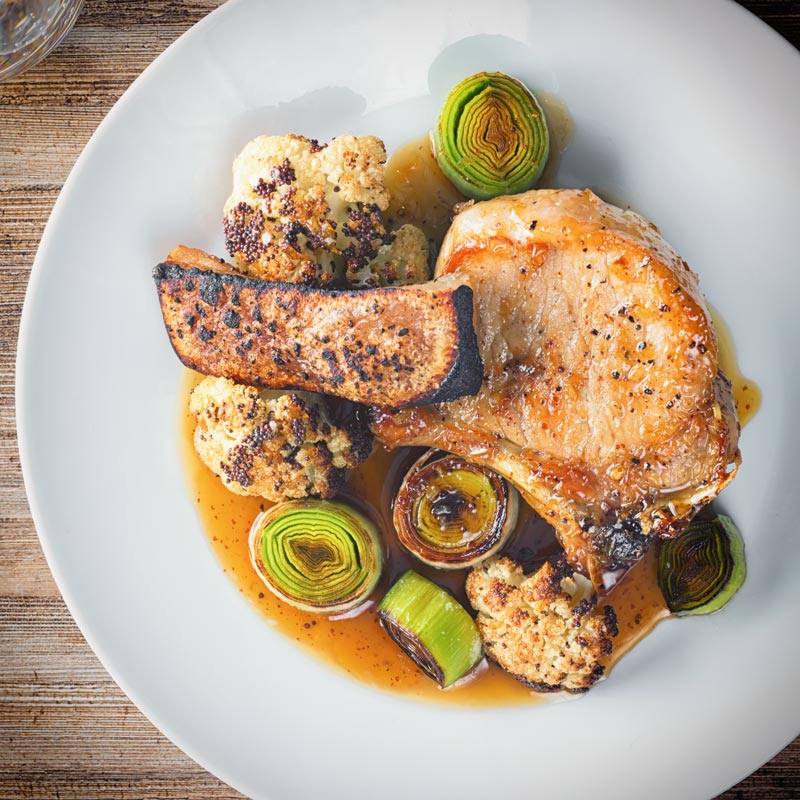 How to Buy Pork Chops!
As with most of my pork chop recipes, here I go for thick cut pork chops and not the positively anorexic offerings from the supermarket shelves.
I also almost always go for bone-in pork chops.
There is something magical about the aroma of roasting bones, one that anyone that makes their own stock will be very familiar with.
When buying pork chops I always look for fat content.
The fat content is probably the best visual indicator to the quality and husbandry of the piggie you are buying.
Fat is a function of both age and diet and all of this points to flavour.
Depending on the bread of pig you may find marbling in the eye of the pork chop itself.
But what you really need to look for is beautiful clean white fat along the top of the chop where the skin would sit.
Another good indicator is the fat at the base of the loin where the round meets the bone.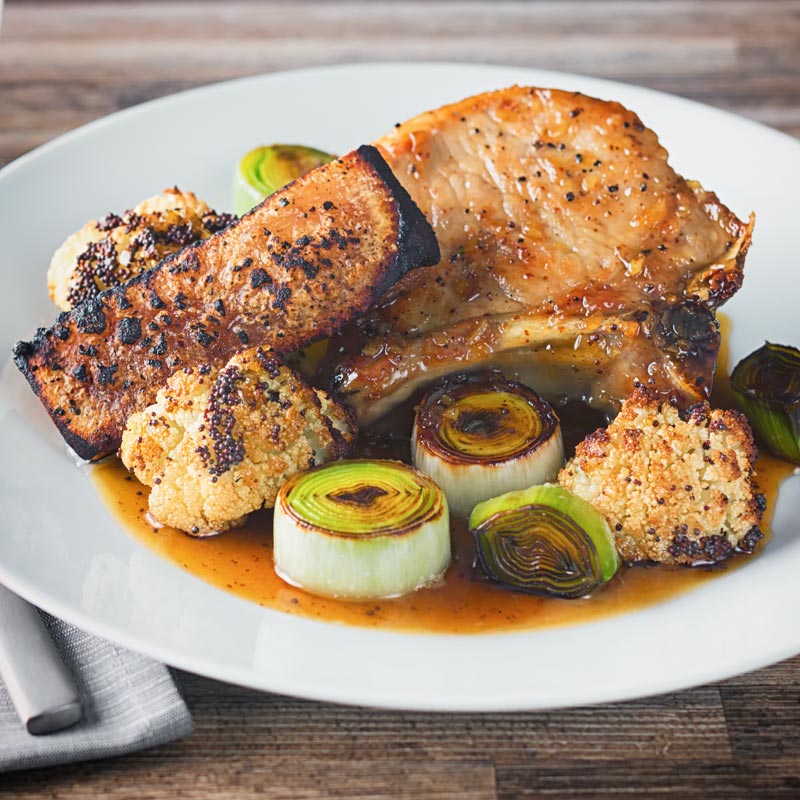 Pork Crackling!
The crispy skin of the piggie is heaven as far as I am concerned!
It is actually a little difficult to get good crispy crackling on the skin of a pork chop without overcooking the pork.
The maple syrup and honey would also prevent crisping in this recipe.
I resolve that problem by cooking the crackling separately in this maple glazed pork chops recipe.
As far as I am concerned this is the best part of the dish! It definitely needs to be there and this is a fab way to add it back into the dish.
I like me you are a crackling fiend you should definitely check out my Chinese pork belly and recently posted pork knuckle recipes.
If you want something a little different check out the crackling on this ham hock salad.
Yes, I am the kinda guy that puts pork crackling on salad! Sue me!!!!!!!!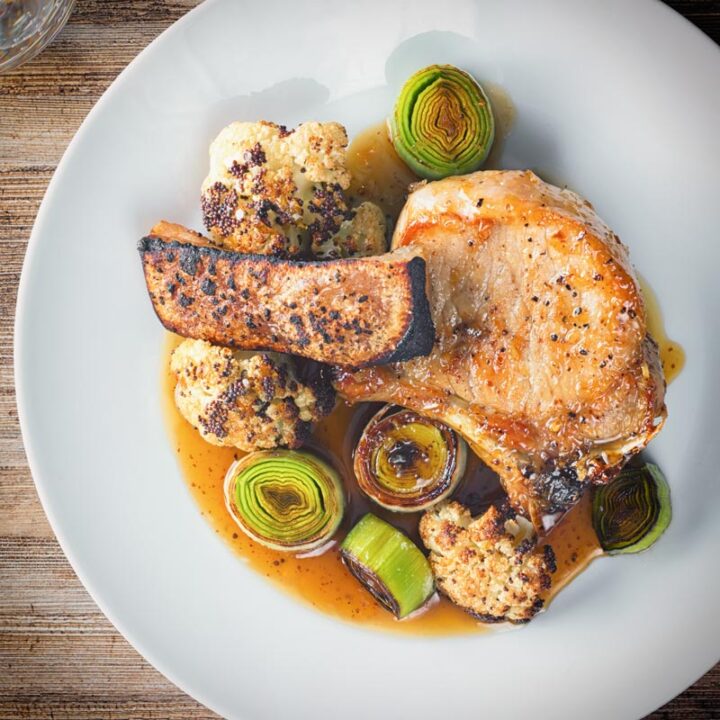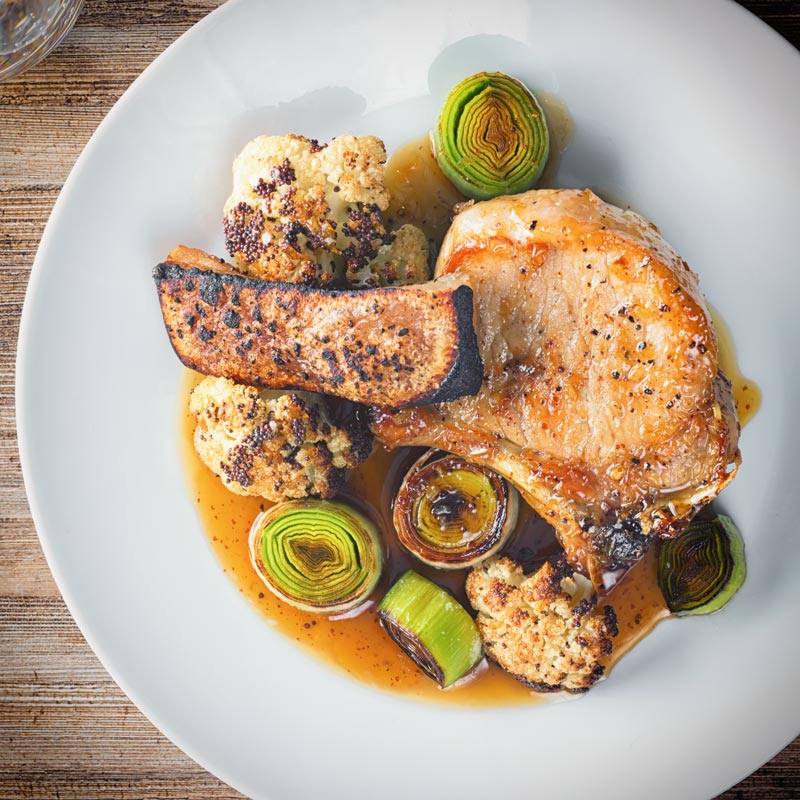 Yield:

2 Servings
Maple Glazed Pork Chops With Cauliflower and Leek
Any pork chops are great but these maple syrup and mustard glazed pork chops are good to the power of maple syrup and mustard and that is before we even get to the Cauliflower and Leeks!
Ingredients
140 g Leeks, Sliced into 1cm rings
275 g Cauliflower, Broken into large florets
700 g Pork Chops
125 ml Maple Syrup
1 Tbsp Dijon Mustard
2 Cloves Garlic, Finely chopped
1 Tbsp Olive Oil
1 Tsp Brown Mustard Seeds
25 g Butter
Salt
Pepper
Instructions
Begin by removing the skin and most of the fat for the pork chop, we will be cooking this separately.
Preheat your oven to 180°C.
Heat a pan that can be transferred to the oven over a medium high heat and season the pork chop skins with salt and pepper and place them in the pan skin side down.
Add a pan to the top of the skins to prevent curling and cook for 3-4 minutes.
Flip and cook on the fat side for a couple of minutes so it begins to release some fat.
Layout your cauliflower florets on a baking tray and pour over the olive oil, season with salt and then sprinkle over the mustard seeds.
Add your pork skins to this tray skin side up and place in the oven.
Season your pork chops with salt and pepper and then sear in the pan you cooked your pork skin in.
Mix together the mustard, garlic and maple syrup and then add to the pan that the pork chops were cooking in after you have removed it from the heat.
Return the chops to the pan and cover in the syrup before adding a lid and cooking for 10 minutes.
After 10 minutes remove the lid and give the pork chops a baste and return to the oven until cooked through, this will entirely depend on the size. Use a meat thermometer and look for a temperature of 68°C at the thickest part. This took a further 8 minutes for my chops.
When your chops have been in the oven for the second time for 5 minutes heat a non-.stick pan over a medium high heat and sear your leek rings on both sides.
When seared pop in the butter and place on a lid and allow to sit on a low heat whilst your pork is finishing and resting.
Remove the pork from the oven when cooked and rest for 3-4 minutes.
Nutrition Information:
Yield:
2
Serving Size:
1
Amount Per Serving:
Calories:

1166
Total Fat:

57g
Saturated Fat:

20g
Trans Fat:

1g
Unsaturated Fat:

29g
Cholesterol:

321mg
Sodium:

833mg
Carbohydrates:

70g
Fiber:

5g
Sugar:

55g
Protein:

94g