The Margherita Pizza, perfection that all other Pizzas come from and all others are measured against and possible without commercial kit!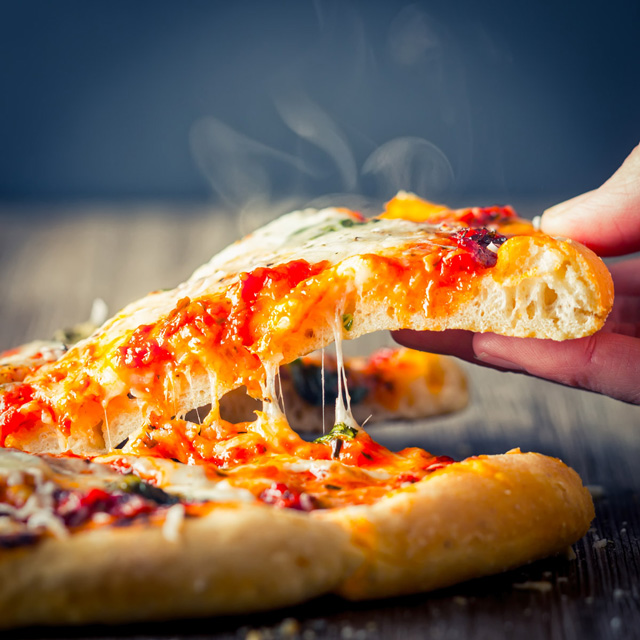 This recipe is a new and exciting post for me, Pizza Steel UK have asked me to do a review of their… Well their Pizza Steel, now apparently I have to disclose this so here you go and I am sure by now you realise that I am fairly outspoken so all the views in here are my own honest opinions of this piece of kit.
You all know I love a good fakeaway and the sharp eyed of you out there will know there are no pizzas on my website, why, well cooking pizza in a domestic oven is let's say a challenge. What recipe did I use to check out the Pizza Steel? Well Margherita Pizza of course, we can argue all we want about the best flavoured pizza and of course be in complete agreement that pineapple on a pizza should be a crime against humanity.
But the pizza against which all pizzas are measured is a Margherita Pizza.
How about you guess what we have been eating for the last week or so, that's right Pizza, of course I kneaded (see what I did there?) the perfect base and the perfect tomato sauce and the investment in time was well worth it. As you know it's pizza and if you can make a perfect Margherita Pizza then the world of Pizzas is your oyster.
I tried 2 or 3 bases and ended up on a variation of an over night pizza base by a British Chef called James Martin, I had to reduce the liquid content a little but it won on every level. Flavour, texture and lightness and the tomato sauce well that was all me! In the summer I would be using tomatoes from the garden and roasting them but it is February and my garden is covered in snow!
Anyway I digress how about this Pizza Steel?
First Impressions?
It's heavy, the delivery driver popped his horn outside our house and I went outside and signed my name on that stupid screen that makes your signature look like it was signed by a a chimp in the sand using a twig. Then I went to pick up my fairly innocuous looking parcel and the delivery man giggled at me when to my surprise I had to go back and pick it up with two hands.
I'm not talking crazy heavy here, but looking at a parcel 45cm by 35cm by 2cm you don't expect it to weigh the best part of 7kg! Anyway yes it is heavy, of course I should expect that I am not stupid (or may be I am) it is a solid slab of steel.
Now I'm a bit old school so something feeling heavy and substantial gives me a warm and fuzzy feeling inside so a warm and fuzzy I was feeling. Also in the set were two pizza peels for transferring pizzas to the steel and removing them and a dough cutter which really came into it's own when I made naan breads using my recipe.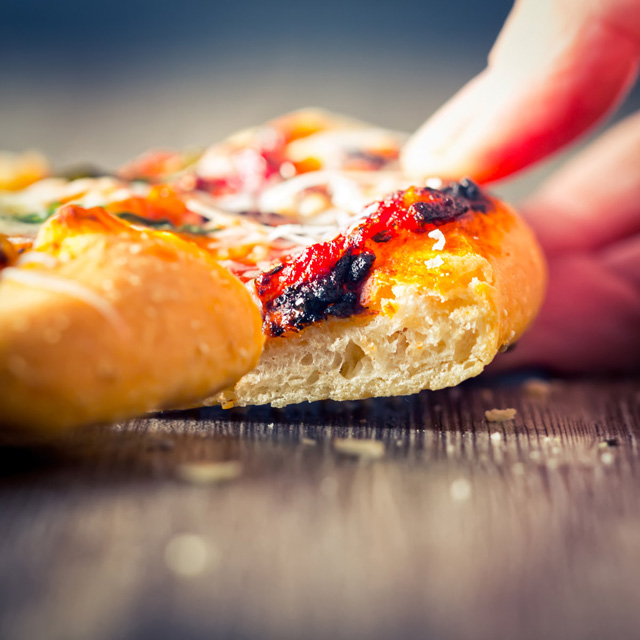 Using the Pizza Steel!
When the Pizza Steel arrives it is wrapped in some paper and it does need seasoning in the same way a cast iron pan needs seasoning, so you need lovingly massage with… Sorry getting carried away, you need to rub with oil and bake at a high temperature for an hour and allow too cool.
Pizza Steel also recommend doing this for the first 3-4 times you use the steel (with no need to cool). I have dutifully carried out this task and the steel has now taken on a beautiful seasoned patina and it is fabulously non stick. Any cheese overflow from my flinging Parmesan cheese at my Margherita pizza like a lunatic just pops straight off when cooled.
As for the pizza peels which are light weight and made of aluminium, they are fantastic. Admittedly I did get a little over enthusiastic on my first use and flung my pizza too far back but second time was a treat and removing the pizza from the oven was equally as simple.
Did it Make Margherita Pizza Perfection?
That's the million dollar question, well when I say million dollar maybe I exaggerate a little. However the answer to that question is a resounding hell yeah. Take a look at that picture above no sign of bakers droop on this pizza. The base is just as I like it airy and light with a crisp crust that snaps when you cut through it and from a domestic oven.
Honestly I sat there giggling to myself for a couple of hours after using the pizza steel for the first time amused, delighted and a little shocked to be perfectly honest.
Would I recommend it?
Most definitely, perfect pizza at home, what's not to love? Oh yeah I kinda mentioned it earlier but I also used it to cook my naan bread recipe, just slapped them bad boys right on there flipped after a couple of minutes and bosh perfect homemade naan bread. I now have to go back and update my recipe *sigh*.
Oh yeah and I can't wait for summer, I reckon this will fit right nice in my BBQ and reach even hotter temperatures although pizza parties are strictly invite only! I guess you could say that the Pizza Steel is alright!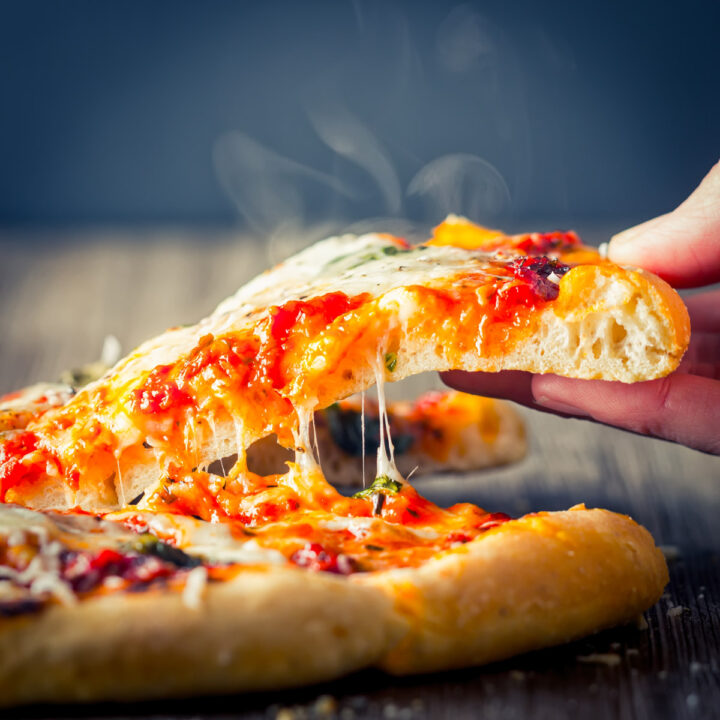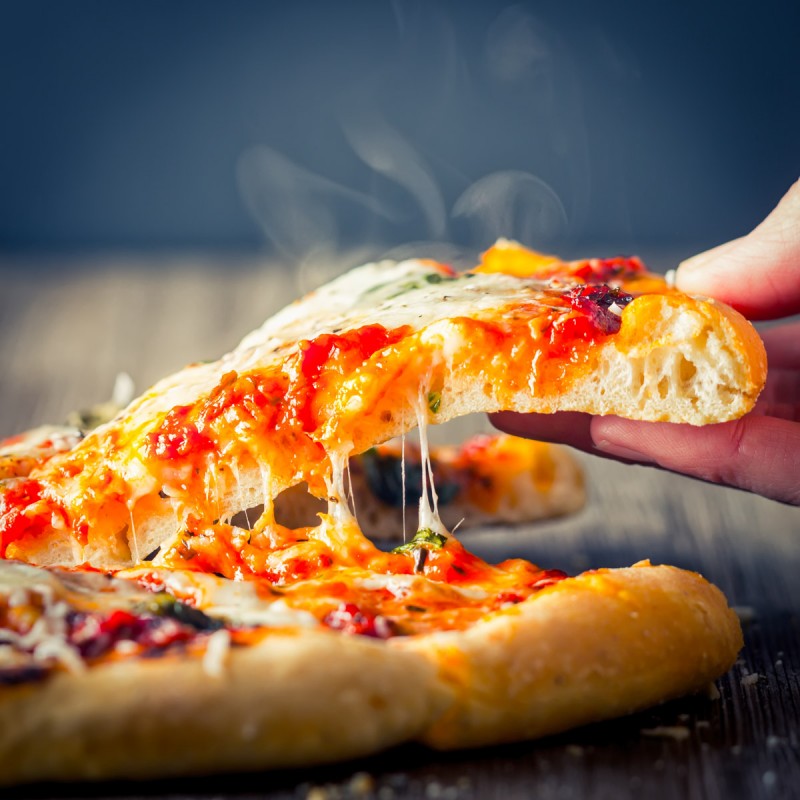 Yield:

2 Pizzas
Margherita Pizza Perfection with The Pizza Steel?
The Margherita Pizza, perfection that all other Pizzas come from and all others are measured against and possible without commercial kit!
Ingredients
For the Pizza Dough
300 g Plain Flour, Plus extra for dusting
75 g Semolina Flour
1/2 Tsp Salt
1/2 Tbsp Sugar
7 g Fast Acting Yeast, One Sachet
1.5 Tbsp Olive Oil
225 ml Water
For the Tomato Base
400 g Tin Plum Tomatoes
1 Tsp Sugar
1/2 Tsp Dried Thyme
1/2 Tsb Freshly Ground Black Pepper
Salt to Taste
And the Rest
200 g Buffalo Mozzarella, Torn into pieces
50 g Grated Parmesan Cheese, Plus extra for garnish Ooooo Controversial 😮
24 Large Basil Leaves
24 Small basil leaves
Lots of Freshly Ground Black Pepper
Instructions
The day before you are going to make the pizza mix together the dry ingredients for the dough and then make a well in the centre.
Now add in the olive oil and the water a little at a time, I like to use the back of a regular table knife to bring the dough together.
Once all or nearly all of the water has been taken in and you have a dough forming, lightly flour your work surface and knead the dough for 10 minutes until nice and elastic.
The set aside in an oiled bowl for 24 hours.
Take the tin of plum tomatoes and blend smooth, then add to a pan with the sugar, thyme, pepper and salt and reduce down to a paste of about 150ml in volume and set aside to cool.
40 minutes before you are ready to rock and roll preheat your oven to as hot as it will go, with your seasoned Pizza Steel on the middle shelf.
For most ovens this will be 230°C-250°C and leave it to heat up for 40-45 minutes.
Prepare two discs of baking paper a little larger than your pizza and let's get going.
Remove the dough from the bowl onto a lightly floured surface, yes there will be a crust, it add to the flavour, knock back the dough and need for 2-3 minutes before dividing in half.
Using your hands work though dough into a disc, stick with it you will get there eventually and your pizza will work out to be 5-7mm thick.
When flattened allow the dough to rest for a couple of minutes before spooning over half of the tomato paste we made earlier, use the back of a spoon to spread this leaving between one to two centimeters free of the tomato paste.
Now use the pizza peel to transfer the pizza on the baking paper to the pizza steel in the oven and cook for 10 minutes.
After 10 minutes open the oven and add the large basil leaves, torn mozzarella cheese and the Parmesan cheese with a healthy sprinkle of black pepper and then close the oven.
Cook until the cheese is bubbling and melted which should take no more than a further 5 minutes.
Remove from the oven and allow to cool, it will be brutally hot, then sprinkle with more Parmesan cheese and the small basil leaves.
Notes
This recipe makes two thirty centimeter pizzas, or 12" Pizzas if you are that way inclined.
Nutrition Information:
Yield:
2
Serving Size:
1
Amount Per Serving:
Calories:

1251
Total Fat:

42g
Saturated Fat:

19g
Trans Fat:

0g
Unsaturated Fat:

19g
Cholesterol:

101mg
Sodium:

1971mg
Carbohydrates:

164g
Fiber:

10g
Sugar:

12g
Protein:

53g