Crunchy on the outside, soft and chewy on the inside these Oatmeal Cookies are heady with the aromas of nutmeg and cinnamon and coconut and raisins to boot!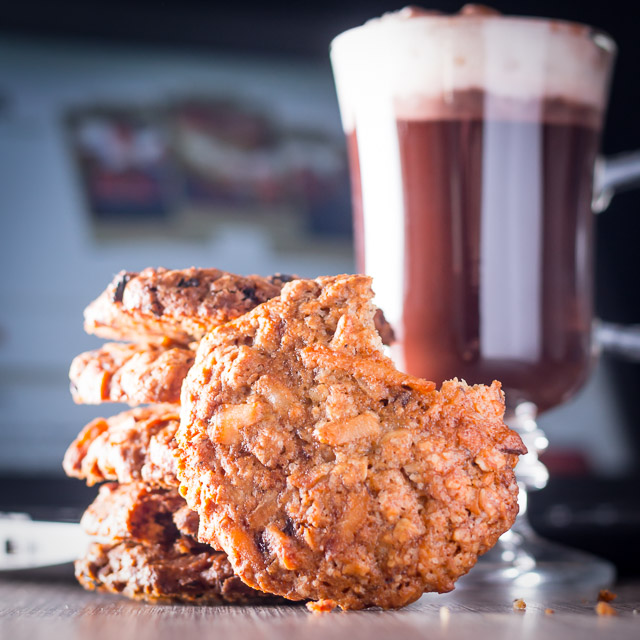 These Oatmeal cookies are THE best cookies I have ever made, I know I can say that with absolute certainty because I have never made cookies before in my life. Yes I am 41 years old with a bit of a cooking obsession and I have never baked cookies. Above all in my defence I don't really have a sweet tooth and neither does my wife so the opportunity comes along fairly rarely.
So why have I cooked oatmeal cookies given my fairly hate hate relationship with baking. Well we have some very dear friends who live fairly close to us who are returning to the UK for 3 months this winter and my wife said she was going to make them something nice to eat on the journey, they travel in a camper van so it's a fair old road trip.
At which point in time I kind of flippantly said I would rustle up something as I have not put a sweet recipe up here for a while, my wife giggled and I said it out loud so I was consequntly obligated.
As I have already alluded to I am not the most confident or experienced baker so I needed a little hand with these bad boys and as a result used a book my wife swears by. It is called Chewy, Gooey, Crispy, Crunchy by Alice Medrich and used her recipe for Bridget's Oat Raisin Coconut Cookies.
It worked and everything, I scaled back the recipe, seriously who on earth needs 40 cookies? I also moved to fresh coconut because we had one in the kitchen.
They taste great, crunchy on the outside soft and gooey in the middle and the nutmeg and cinnamon really comes through. I am not yet going to call myself a master baker though! Having said that we got an email from Brian and Joy, our friends (yes I have some) and they say the are delicious.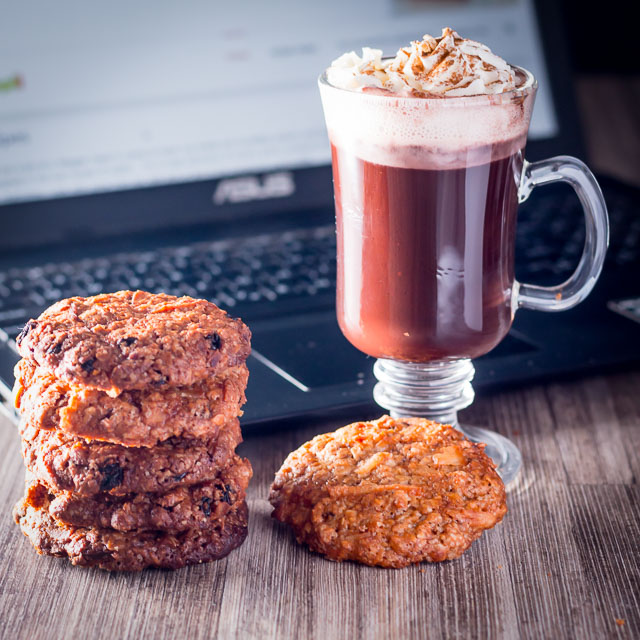 Ambling off in a completely different direction as is my usual form, the arrival of a second Brian in our wee village is causing some confusion, they arrived in Hungary about 18 months ago and still no one has quite worked out that there is a second Brian in the village. Delivery drivers turn up in the village, ask the first person where Brian lives (yes our village is that small) and they get sent to my house.
As a result, to date we have had 1 Ikea Kitchen, 1 sofa, 3 Amazon parcels and countless other items, at least it is an excuse to pop around for a cuppa or a beer. We do not just share nationalities and first names though, Brian was born on the same day as me some 30 years before I was and in all fairness I hope I am only half as sprightly as he is when I reach his age, although he does need to catch up a little on the Grumpy Old Man thing, I am definitely ahead on those stakes.
Our friends have already made a brief cameo appearance here on my site in my post about this years harvest for our homemade wine. What's that I hear you say? You missed that post.
Well it is in the new section of my site, I always meant to have a back story to my recipes here on Krumpli but the ravages of summer got on top of me and never quite got it going. However I am delighted to have made a start and am looking forward to sharing our adventures in growing food and our somewhat less than normal life out here in rural Hungary.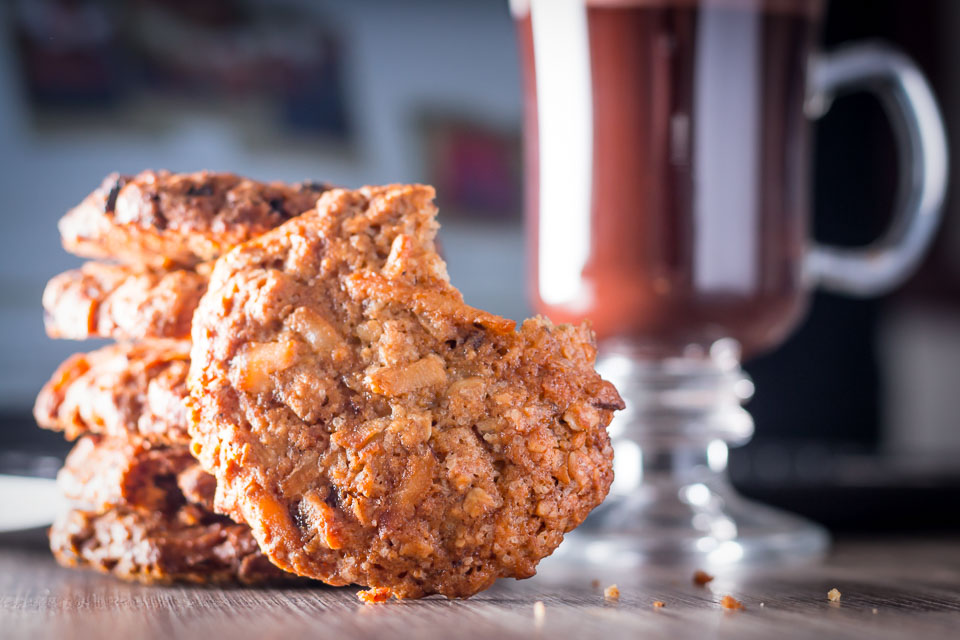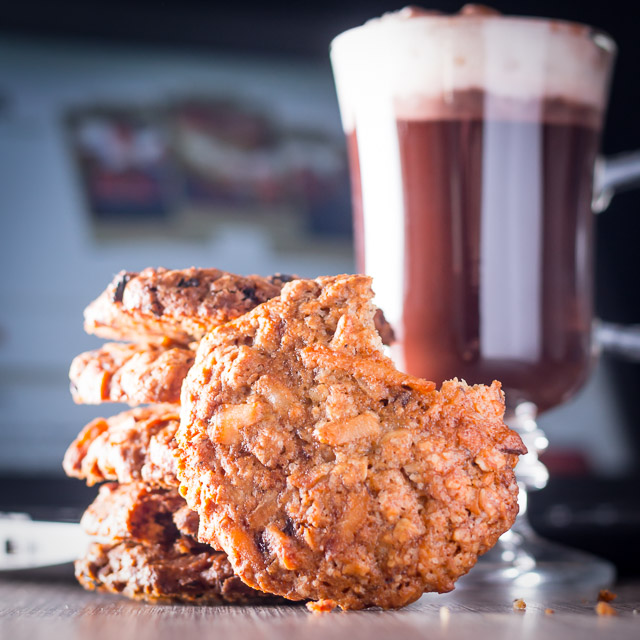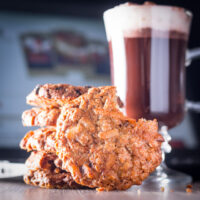 Oatmeal Cookies with Raisins and Coconut
Total Time:
1 hour
15 minutes
Crunchy on the outside, soft and chewy on the inside these Oatmeal Cookies are heady with the aromas of nutmeg and cinnamon and coconut and raisins to boot!
Ingredients
100 g Rolled Oats
25 ml Water
150 g Plain Flour
1/4 Tsp Baking Soda
1/2 Tsp Ground Cinnamon
1/2 Nutmeg, Grated
100 g Butter
250 g Soft Brown Sugar
1/4 Tsp Salt
1 Vanilla Pod, Seeds only
1 Egg
100 g Raisins
1/2 Fresh Coconut, Grated
Instructions
Put the rolled oats in a pan and add the water, mix and set aside.
In a separate bowl add the plain flour, baking soda, cinnamon and nutmeg, then mix.
In a pan melt the butter over a medium heat, once melted remove from the heat and add in the sugar, salt and vanilla
Add the egg to the butter mix and beat throughly.
Add the wet mix to the flour mix, then add in the oats and mix until combined.
Finally add in the grated coconut and the raisins, cover the bowl with cling film and store in a fridge overnight.
Preheat your oven to 190°C.
This mix should yield about 800g of cookie dough and 20 cookies.
Form 40g of cookie dough into a ball and flatten to a round shape approximkatly 7-8mm thick and bake in the oven on a silicon baking sheet for around 15 minutes allowing enough space for the cookies to spread. They will spread to be approximately 9-10cm in diameter.
When cooked allow to cool on a baking grid before stacking or storing in an airtight container.
Notes
Adapted from Chewy, Gooey, Crispy, Crunchy by Alice Medrich
Nutrition Information:
Yield:

24
Serving Size:

1
Amount Per Serving:
Calories:

130
Total Fat:

5g
Saturated Fat:

3g
Trans Fat:

0g
Unsaturated Fat:

1g
Cholesterol:

17mg
Sodium:

71mg
Carbohydrates:

21g
Fiber:

1g
Sugar:

13g
Protein:

2g
Calorific details are provided by a third-party application and are to be used as indicative figures only.