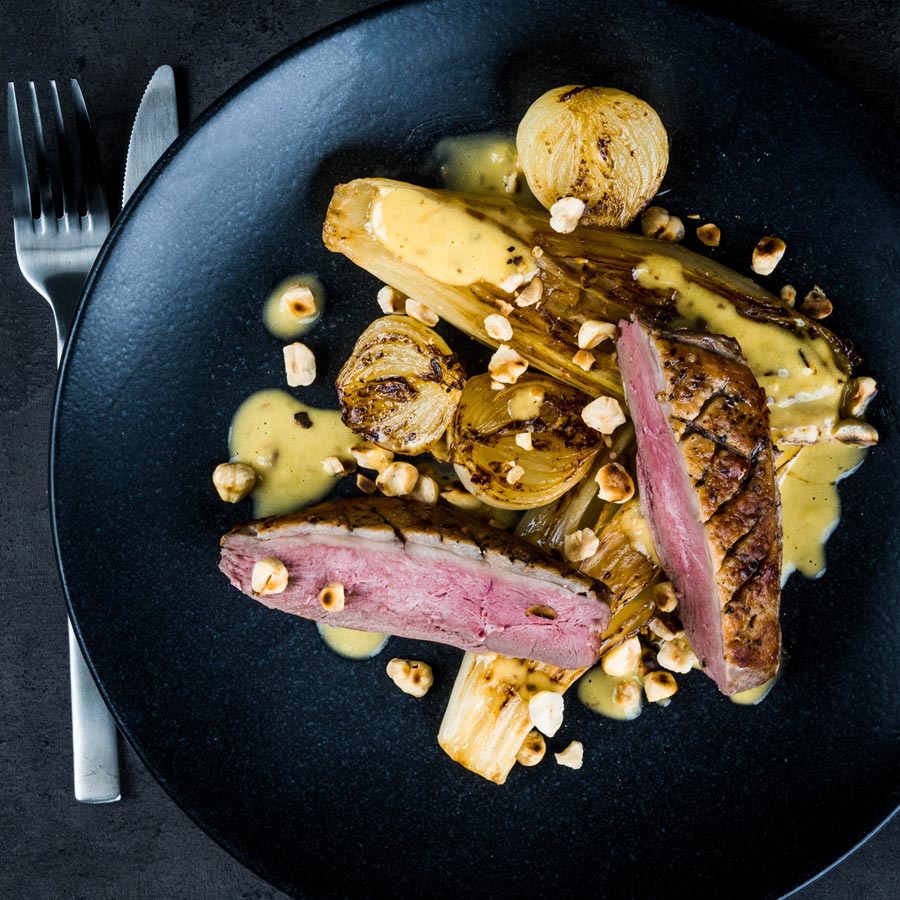 Pan Fried Duck Breast with Braised Endive and Anchovy Sauce
Surely you all know by now how much I love cooking with duck and this pan fried duck breast joins recipes as diverse as Duck Tikka Massala to a classic Duck a l'Orange. As can be seen from these photographs I am also rather keen on rare/pink duck and this recipe plays around with a new technique for me.
Surprisingly I have never really got on with the cold pan method of cooking pan fried duck breast and as a result decided it was time for me to put in a little effort. The theory behind the method is that it helps to render out the fat whilst simultaneously delivering a wonderfully crispy golden skin… Now I know that it works, however I had just been unable to get it to work for me, so when I found some duck breast on offer I invested a little time.
Guess what?
I am an idiot, it works wonderfully although it is a method of cooking that for me needed some mental adjustment. Putting meat into a cold pan is just so counter intuitive, specifically not getting that sizzle real soon always lead me to turn up the heat too quickly. The most important part of this technique is to leave it well alone for at least 10 minutes, more like 12-15, then flip!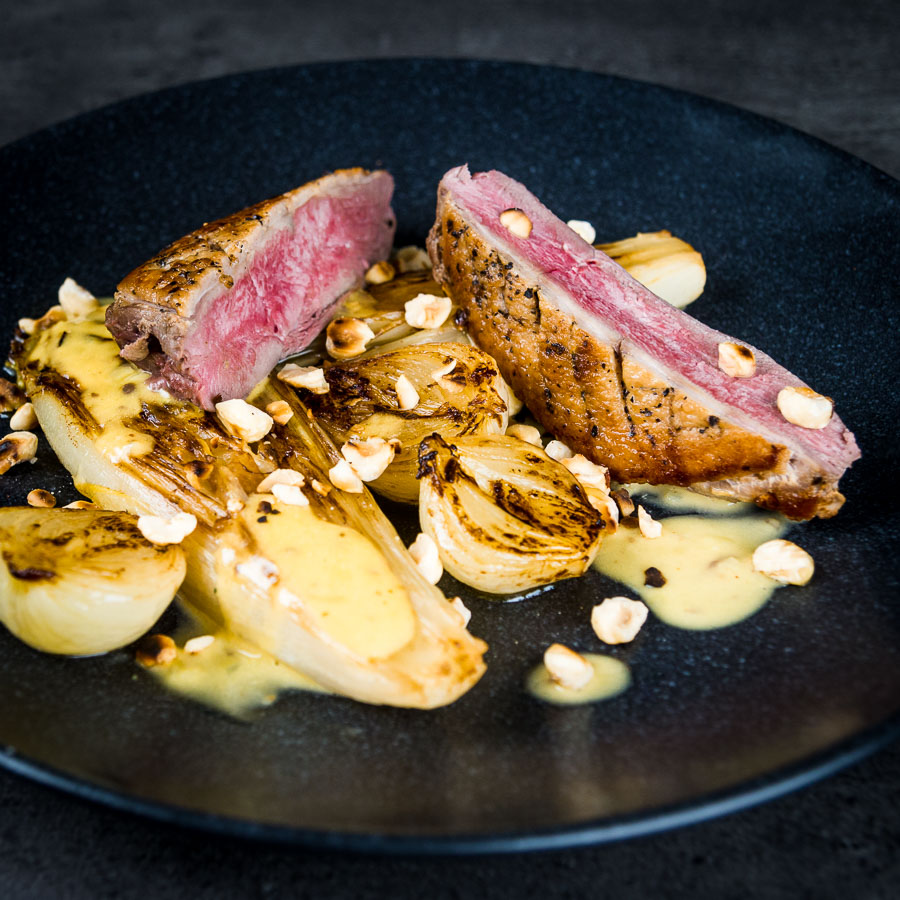 Sexy Anchovy Sauce!
I needed something in this dish to balance against the rich pan fried duck breast and the almost bitter endive and as a result I went with a vibrant sexy anchovy sauce.
In many ways it is similar to a classic Caesar salad dressing, in essence the base of a mayonnaise with anchovies and lots of lemon juice for zing. For that reason the sauce gives this duck breast all of the high notes to brighten up and adds a lighter feel to this unashamedly cold weather dish!
Throw in some toasted nuts in order to provide a little texture and you have a dish that made both me and my wife very happy indeed!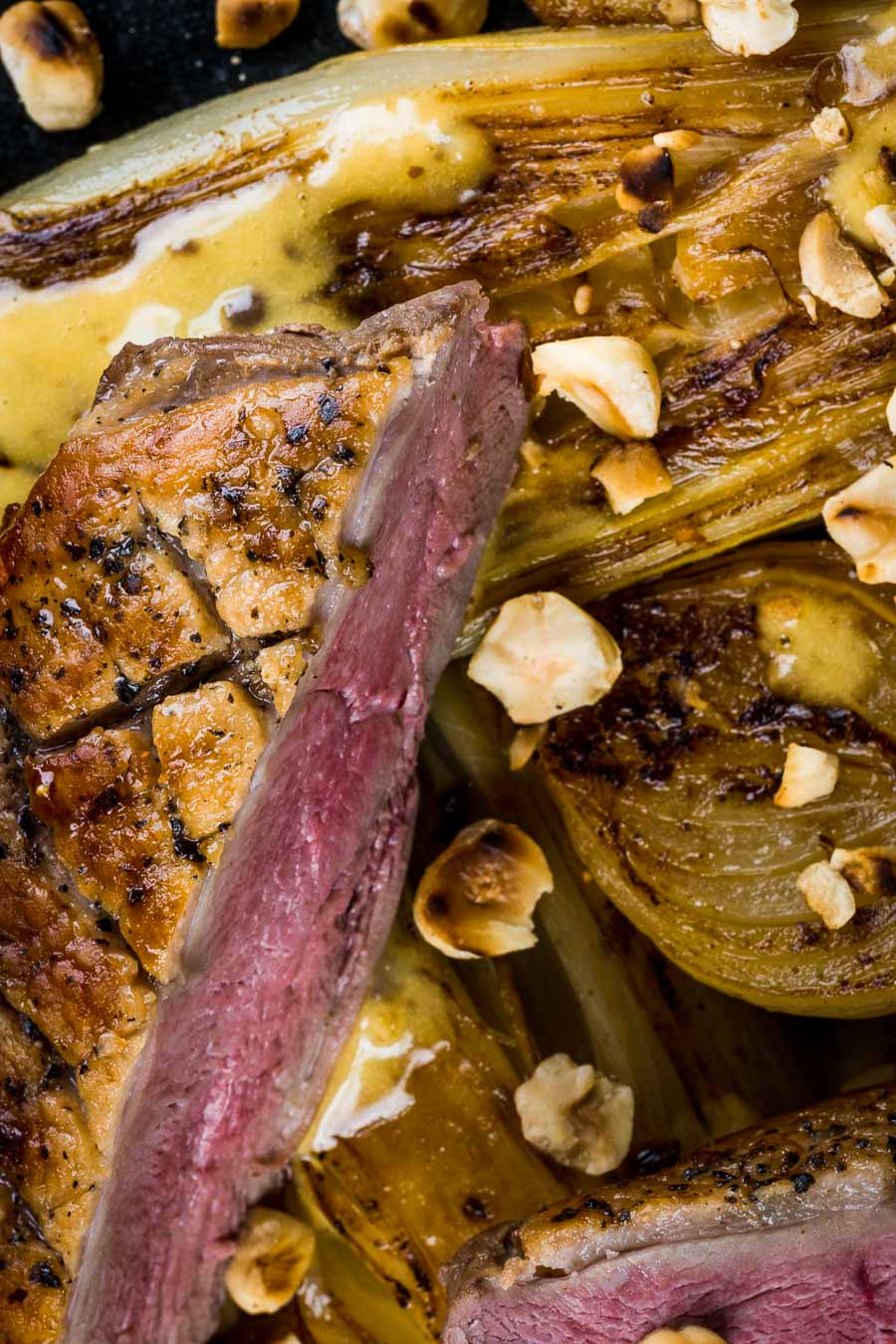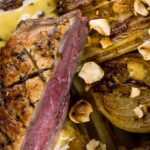 Pan Fried Duck Breast with Braised Endive and Anchovy Sauce
This perfectly pan fried duck breast utilises the cold pan method and is bundled with some gloriously braised endive and a sexy anchovy sauce.
Ingredients
2

Duck Breasts:

Approx 175g each.

2

Heads

Endive:

Cut in half lengthways.

3

Shallots:

About 40-50g each cut in half and skinned.

50

g

Butter.

30

g

Hazelnuts.

1

Tsp

Lemon Juice.

Salt

To taste.

Pepper:

To taste.
For the Anchovy Sauce:
1

Clove

Garlic:

Mashed.

3

Fillets

Anchovy.

Store in oil.

1/2

Tsp

Dijon Mustard.

1/4

Tsp

Salt.

1

Tsp

Lemon Juice.

1

Egg Yolk.

50

ml

Olive Oil.
Instructions
Begin by making your sauce, place the all of the ingredients for the sauce with the exception in the bowl of a stand mixer (with whisk attachment).

Turn on a whisk these ingredients and when they form an emulsion begin to slowly pour in the oil in a slow stream until a sauce has formed.

Lightly crush the hazelnuts and then toast off in a dry pan and set aside.

Take the butter and melt it over a medium high heat.

When it begins to foam add the endive and onions cut side down.

Cook for 5 minutes then add a good pinch of salt the lemon juice and 100ml of water.

Cover with baking parchment and then a lid.

Reduce the heat to low and then allow to cook for 30-35 minutes.

Score your duck breasts and then generously season with salt and pepper on the skin side only.

Take a dry non stick pan and place in your duck breasts skin side down.

Now turn in the heat you want a low-medium temperature.

Leave the duck and do not touch and cook for 12-15 minutes draining off any fat as needed.

After 12-15 minutes your skin should be crispy with almost all of the fat rendered off.

Now flip the duck, turn up to medium and then cook for a further 5 minutes.

Rest your duck breast for 5-10 minutes covered in a foil tent before serving.
Recipe Notes
The sauce will stand for 2-3 days in the fridge if required.