Simply pan fried pork chops are served with a simple potato rosti, some balsamic cherries, and asparagus for an old school but delightful meal!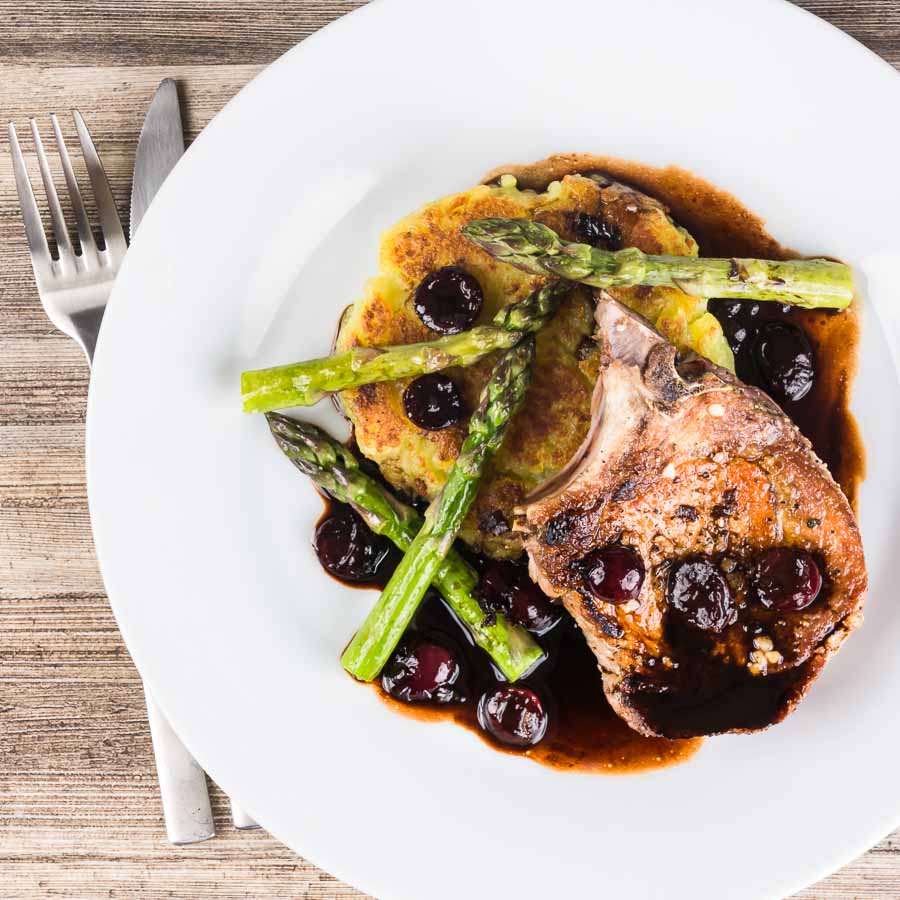 Pan Fried Pork Chops With Balsamic Cherries And Potato Rosti.
These pan fried pork chops are almost a throwback to the sort British food I grew up with. Meat and two veg, and of course one of those veg were always potatoes.
As with most of my recipes here, this pork chop recipe has international leanings.
Gone are the boiled or roast potatoes of my childhood and in comes a very Swiss Potato Rosti. Likewise gone is the "Bisto gravy" and in comes an Italian influenced balsamic butter sauce.
As for the cherries, well I just had to! Cherries are amazing at this time of year and the army of Starlings decimating our cherry trees agree!
Pork works wonderfully with most fruits and the cherry sauce with these pan fried pork chops are not the first time I have used pork and cherries together. You really must check out this pressed pork belly with port cherries recipe!
When it comes to pork and fruit, apples are the typical association but there are so many options that work so very well. Here are just a few of my pork and fruit recipes: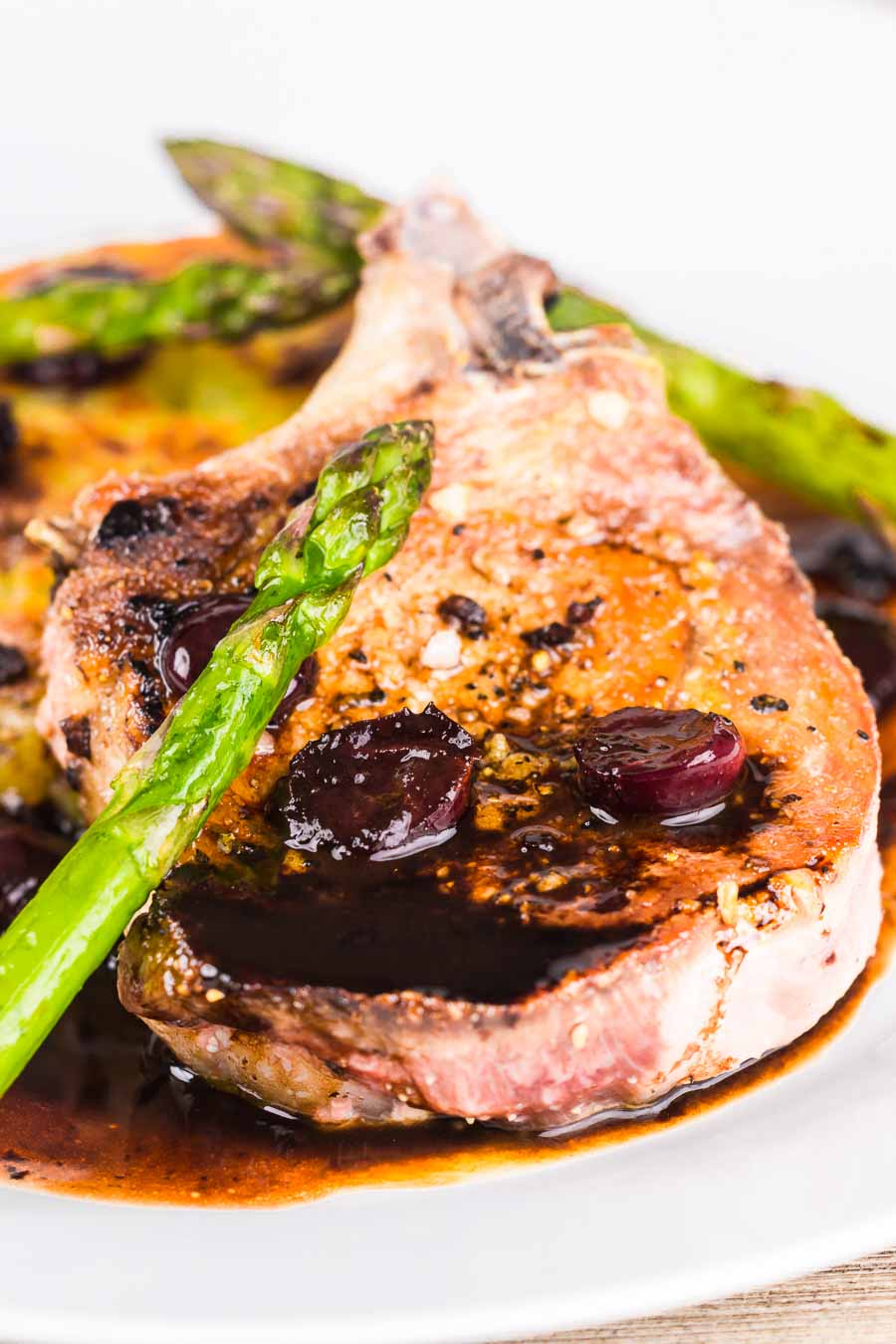 Perfect Pan Fried Pork Chops.
My usual approach to cooking pork chops involves buying big fat pork chops and searing before finishing off in the oven.
A technique I use in both this Pork chop with Jerusalem artichoke puree recipe and this one-pot pork chop with cabbage and pear recipe.
However a pan fried pork chop is a perfectly good way to cook pork chops.
The secret to pan frying pork chops is getting the right pork chop. The first step is to not accept whatever is in the refrigerator aisle of the supermarket.
Speak to a butcher and as for a bone in pork chop without skin. You want one about 2-2.5 cm thick, anything thicker will be difficult to cook right. For those of you who think in imperial, that is between 3/4 of an inch to an inch thick.
Then it is all about the cooking your pan fried pork chops. As with all meat do not cook it straight from the fridge. Then oil the meat and not the pan, you want this thing to fry and not braise in oil. Finally, leave the thing alone, don't move it about you want it to develop that crust.
Most importantly rest your meat, create a foil tent and allow it to sit for 7-10 minutes.
Like all meat, it will let go of some of its juices, make sure you put that back into any sauce you make. There is no excuse to leave flavour behind in the kitchen!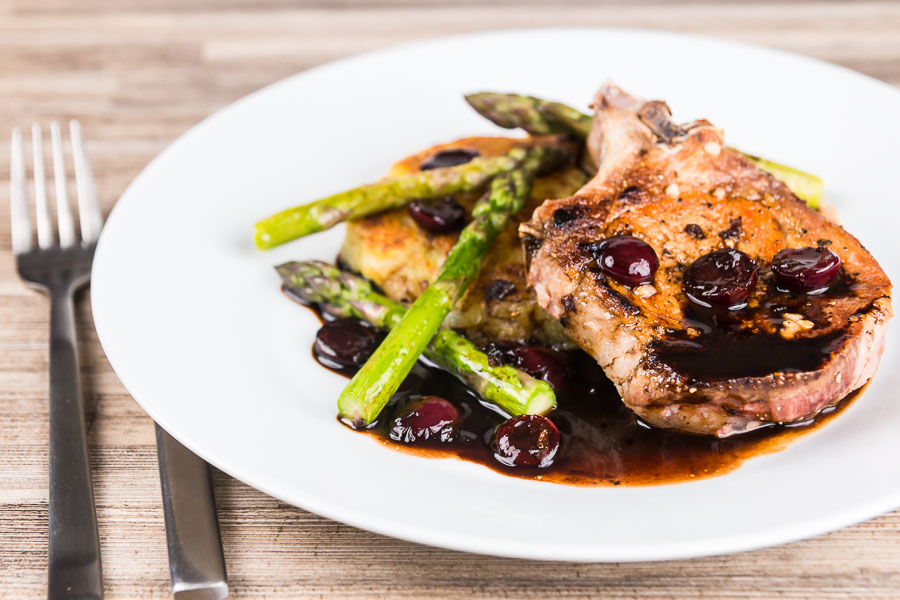 Hot to Cook a Potato Rosti.
You will probably have worked out I am very particular about what I like and don't like. As far as I am concerned undercooked potatoes are pretty much close to the greatest food crime anyone can commit.
As a result, I like to get my potato rosti a bit of a head start on the cooking front. Not much, so I use fist-sized potatoes and boil them whole in well-salted water. Only for 10-12 minutes until they begin to give to the point of a knife.
Let them cool before grating and loosely forming into roughly a round shape about 1cm thick. It is important not to compress them, you do not want a potato cake.
Although if you want a potato cake you should definitely check out my Irish Boxty recipe.
After that, it is seasoning and the cooking 'oil'… Now you know me and butter and duck or goose fat right. Well, I always try to use a combination of both in my potato rosti recipes. You get the perfect combination of crispness and flavour.
You can of course use any other cooking oil but it will be at the expense of flavour!
Just like with your pan fried pork chop you must avoid the temptation to play, leave them to fry and become golden brown and you will have the perfect potato rosti!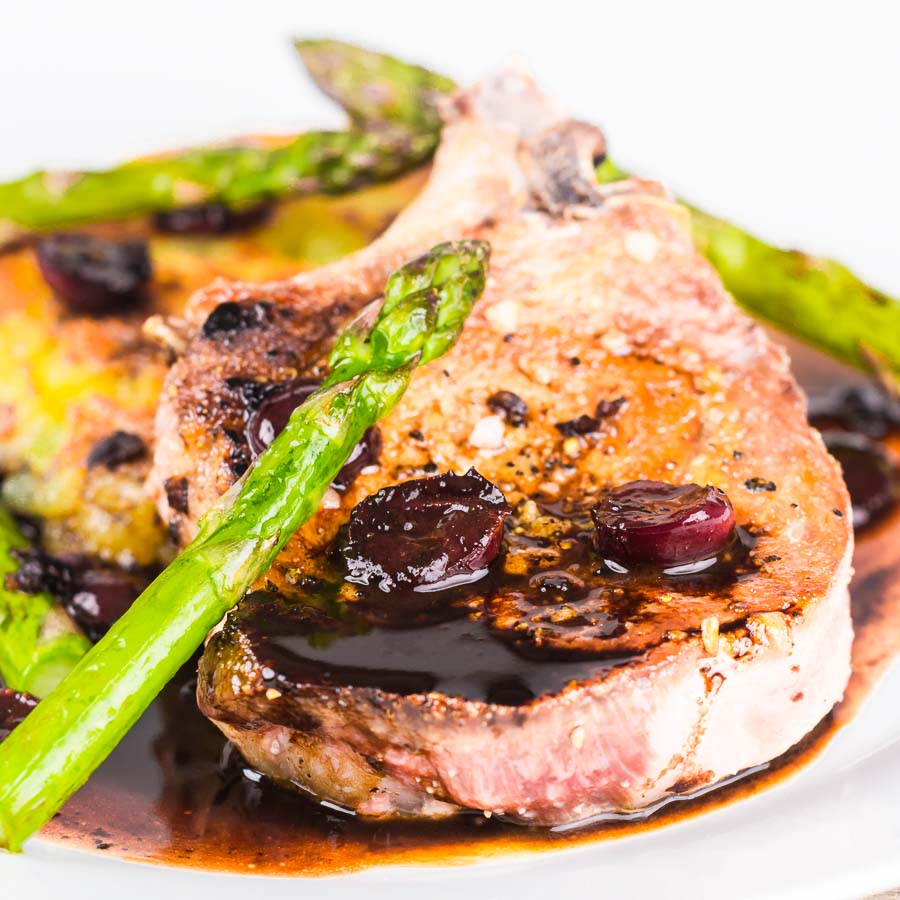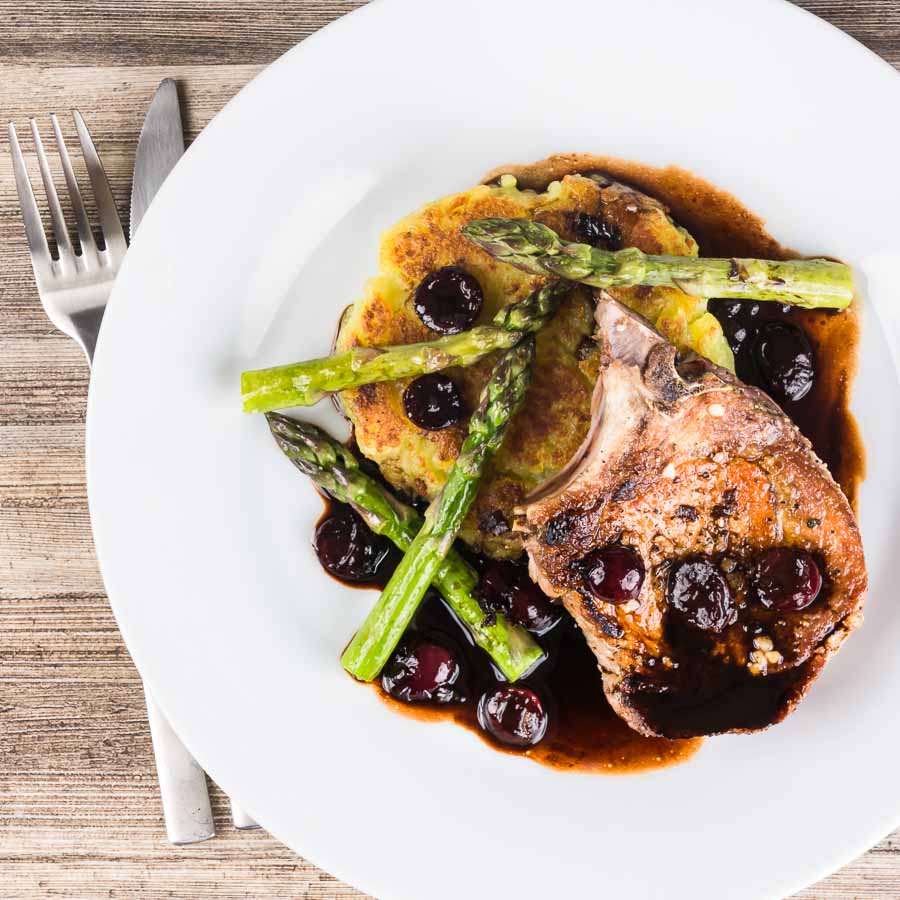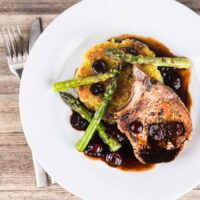 Pan Fried Pork Chops With Balsamic Cherries and Potato Rosti
Simply pan fried pork chops are served with a simple potato rosti, some balsamic cherries and asparagus for an old school but delightful meal!
Ingredients
400 g Pork Chops
300 g Potato
100 g Asparagus
35 g Shallot
50 g Cherries
75 ml Balsamic Vinegar
1 Tsp Cooking Oil
15 g Butter
15 g Duck Fat
Salt and Pepper
Instructions
Bring a large pan of water to the boil then generously salt and throw in your potatoes, cook until the begin to give to a tip of a knife (10-15 minutes).
Remove from the water and allow to cool, this can be done up to 24 hours in advance.
Cut your cherries in half and remove the stone.
Finely dice your shallot and prepare your asparagus by snapping off the woody ends.
Grate the cooled potatoes including the skins and form into loose rounds about 10-11cm in diameter. 4" for those of you who work in imperial.
Heat a large pan for the pork chops over a high heat and a pan for the rosti over a medium heat.
Season your pork chops with salt and pepper.
Drop your oiled pork chops into the hot pan and when warm add half the butter and all of the duck fat to the medium pan.
After the pork chops have been cooking for 2 minutes add the rosti to the medium pan,
After 5 minutes flip over the pork and cook for a further 5 minutes.
Remove the pork from the pan and allow to rest for 7-10 minutes covered int foil.
Return the pork pan to the stove and reduce the heat to medium.
Flip over the rosti.
Add in the remaining butter and shallots and cook for 3-4 minutes.
Then add in the cherries and balsamic and reduce the heat to low allowing to come to temperature to form a sauce.
Finally, throw the asparagus into the pan with the rosti for the final four minutes adding a bit of salt to season.
Nutrition Information:
Yield:

2
Serving Size:

1
Amount Per Serving:
Calories:

773
Total Fat:

38g
Saturated Fat:

14g
Trans Fat:

0g
Unsaturated Fat:

20g
Cholesterol:

192mg
Sodium:

339mg
Carbohydrates:

48g
Fiber:

5g
Sugar:

13g
Protein:

57g
Calorific details are provided by a third-party application and are to be used as indicative figures only.