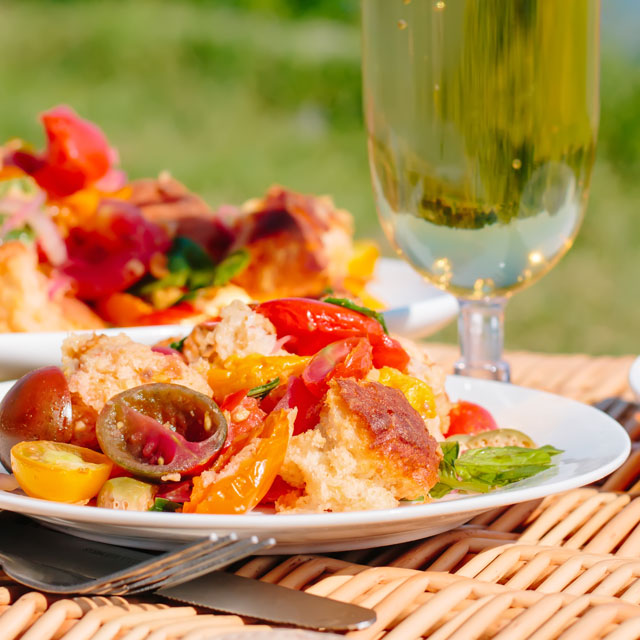 As a Brit I am almost obligated to point out that a Panzanella Salad is the second best way to use up older 'stale' bread, naturally the best way is of course bread and butter pudding… But you are pretty hard pushed to enjoy a bread and butter pudding on a summers day on a picnic, a panzanella salad on the other hand is a completely different matter, it is perfect for a picnic. This recipe joins a few other picnic recipes this year and there will definitely by more to come, not least because it is an excuse to whisk my wife away to a spa or our local lake.
A panzanella is a simple dish and like all other simple dishes there is nowhere to hide, so do not skimp on ingredients, you need great tomatoes, great bread, great oil, great anchovies… Can you see where I am going with this?
This recipe was very much a step into the unknown for me, aside from filling my belly everything I cook is aimed at making my wife smile, despite all the bumph and bluster I am a great big softy really, well I am when it comes to my wife… So why was this recipe a step into the unknown, well she does not like tomatoes! I've always loved cooking and when we first met *mumble* years ago I figured I would impress her with my cooking skills, when I was asked what she liked and didn't I got a bizarre list, however the first thing on that list was tomatoes. It went something along the lines of I don't like tomatoes, well I don't like raw tomatoes but I like cooked tomatoes, but I don't like tomato soup, I don't like tomato pasta sauce either, but I like tomatoes in bolognese. I have not even scratched the surface on liking pasta and not noodles and not liking onions in anything, teeheee, you can however amuse yourself in the knowledge that I am likely to get a clip round the ear when Julie reads this. So anyway, this panzanella salad was an up hill sell, but she loved it, apparently the tomatoes are not squidgy like raw tomatoes usually are and the flavours are all 'zingy and dancing around in your mouth after'. So a big hit, she would definitely have let me know if it wasn't!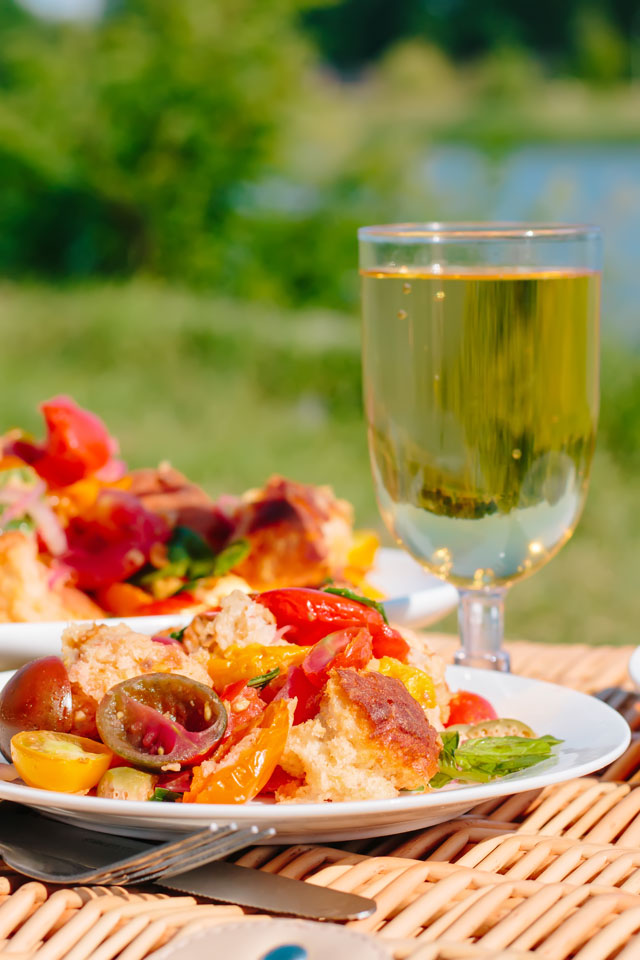 Print
Panzanella Salad Picnic Perfection
Panzanella really is a wonderful frugal route to Picnic Perfection, stale bread and beautiful ripe tomatoes make this Italian classic salad a must make!
Ingredients
175

g

Crusty Bread.

2-3 days old and torn in to bite size chunks.

1

Yellow Pepper.

You can of course use different colours, or if you want to be lazy use ready roasted peppers from a jar.

400

g

Tomatoes.

Use a mix, we grow loads of types but you want some large tomatoes with lots of seeds and some cherry tomatoes.

75

g

Red Onion.

1

Tsp

Coarse Sea Salt.

2

Anchovy Fillets.

Finely chopped.

25

g

Capers.

Roughly chopped.

50

ml

Olive Oil.

25

ml

White Wine Vinegar.

1

Clove

Garlic.

Use a small one and mash.

1

Bunch

Basil.

Roughly torn.
Instructions
If roasting your own pepper heat your oven to 200°C and roast your pepper for 45 minutes.

Thinly slice your red onions and soak in cold water for 10 minutes, this helps to reduce the harshness of the onions.

Cut your large tomatoes into large bite size chunks and your cherry tomatoes into half.

Place the tomatoes into a colander and mix in the coarse sea salt and allow to sit for 10 minutes over a pan.

When your pepper is roasted, stick it in a pan or bowl and cover with cling film and allow to steam in it's own heat.

Mix together the olive oil, white wine vinegar, capers, anchovies and garlic and set aside.

Now squeeze out the liquid from the tomatoes using your hands and add to the dressing in stage 6.

When cooled remove the skin from the pepper and tear in to long strips.

An hour or so before serving we can build our salad, add the onions, tomatoes and peppers to a bowl with the stale bread and add the dressing.

Just before serving toss through the torn basil.
Recipe Notes
Ideal sitting time for this recipe is between an hour and three but you can prepare all the ingredients a couple of days before and then throw together later.