Panzanella salad really is a wonderful frugal route to Picnic Perfection, stale bread and beautiful ripe tomatoes make this Italian classic salad a must make.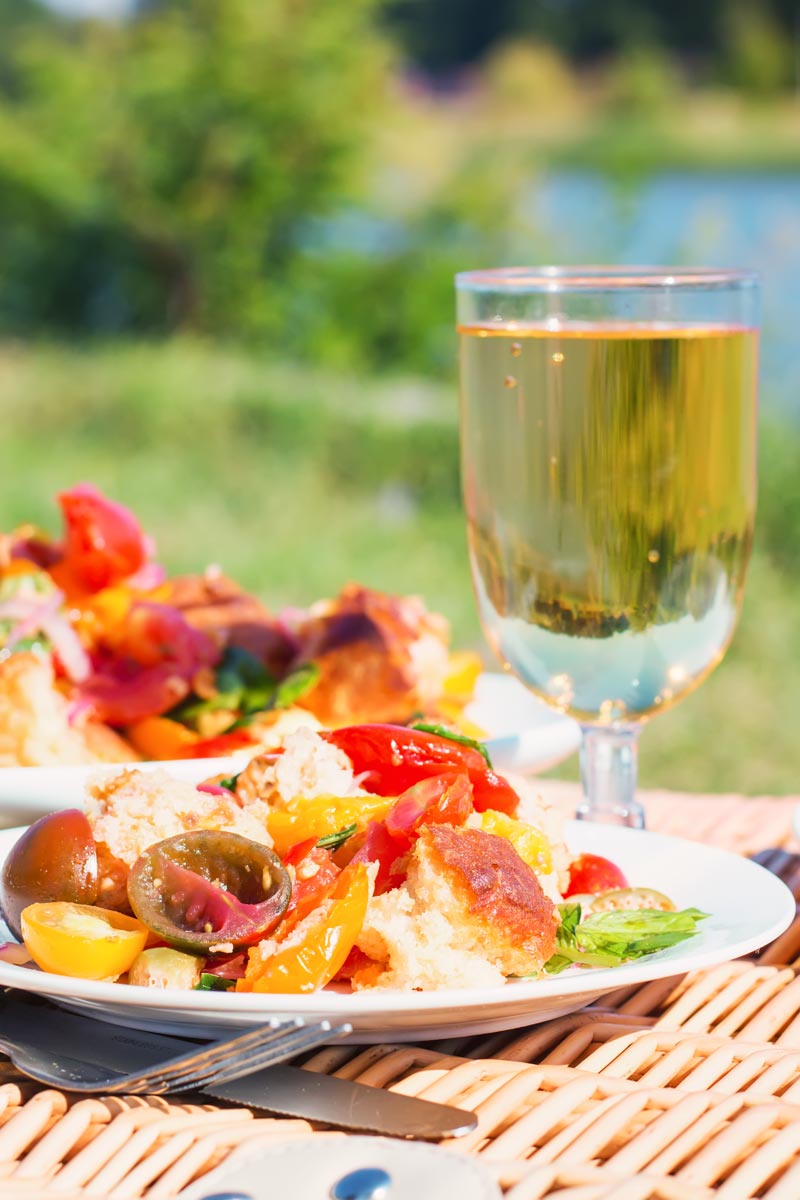 Panzanella Salad Picnic Perfection.
As a Brit, I am almost obligated to point out that this tomato salad is the second best way to use up older 'stale' bread.
Naturally, the best way is of course bread and butter pudding…
But you are pretty hard pushed to enjoy a bread and butter pudding on a summer picnic!
A panzanella salad, on the other hand, is a completely different matter. It is perfect for a picnic.
At its heart, this is a simple dish and like all other simple dishes there is nowhere to hide. As a result, you should not skimp on ingredients!
You need great tomatoes, great bread, great oil, great anchovies…
Even if the tomatoes and bread are used past their best they should still be top drawer!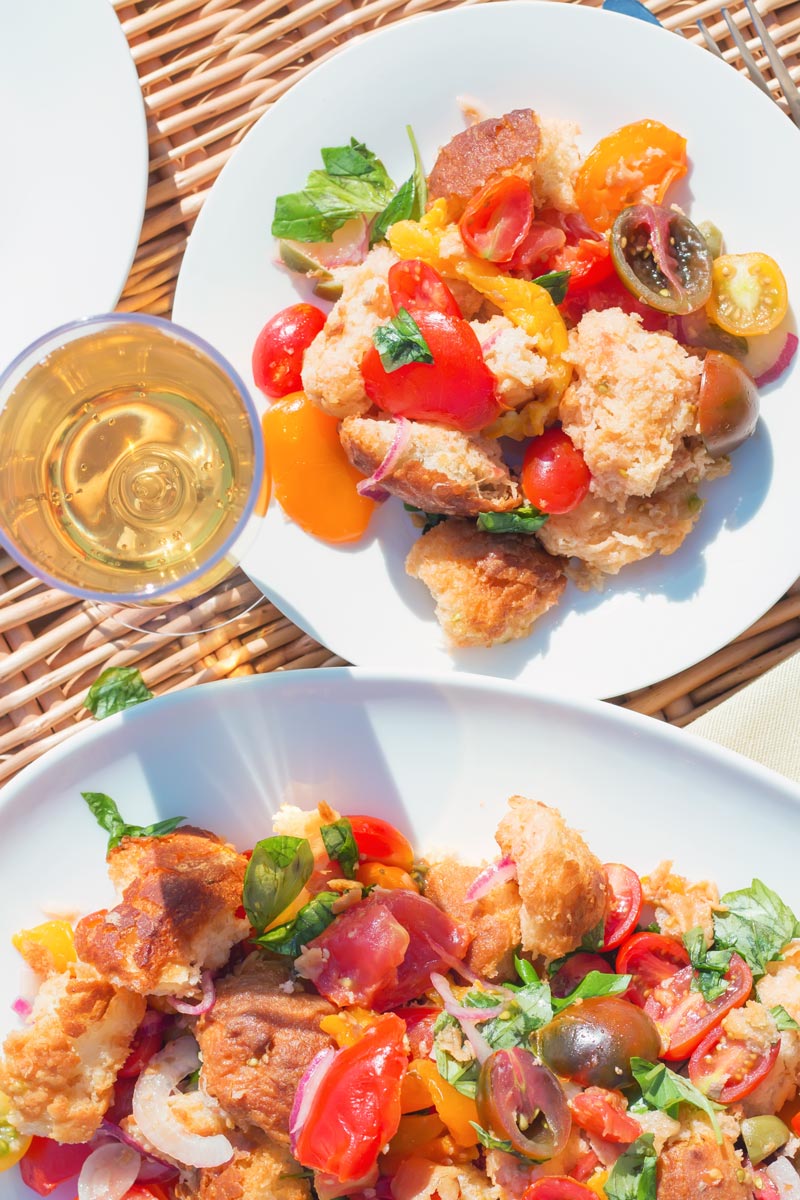 What Is A Panzanella Salad?
Nothing more than a simple tomato and bread salad from Tuscany.
It is designed to get the most out of your store cupboard. Using up ingredients that would ordinarily go to waste is very close to my heart. I hate waste!
This Panzanella recipe is all about no waste.
The way that the tomatoes are gently crushed makes it perfect for tomatoes that are a little bit dinged up and bruised. Just cut off the worse bits and move on, and of course, the riper the tomato the better.
This is not about haute cuisine and perfect tomatoes, unlike my tomato consomme. That uses both tomatoes past their best and then the very best tomatoes.
This is all about making something beautiful from ingredients that all to often end up in the compost. Or heaven forbid, the bin!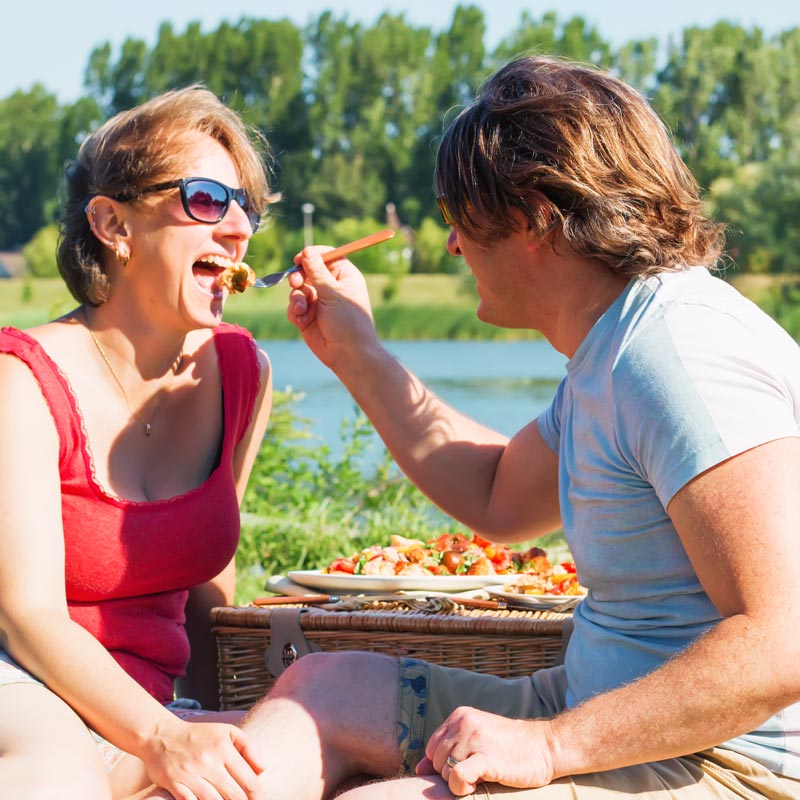 Tomatoes For The Tomatophobe.
This recipe was very much a step into the unknown for me. Aside from filling my belly, everything I cook is aimed at making my wife smile.
Despite all the bumph and bluster, I am a great big softy really, well I am when it comes to my wife…
So why was this recipe a step into the unknown? Well, she does not like tomatoes, eek!
I've always loved cooking and when we first met *mumble* years ago I figured I would impress her with my cooking skills. When I was asked what she liked and didn't I got a bizarre list.
However, the first thing on that list was tomatoes!
It went something along the lines of I don't like tomatoes, well I don't like raw tomatoes. But I like cooked tomatoes, but I don't like tomato soup, I don't like tomato pasta sauce either! But I do like tomatoes in bolognese.
I digress, this tomato salad was an uphill sell! But she loved it!
Apparently, the tomatoes are not squidgy like raw tomatoes usually are and the flavours are all 'zingy and dancing around in your mouth after'.
So a big hit, she would definitely have let me know if it wasn't!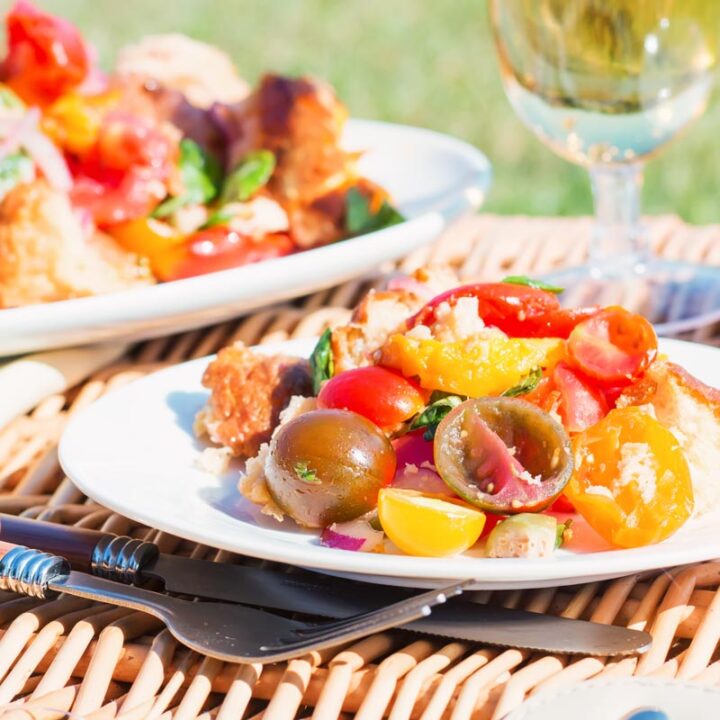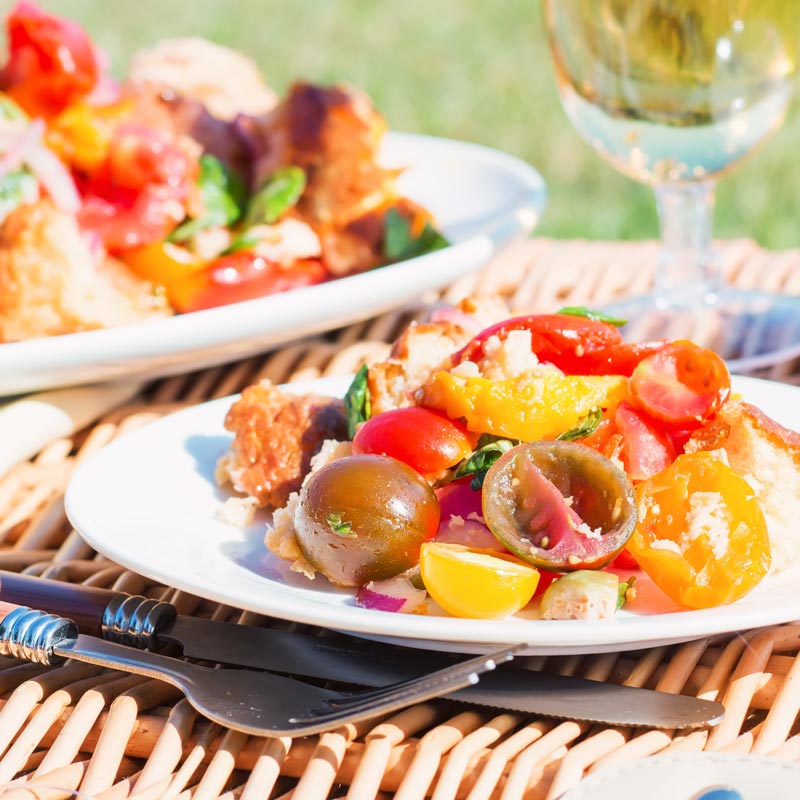 Yield:

2 Servings
Panzanella Salad Picnic Perfection
Summer is all about tomatoes and a Panzanella salad just screams of the Italian summer, it is also a stunning way to use up both bread and tomatoes that are maybe a little past their best!
Ingredients
175 g CrustyStale Bread
1 Bell Pepper
400 g Tomatoes
75 g Red Onion
1 Tsp Coarse Sea Salt
2 Anchovy Fillets
25 g Capers
50 ml Olive Oil
25 ml White Wine Vinegar
1 Clove Garlic
10 g Basil
Instructions
If roasting your own pepper heat your oven to 200°C or 400°F and roast your pepper for 45 minutes.
Thinly slice your red onions and soak in cold water for 10 minutes, this helps to reduce the harshness of the onions.
Cut your large tomatoes into large bite size chunks and your cherry tomatoes into half.
Place the tomatoes into a colander and mix in the coarse sea salt and allow to sit for 10 minutes over a pan.
When your pepper is roasted, stick it in a pan or bowl and cover with cling film and allow to steam in it's own heat.
Finely chop the anchovies, roughly chop the capers and mash the garlic.
Mix together the olive oil, white wine vinegar, capers, anchovies and garlic and set aside.
Now squeeze out the liquid from the tomatoes using your hands and add to the dressing in stage 6.
When cooled remove the skin from the pepper and tear in to long strips.
An hour or so before serving we can build our salad, add the onions, tomatoes and peppers to a bowl with the stale bread and add the dressing.
Just before serving toss through the torn basil.
Notes
You can skip the step of roasting the pepper by using preserved bell peppers if you wish.
Use a mix of different tomatoes, I use some larger San Marzano tomatoes and a variety of cherry tomatoes.
Ideal sitting time for this recipe is between an hour and three but you can prepare all the ingredients a couple of days before and then throw together later.
Nutrition Information:
Yield:
2
Serving Size:
1
Amount Per Serving:
Calories:

520
Total Fat:

27g
Saturated Fat:

4g
Trans Fat:

0g
Unsaturated Fat:

22g
Cholesterol:

3mg
Sodium:

2045mg
Carbohydrates:

60g
Fiber:

6g
Sugar:

14g
Protein:

12g
Calorific details are provided by a third-party application and are to be used as indicative figures only.