Pea and ham, are like well… Two peas in a pod and this Pea and Ham Pasta recipe is quick simple and gloriously tasty!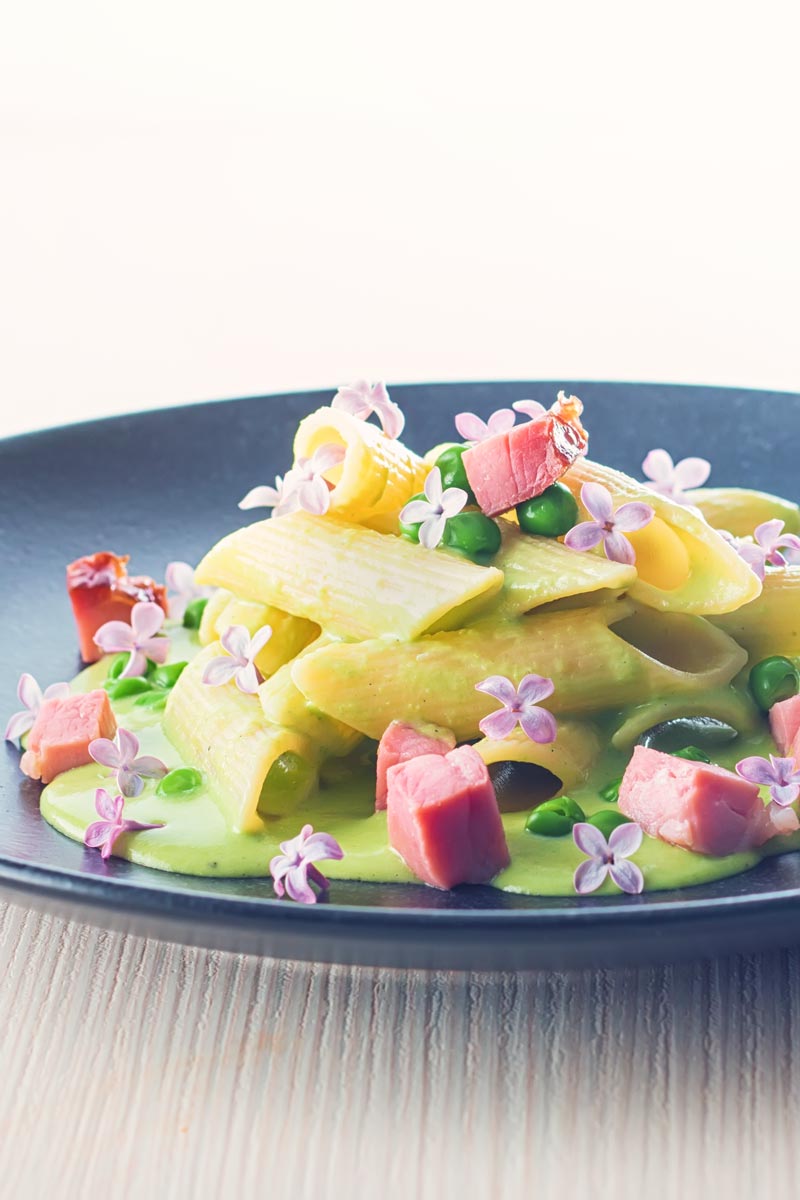 Pea and Ham Pasta…
As far as food combinations go pea and ham is as close as you can get to perfection if you ask me.
The sweetness of peas with the saltiness of ham is irresistible to me.
It is not the first time it has been used here featuring in both my pea and ham risotto and in this pasta with peas and ham in a broth recipe. It will also not be the last!
Using a pea puree as a sauce may seem unusual but it works really well. It is fairly light coats the pasta well and tastes fantastic.
My pea puree rarely changes and this is the same one that I use as a base sauce for my deep fried goats cheese.
This can be made with both fresh or frozen peas.
Chose whichever you can get your hands on, frozen peas are probably the best of all of the frozen vegetables.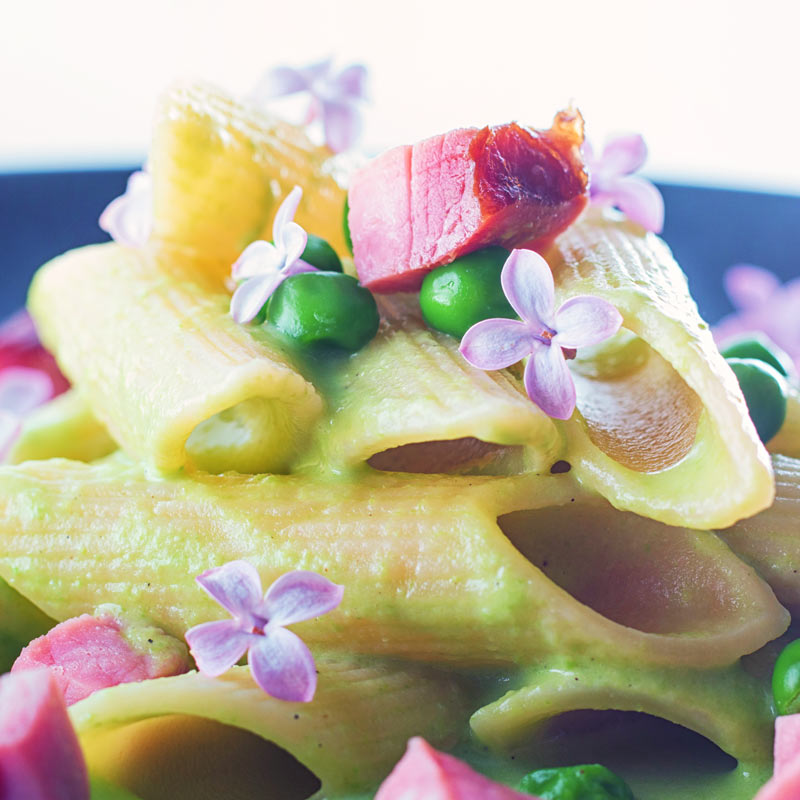 What Pasta To Use.
I was really torn between making this Pea and Ham pasta recipe with some fresh pappardelle or penne rigatoni.
The final choice was governed by the fact that I need a new pasta machine.
Which is simultaneously very sad and very exciting and completely irrelevant to you!
This recipe works really well with a variety of different types of pasta.
Something wide and flat like pappardelle or tagliatelle or something like penne or rigatoni would work best.
This is because they will hold onto the sauce better than thinner long pasta and 'bowl' type pasta would not distribute it evenly enough.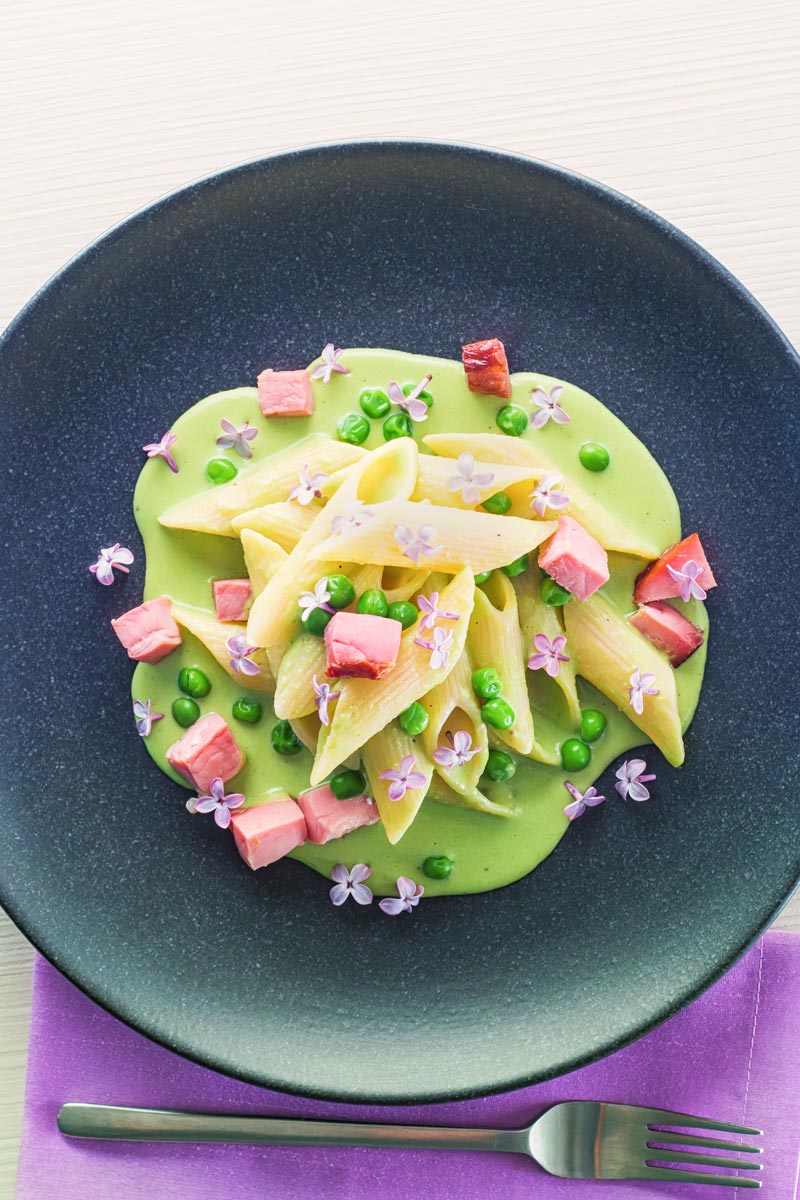 Edible Flowers.
At different times of the year I like to experiment with edible flowers in my recipes.
They are, of course, optional but they do add a bit of bling to a recipe.
But they are not just there for presentation, they actually add flavour to a dish.
In many ways, they are like a seasoning so you should choose your flowers appropriately.
The flowers I use in this pean and ham rigatoni recipe are lilac flowers.
They are perfectly safe to eat and are very floral in both aroma and flavour.
You should pick them as close to use as possible and they have an almost citrus-like flavour with a slight bitterness.
This is a perfect complimentary flavour profile to the sweet and salty flavour of the ham and pea.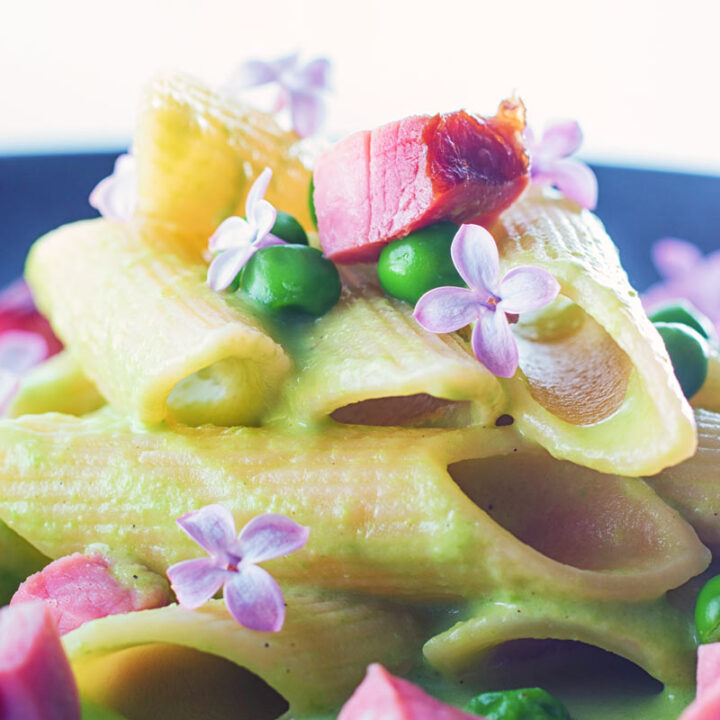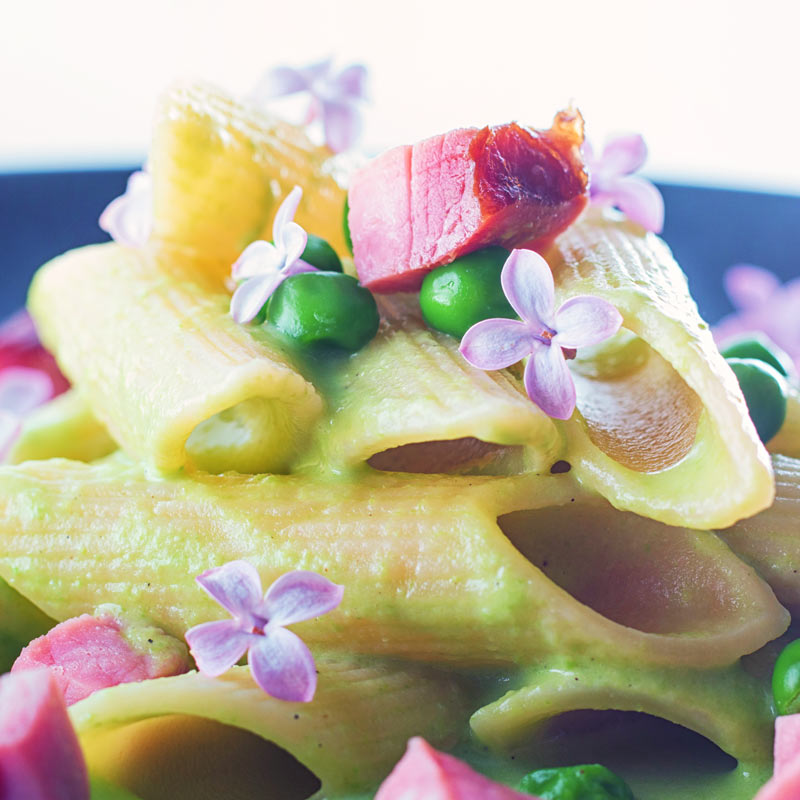 Yield:

2 Servings
Pea and Ham Pasta
A pea puree is an unusual sauce for pasta but it works so well in this pea and ham pasta recipe. It makes for a delightfully light sauce perfect for a spring quick meal.
Ingredients
150 g (1.5 Cups) Penne Rigatoni
150 g (1 Cup) Smoked Ham
150 g (1 Cup) Frozen Peas
125 ml (1/2 Cup) Double Cream
1 Tbsp Cooking Oil
35 g (1/3 Cup) Parmesan Cheese
Salt and Pepper
Lilac Flowers for Garnish (Optional)
Instructions
Bring two pans of salted water to the boil 1 small and 1 large, in the small plunge in the frozen peas and cook until defrosted and hot, this should take no more than 2 minutes.
Cut the ham into 1cm cubes.
When the peas are cooked refresh in ice cold water to ensure the colour is locked in, set aside 35g of the cooked peas and add the remainder to a blender with the double cream and blitz.
Pass this puree through a fine mesh sieve and return to the small pan, we will reheat this a little later.
By now the water for the pasta should be boiling, add the pasta and cook as per the instructions, this should take no longer than 12 minutes.
Heat the cooking oil in a frying pan over a medium-low heat and gently cook off the ham.
As the pasta is ready reheat the pea puree in the small pan adding the Parmesan cheese and stirring until it melts. Add salt and pepper to taste, remember we also have salty ham to add to the dish so not too much salt.
Place a small pool of the puree on the base of each plate before stirring the rest to coat the penne, then add to the plate with the ham and flowers if using.
Nutrition Information:
Yield:
2
Serving Size:
1
Amount Per Serving:
Calories:

639
Total Fat:

32g
Saturated Fat:

15g
Trans Fat:

1g
Unsaturated Fat:

14g
Cholesterol:

84mg
Sodium:

1117mg
Carbohydrates:

59g
Fiber:

6g
Sugar:

5g
Protein:

30g
Calorific details are provided by a third-party application and are to be used as indicative figures only.