A poached chicken breast is a light way of creating a fab light summer meal, this comes with a kohlrabi puree, carrots, fennel and a mustard sauce.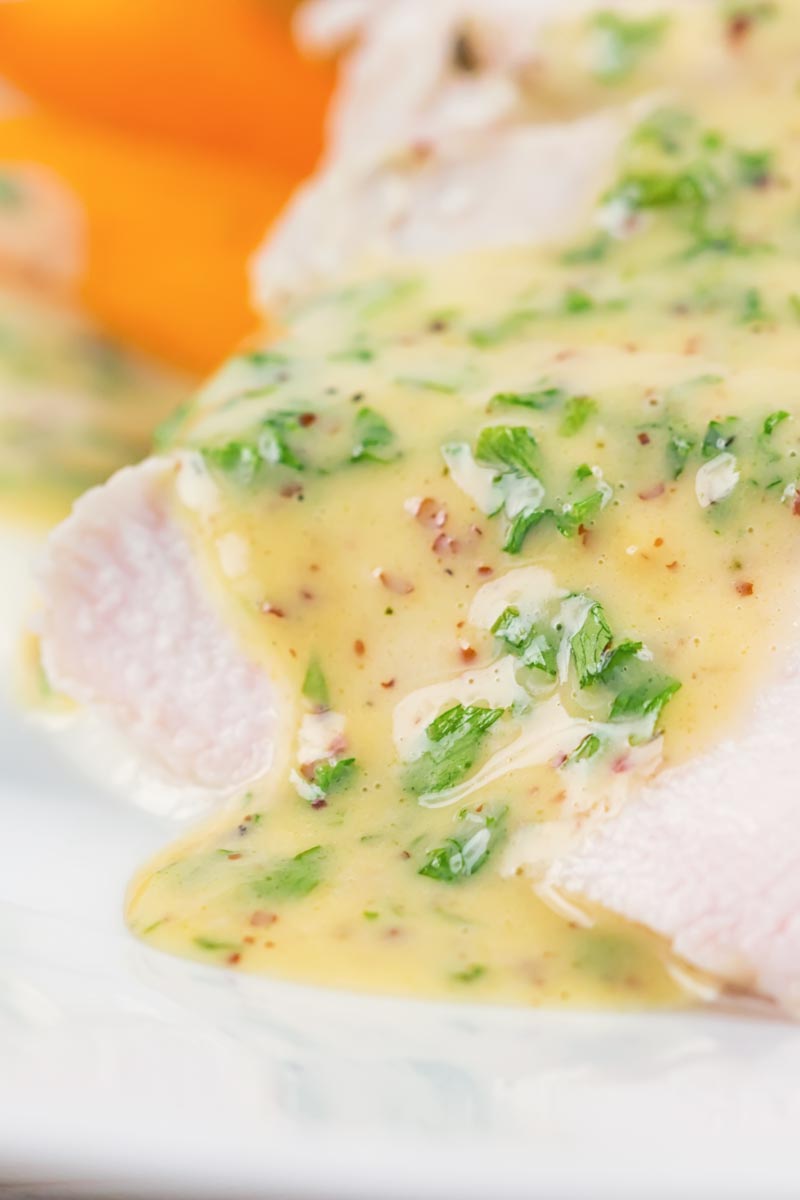 Poached Chicken Breast With Carrot, Fennel & Kohlrabi Puree.
I'm just as guilty as most when it comes to my love of roast chicken but a perfect poached chicken breast is a thing of great beauty.
This recipe is all about the flavours of mid-summer, our first carrots and kohlrabi are good to harvest. Our fennel is not quite ready yet but it is not far off but local markets have it in stock.
I love poaching chicken although have done little of it here on krumpli. In fact, I only have one other poached chicken recipe. A rolled and poached sage and onion stuffed chicken breast.
Unlike that recipe this poached chicken recipe is not finished in butter, it is pure and simple beautifully poached chicken breast.
Simple cooking techniques like this or steamed chicken is perfectly capable of producing wonderful flavour.
This recipe is all about clean and vibrant flavours. As a result the chicken is joined by fresh vegetables poached in the same liquid as the chicken breast.
Of course, then we have a really silky kohlrabi puree that is out of this world!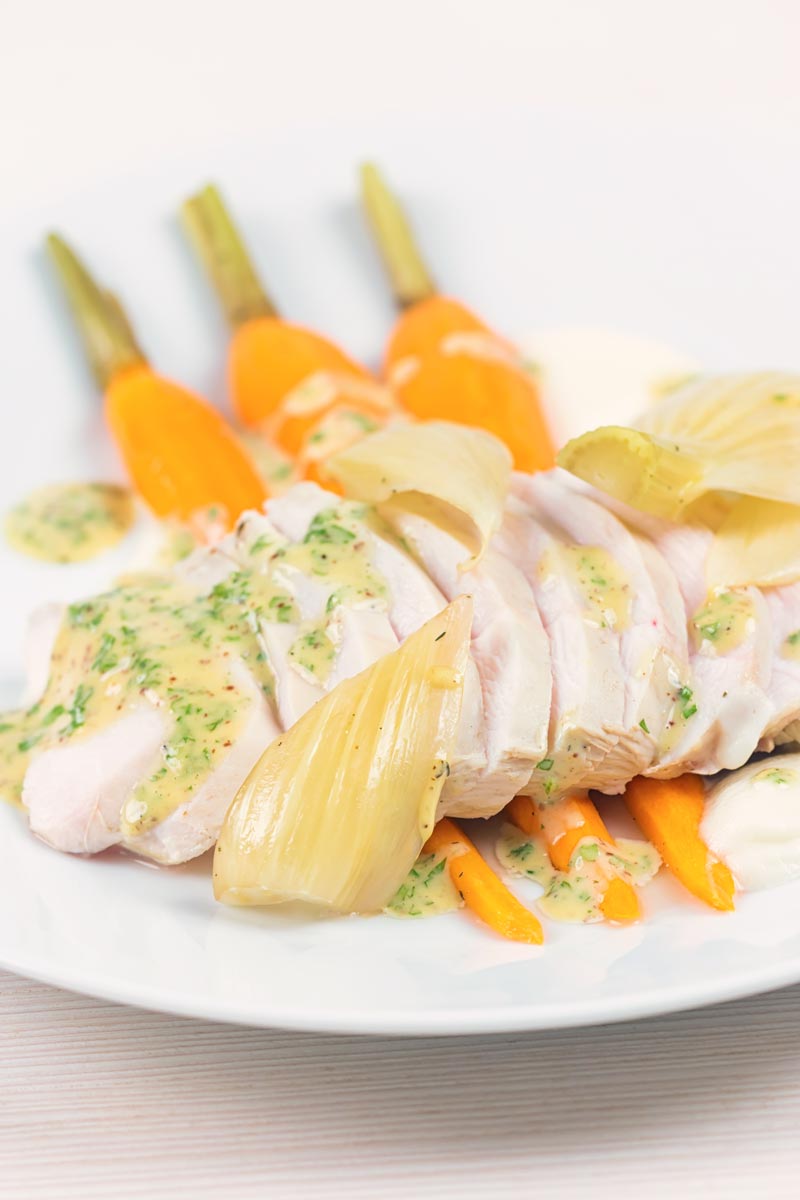 What is a Kohlrabi?
The kohlrabi is actually from the brassica family, so in theory, it is similar to cabbage, broccoli, and sprouts.
However it is indeed very different, it looks a little like the Sputnik satellite when it has its leaves removed. It also has a pastel green colour, I have heard it called everything from fugly to beautiful.
The look however is hugely unimportant, the flavour is where it is at.
It is subtle and sweet with hints of apple that are really accentuated by the raw texture, it is often used in slaws and salads.
Here in this poached chicken breast recipe, it gets steamed to retain as much flavour as possible. Then it is pureed with cream, butter, and salt.
Yes, I am that cook! One simply does not just use cream when one can use cream and butter. It is only a little so you will be just fine, I promise.
It requires no passing at all and results in the most amazingly flavoured and velvety smooth puree.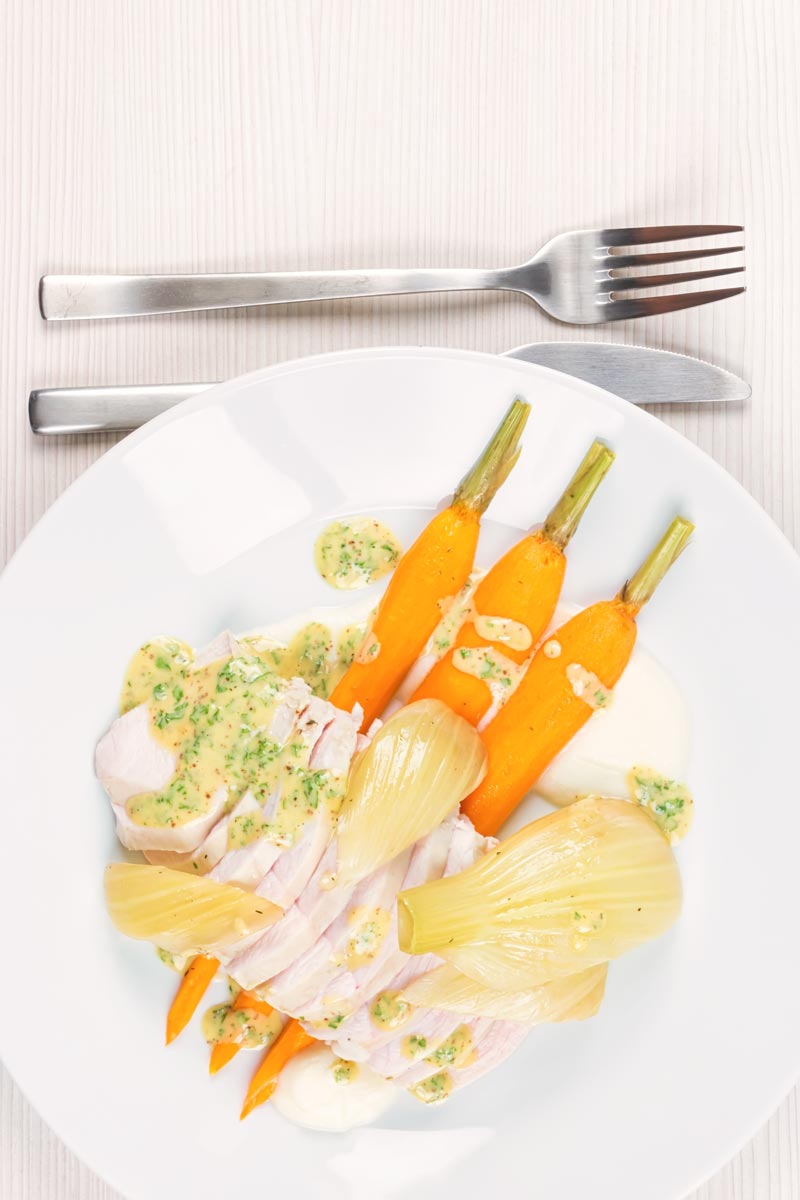 How To Poach Chicken.
Quite simply it is a case of placing it in a liquid and simmering at a low temperature. You do not want to boil the snot out of it.
It is a beautifully gentle way of cooking and is arguably more common when cooking fish.
I personally find the best way to do this is in a moderate oven in a crockery bowl with a foil lid. The crockery seems to distribute the heat a little more gently.
Now, of course, we have a perfectly poached chicken breast the very last thing we want to do is throw away the cooking liquid.
I use around about half of it to make the most amazing mustard sauce to complete this recipe. Seriously just look at it, tell me you don't want a pint glass of the stuff!
I digress, please, please do not throw away the cooking liquid from this poached chicken breast. Save it, freeze it in an ice cube tray to use later.
Of course, you can alternatively use it as part of the liquid for any of my recipes that call for chicken stock. Maybe this petit pois a la Francaise, or this chicken noodle soup, maybe even this wonderful chicken and walnut risotto recipe.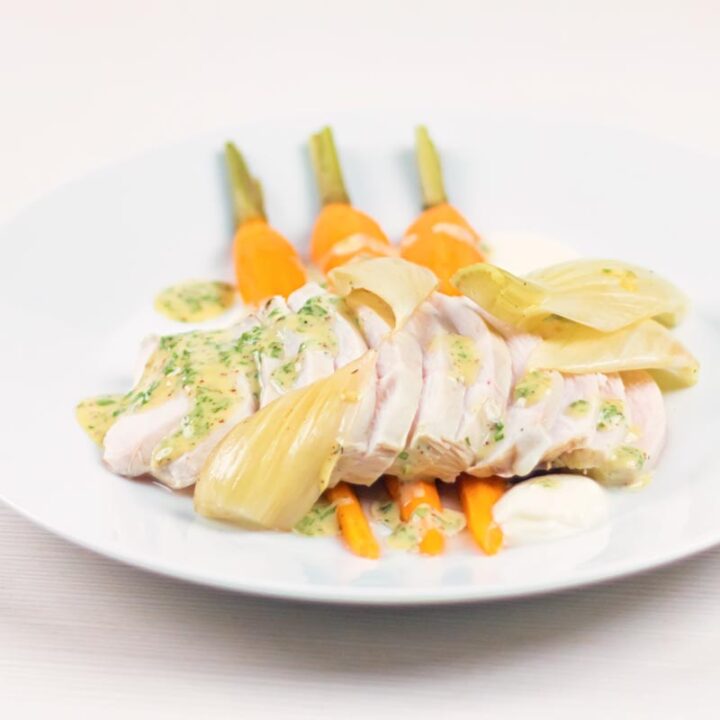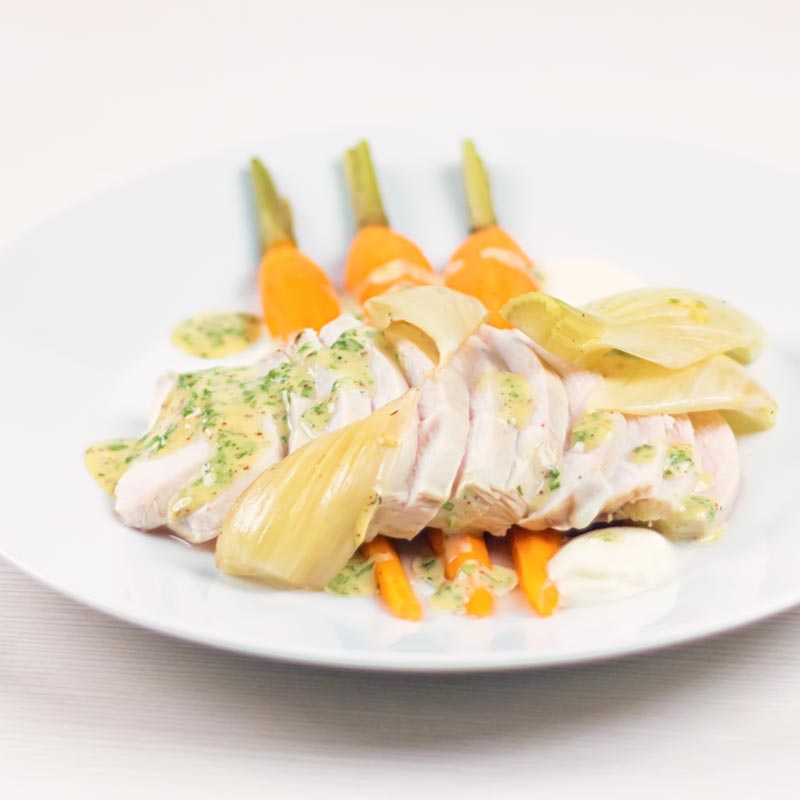 Yield:

2 Servings
Poached Chicken Breast With Carrot and Fennel
A poached chicken breast is a light way of creating a fab light summer meal, this comes with a kohlrabi puree, carrots, fennel and a mustard sauce.
Ingredients
2 Chicken Breasts, Without Skin
3 Carrots
1 Fennel Bulb
1 Kohlrabi
30 ml (2 Tbsp) Cream
30 g (2 Tbsp) Butter
500 ml Chicken Stock
1 Sprig Fresh Oregano
2 Sprigs Fresh Thyme
1 Bay Leaf
For the Sauce:
1 Tsp Mustard
30 ml (2 Tbsp) Cream
1 Tbsp Chopped Parsley
Instructions
Begin by peeling and dicing your kohlrabi into 2.5cm dice.
Steam for 30 minutes or until very soft.
Preheat your oven to 180°C or 350°F.
Peel your carrots and cut in half lengthways.
Remove the outer layer of the fennel and cut into quarters.
Butter a flat-bottomed casserole dish just a little larger than the chicken breasts.
Lay in the chicken.
Bring the chicken stock to the boil with the thyme, oregano and bay leaf.
Check the stock for seasoning and add salt as required.
Pour over the chicken and nestle in the carrots and fennel.
Cover tightly with a lid or tin foil and place in the oven for 20-22 minutes.
Bay now your kohlrabi should be soft, place in a blender with the cream and butter and blend to a velvety smooth puree adding salt as required.
When the chicken is ready to come out of the oven, internal temperature 65°-67°C 150°-155°F drain of half of the cooking liquid, recover and rest for 10 minutes.
Pour this cooking liquid into a frying pan and reduce to a third of its original volume.
Add the cream and mustard and whisk to form a sauce and test for seasoning.
Thinly slice the chicken and get creative with your plating.
Finally, stir the parsley through the sauce before adding to the plate.
Nutrition Information:
Yield:
2
Serving Size:
1
Amount Per Serving:
Calories:

542
Total Fat:

29g
Saturated Fat:

16g
Trans Fat:

1g
Unsaturated Fat:

11g
Cholesterol:

171mg
Sodium:

645mg
Carbohydrates:

24g
Fiber:

6g
Sugar:

11g
Protein:

47g