Simplicity in food is often overlooked and the clean flavours in this simple poached salmon recipe are heavenly!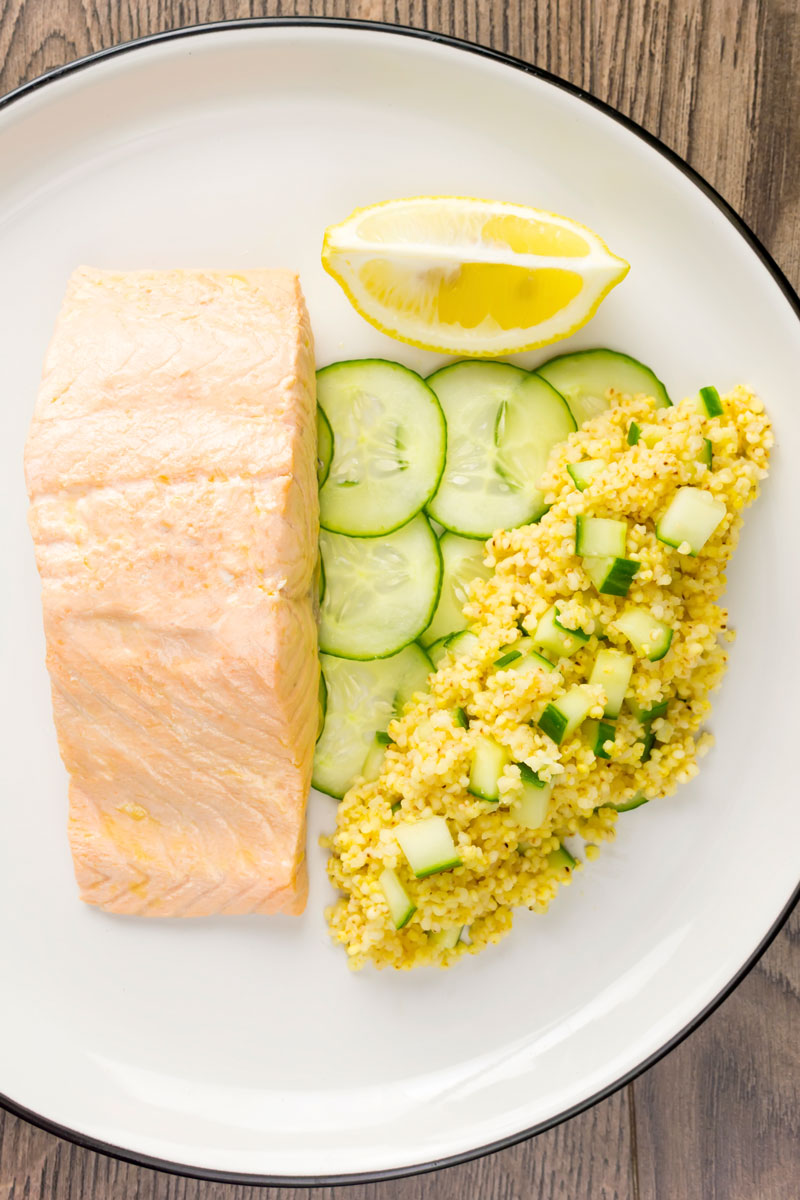 How to Poach Salmon Fillet.
Poaching as a method of cooking is rarely seen in the modern kitchen. I have no idea why as it is a perfect way of gently cooking lean meats or fish.
It also takes far less time than people think and just like my poached chicken breast recipe, it is certainly not difficult. In that way it is similar to steaming as in this steamed chicken breast.
I cook the court bouillon, which is the fancy name for the cooking liquid, for 10 minutes. Then the salmon steeps for 7 minutes and rests for 3-4 minutes.
Which just so happens to be the perfect time to cook the millet side dish for this complete meal. But, more on that later!
As with all recipes cooked with simple ingredients you need to ensure that the ingredients you use are good.
There is nowhere to hide inferior ingredients, so make sure your salmon fillet is top notch and your wine really tasty!
On the wine front choose something nice and dry Sauvignon Blanc or Pinot Gris. Make sure you stick to the rule, if you ain't prepared to drink it, don't cook with it!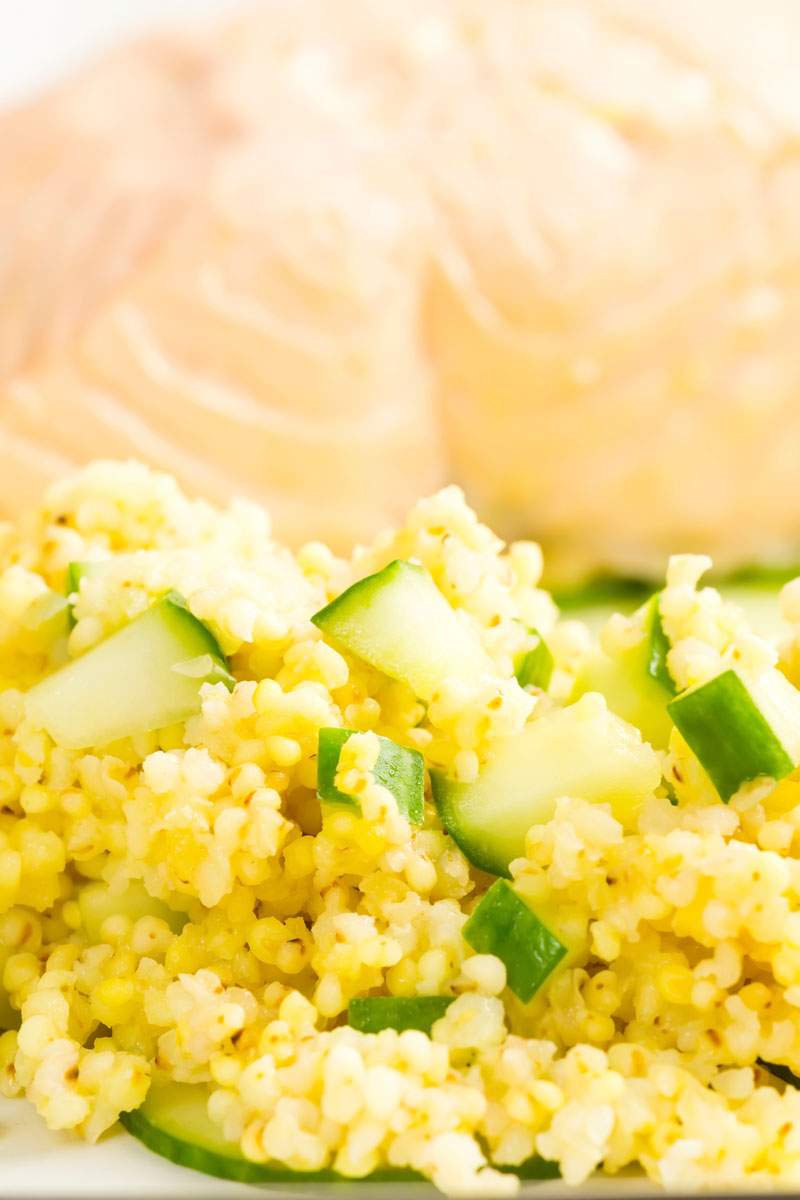 Salmon and Cucumber.
Salmon is often seen as a garnish chucked on the side of a plate to be eaten or brushed aside.
I think it is a much better ingredient than that and deserves to be shown a bit more love.
It can be found here in all sorts of ways, whether it be pickled as a side to my salt and pepper squid or even seared as a side to my duck curry recipe.
It is also a classic accompaniment to salmon no matter how it is cooked.
Here it is sliced paper-thin to serve as a base, then we remove the seeds and dice to add to the millet.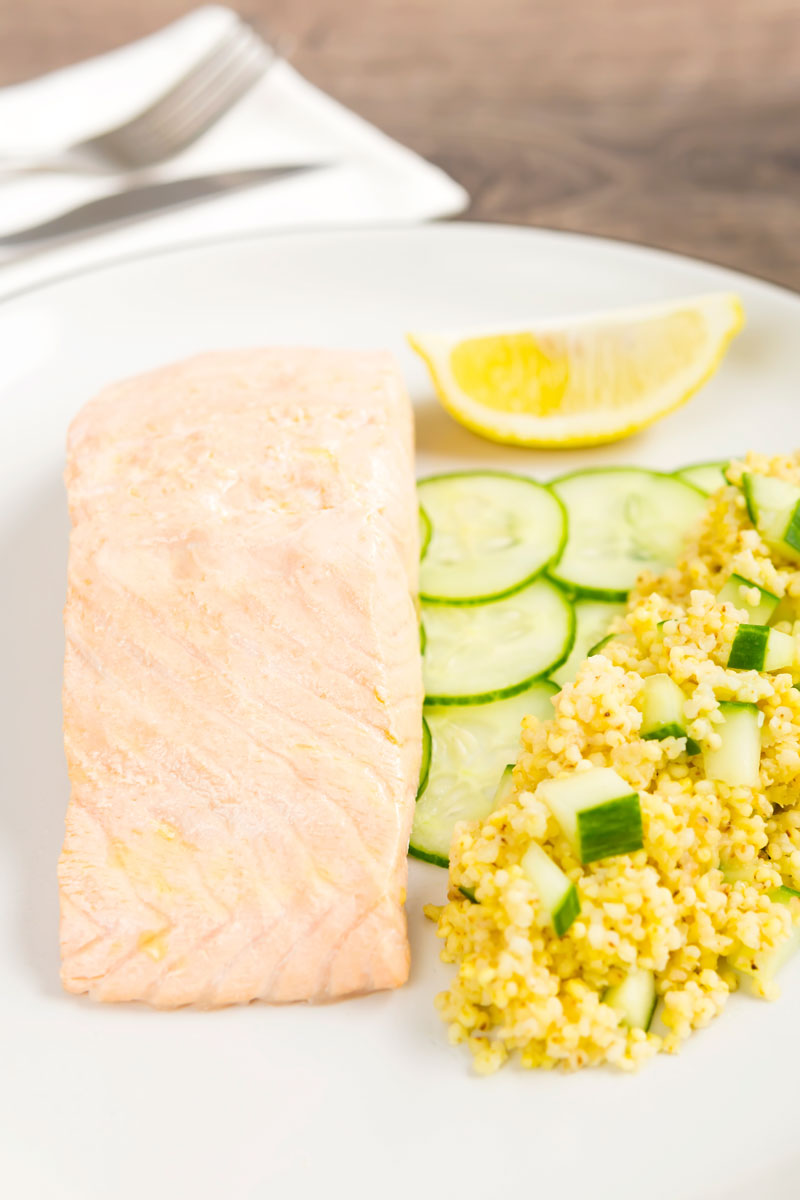 How to Cook Millet?
As is often the way I try to cook complete meals and this recipe is no different.
My suggested side with this simple clean salmon recipe is a toasted millet.
"What is millet?" I hear you cry… Well, it is the seed of a range of grasses and when I was growing up it was budgie food.
It is however really tasty and we have been munching on the stuff for thousands of years! It is nutritious providing lots of fibre, calories, minerals, vitamins and protein and if you are so inclined gluten-free.
However I care about one thing, and that is flavour and it tastes fantastic, it is also simple to cook.
Toasting the seeds in a dry pan for a few minutes before cooking unlocks lots of flavour.
Then I cook it simply in water lemon juice and of course butter. Resting it after is essential so do no skip that step. If you want to scale up you need twice the volume of liquid as there is millet to cook this way.
One word of advice, even millet fomr the same batch can result in different cooking times, so use your taste buds.
Your salmon will not overcook sat in the poaching liquid, have a taste, the millet should have a bite but not be chalky.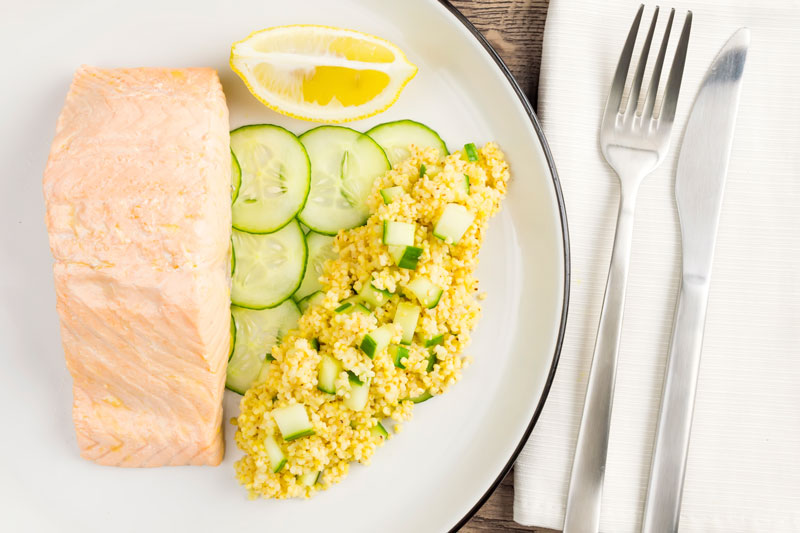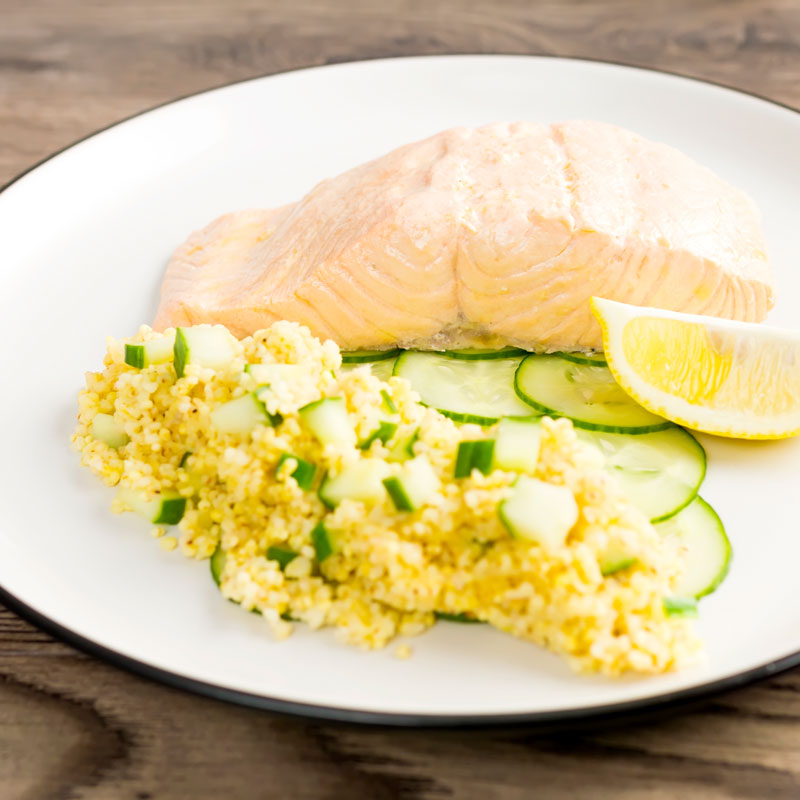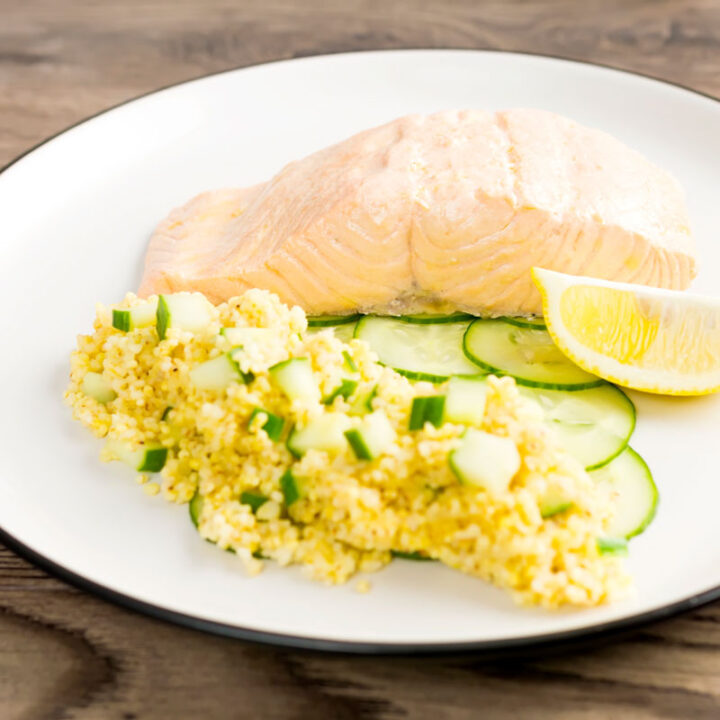 Poached Salmon with Cucumber and Lemon Millet
This simply poached salmon fillet is served with toasted millet cucumber and lemon and makes for a stunning lighter meal loaded with flavour.
Ingredients
For the Fish:
400g Salmon Fillets
1 lemon
250 ml White Wine
1 Stick Celery
2 Shallots
3 Sprigs Thyme
8 Black Peppercorns
2 Star Anise
Salt to taste
Water
For the Millet:
150 g Millet
300 ml Water
15 g Butter
Salt to Taste
200 g Cucumber
1 Lemon
Instructions
Roughly chop the celery and the shallot for the salmon and place in a pan large enough to hold both salmon fillets.
Peel the pith from the lemon and place in the pan along with the pepper, thyme and star anise.
Pour in the white wine and squeeze in the juice from the lemon you zested.
Add enough water so that there is enough liquid in the pan to just submerge the salmon.
Heat this "court bouillon" mix to a simmer and cook for 10 minutes.
Place a separate pan over a medium heat.
When hot add the millet and toast for 3 or 4 minutes.
Add the water, butter and juice of a whole lemon to the millet and bring to a gentle boil.
Season with salt to taste.
Reduce the heat, add a lid and allow to gently simmer for 15 minutes.
Season the salmon generously with salt and when the millet has been cooking for 5 minutes add the to the cooking liquid.
Cook for 7 minutes.
Whilst this is cooking thinly slice half of the cucumber.
Remove the seeds from the remaining cucumber and cut into a 5mm dice.
When the millet has had 15 minutes remove from the heat and allow to sit covered for 5-6 minutes.
Remove the salmon from the heat and flip over so that it is skin side up and allow to sit for 3-4 minutes.
When you are ready to serve arrange the diced cucumber on the plate stir the diced cucumber through the millet and add to the plate.
Finally, peel the skin from the salmon and add to the plate with a wedge of lemon.
Nutrition Information:
Yield:

2
Serving Size:

1
Amount Per Serving:
Calories:

755
Total Fat:

32g
Saturated Fat:

9g
Trans Fat:

0g
Unsaturated Fat:

20g
Cholesterol:

142mg
Sodium:

798mg
Carbohydrates:

47g
Net Carbohydrates:

0g
Fiber:

8g
Sugar:

9g
Sugar Alcohols:

0g
Protein:

51g
Calorific details are provided by a third-party application and are to be used as indicative figures only.