Stuffed green peppers wrapped in bacon packed with porky goodness with hints of dried apricot and a generous helping of fresh cayenne pepper for heat.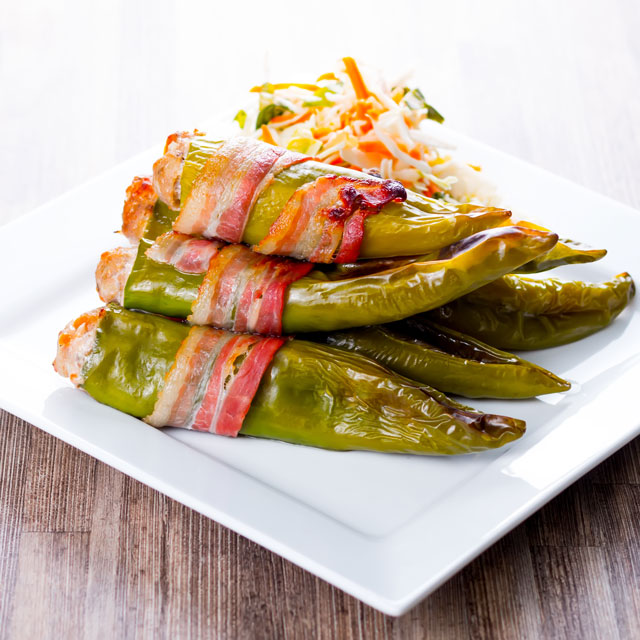 I make stuffed green peppers all of the time and usually use green peppers for stuffing as they are a little less sweet than their red, orange or yellow counterpart. Which allows me to be a little more flexible with the stuffing and not turn my savoury dinner into something resembling a desert.
The inspiration for the bacon wrapping came from a blog I stumbled upon over at Culinary Hill by Megan Hill who created an awesome hatch chile stuffed with cheese and wrapped in bacon. Apart from making my belly grumble when I saw it my first reaction was, 'why on earth are you putting bacon in the stuffing of your stuffed green peppers, when you could wrap it around them you idiot'!
Boy does it really make a difference, we get the most wonderful thinly sliced smoked streaky bacon that works wonders in this dish and it really adds a different texture and much larger hit of bacon than adding it to the stuffing would.
This recipe is definitely one for those of you that are fond of a little spice in their food although it would be very simple to calm it down a little.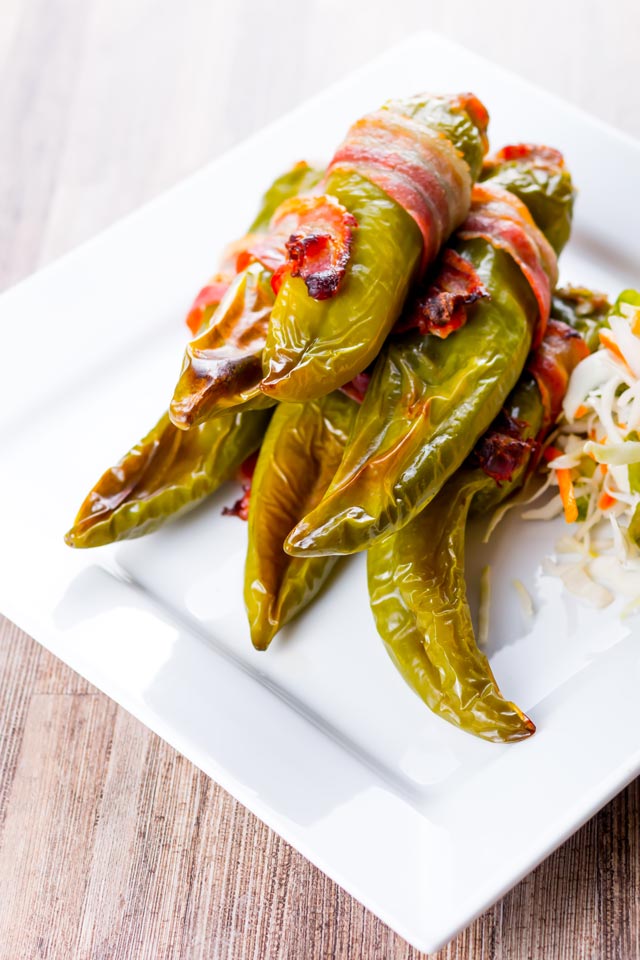 I used Hungarian hot wax peppers as my pepper of choice this time for these stuffed green peppers, however you could use any longer banana type pepper for this dish, but Hungarian hot wax chili peppers top the Scoville scale at around 5,000-10,000. This is in roughly the same ball park as a Jalapeno chili.
As I am such a fan of spicy food, although I do have my limits, I rounded off the heat with a very different flavour and much hotter fresh Cayenne chili pepper from our garden which weighs in at a lofty 10 times hotter, up at around 50,000 units on the Scoville scale.
For those of you who have never heard of it the Scoville scale is a measurement of the amount of Capsaicin in chili peppers which is the compound that gives them their heat. You can of course swap out these peppers for anything you deem appropriate, I do not find these to spicy however levels of spice are a very personal thing and pure hell for one person is mild to another.
As with many other ingredients in our garden it is very much coming to an end of pepper season for us, but the harvest this year has been remarkable and I have plenty frozen whole up for some more stuffed green peppers over winter and of course loads of other preparations too.
I could not go a whole winter with out peppers it would kill me sure I could head out and find fresh imported peppers from a huge superstore, but that would for me defeat the purpose of living the way I do, so as far as I am concerned Shakshouka from frozen peppers and using sundried tomatoes with passata is perfectly acceptable.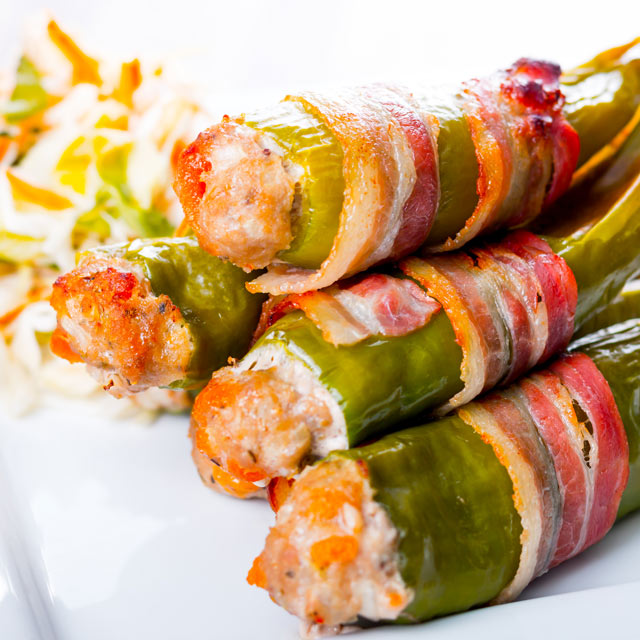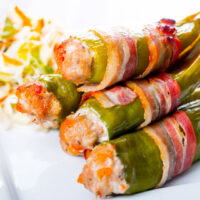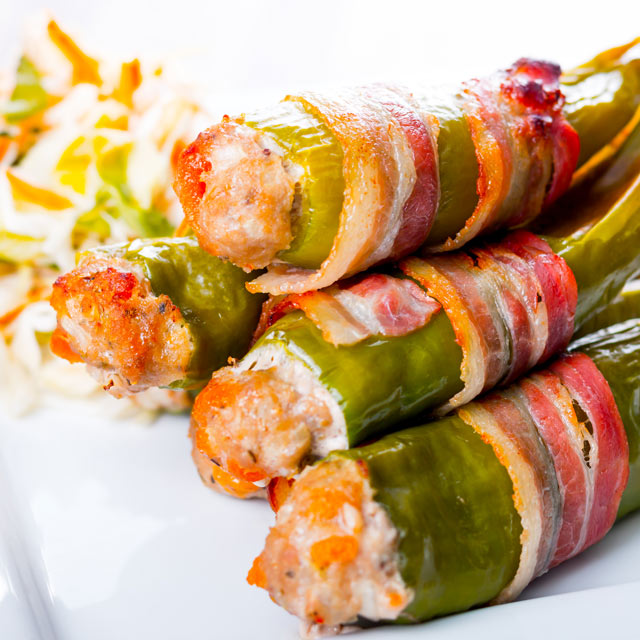 Porky Stuffed Green Peppers Wrapped In Bacon
Total Time:
1 hour
5 minutes
Stuffed green peppers wrapped in bacon packed with porky goodness with hints of dried apricot and a generous helping of fresh cayenne pepper for heat.
Ingredients
6 Hungarian Hot Wax Peppers, 12-15cm in length: Subsitute for small banana peppers hot wax peppers are not available
6 Slices Smoked Streaky Bacon
250 g Pork Shoulder, Finely Ground
50 g Dried Apricots, Finely diced into 5mm cubes
1 Tsp Dried Thyme
75 g Onion, Diced as finely as you can
1 Tsp Sweet Paprika
1 Chili, I used cayenne, finely sliced, substitute with your favourite hot chili or omit if you don't like spicy food
1/2 Tsp Salt
Black Pepper, To taste
Instructions
Then mix together the pork, apricots, thyme, onion, paprika, cayenne pepper, salt & pepper in a bowl and allow to sit for half an hour to allow the flavours to mingle
Prepare your peppers by removing the tops and using a thin sharp knife to remove the ribs and seeds
Preheat your oven to 200°C
Press the stuffing mix into a piping bag and then pipe into the hollowed out peppers, I use a piping nozzle with a 1cm round hole at the bottom
Wrap the bacon around the top of the pepper trying to keep the tow ends of the bacon at the bottom as that will help it stay in place, if it does not work out that way then use cocktail sticks to hold in place
Roast in the pre-heated oven for 20-25 minutes and serve with a fresh side salad or chips or what ever you like 🙂
Notes
You could do this with bell peppers but the additional size of them will mean you will need to cook for longer and on a lower heat to ensure that the meat is cooked through.
Nutrition Information:
Yield:

2
Serving Size:

1
Amount Per Serving:
Calories:

941
Total Fat:

57g
Saturated Fat:

20g
Trans Fat:

0g
Unsaturated Fat:

30g
Cholesterol:

197mg
Sodium:

2672mg
Carbohydrates:

47g
Fiber:

7g
Sugar:

23g
Protein:

62g
Calorific details are provided by a third-party application and are to be used as indicative figures only.