Rabbit is a much underused meat, delicate and lean it makes a perfect and simple sauce in this pot roast rabbit pasta recipe.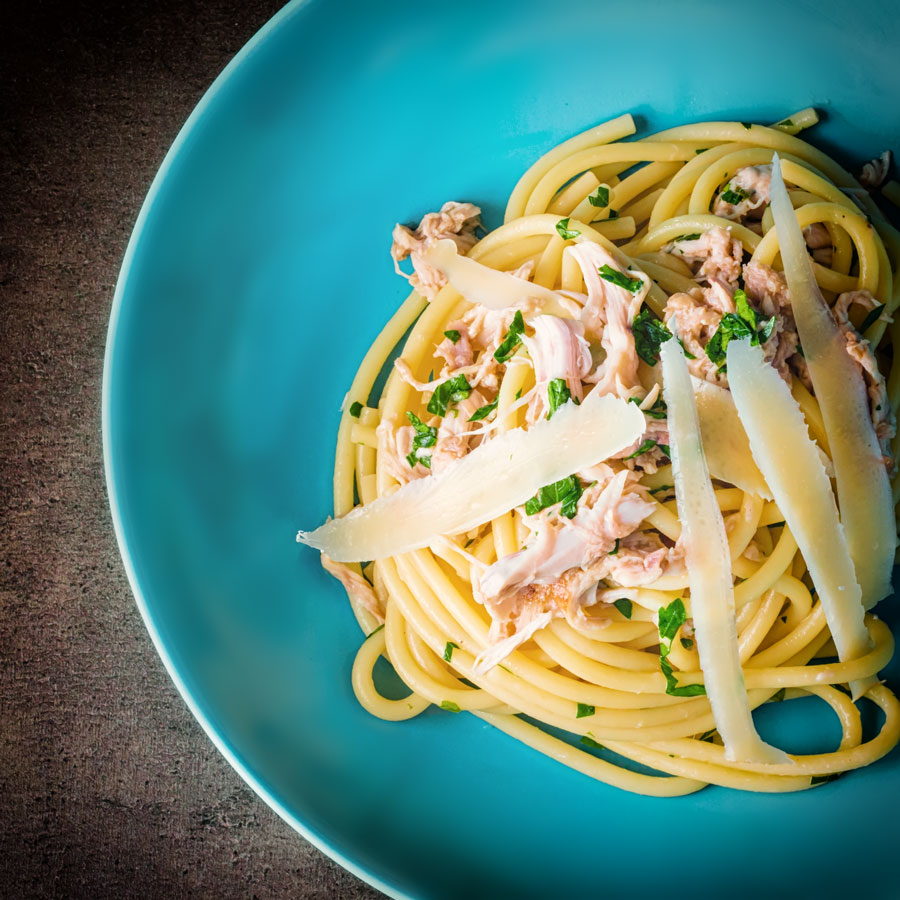 Simple Pot Roast Rabbit Pasta.
This pot roast rabbit pasta is the fifth rabbit recipe I have here on Krumpli and if any of them will convert you to a rabbit lover it is this one.
You will not believe the clean but magical flavours that just scream out of this most unassuming of dishes.
Despite being subtle, careful cooking can release loads of flavour from rabbit, another example of this is in these braised rabbit legs.
Sure it does not look all "whizz-bang" but by holy crap has it got game. See what I did there?
This recipe reminds me in many ways of my poached chicken breast recipe. It relies on simple flavours and cooking techniques to deliver big flavours.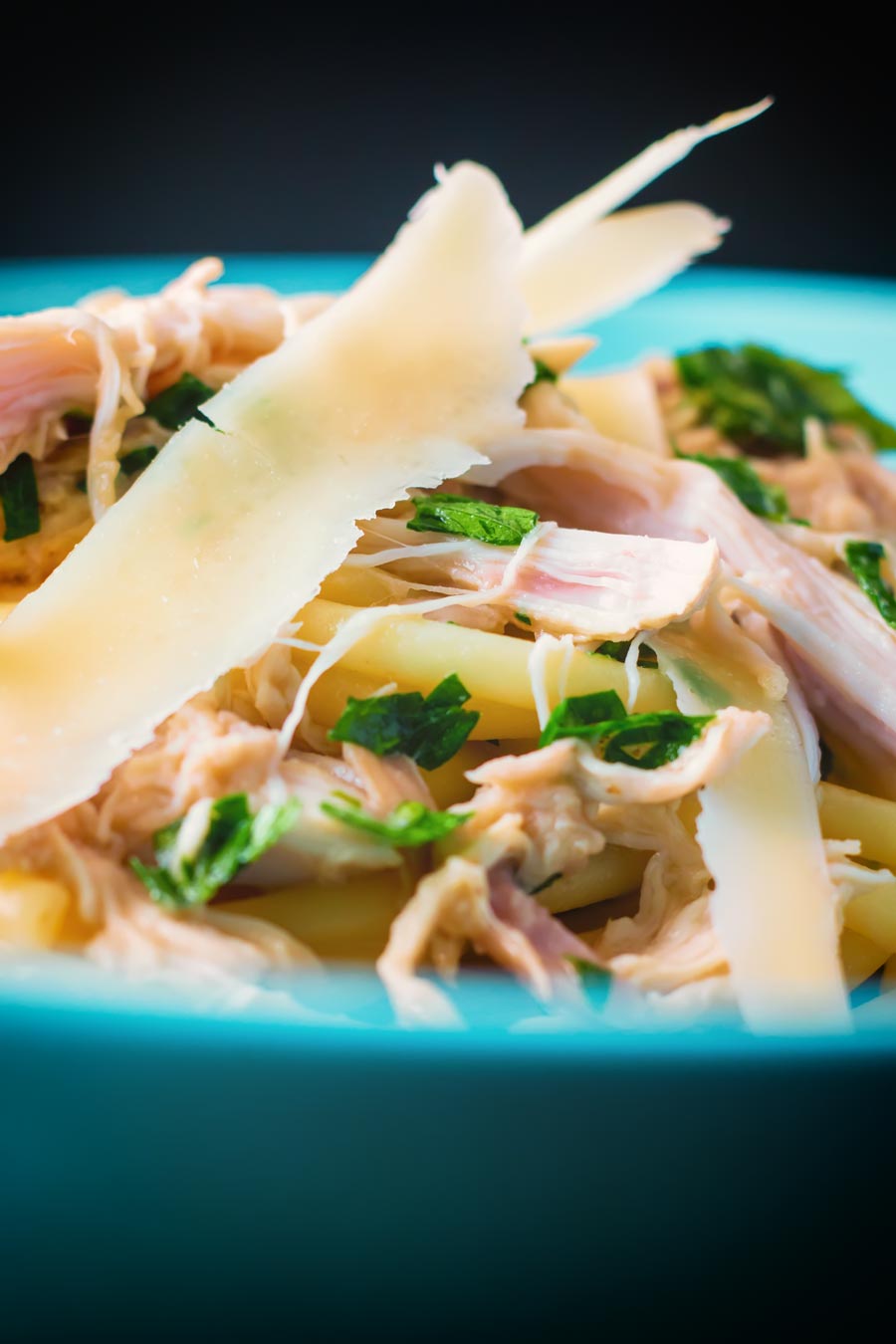 Other Rabbit Recipes.
Unlike my previous rabbit recipes, this pot roast rabbit pasta recipe is stripped right back.
It relies almost entirely on the rabbit cooked on the bone to form a pseudo stock with the base vegetables.
This stock is then reduced to form a dressing for the pasta. This is because rabbit has a subtle flavour so you need to be very careful with adding bolder flavours.
That, of course, does not mean that it cannot be done!
I cook a very traditional Paella recipe on the BBQ that combines both rabbit and chicken. Despite the big flavours of smoked paprika, you can most definitely taste the difference between the chicken and rabbit!
I even make a rabbit tagine loaded with glorious middle eastern flavours. The key is scaling them back to take note of the much more 'subtle' flavour of rabbit.
Of course, simple works just as well to as in this tomato based rabbit ragu and of course the very British rabbit stew!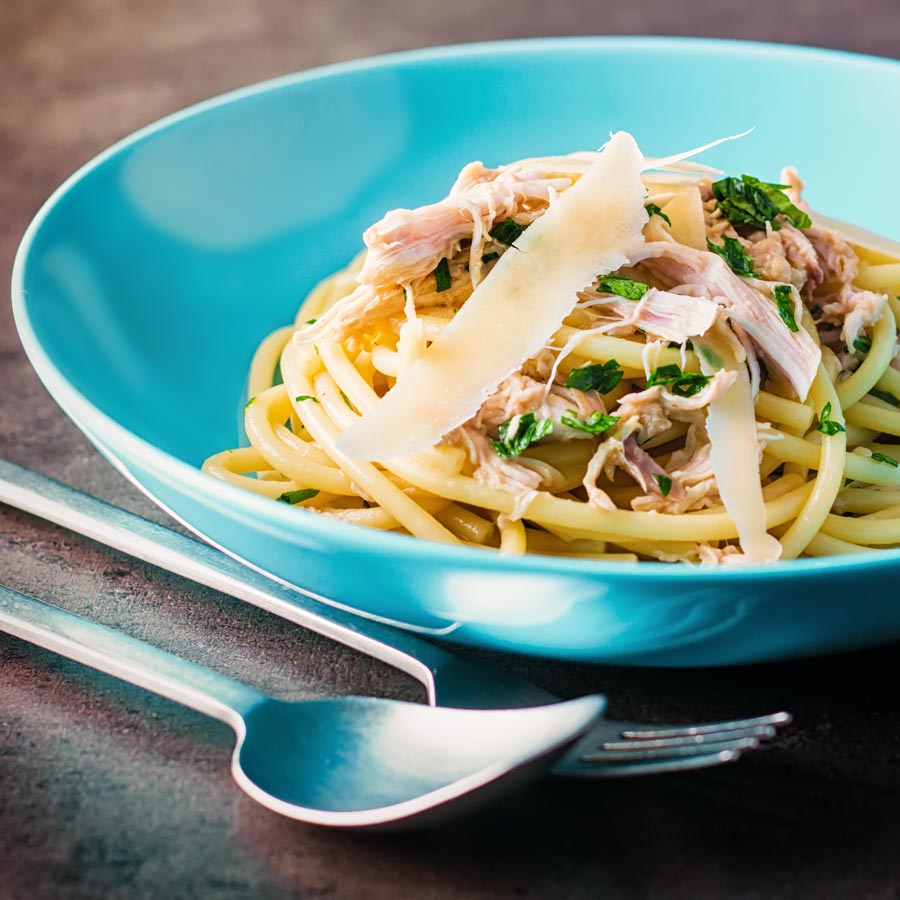 What Does Rabbit Taste Like?
I'm sure lots of you will wonder what rabbit tastes like.
Well, the answer is rabbit! Or a lightly flavoured 'hare', it is subtle and not at all like chicken.
I think most people say that white meat tastes like chicken because modern chicken practically has no flavour.
It has been bread out in favour of size and bulk, it is then easy to associate that 'void' with practically anything else.
Rabbit on the other hand particularly wild rabbit has that flavour that only exists when animals use their muscles.
I'm sure there are some uncomfortable with this idea of me associating meat with real world animals, but it is where it comes from.
This rabbit pasta was once a Brussel sprout stealing fur baby… I say that as the bastards have destroyed our sprout crop three years on the bounce now.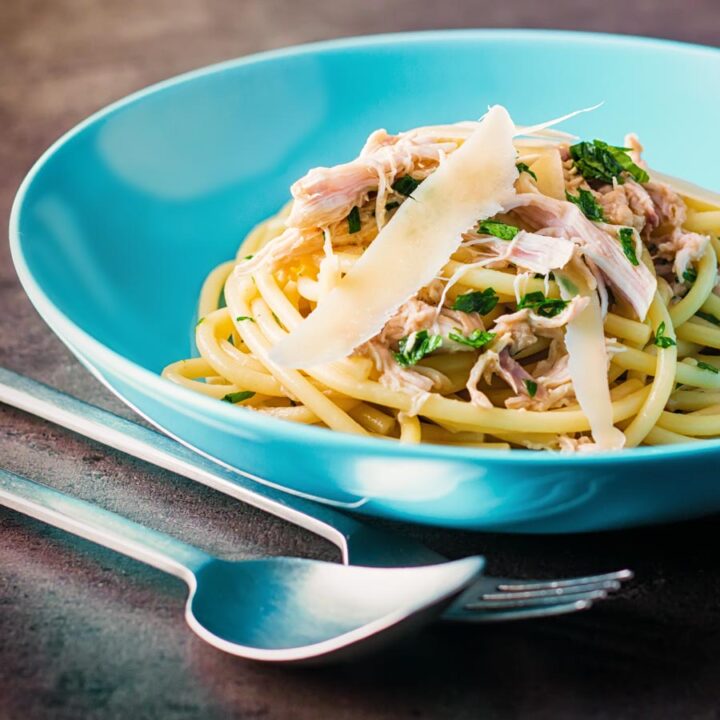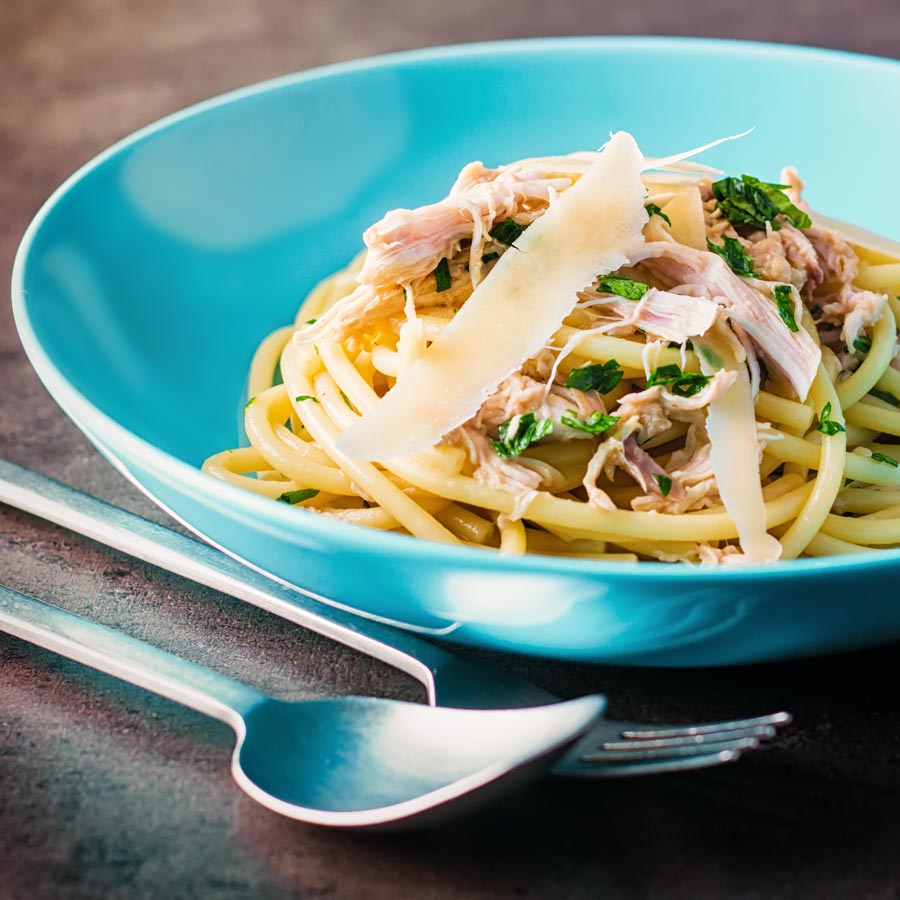 Yield:

2 Servings
Pot Roast Rabbit Pasta
Cook Time:
4 hours
20 minutes
Total Time:
4 hours
30 minutes
Rabbit is a much underused meat, delicate and lean it makes a perfect and simple sauce in this pot roast rabbit pasta recipe.
Ingredients
1 Onion, Roughly chopped
1 Stick Celery, Roughly chopped
1 Carrot, Roughly chopped
2 Cloves Garlic, Bashed with the side of a knife and peeled
2 Tbsp Olive Oil
600g Rabbit, If you can get it jointed then that is great
500 ml White Wine, Something dry
2 Sprigs Fresh Thyme, Or 1/2 Tsp dried thyme
2 Sprigs Fresh Rosemary, Or 1/2 Tsp dried Rosemary
1/4 Tsp Salt
1 Lemon, Zest only cut large using a vegetable peeler
25 g Butter
1 Handful Parsley, Roughly chopped
200 g Bucatini Pasta, Use anything long, I like bucatini as the holes in the middle work really well with thin sauce
Parmesan Shavings, To serve
Instructions
Place a roasting tray in the oven half filled with water and heat to 100°C.
Heat a pan over a medium heat and add the olive oil.
Add in the onion, celery, carrot and garlic and allow to cook gently for 20 minutes stirring occasionally.
Turn up the heat to high and add in the rabbit searing it on all sides seasoning with the salt.
Pour in the white wine and reduce the heat to low.
Throw in the lemon zest, thyme and rosemary.
Now wet a piece of baking parchment that you have cut into a circle roughly the size of your pan.
Cover the meat and vegetables with the baking parchment and add a lid then place in the oven in the roasting tray and roast for four hours.
After four hours fish out the rabbit and set aside and strain the solids from the cooking liquid and then reduce the cooking liquid by two thirds.
Cook your pasta as per the instructions on the packet.
Whist the liquid is reducing shred the rabbit meat and discard the bones.
Remove the sauce from the heat and whisk in the butter and then add the shredded rabbit meat and the parsley.
When you pasta is served fold it through the sauce and serve with some Parmesan shavings.
Nutrition Information:
Yield:
2
Serving Size:
1
Amount Per Serving:
Calories:

1249
Total Fat:

50g
Saturated Fat:

16g
Trans Fat:

0g
Unsaturated Fat:

27g
Cholesterol:

285mg
Sodium:

545mg
Carbohydrates:

52g
Fiber:

6g
Sugar:

8g
Protein:

100g