I adore this easy pineapple salsa, every time I have a fresh pineapple I make some, it is so stupidly simple and really versatile!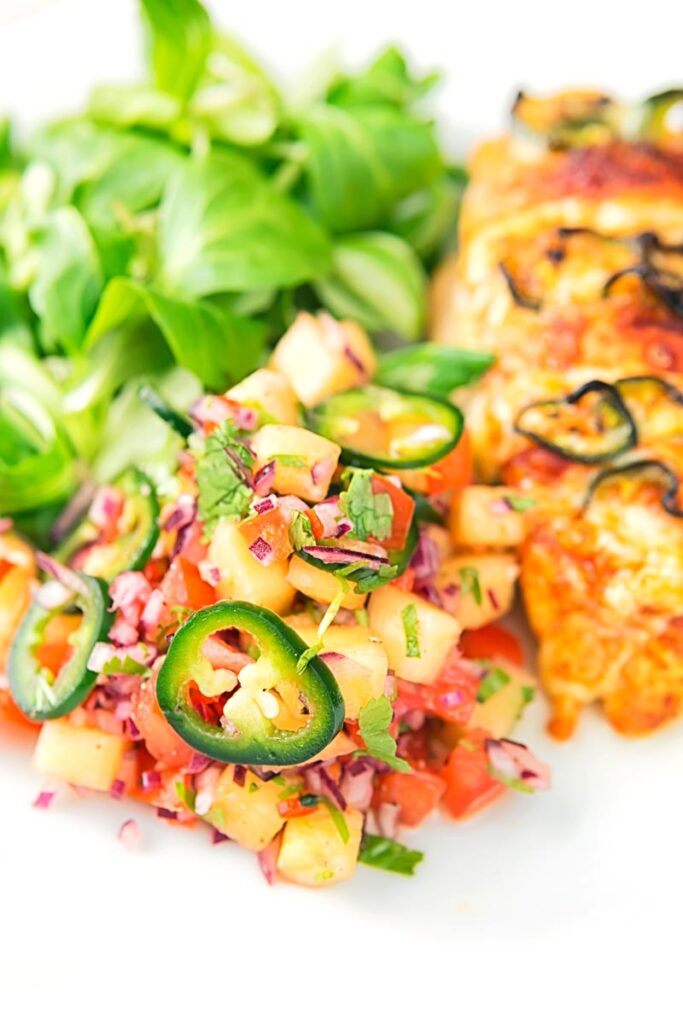 Salsa Is More than a Dip!
I think there is a common association between salsa recipes and chips. Of course, this recipe tastes great with tacos but it tastes so much better as part of a meal.
I have served it with everything from simply cooked pork chops through to my cheese and chilli stuffed chicken breast.
It is also pure genius with a gammon steak if you are lucky enough to be able to get it!
This is exactly the same thought process I use with my minted pea salsa.
It has a naturally fresh sweet and sour flavour that is perfect with meat.
I have also used it as a table filler at most BBQ's I have had this summer and people go crazy for it.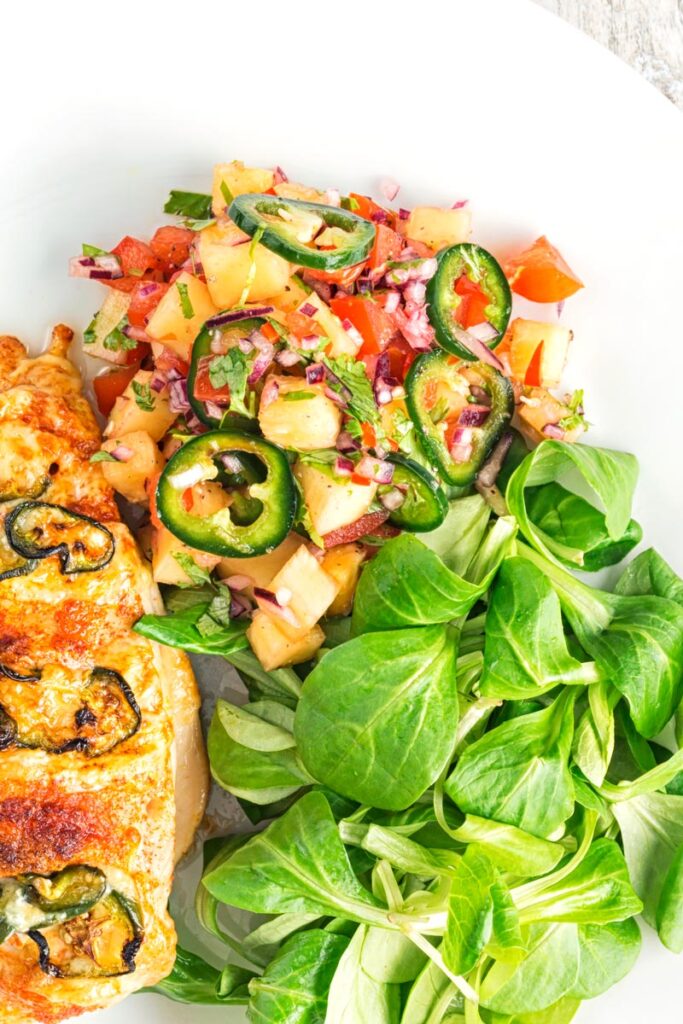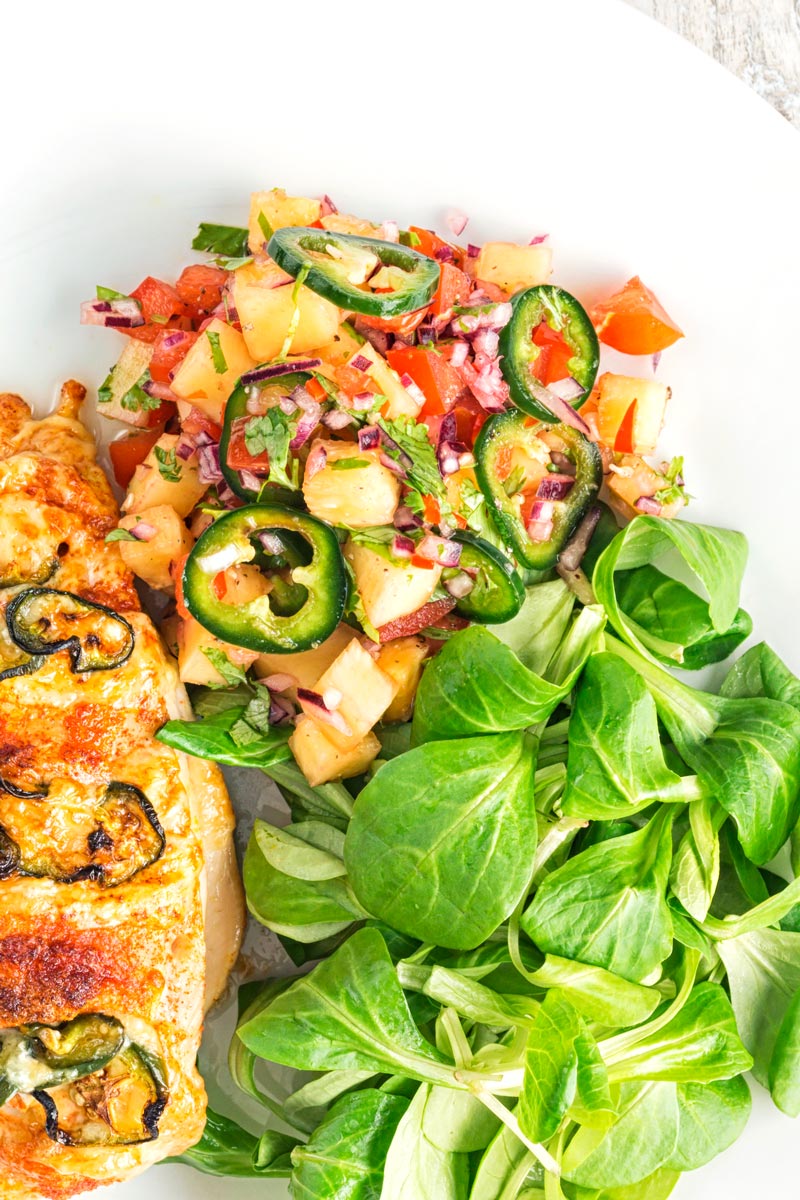 How Long Will This Pineapple Salsa Store?
I personally think that this pineapple salsa is best made fresh, I do not think that it is a recipe that benefits with age, which is definitely the case with some salsa recipes.
However, it will store for 3-4 days in an airtight container in the fridge.
But if you want to make your this in advance there are a few steps to take to ensure it is at its best.
First of all, do not season with salt until you are ready to serve. Salt is will draw out liquid, that is not a good thing in this recipe.
Secondly you want to ensure that the coriander is fresh, otherwise, it has no flavour. So again add this just before you serve.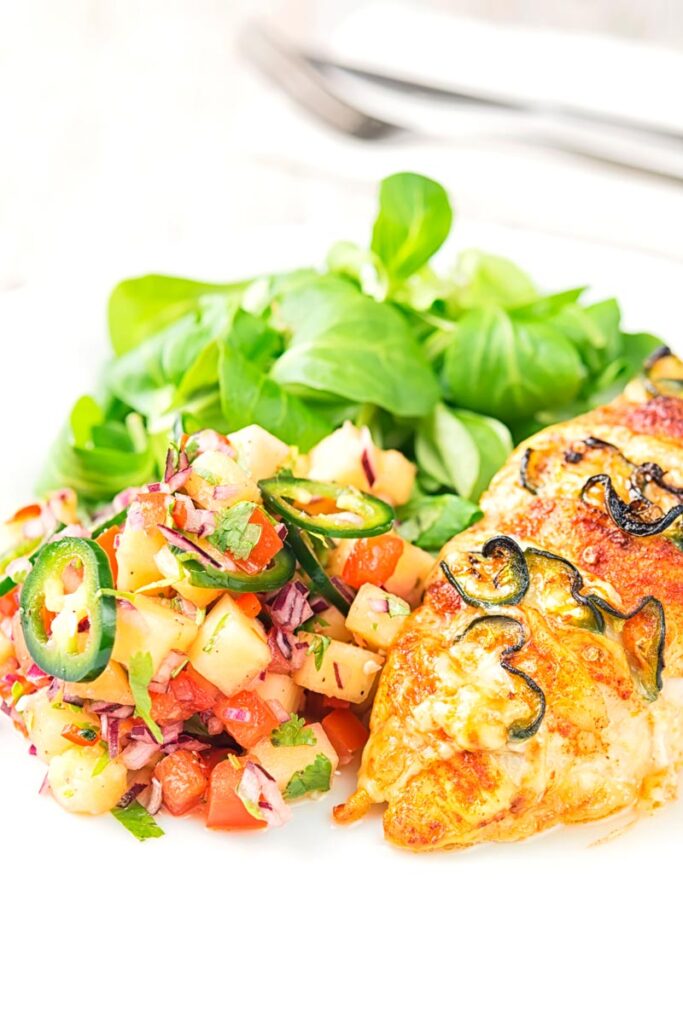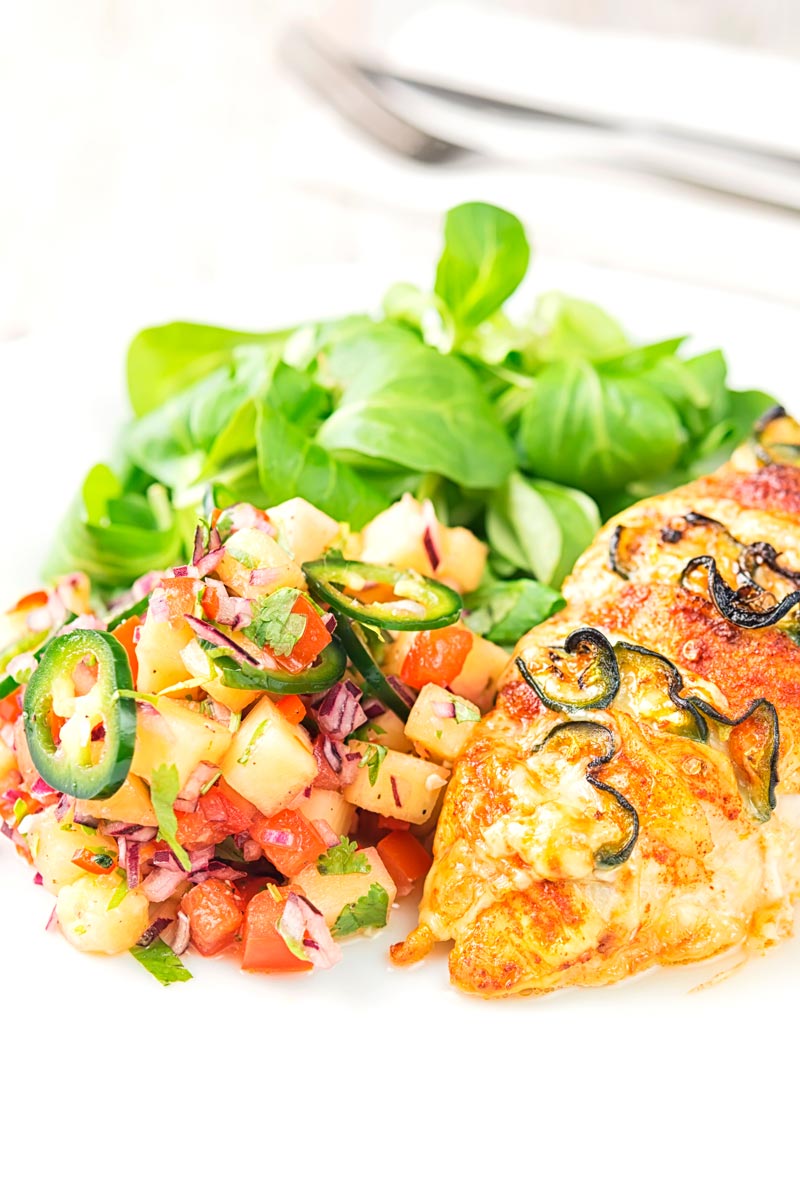 Recipe Hints and Tips.
On a scale of 1-10 in terms of complexity, this recipe hits a solid 2!
You don't even need to go near the cooker, you do however need to cut a pineapple. And please, please use fresh pineapple and not canned if you can.
If you must use canned then try and find something in natural juices and not syrup
Cutting a pineapple can seem intimidating but it is not difficult once you know how.
Start by cutting off the top and bottom with a serrated knife, then cut off the skin using the same knife.
The easiest way to do this is place it on the cut base, then work down the side following the natural curve.
You will be left with a nekid pineapple full of black "pockmarks" or eyes.
These form a spiral pattern. Take a sharp non serrated kitchen knife and cut "V shaped" channels at 45 degrees to the barrel of the pineapple following this spiral pattern.
This will leave you with a fully prepared pineapple with a "screw" pattern that is ready to go.
It will store wrapped in the fridge for 4-5 days and if you have leftover pineapple, don't worry.
You can use it in everything from sweet and sour chicken to BBQ pineapple chicken kebabs and even this Thai duck curry.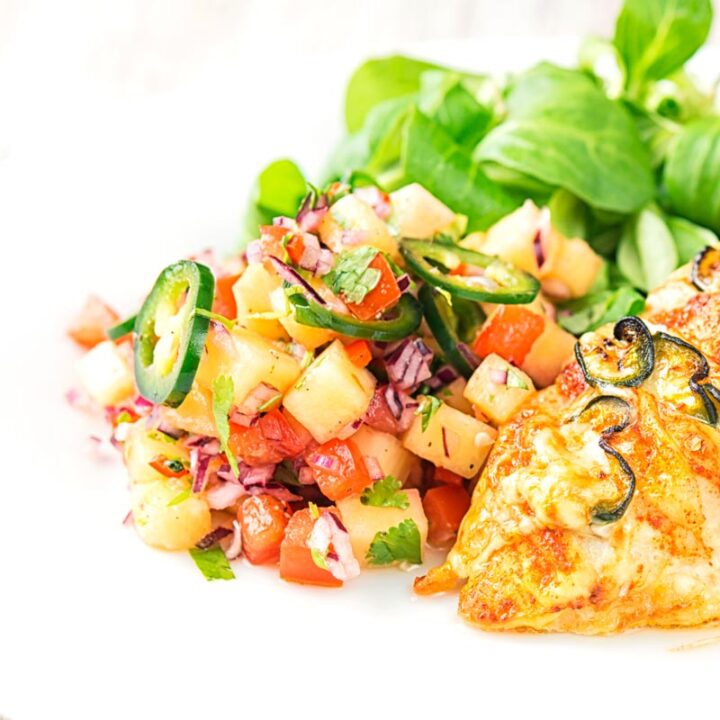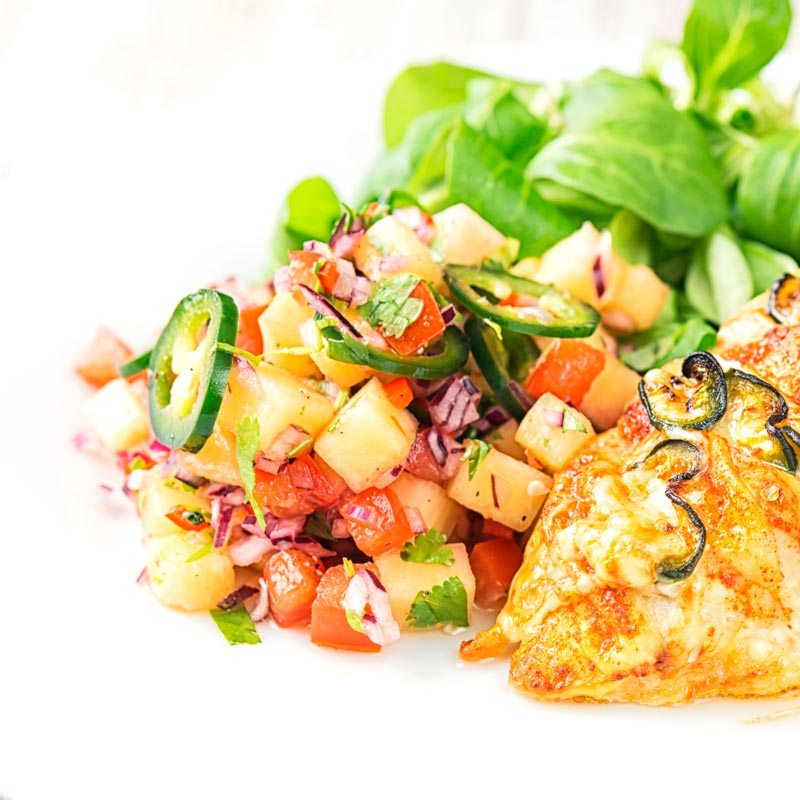 Yield:

2 Servings
Quick Pineapple Salsa Recipe
This simple pineapple salsa is a perfect side dish to serve alongside chicken or pork, it takes 5 minutes of work and 10 minutes of patience... If you can wait!
Ingredients
150 g Pineapple
75 g Tomato
1 MIld Red Chili Pepper
1 Jalapeno Chilli Pepper
10 g Coriander
1 Lime
Salt and Pepper to taste.
Instructions
Peel and dice the pineapple into a 5mm dice, the weight quoted in the recipe is the prepared weight.
Cut the tomato into wedges and then into a 4-5mm dice, again the required weight is the prepared weight.
Finely dice the chilli pepper and slice the jalapeno chilli.
Finely chop the coriander.
Mix the pineapple, tomato, chilli pepper, red onion and coriander in a bowl gently.
Add the Jalapeno slices.
Zest and juice the lime and then add this to the mix, season with salt and pepper to your taste and set aside for 10 minutes before serving.
Nutrition Information:
Yield:
2
Serving Size:
1
Amount Per Serving:
Calories:

79
Total Fat:

1g
Saturated Fat:

0g
Trans Fat:

0g
Unsaturated Fat:

1g
Cholesterol:

0mg
Sodium:

155mg
Carbohydrates:

20g
Fiber:

5g
Sugar:

10g
Protein:

2g
Calorific details are provided by a third-party application and are to be used as indicative figures only.