This time of year is an exciting one for me, hell I love the change of all the seasons, it is an opportunity to eat something new, play with new ingredients and ideas and freshen things up a little. This is a little collection of recipes for spring I have been hiding away all winter with a view to livening up my diet in the coming weeks. Whilst our asparagus is still only 1cm tall and having only cropped radish and sorrel so far I am looking forward to a barnstorming year of spring and summer produce.
As far as I am concerned when it comes to recipes for Spring then risotto is there all the way, in fact risotto is there all year round for me but this delightful turn from Hillary sounds awesome and as soon as our asparagus which is currently about 1cm tall reaches maturity I will be putting my own spin on this recipe. Maybe with the addition of some freshly picked garden peas, so very excited!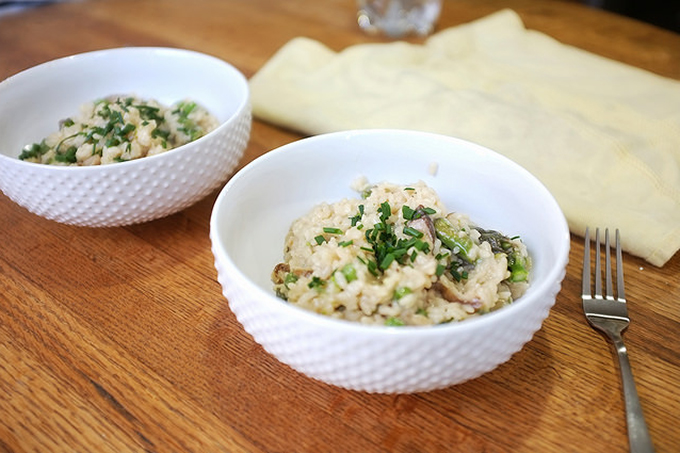 Strawberries are one of our major crops and late spring early summer is always the bulk of our harvest and I am constantly on the look out for new recipes to use them in. This classic shortcake recipe will definitely be made, at the assistance of my wife, she loves shortcake and this recipes osunds wonderfully simple to follow and the texture looks pretty much spot on perfect!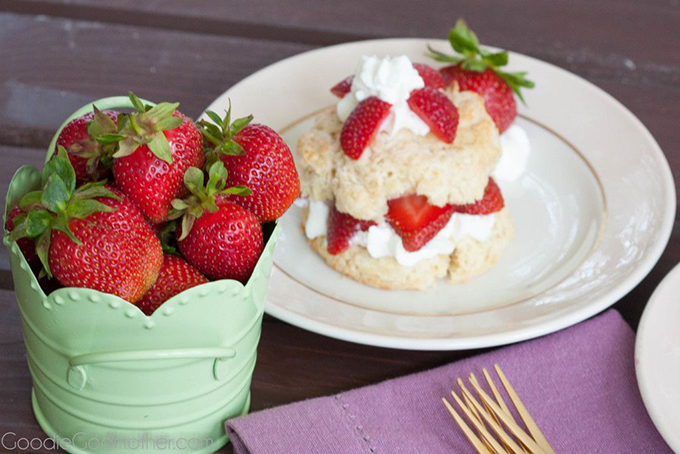 So I am a beer kinda dude, usually give me a cold Pilsner any day of the week and I am a happy chap, however in recent years my wife and I have been playing with new drink ideas when we have finished working in the garden for the day. This fabulous sounding recipe from Jennifer sounbds superb, white wine, vodka, raspberries and possibly no dinner made afterwards, I can see this drink being a bit of a favourite this summer, particularly as we are hoping to harvest our own raspberries for the first time this year.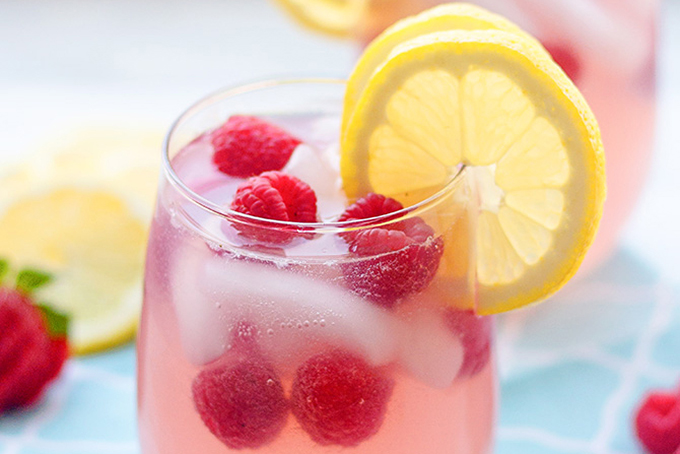 These treats sound like so much fun and the flavours epitomise the flavours of late spring here in Hungary, peaches and apricots are a huge crop locally, despite having no trees on our plot we are always gifted them by the bucket load. I have never looked for croissant rolls in stores here and not sure if it is a thing but I have made croissant dough by hand once, it is a chore but well worth it if this recipe is even half as good as it sounds!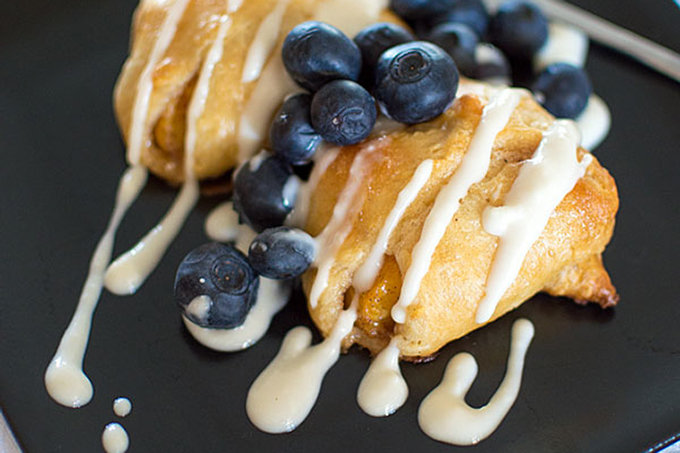 A homemade herby pasta is one of my go to spring/summer meals when our chickens and ducks are firing out eggs at a rate of knots. The sauce on this dish sounds like the essence of the hazy days of spring, lemons and Prosecco all bought together in creamy cheesy goodness.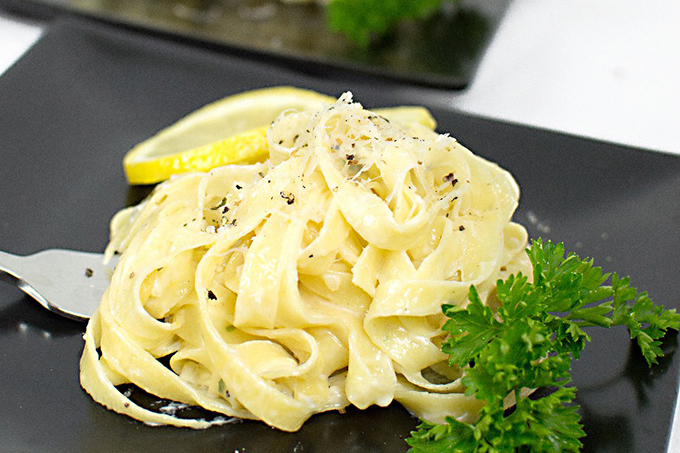 When it comes to the king of spring ingredients there is only one as far as I am concerned… Asparagus is number one to my mind and as our chickens and ducks begin firing on all cylinders come the arrival of spring then this wonderful sounding salad is perfect as far as I am concerned. The honey mustard and mayo enhanced by a great set of seasoning spices sounds unbelievably good!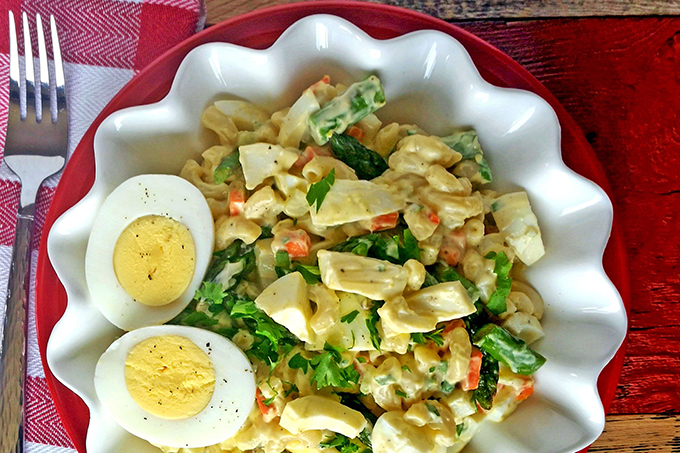 When I think about recipes for spring there are a few ingredients that spring to mind but Asparagus and Peas are pretty much the top of that list and we grow both in the garden. Add that to the evident fact that I adore Asian flavours and soup then this delightful recipe from Kathleen has me clapping my hands like a small child at Christmas. I do have t admit to being a little intimidated at making my own Wontons as I suffer from a serious case of 'fingers not being very delicate 'itis', however I really have to give it a go and I have already added Wonton wraps to my shopping list for our next trip to the big city.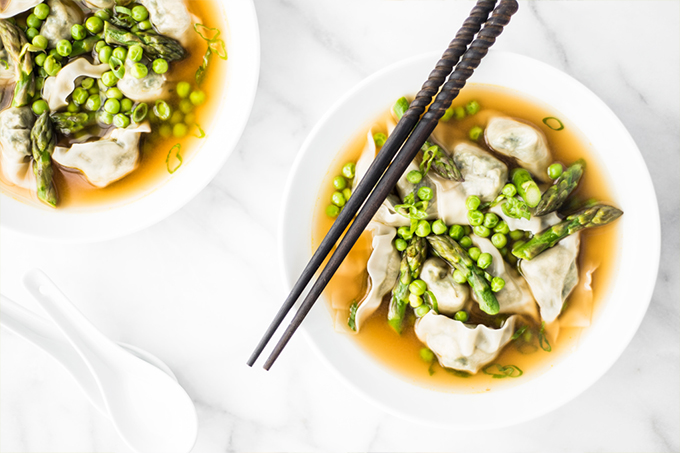 The third in the holy trinity of spring vegetables for me is radish, most people slice them and drop them into a salad but these little fellas have so much more to offer. Just like April I love roasting radishes it mellows out much of their 'punch' and leaves the most sublimely textured vegetable, they are stupidly easy and quick to grow too, in fact I have already collected my first harvest and have a recipe heading your way tomorrow. But seriously if you have not ever roasted radish, leave your pre-formed ideas at the door, pick up a bunch and stick them in the over, you will be very surprised!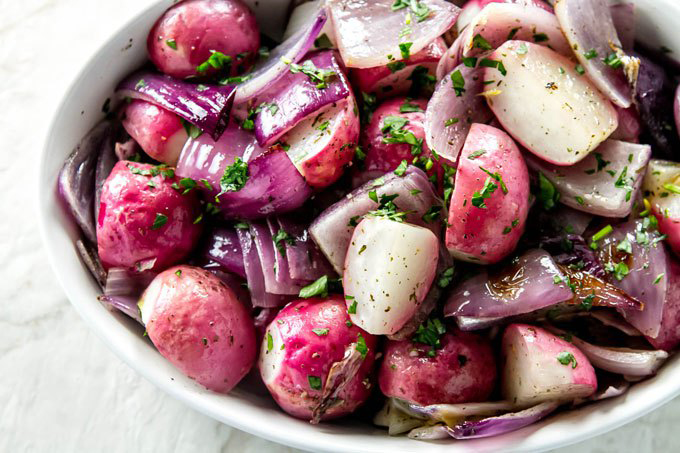 I make no apologies whatsoever about the amount of Asparagus recipes in this post, as far as I am concerned Asparagus is the King and Queen of spring vegetables! Just has Meggan has wonderfully demonstrated you need to really do very little with it, some salty cured pork product, in this case wonderful prosciutto ham some seasoning and BOOM, one of the tastiest things I can imagine. Sometimes less is so much more and this is something that I think everyone should make now… Ok, not now wait until you have visited the rest of the recipes first 😉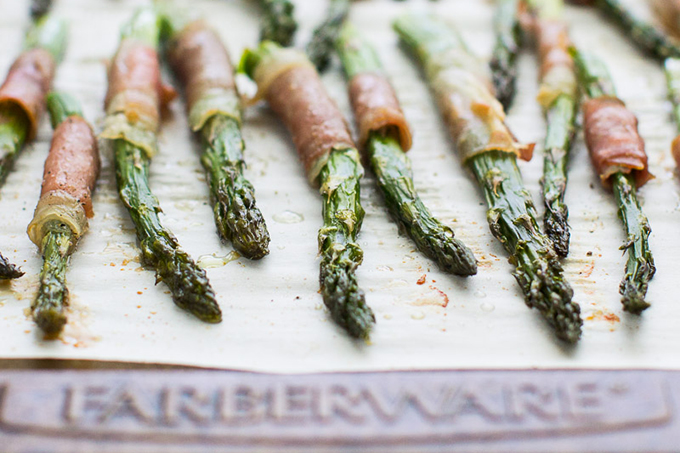 I love the look of this recipe, I have never cooked with black rice before and I am intrigued greatly, the sharp yet sweet lemony dressing sounds perfect along side the asparagus and I reckon if I wait until the end of spring I could pair them up with the sweetest little baby carrots.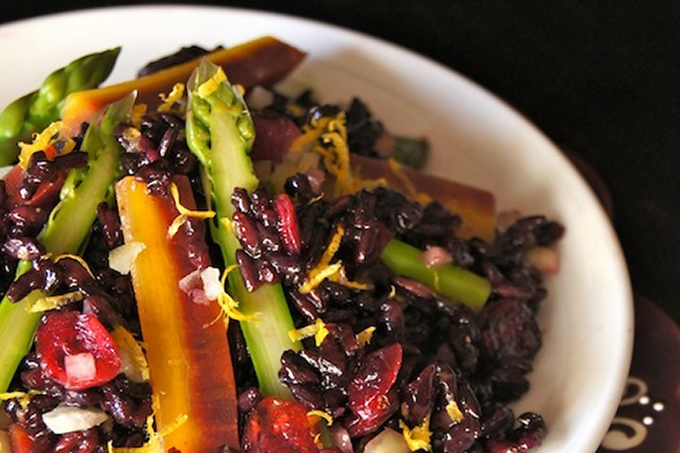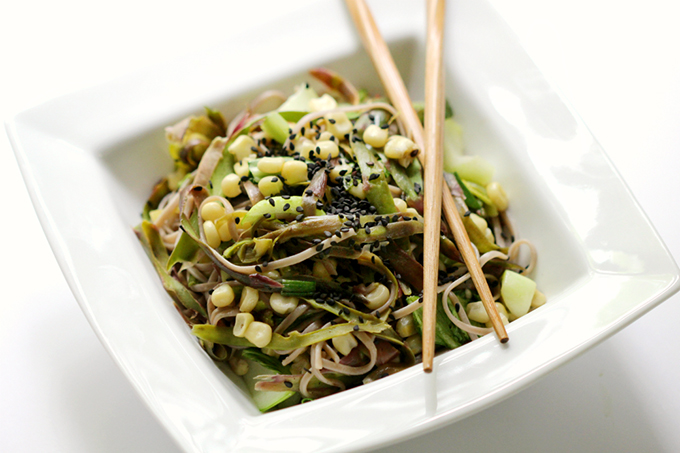 It is only apt that I round out this 'recipes for spring' round up with a dish that contains my favourite spring vegetable and some Asian flavours that you all know I am a little bit fond of. Now purple asparagus maybe beyond my reach, it took 5 years before my first harvest of green asparagus, but I am sure Rebecca will not mind me shaving up some of our home grown produce for this delicious sounding noodle dish. The Brown Rice Vinegar (Chinkiang) coupled with sesame oil, garlic and ginger already has my mouth watering, unfortunately it will not make my asparagus grow any quicker 🙁