Yes, I know it is not really a pie, but hey it is my rigatoni pasta pie… Rigatoni standing to attention with a balsamic tomato sauce, mozzarella and Parmesan and wilted spinach!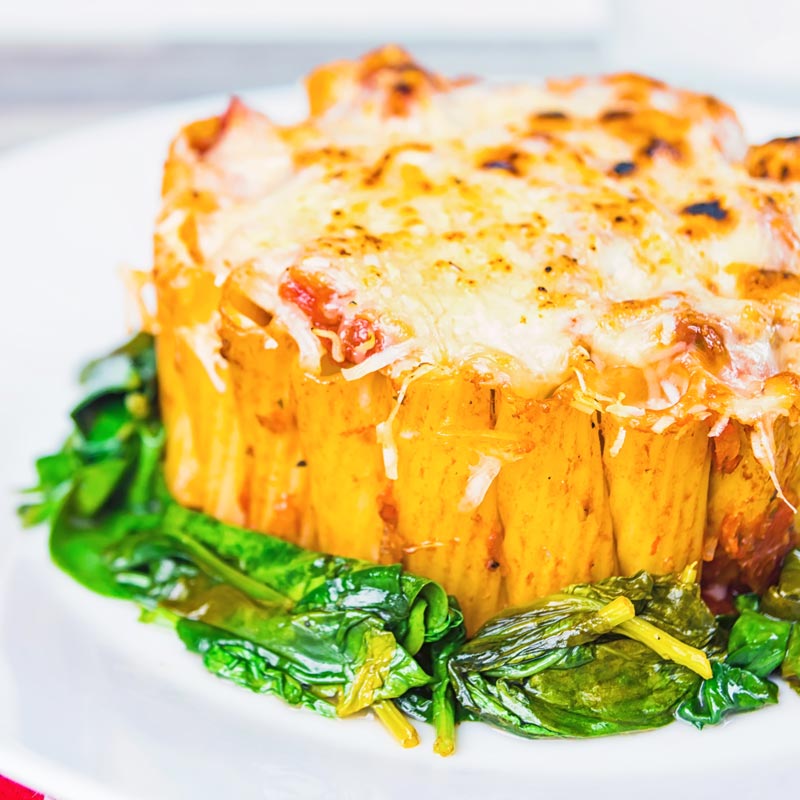 Rigatoni Pasta Pie.
Let it not be said that food life here on Krumpli is predictable! The dish that preceded this gloriously simple Pasta Pie was a rather polarising Liver and Onions recipe!
Apparently, as a food blogger, this is bad!
Why? Well apparently on should "niche" so that ones readers know what they are going to get.
Well, I don't like being a food blogger but I love cooking the food I love and sharing it with anyone who might like to cook it. In essence, I am a diverse and curious cook and eater and as a result, the recipes here on Krumpli reflect that.
This Rigatoni Pasta Pie is unsurprisingly inspired by the interweb of popular things. Like many, I have had my head turned by the idea of pasta pies!
Now they are not pies! They are a triumph of presentation over substance but they are also gloriously simple and a bit of fun.
In short, they are nothing more than a pasta bake and let's face it a pasta bake is always a good thing.
Pasta Pie For Two.
No matter how old you are there is just something magic about a pasta bake.
For some reason, I don't post many pasta bakes here on my site, but I love them.
They are a great way to use up food from the fridge or to chuck together at late notice. They also scale wonderfully, whether you are feeding 1 or 12, so long as you have a pot the right size you are good to go!
Most pasta bake recipes look like my much more traditional turkey meatball pasta bake.
This pasta pie is just presented with a little more 'flare'.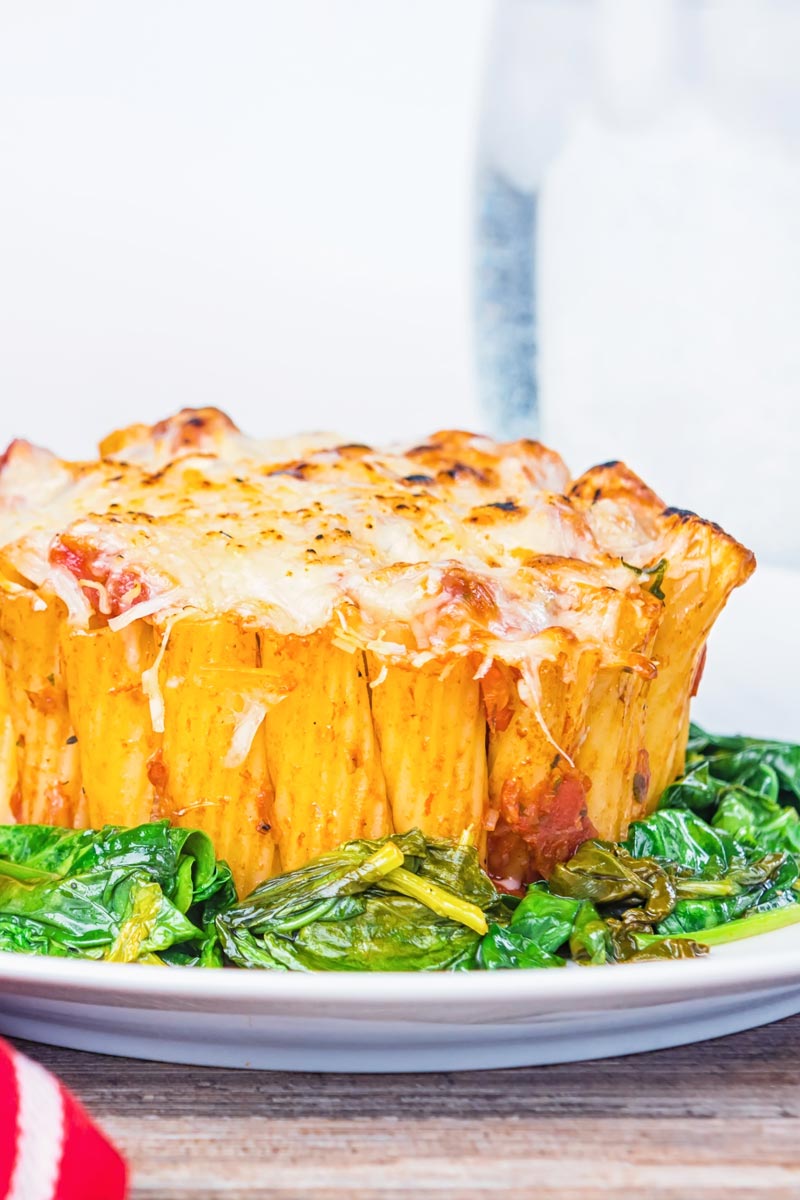 Pasta Pie For Two.
It would seem that most pasta pie recipes are designed for those with larger families. All of the recipes I could find were to feed an army.
My approach as ever is focussed on something much smaller and as a result, I broke out my 11cm springform tins.
I don't bake often but I find these smaller tins really useful for recipes like my individual picnic quiches. They are perfectly sized, for individual portions.
After that you can knock yourself out with flavours, I went with balsamic and tomato as they are classic and work well together.
The most important part is to ensure that you have cheese top and bottom to form your pie to make sure it holds together.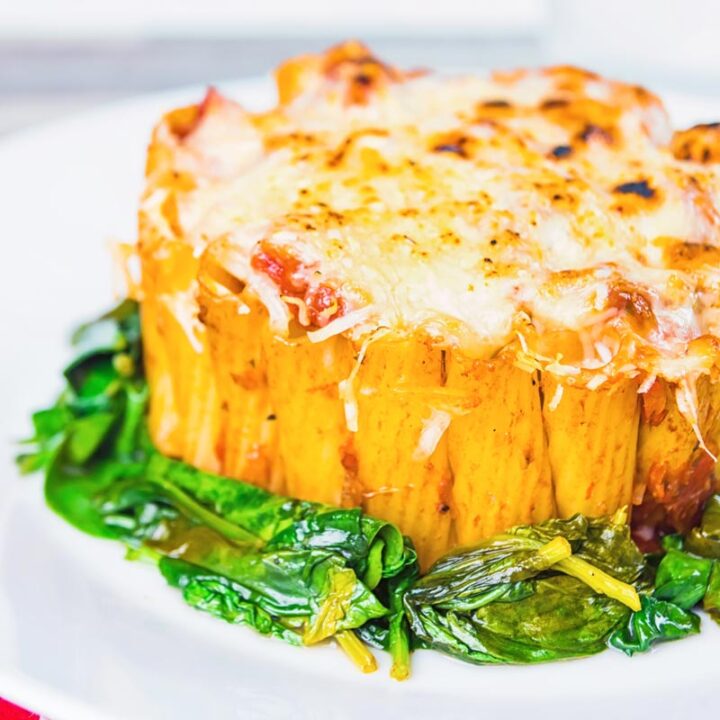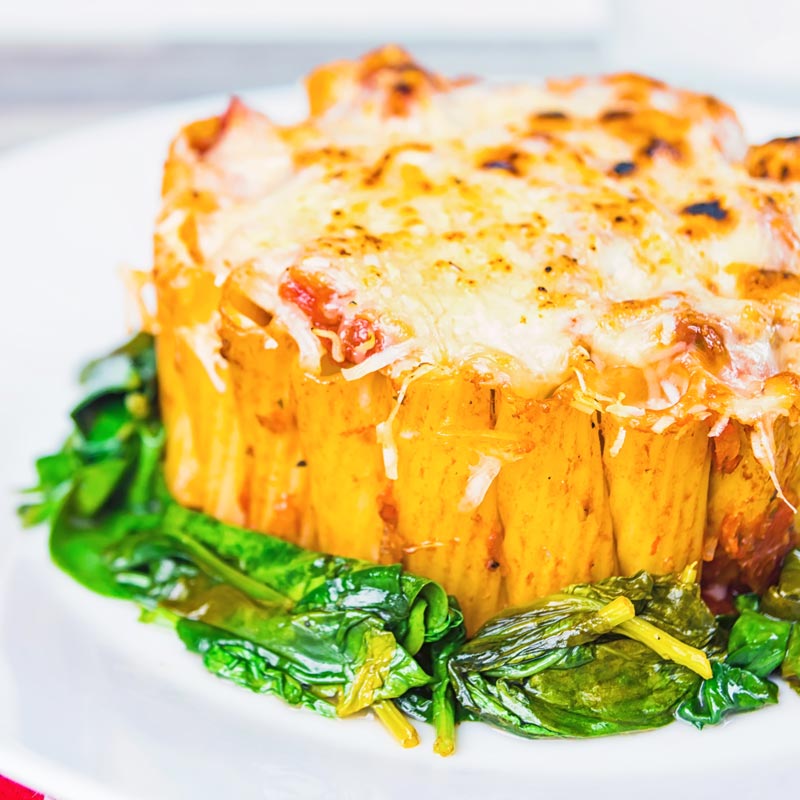 Yield:

2 Pies
Rigatoni Pasta Pie
Yes I know it is not really a pie, but hey it is my rigatoni pasta pie... Rigatoni standing to attention with a balsamic tomato sauce, mozzarella and Parmesan and wilted spinach!
Ingredients
220 g Pasta
50 g Shallot
2 Cloves Garlic
1 Tsp Olive Oil
200 g Canned Tomato
1 Tsp Balsamic Vinegar
1/2 Tsp Dried Oregano
100 g Mozzarella Cheese
35 g Parmesan Cheese
50 g Butter
100 g Spinach
1 Tbsp Red Wine Vinegar
Instructions
Finely dice the shallot and garlic.
Heat the oil in a pan over a medium heat and when warm add in the shallot and cook for 5 minutes without colouring the onions.
Add in the garlic and cook for a further 60 seconds.
Increase the heat to medium high and add the balsamic vinegar and reduce until almost dry.
Pour in the tomatoes and sprinkle over the oregano then season with salt and pepper to taste before reducing the heat and cooking for 8-10 minutes whilst you cook the pasta.
Cook your pasta in salted boiling water for 60-90 seconds less than it says on the packet.
Use oil or baking spray to line your spring form tins and then place a tablespoon of the tomato mix in the base of each tin.
Add 25 g of mozzarella cheese to each pan.
When your pasta is ready, transfer to the tomato sauce, mix and turn off the heat.
Now for the laborious job, take your rigatoni and stand it up in the spring form tins.
Take any tomato left in the bottom of the pan and spread over the top of the pasta, followed by the remaining mozzarella cheese and Parmesan cheese.
Bake in the oven at 180°C or 350°F for 15 minutes.
Whilst this is baking melt the butter in a pan.
Add the spinach and cook until wilted.
Just before serving add in the red wine vinegar to the spinach and stir.
Notes
You will need two 11-12cm springform tins to make this recipe.
Nutrition Information:
Yield:
2
Serving Size:
1
Amount Per Serving:
Calories:

651
Total Fat:

40g
Saturated Fat:

23g
Trans Fat:

1g
Unsaturated Fat:

14g
Cholesterol:

108mg
Sodium:

946mg
Carbohydrates:

49g
Fiber:

6g
Sugar:

6g
Protein:

26g