Simple Mediterranean flavours are front and centre of this glorious roast chicken legs recipe. These are served on a bed of polenta with capers and tomatoes.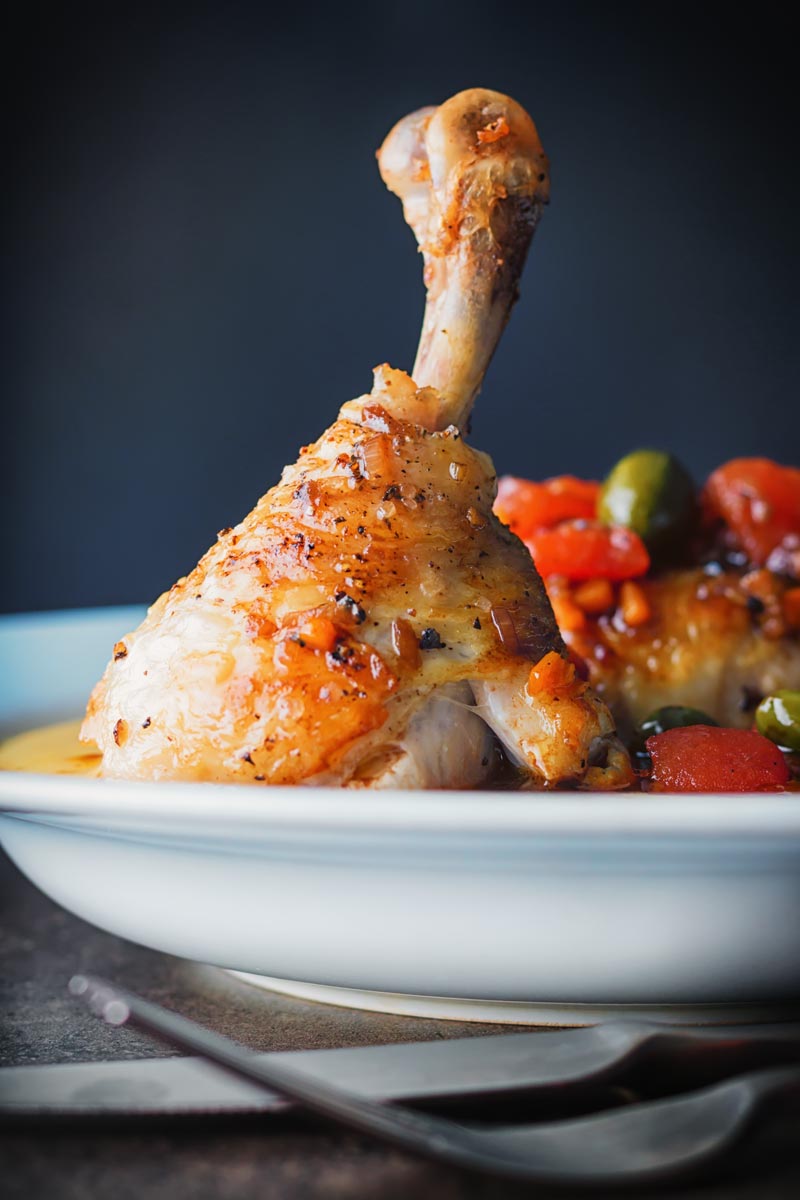 Roast Chicken Legs with Polenta, Tomato and Capers.
These wonderfully simple Roast Chicken Legs are served with tomatoes, capers and polenta.
Capers are a fantastic ingredient that I always have to hand, whether it be for dishes like this Veal Scallopini or these ricotta cheese gnocchi.
This recipe is all about great flavour combinations. They are put together in a simple way to make a really tasty and simple dish.
Yes you have to stand and stir the polenta but lets face it any chimp can stir. And as far as I am concerned a perfectly roasted chicken leg is about as tasty as it gets.
'Brown' chicken meat has so much more flavour than the 'white' meat and let's face it food is all about flavour!
All of the ingredients for this recipe are as cheap as chips and it is easily scaled up or down as you wish.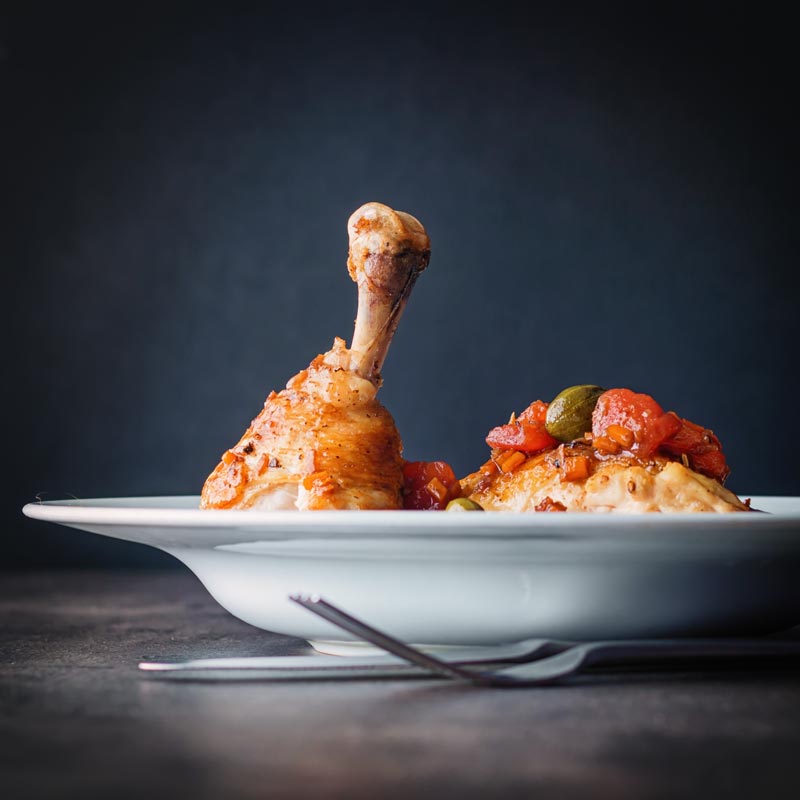 How to Roast Chicken Legs.
I'm about to break out a tip here, please note it is a tip, not a hack… Because there is no such thing as a 'kitchen hack' no matter what Facebook likes to tell you!
Anyway, buy a meat thermometer, seriously just buy one.
Because you will get perfectly cooked meat every single solitary time!
Roast chicken legs can and will take anywhere between 25 and 40 minutes depending on a host of variables.
Everything from the accuracy of your oven through to the size of the leg and the way it is cut to where you put the chicken in the oven will all play its part.
However, if you remove your chicken leg from the oven when the internal temperature of the meat is at 70°C.
Then rest it until it reaches 73°C (that's 158 °F and 164°F) it will be juicy, perfectly cooked and safe to eat every single time.
How to Prepare Chicken Legs.
I typically buy whole chickens and joint them because It is a fabulously frugal way of shopping!
I have a video for you that shows you the techniques I use, including removing the knuckle.
The chicken leg section begins at around 11 seconds if you want to scrub through.
I'll take off the legs and do something like this roasted chicken leg or even these Za'atar chicken legs.
Then either take off the wings and freeze them until I have enough to do some hot wings.
Then I'll take the breasts and then maybe stuff them or make roast them off and serve with petis pois a la Francaise, and even then I ain't finished.
I will take the carcass roast it off, turn it into stock and make ramen. Seriously 1 chicken, will make at least 3 meals for 2 and that is without trying, I could easily stretch that to 5!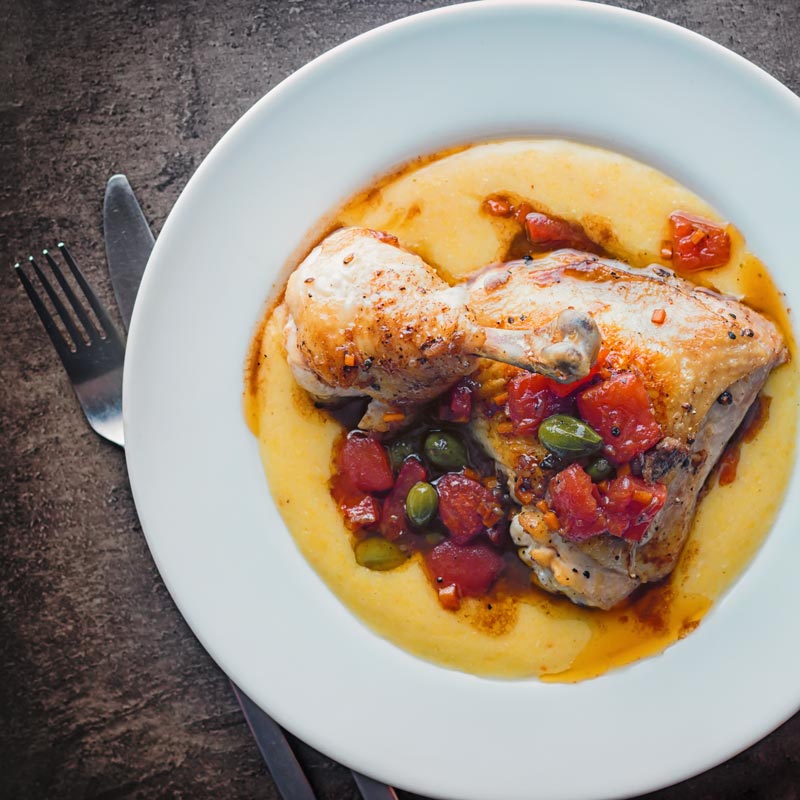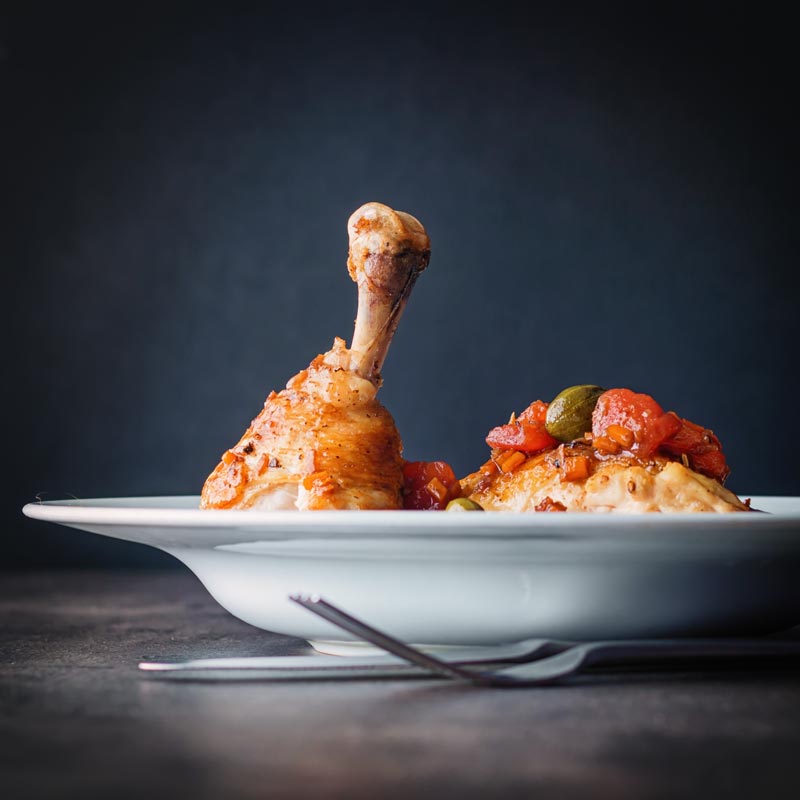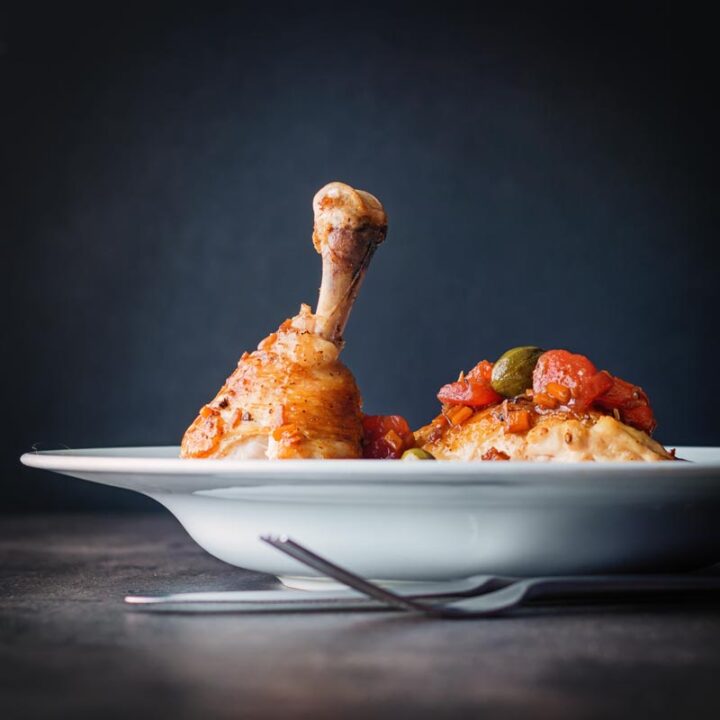 Roasted Chicken Leg with Tomato Capers and Polenta
Simple Mediterranean flavours are front and centre of this glorious roast chicken legs recipe which is served over a bed of polenta.
Ingredients
50 g Shallot
50 g Carrot
25 g Celery
400 g Tomato
2 Chicken Legs
2 Tbsp Olive Oil
2 Tbsp Balsamic Vinegar
50g Capers
500 ml Chicken Stock
75 g Polenta
35 g Parmesan Cheese
25 g Butter
Salt
Pepper
Instructions
Heat your oven to 200°C.
Finely dice the shallot, celery and carrot
Bring some water to the boil, cut a cross in the base of the tomatoes and plunge them in for 30 seconds.
Refresh on cold water and you should now be able to peel the tomatoes and remove the seeds, cutting into 1cm cubes. This should leave around 175-225g of tomato cubes.
Heat a pan over a medium heat and when hot add the olive oil.
Season the chicken with salt and pepper and brown in the oil.
Remove the chicken and now add the shallot, celery and carrot cooking for 2-3 minutes to soften.
Add the balsamic vinegar and tomatoes and stir.
Nestle the chicken among the rest of the ingredients and sprinkle over the capers and transfer to the oven for 40 minutes.
Bring the chicken stock to the boil and slowly pour in the polenta and return to an 'almost boil'.
Now turn down the heat under the polenta to low and cook stirring every couple of minutes for 40 minutes. Grab a glass of wine and some music you will be fine!
Stir in the butter and Parmesan cheese and check the polenta for seasoning before serving.
Notes
Blitzing down some of the tomatoes and vegetables with the cooking juices makes a glorious sauce if you want one.
I like to separate my chicken leg into thigh and drumstick, in the main it is for 'presentation' purposes and is not essential, although it does help with the practicalities of eating too!
Nutrition Information:
Yield:

2
Serving Size:

1
Amount Per Serving:
Calories:

967
Total Fat:

57g
Saturated Fat:

19g
Trans Fat:

1g
Unsaturated Fat:

33g
Cholesterol:

382mg
Sodium:

2047mg
Carbohydrates:

34g
Fiber:

6g
Sugar:

15g
Protein:

78g
Calorific details are provided by a third-party application and are to be used as indicative figures only.