These balsamic chicken legs are simply roasted in the oven with caperberries, tomatoes and a few roots to create a perfect midweek munch.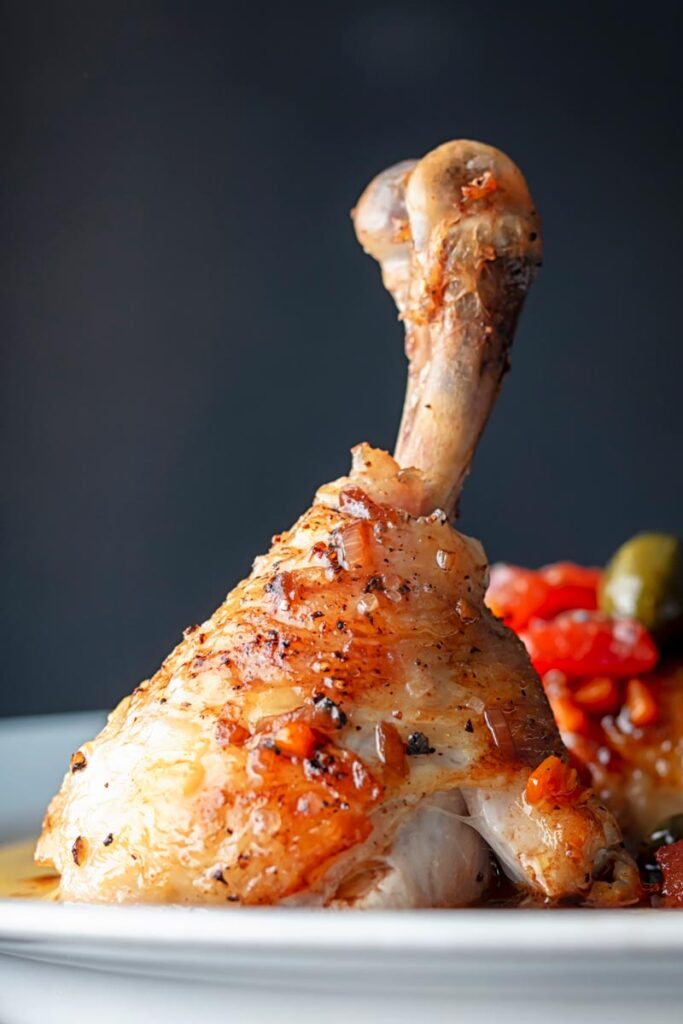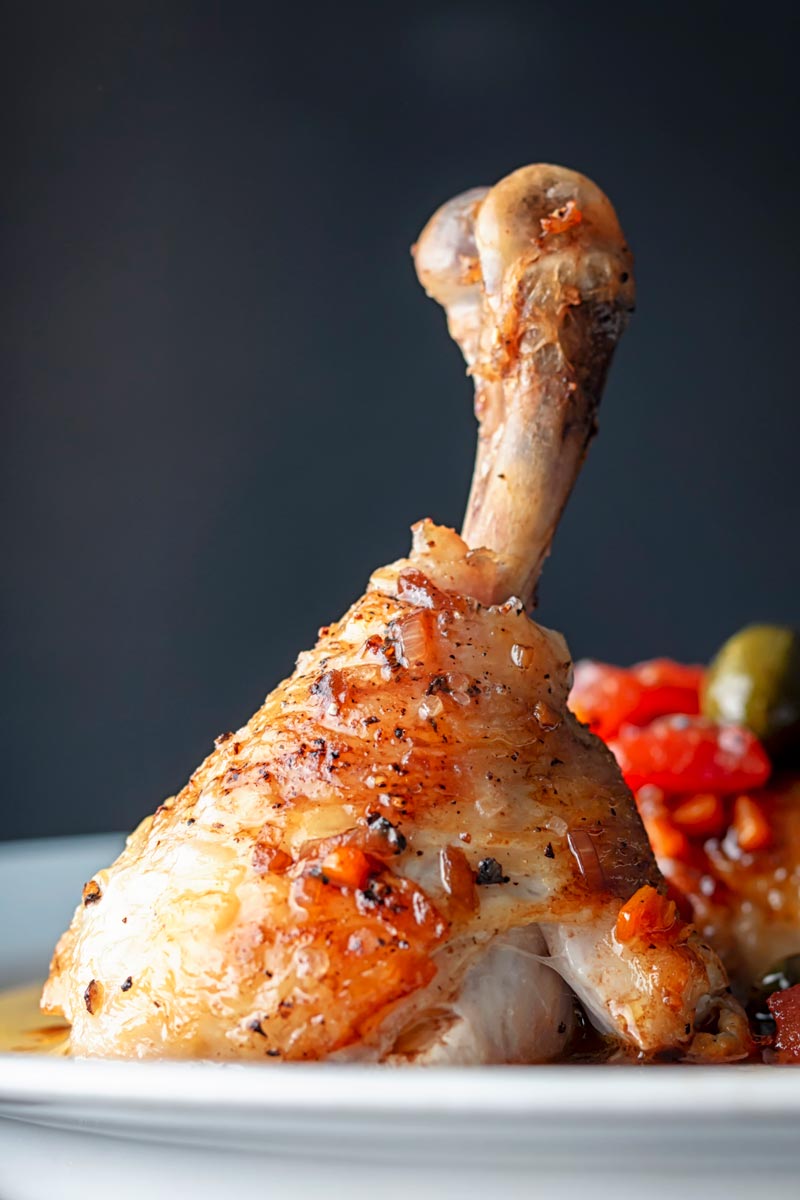 Roasted Chicken Legs and Stuff!
This is the sort of recipe that really takes me back to when I was learning how to cook.
I would buy whatever ingredients were cheap, chicken legs were such a favourite.
Then I would come up with flavours and ideas that worked together based on what was in the cupboard.
This recipe is just that, stock vegetables and a couple of bits from the store cupboard and it is stunning.
The sweetness of tomato and balsamic is the perfect foil against the caperberries and is perfect with the chicken.
Most importantly the flavour of the chicken still sings through and is not hidden by too much "stuff"!
The aim of this recipe is tom compliment the flavour of the roasted chicken leg and not to hide it with balsamic vinegar.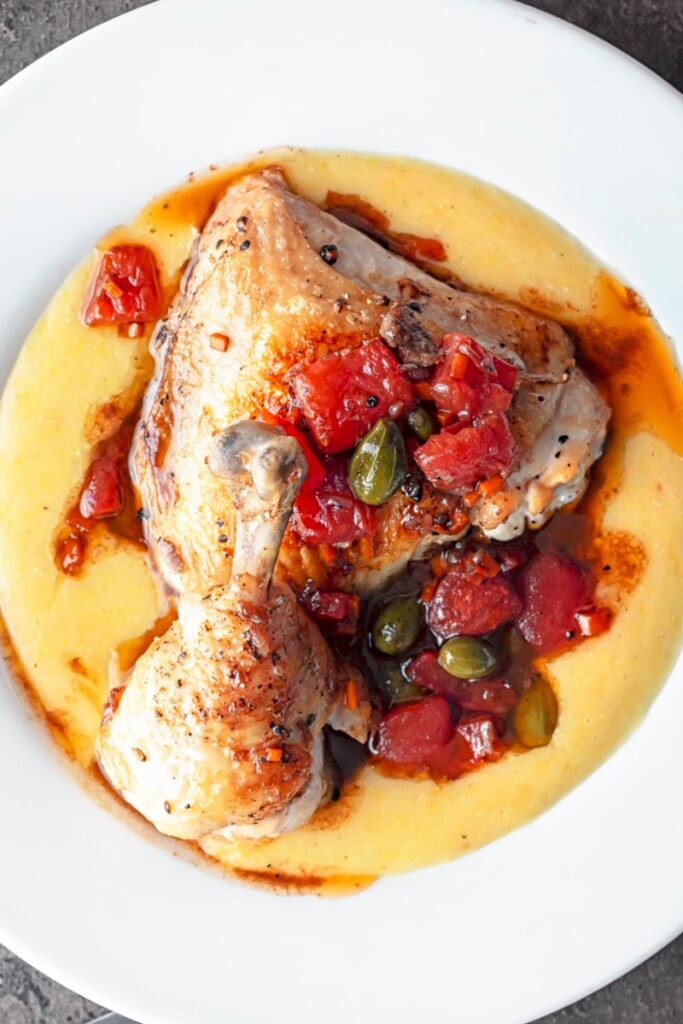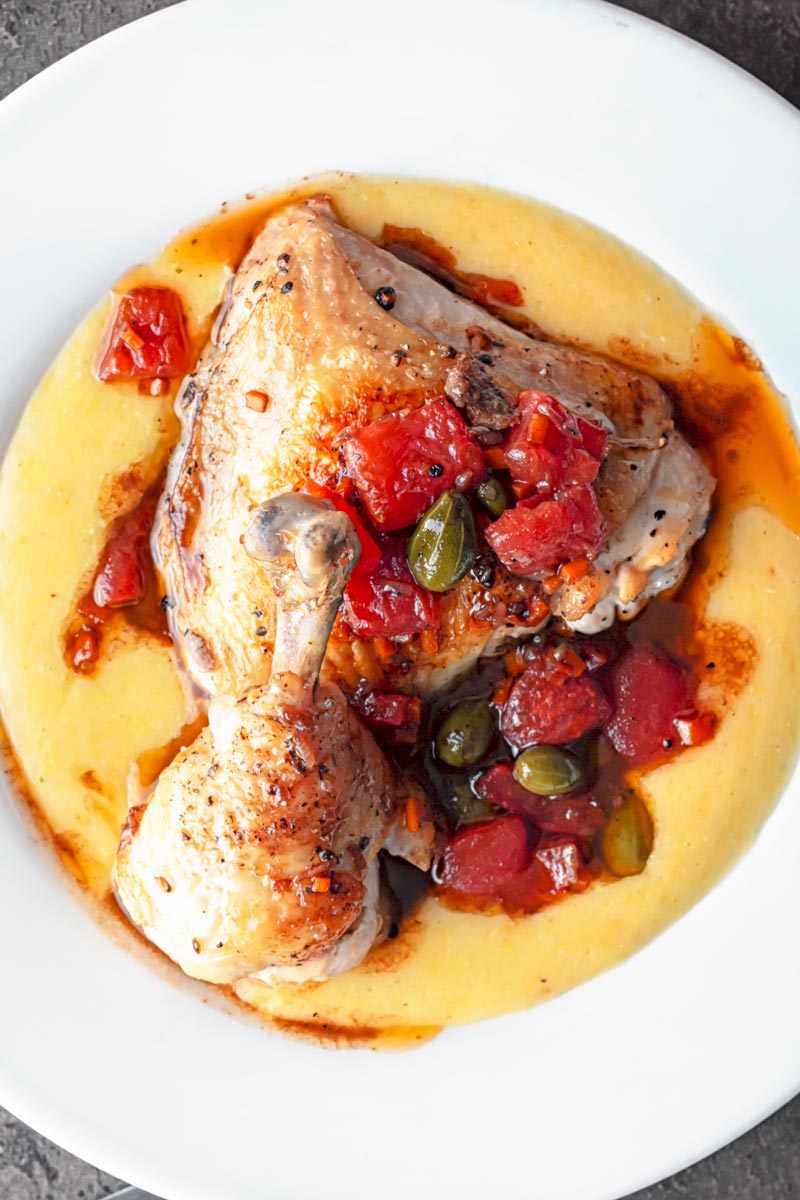 How to Prepare the Chicken Legs.
If you spend any time on my site you will run across this way of preparing and presenting chicken legs.
I do it in everything from my BBQ tandoori chicken through to my zaatar chicken legs.
It serves two purposes, the first is presentation, I like the way it looks!
The second is much more practical.
It simply eats better, you can pick up the drummer and get all of the meat without making a mess.
That leaves the thigh which is more easily dissected without the drumstick bone getting in the way.
Don't worry, doing this is EASY! You need a bit of strength in your thumbs, but if I can do it so can you.
The video below shows you how to take apart a whole chicken. But the bit you are interested in starts at 27 seconds!
Serving Suggestions and Hints.
As far as I am concerned this recipe comes alive with a cheesy polenta. I usually use parmesan cheese when I make polenta for this meal.
It spends the same amount of time in the oven as it takes to cook polenta. So why not grab a glass of wine, whack on some tunes and stir away?
If you have never heard of caperberries, do not worry. Capers are the buds of the caper bush and caperberries are the "fruit".
There are subtle differences, principally in texture but you can use either in this recipe.
My final hint is, buy a meat thermometer! Timings for cooking chicken are always a bit of a variable.
But use your meat thermometer and take your chicken out of the oven 3-5 degrees below the safe temperature of 74°C or 165°F.
Then let it rest for 5-10 minutes until it reaches the safe temperature. Then and only then do you have perfectly cooked chicken.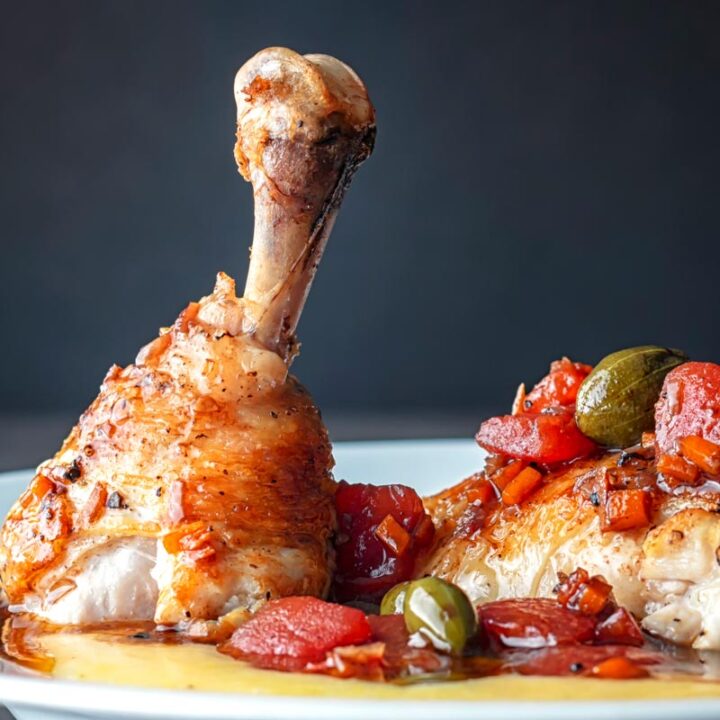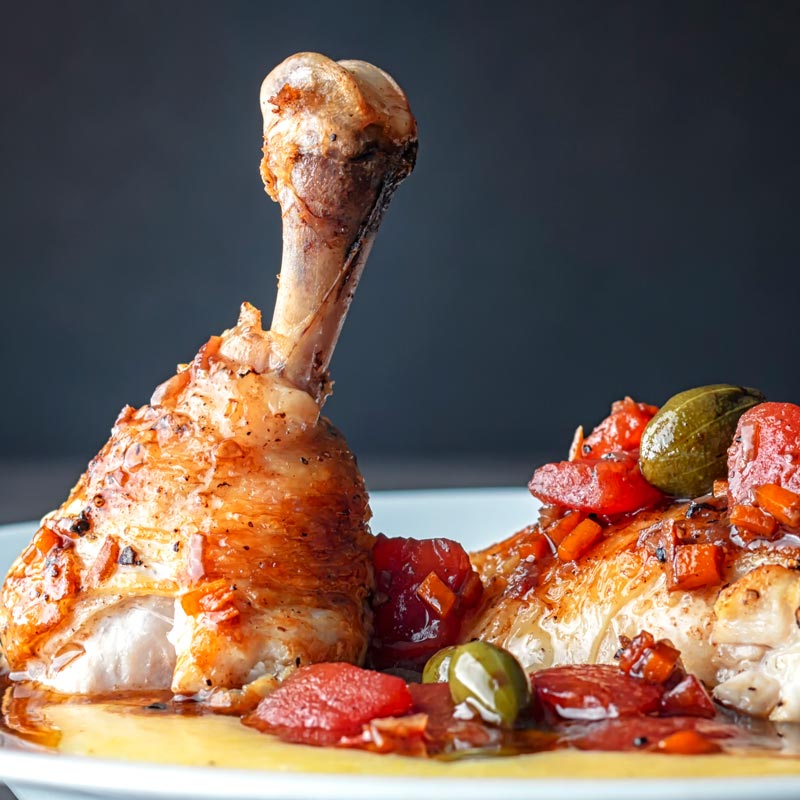 Yield:

2 Servings
Balsamic Chicken Legs Recipe
Simple Mediterranean flavours are front and centre of this glorious roasted balsamic vinegar chicken legs recipe.
Ingredients
50 g (2 oz) Shallot
50 g (2 oz) Carrot
25 g (1 oz) Celery
400 g (14 oz) Plum Tomatoes
2 Chicken Legs
2 Tbsp Olive Oil
50 ml (1.5 floz) Balsamic Vinegar
50g (2 oz) Caperberries
Salt to taste
Pepper to taste
Instructions
Cut the celery, onion and carrot into a 3-4mm dice.
Bring a pan of water to the boil.
Cut a cross in the base of the tomatoes and plunge them into the boiling water for 30 seconds.
Remove the tomatoes and refresh in cold water.
Now peel the tomatoes and remove and discard the seeds.
Cut the tomato flesh into a 1cm dice.
Heat a pan over a medium heat and when hot add the olive oil.
Season the chicken with salt and pepper and brown in the oil.
Remove the chicken and now add the shallot, celery and carrot.
Cook for 3-4 minutes.
Add the balsamic vinegar, tomatoes and stir.
Nestle the chicken among the ingredients and sprinkle over the caperberries and transfer to the oven.
Cook at 200°C or 400°F for 35 minutes.
Notes
Blitzing down some of the tomatoes and vegetables with the cooking juices makes a glorious sauce if you want one.
Nutrition Information:
Yield:
2
Serving Size:
1
Amount Per Serving:
Calories:

682
Total Fat:

37g
Saturated Fat:

8g
Trans Fat:

0g
Unsaturated Fat:

26g
Cholesterol:

328mg
Sodium:

1174mg
Carbohydrates:

19g
Fiber:

5g
Sugar:

11g
Protein:

65g
Calorific details are provided by a third-party application and are to be used as indicative figures only.