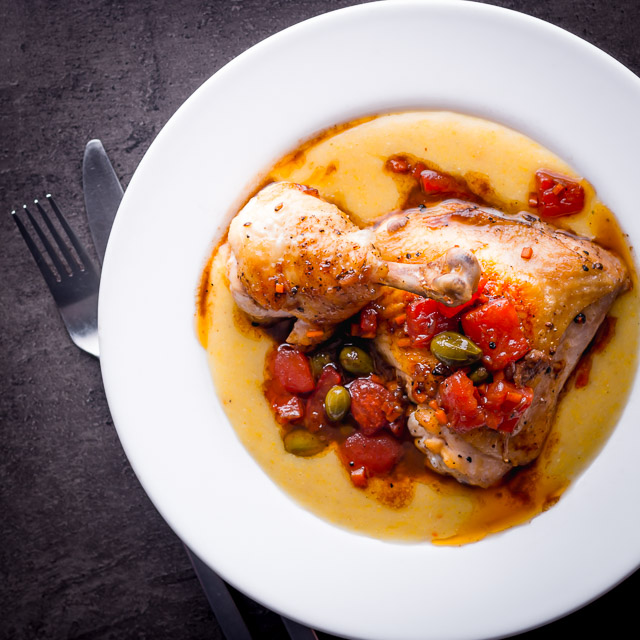 This Roasted Chicken Leg with Tomato Capers and Polenta recipe is all about great combinations put together in a simple way to make a really tasty and simple dish… Yes you have to stand and stir the polenta but lets face it any chimp can stir, and as far as I am concerned a perfectly roasted chicken leg is about as tasty as it gets, 'brown' chicken meat has so much more flavour than the 'white' meat. I'm about to break out a tip here, please note it is a tip not a hack, there is no such think as 'kitchen hacks' no matter what Facebook likes to tell you, anyway buy a meat thermometer, seriously just buy one… Perfectly cooked meat every single solitary time, a roasted chicken leg can and will take anywhere between 25 and 40 minutes depending on a host of variables from the accuracy of your oven through to the size of the leg and the way it is cut. However if you remove your chicken leg from the oven when the internal temperature of the meat is at 70°C and rest until it reaches 73°C (that's 158F and 164F) it will be juicy, perfectly cooked and safe to eat every single time, no matter what variables are at play.
I typically buy whole chickens and joint them and really must put together a video of the preparation some time soon, it is a fabulously frugal way of shopping, I'll take off the legs and do something like this roasted chicken leg or even these Za'atar chicken legs and then either take off the wings and freeze them until I have enough to do some hot wings, then I'll take the breasts and then maybe stuff them or make roast them off and serve with petis pois a la Francaise, and even then I aint finished, I will take the carcass roast it off, turn it into stock and make ramen. Seriously 1 chicken, will easily make 3 meals for 2 and that is without trying, I could easily stretch that to 5!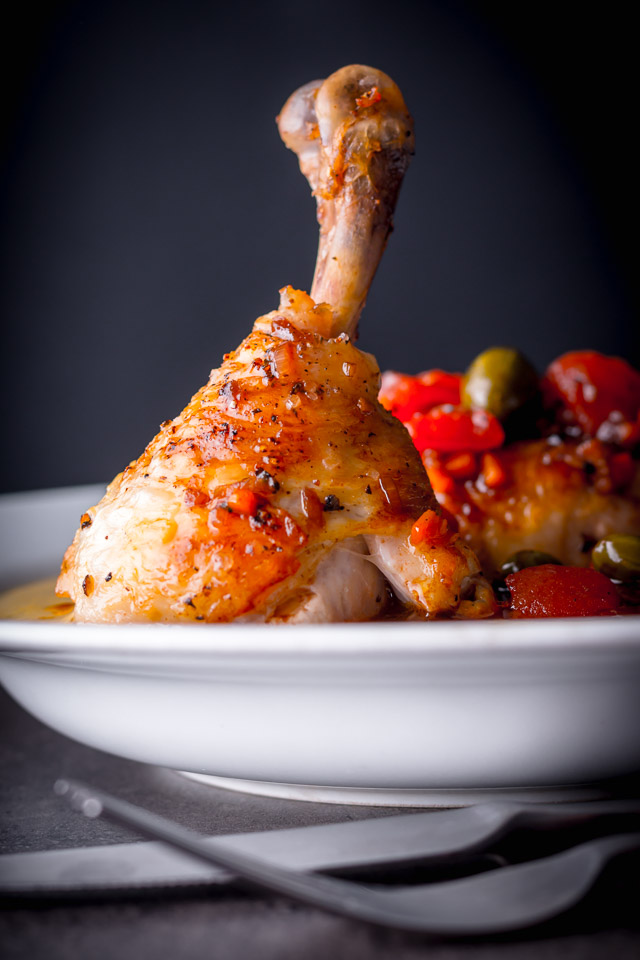 Print
Roasted Chicken Leg with Tomato Capers and Polenta
Simple Mediterranean flavours are front and centre of this glorious roasted chicken leg dish which is served over a bed of polenta.
Ingredients
50

g

Shallot:

Finely diced.

50

g

Carrot:

Finely diced.

25

g

Celery:

Finely diced.

400

g

Tomato.

2

Chicken Legs:

Separated into drums and thighs.

2

Tbsp

Olive Oil.

2

Tbsp

Balsamic Vinegar.

50g

Capers.

500

ml

Chicken Stock.

75

g

Polenta.

35

g

Parmesan Cheese.

25

g

Butter.

Salt.

Pepper.
Instructions
Bring some water to the boil, cut a cross in the base of the tomatoes and plunge them in for 30 seconds.

Refresh on cold water and you should now be able to peel the tomatoes and remove the seeds, cutting into 1cm cubes. This should leave around 175-225g of tomato cubes.

Heat a pan over a medium heat and when hot add the olive oil.

Season the chicken with salt and pepper and brown in the oil.

Remove the chicken and now add the shallot, celery and carrot cooking for 2-3 minutes to soften.

Add the balsamic vinegar and tomatoes and stir.

Nestle the chicken among the rest of the ingredients and sprinkle over the capers and transfer to the oven for 40 minutes.

Bring the chicken stock to the boil and slowly pour in the polenta and return to an 'almost boil'.

Now turn down the heat under the polenta to low and cook stirring every couple of minutes for 40 minutes. Grab a glass of wine and some music you will be fine!

Stir in the butter and Parmesan cheese and check the polenta for seasoning before serving.
Recipe Notes
Blitzing down some of the tomatoes and vegetables with the cooking juices makes a glorious sauce if you want one.