This Roasted pork loin recipe is a sideways look at the meat and two veg traditions of the British cooking I grew up with. It features carrot cooked three ways, peas and seared lettuce!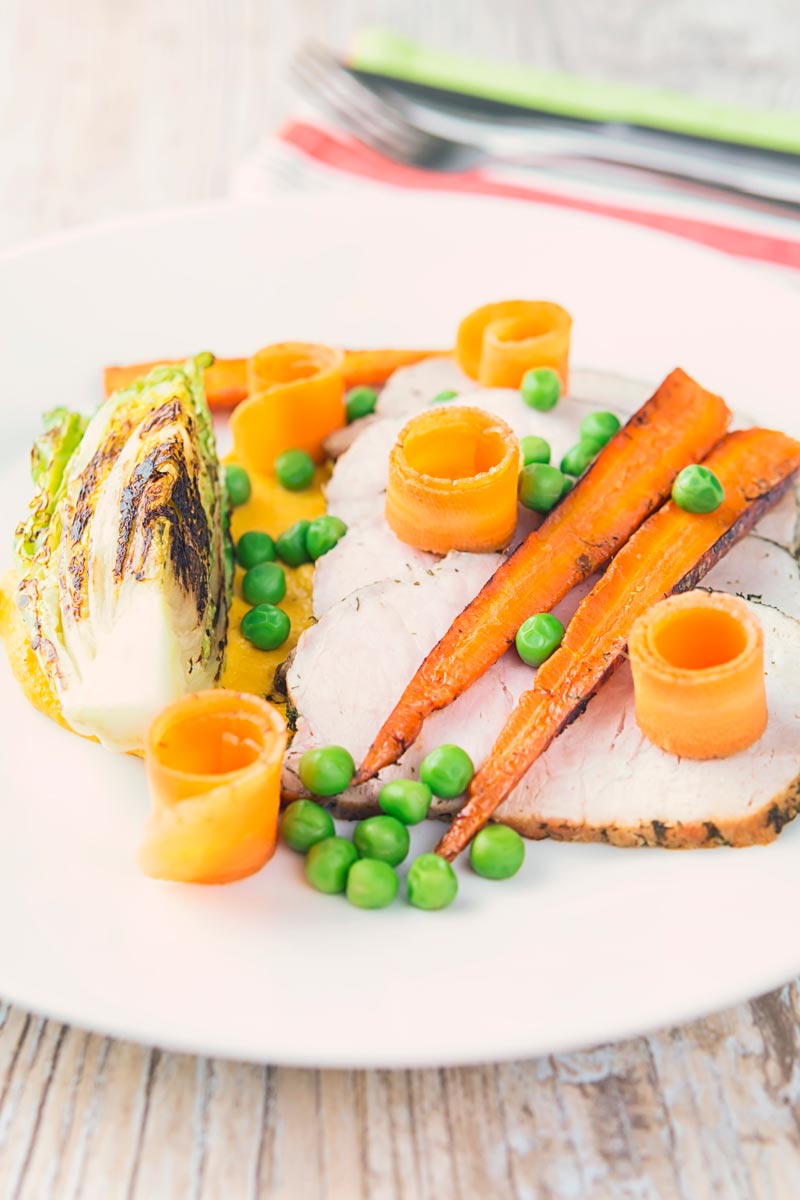 Roasted Pork Loin with Carrot Cooked Three Ways.
In many ways, this recipe very much reminds me of the sort of food we ate growing up, roasted meat and 2 or 3 veg.
Of course, the vegetable side dishes here are a little more involved. I also have a feeling my Mum would have said stop being silly if I wanted to sear off some lettuce.
Although she would also have said roasting carrots was a daft idea too!
I may have got away with the puree and I am 100% certain the butter and cream would have been approved of.
Growing up a meal like this would ALWAYS have been served with a gravy similar to the one I cooked in my Cumberland sausage recipe.
But that is not where this roasted pork loin recipe is pitched. This is a summer recipe focussed on pork and carrots as a result the sauce element is a silky carrot puree!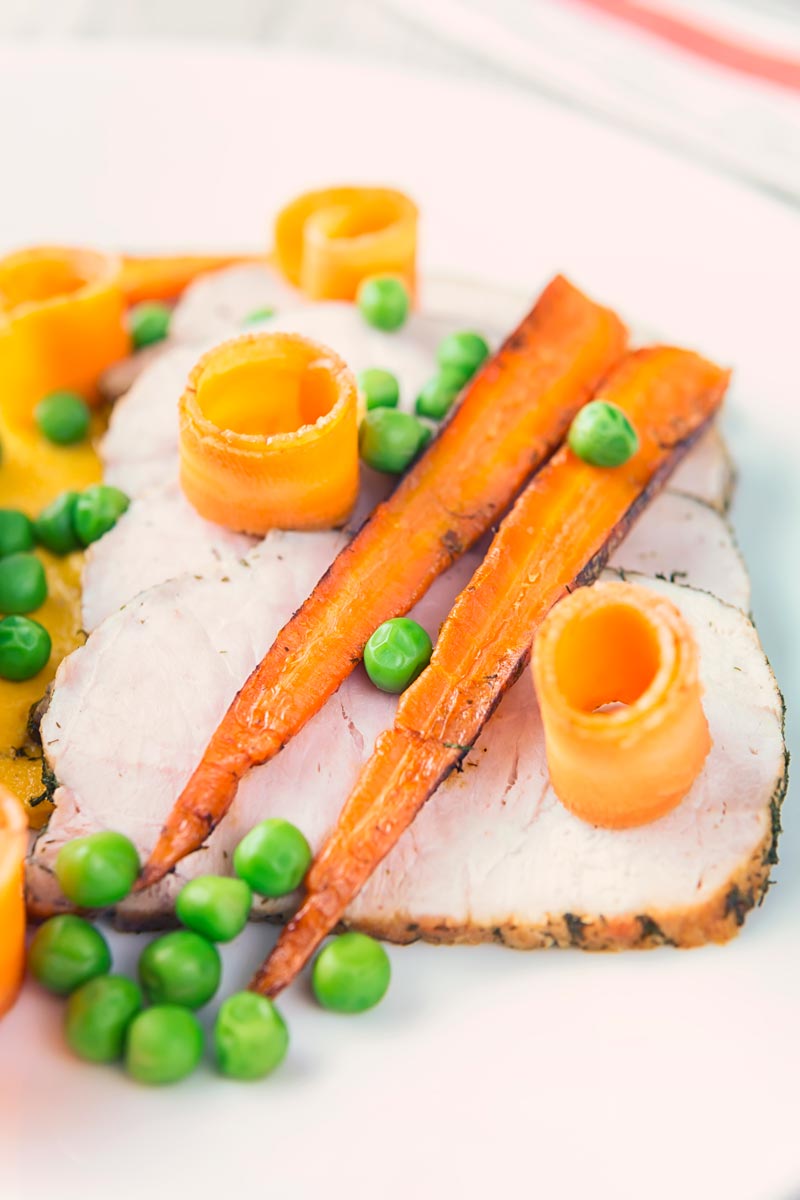 Cooking Carrots Three Ways.
I'm sure that your first question is "Is it really worth it?", well, I think so!
Carrots are a wonderful ingredient and really are the star of this roasted pork loin dish.
Cooking carrots three ways brings three completely different carrot flavours to the plate.
It is similar to the approach I took with my Spanish pork chop with cauliflower recipe.
All of the cooking techniques here are very simple and the flavour all compliment each other. All work perfectly within the timing of the recipe too.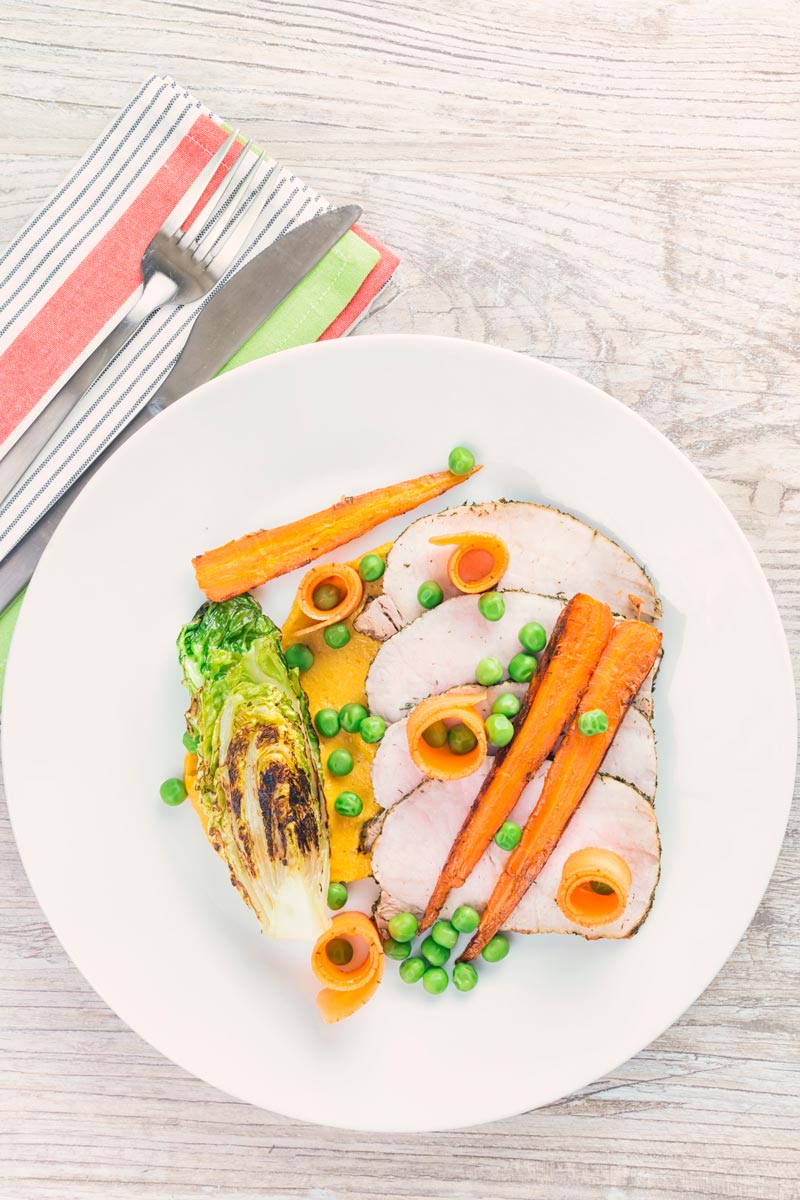 Carrot Techniques and Timings.
This recipe may use lots of techniques but they are all very simple.
I use quick pickled carrots all of the time in dishes as diverse as my mung bean salad to my zander fillet recipe. The key to this part of the recipe is not over pickling the carrots.
Remove them after 10 minutes, they will sit for another 10 if you need them too.
The carrot puree is super simple, cook carrots in butter. Then blend with milk and cream!
You can even do this the day before if you wish and reheat when you are ready to serve.
The roasted carrots are probably something you are already familiar with. They are simply seared in butter and then roasted alongside the pork.
When you remove the pork turn off the oven and return the carrots. They will stay warm whilst the pork rests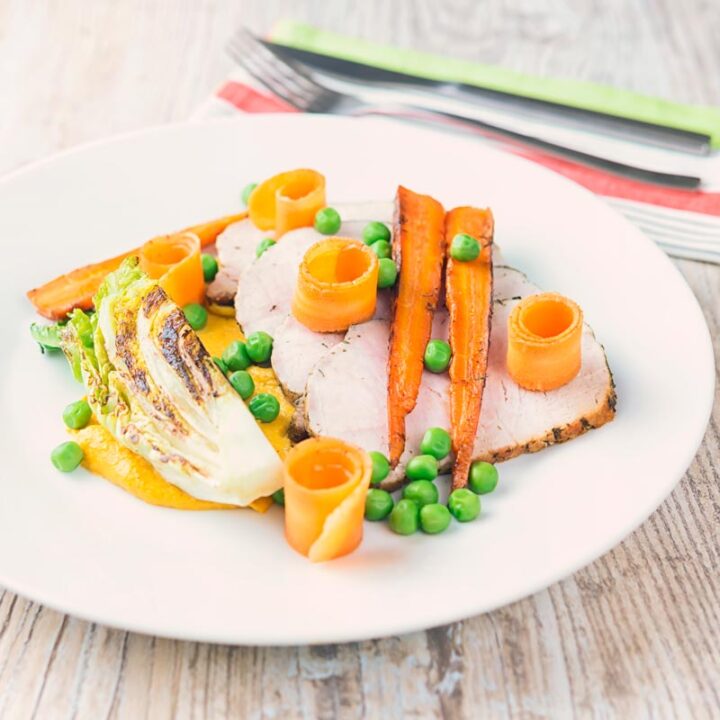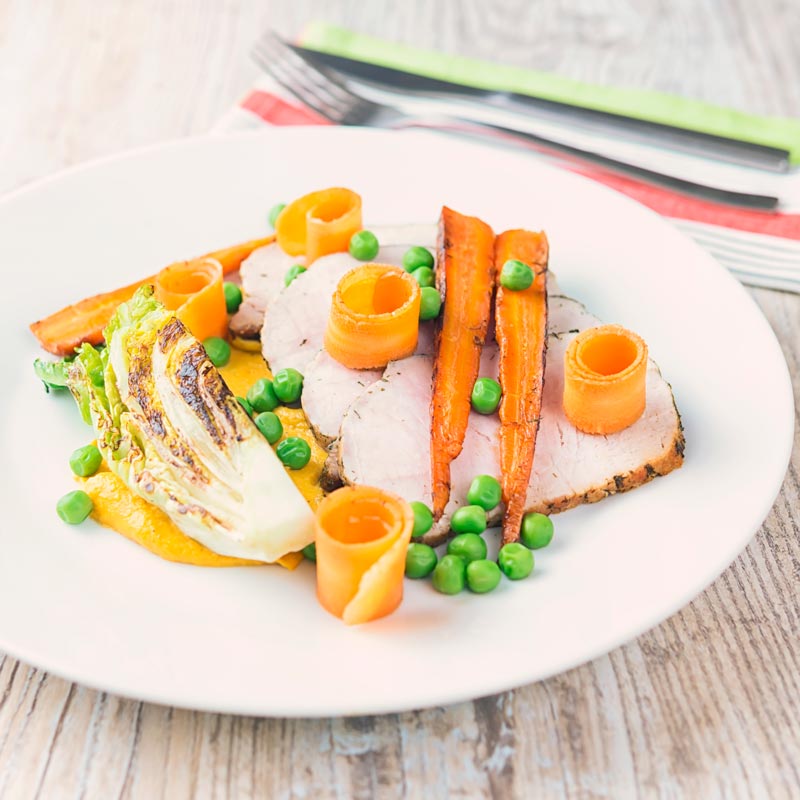 Yield:

2 Servings
Roasted Pork Loin with Carrot
This roasted pork loin is the perfect centrepiece to this meal for two that features carrots cooked three ways, peas and seared lettuce. A fancy treat that is not as difficult as it may sound and well worth the effort.
Ingredients
For The Carrot Puree:
150 g (1 Cup) Carrot
30 g (2 Tbsp) Butter
30 ml (2 Tbsp) Double Cream,
30 ml (2 Tbsp) Milk
Salt, To taste
Pepper, To taste
For The Roasted Carrots:
3 Small Carrots
50 g (3 Tbsp + 1 Tsp) Butter
For The Pickled Carrots:
1 Carrot
75 ml (1/3 Cup) Water
125 ml (1/2 Cup) Red Wine Vinegar
35 g (1/3 Cup) Sugar
1 tbsp Coriander Seeds
The Rest:
350 g (12 oz) Pork Loin
1 Tsp Dried Celery Leaves
1 Tsp Coarse Sea Salt
1 Tbsp Cooking Oil
100 g (2/3 Cup) Peas
1 Baby Gem Lettuce
Instructions
Carrot Puree:
Finely slice the carrots.
Melt half of the butter in a small pan over a medium heat and add the carrots and allow to cook for 5 minutes.
After 5 minutes add in the milk, cream and remaining butter then season with salt and pepper and cook over a low heat for 20 minutes.
Blend this mixture and pass through a fine mesh sieve.
Reheat just before plating up.
Roasted Carrots:
Heat the butter in a frying pan over a medium high heat.
Add in the carrots and cook for 5 minutes.
Transfer to a bowl for a couple of minutes with the butter whilst you sear the pork.
Pork:
Preheat your oven to 200°C or 400°F.
Season the pork on all sides and add the cooking oil to the pan you have just cooked the carrots in.
Sear the pork on all sides and then sprinkle with the dried celery leaves.
Return the brown butter and carrots to the pan and place in the oven and cook until the internal temperature of the pork reaches 58-60°C (around 140°F), this should take around 20 minutes.
Pickled Carrots:
Cut the carrot into ribbons using a vegetable peeler.
Heat all of the ingredients for the pickled carrots in a pan and bring to a boil, stirring to dissolve the sugar.
When the pork comes out of the oven pour this boiling liquid over the carrot ribbons and allow to sit for 10 minutes.
Finishing Off:
Remove the pork from the oven and cover with foil (with the carrots) and allow to rest for 10 minutes before slicing 3-4mm thick.
Cook the peas in boiling salted water.
Bring the puree back to serving temperature.
Finally heat a dry pan over a high heat cut the lettuce into quarters and rub both cut sides of the baby gem lettuce with oil and sear over a ferocious heat.
Drain the pickled carrots and slice the roasted carrots and serve with the peas.
Nutrition Information:
Yield:
2
Serving Size:
1
Amount Per Serving:
Calories:

939
Total Fat:

60g
Saturated Fat:

29g
Trans Fat:

2g
Unsaturated Fat:

26g
Cholesterol:

239mg
Sodium:

1911mg
Carbohydrates:

47g
Fiber:

11g
Sugar:

28g
Protein:

53g
Calorific details are provided by a third-party application and are to be used as indicative figures only.