Toad in the Hole is about as British as can be and probably the defining food memory from my childhood! Sausages in a Yorkshire pudding batter and baked to perfection, forget Sunday Lunches this is quintessentially British!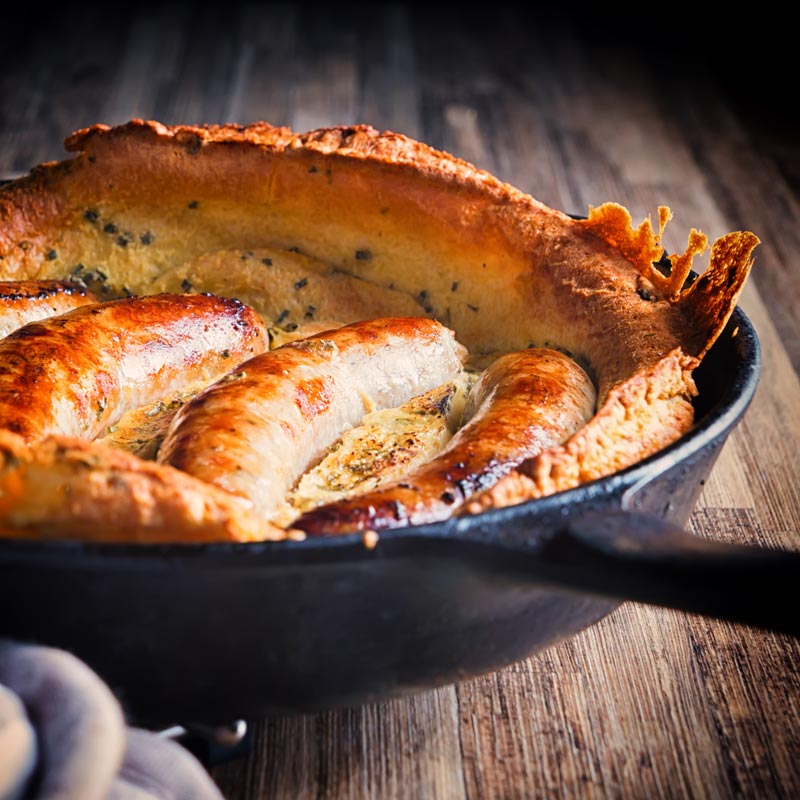 Skillet Toad in the Hole.
If I were to pick a dish that screams of my childhood I would have to say it is Toad in the Hole. It is so simple it hurts and is packed full of so many memories for me.
Let's face it the best food is always built on memories.
It may be hard to believe but I was a fairly picky eater as a child. Trying to get me to eat a vegetable that was not a potato was, let's just say 'challenging'. By potato, I mean chips, not crisps, but fries as you Americans would say.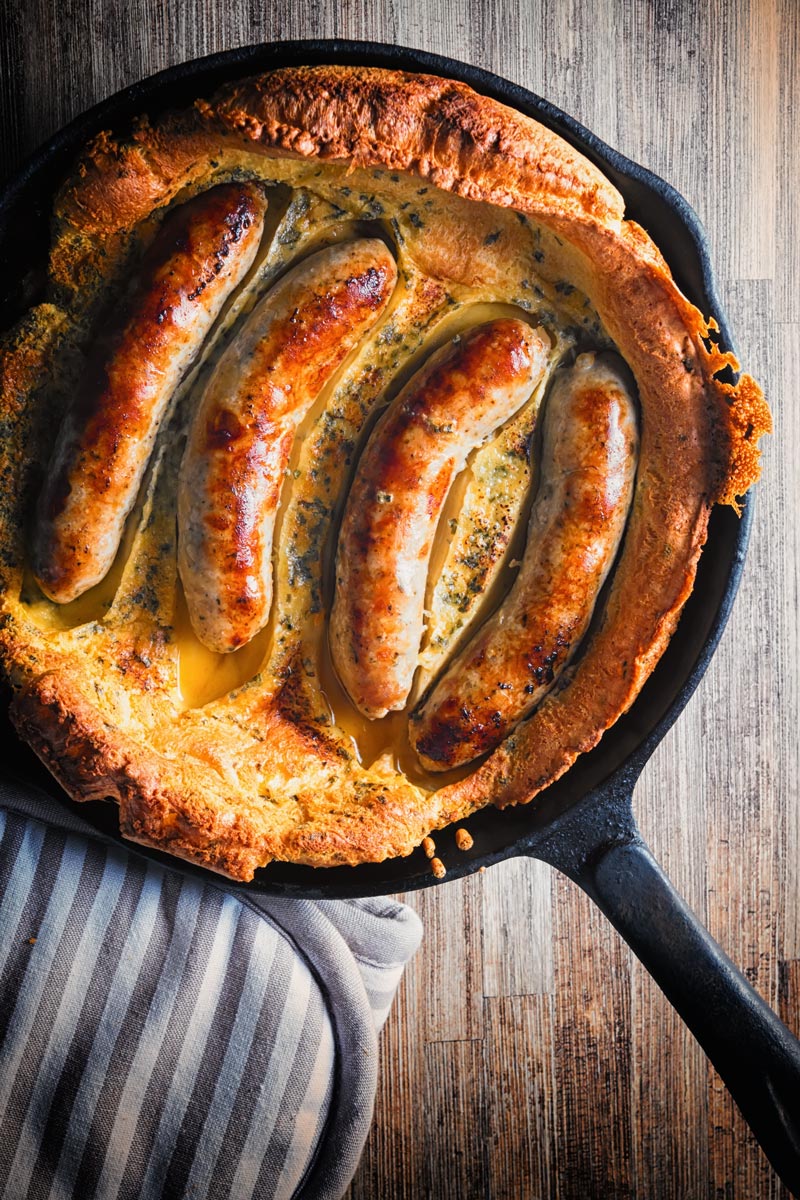 A Vegetarian Toad In The Hole!
Dishes like this that did not go anywhere near a vegetable must have been a godsend for my Mother.
Fortunately, I grew up, in some ways at least!
I now eat a whole host of stuff you would have needed to strap me down to eat when I was young.
In fact, I even make a version of Toad in the Hole with roasted carrots and parsnips, but for me, the original can't be beaten.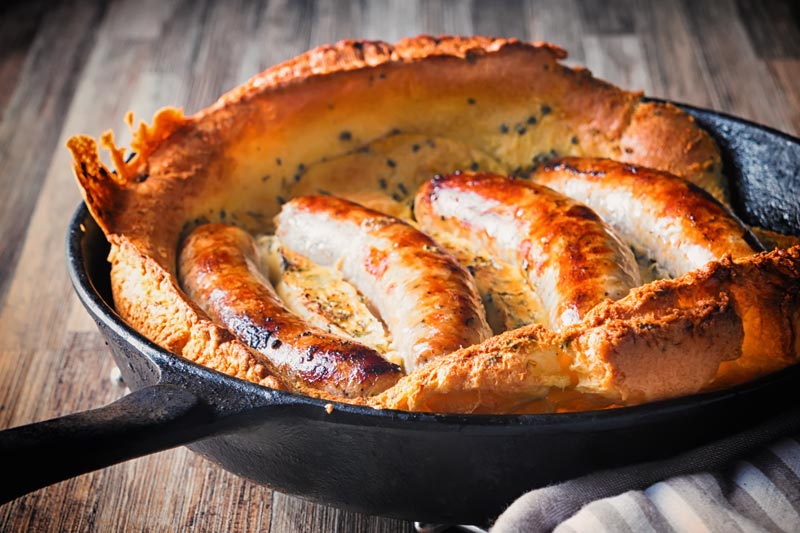 Nostalgic Food.
Not only is Toad in the Hole one of the most nostalgic dishes in my 'armory'. It also probably just about takes the coolest name for a dish ever away from 'Bubble and Squeak'.
Another whimsically beautiful name from the archives of Britsh Food that just makes me smile!
The origins of the name Toad in the Holes are, as you can imagine, hotly debated. In reality, no one is ever further forwards. Although my favourite one features a toad on a golf course in Northumberland in the 18th Century.
It is utterly absurd but who cares, it is amusing. I love the history of food names. You should check out my Chimichurri Sauce recipe for more absurd stories that are probably untrue but still fun!
Of course, I usually use my own homemade sausages for this recipe but seriously buy what you like. Just match the herbs in the batter with whatever you have going on in the sausages.
This dish is a mere idea take it where you want and create your own memories.
I have even 'Hungarianised' Toad in the Hole with lots of Paprika in the batter and a homemade veal sausage with loads of caraway and parsley.
Go wild and crazy and post your pictures online and tag me, I would love to see your Toad in the Hole.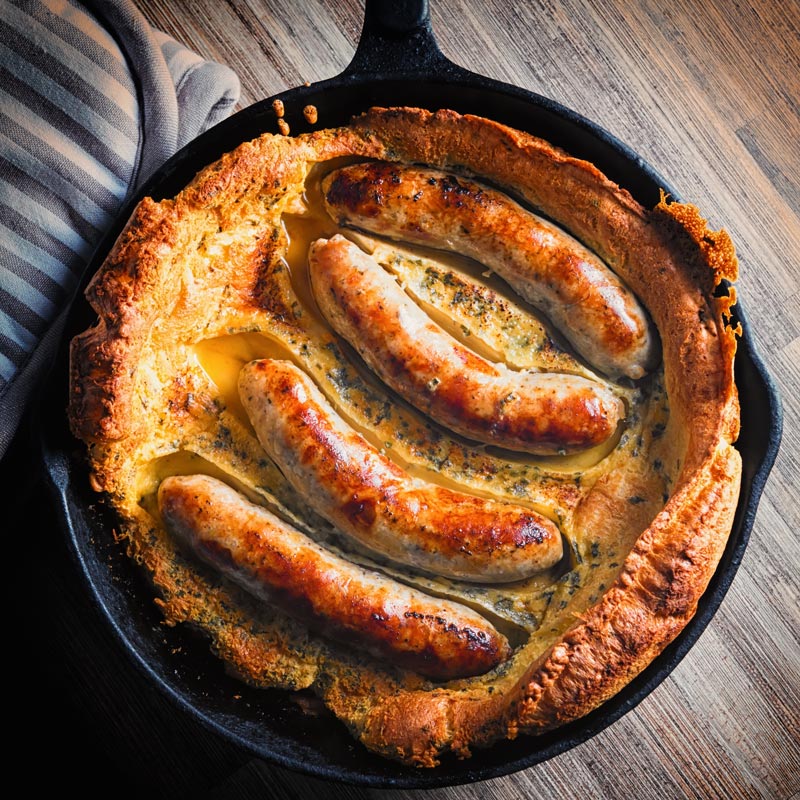 Toad in the Hole Batter.
The key to any toad in the hole recipe is as much about the batter as it is about the sausages. It is essentially a Yorkshire pudding batter and shock horror I swear by the volume method.
I have been pretty scathing about using cup measurements in the past. Primarily because I am a savoury cook and I have no idea what on earth a cup of broccoli is.
But for a Toad in the Hole Batter using equal volumes of flour, eggs and milk work perfectly. You don't need to be too particular break your eggs into a bowl and then pour out the same milk and flour into the same size bowls.
You can, of course, use the batter straight away but resting for at least three hours helps the rise.
On a final note, let's talk fat… Lard, duck fat, goose fat is where it is at, your crispier bits will be crispier and your soggier bits will be tastier. But if you want to then swap for oil.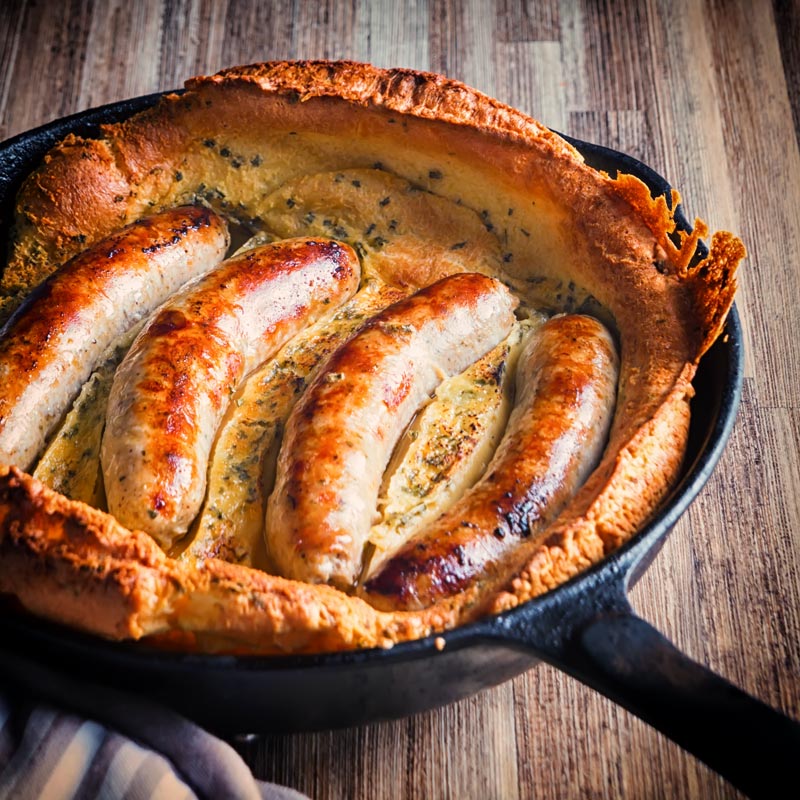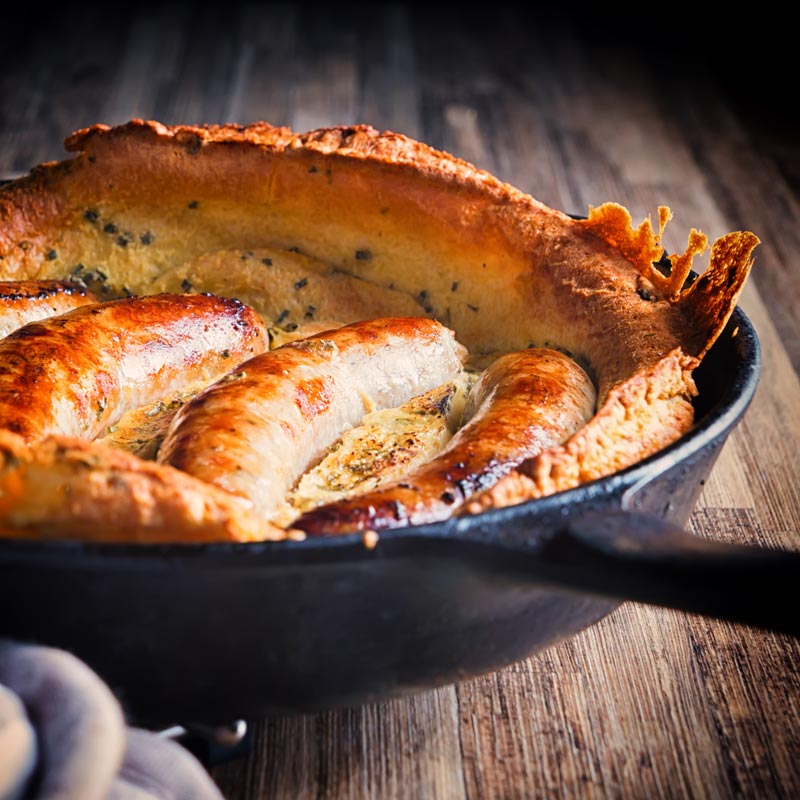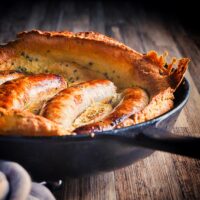 Skillet Toad in the Hole
Total Time:
3 hours
30 minutes
Toad in the Hole is about as British as can be, sausages in a Yorkshire pudding batter and baked to perfection, forget Sunday Lunches this is quintessentially British!
Ingredients
30 g Lard, Shortening in the US: If you don't want to use lard use another fat/oil with a very high smoke point
1 Cup Eggs, Roughly 3 large eggs beaten
1 Cup Plain Flour, You want the same volume as the eggs, so use less or more as needed
1 Cup Milk, You want the same volume as the eggs, so use less or more as needed
1/8 Tsp Coarse Sea Salt
Good Grind Of Black Pepper
1/2 Tsp Dried Thyme
4 Large Sausages, Use what ever you like I personally opt for my own homemade pork sausages but anything that you really like so long as they are fairly lean will be great
Instructions
Place the lard in your skillet and then put it in the oven that is set as hot as it can be.
Sift the flour into a large mixing bowl and add the beaten egg and milk and mix to form a batter. As with all Yorkshire pudding mixes they perform better if left to stand for at least 3 hours.
Mix in the thyme, salt and pepper.
Brown of the sausages in a pan for a couple of minutes.
When the oven is searingly hot, pour in the batter then add the sausages and cook for 20-25 minutes.
Notes
This would traditionally be served with some vegetables and an onion gravy, however my glorious wife introduced me to her tradition of eating it with garden peas and tomato ketchup... Dirty yes, tasty, hell yeah!
Nutrition Information:
Yield:

2
Serving Size:

1
Amount Per Serving:
Calories:

1121
Total Fat:

73g
Saturated Fat:

26g
Trans Fat:

0g
Unsaturated Fat:

42g
Cholesterol:

1010mg
Sodium:

1117mg
Carbohydrates:

57g
Fiber:

2g
Sugar:

2g
Protein:

55g
Calorific details are provided by a third-party application and are to be used as indicative figures only.