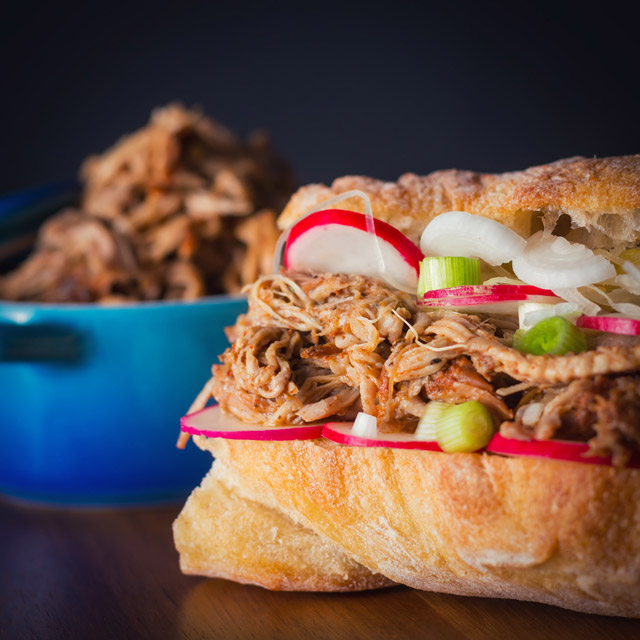 I have to pass out a huge thank you for this pulled pork sandwich recipe to the wonderful Mary at Goodie Godmother. I have had pulled pork on my 'to cook' list for a very long time and I never got round to it, yes I have never cooked or eaten pulled pork before, you see your American classics, rarely make it across the Atlantic. So when I was perusing through Marys site and stumbled on her Georgia Style Slow Cooker Pulled Pork I had to give it a try. Naturally I have tinkered a little, let's face it, I wouldn't be me if I didn't, I have changed some of the spices in the dry rub to reflect my local ingredients and tastes, so this is a bit of Georgia meets Hungary. Was it good? I'm not good at that whole diva head toss clicking the fingers thing but 'hell yeah' it was amazing, the ciabatta type loaf from a local baker was perfect for it too as it allowed the juices from the pork filled up all of those wonderful holes that ciabatta is known for making the most incredible pulled pork sandwich!
It would be neglectful of me not to acknowledge that this post is written at a very difficult time for me. Yes I am a food blogger but this site is as much about my life and my adventure as it is about my recipes and this week the United Kingdom voted to leave the European Union. A vote that hangs a huge cloud over the life I have chosen and our potential future in Hungary… Don't worry I aint going anywhere soon so you still have to put up with my rambling along side my tasty food, but I would be lying if I were not to admit to being a little bit scared and I feel very vulnerable.
But enough of that crap, back to the food… The pulled pork sandwich recipe makes a load of delicious and magical pulled pork and we have frozen it up in batches and made a number of dishes from it and I am sure at least one of them will be heading your way real soon. A really delightful and fantastic pulled pork stack with layers of pork, carrot and potato all baked in the oven with a Parmesan crust… Naturally I need to get that bad boy right before I post it, I need to get the presentation right but it tastes incredible. Such hardship 😉
If this recipe has taught me anything it is to get a wriggle on when it comes to my 'need to cook list', unfortunately that list grows all the time… So much food and so little time!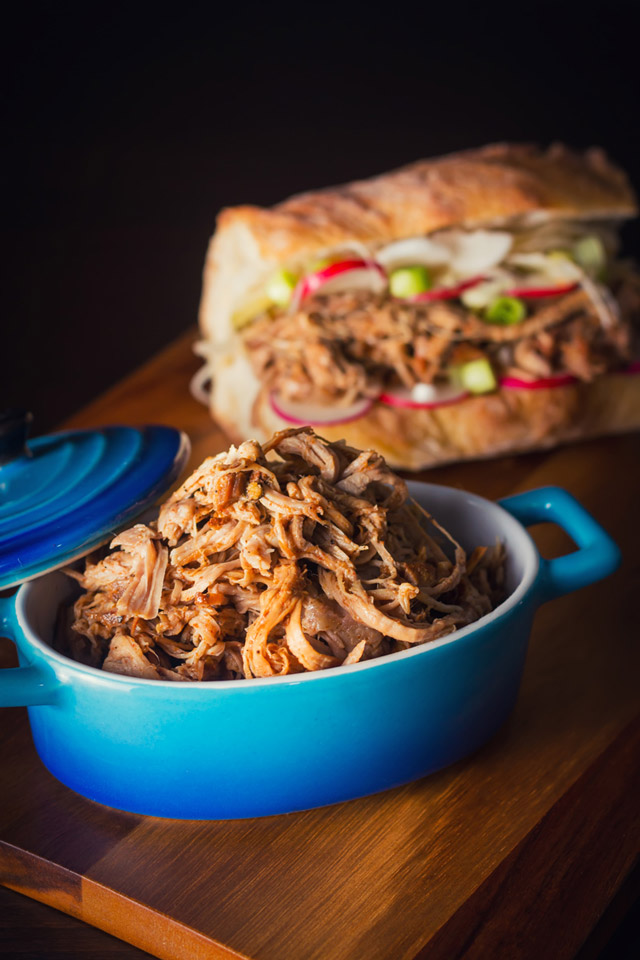 Print
Slow Cooker Pulled Pork Sandwich
An incredibly simple long and slow cooked pulled pork makes the perfect filling for the most incredible pulled pork sandwich!
Total Time
8
hours
10
minutes
Ingredients
2

kg

Pork Shoulder.

2

Tbsp

Cider Apple Vinegar.

3

Tsp

Black Pepper.

Coarsely ground.

2

Tsp

Spicy Paprika.

1

Tbsp

Carraway Seeds.

Ground.

2

Tbsp

Sweet Paprika.

1

Tbsp

Dried Oregano.

2

Tbsp

Brown Sugar.

1

Tbsp

Coarse Sea Salt.

1

Tsp

Garlic Powder.
For the Pulled Pork Sandwich
Ciabatta Style Loaf.

But use your bread of choice.

Radish.

Finely sliced.

Sauerkraut.

Salad Onions
Instructions
Take all of the ingredients with the exception of the vinegar and mix together and then rub thoroughly into the pork shoulder.

Place the shoulder and any remaining rub into a large bag seal and set aside in the refrigerator over night.

The following day, place the pork in an oiled slow cooker on low (pre-heated depending on your model), add the vinegar and cook it for 8 hours.

I flipped the pork every couple of hours, but only because I wanted to drink in the wonderful odour 😉

When your time is up remove the pork from the slow cooker and shred with a couple of forks.

Depending on your pork you may want to remove some of the fat from the 'sauce' left in the bottom of the pot. Hungarian pork is butchered at a much older age so is typically fattier than the pork I was used to growing up with.

Return the pork to the pot and stir.
For the Pulled Pork Sandwich
Not sure what to say here you have seen my ingredients, but go to town... But pickles and the peppery nature of radish work so well against the soft and fragrant pulled pork.