Pulled pork is a fantastic thing, I personally prefer a slow cooker pulled pork and this is my recipe. It is super simple and makes the perfect filling for a pulled pork sandwich.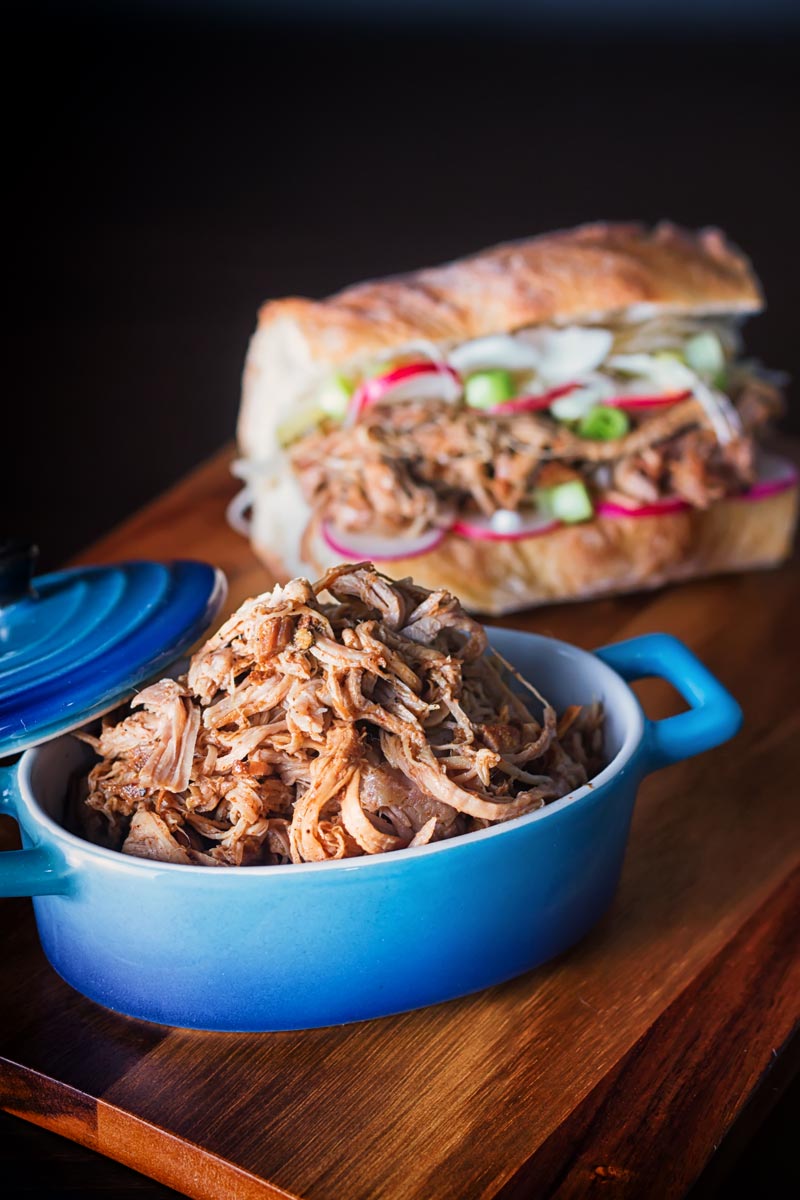 Slow Cooker Pulled Pork.
Pulled pork is a huge thing and this slow cooker pulled pork is my first foray into pulled meats.
The process is simple a super slow cooked piece of meat with a nice fat content which is then shredded.
It then can be used as a base on everything from sandwiches to pasta toppings.
Some pulled pork runs with a thick BBQ sauce in a similar vein to my Instant Pot BBQ Pork Sandwich.
My slow cooker pulled pork instead relies on the delicious juices from the pork and the spices we add at the start.
This recipe is obscenely simple. It literally takes 5-10 minutes of your time to repair then you walk away and let the slow cooker do its job.
After that, you just have to shred to pork and you are done.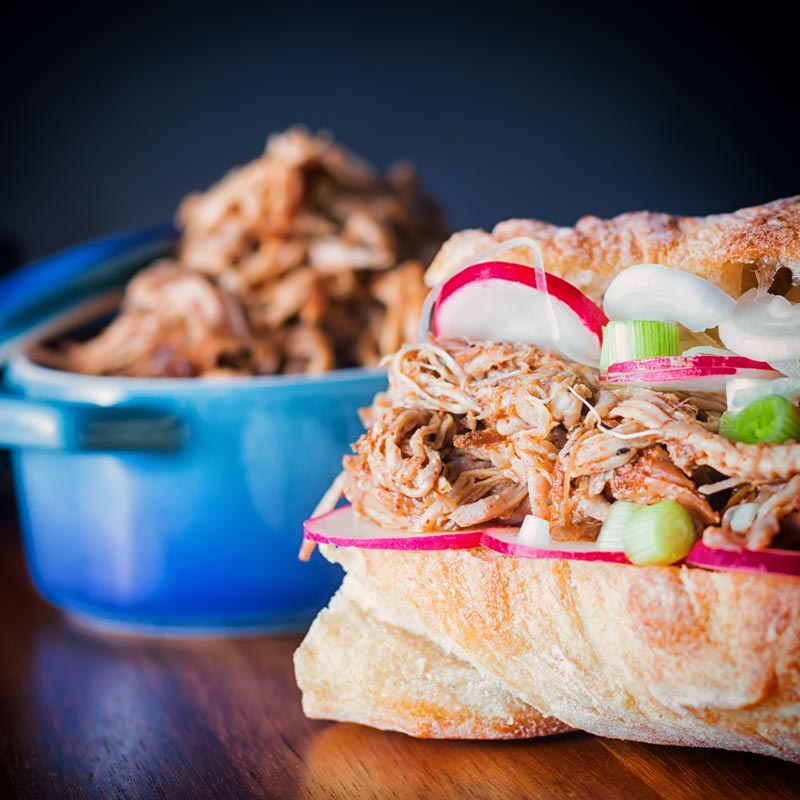 Pulled Pork Sandwich.
This slow cooker pulled pork recipe makes a load of delicious and magical pulled pork.
We usually freeze it up in batches and make a number of dishes from it.
Not least this delightful and fantastic pulled pork stack. It features layers of pork, mozzarella and tomato with a Parmesan crust…
But pulled meat really shines in a sandwich, just like my Instant Pot pulled beef sandwich.
For this pulled pork I again revert to pickles. they help cut through the richness of the pork.
A ciabatta style loaf is a perfect choice of bread as it allows the juices from the pork filled up all of those wonderful holes. But importantly it is also robust enough not to fall apart!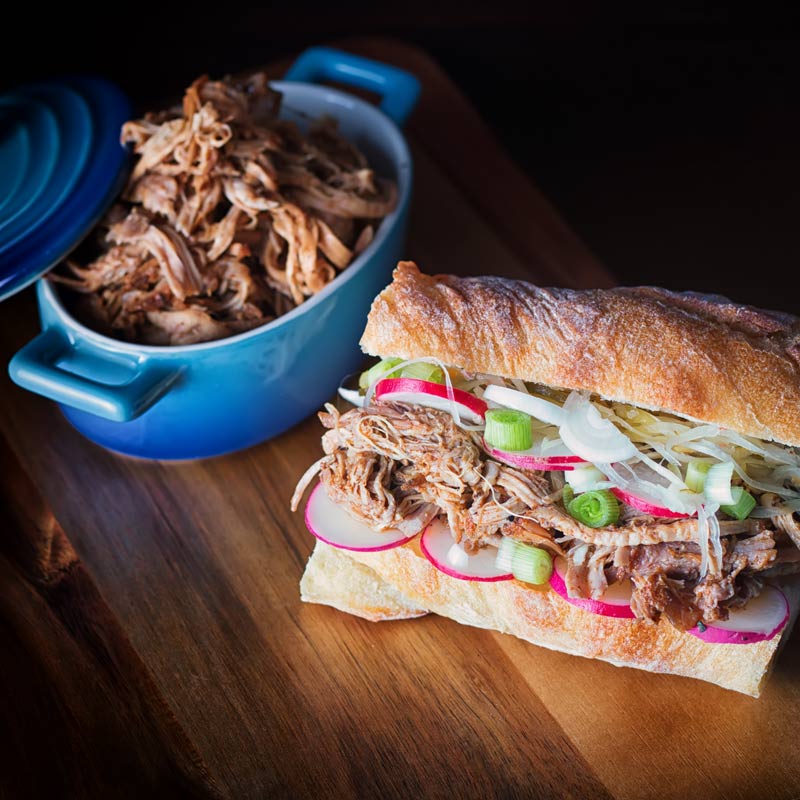 My Inspiration.
I have to pass out a huge thank you for this Slow cooker pulled pork recipe to the wonderful Mary at Goodie Godmother.
I have had pulled pork on my 'to cook' list for a very long time and I never got round to it.
Yes, I had never cooked or eaten pulled pork before I started playing around with Marys recipe. You see your American classics, rarely make it across the Atlantic.
So when I was perusing through Marys site and stumbled on her Georgia Style Slow Cooker Pulled Pork I had to give it a try.
Naturally, I have tinkered a little, let's face it, I wouldn't be me if I didn't.
I have changed some of the spices in the dry rub to reflect my local ingredients and tastes. As a result, this is a bit of Georgia pulled pork meets Hungarian pulled pork.
If this recipe has taught me anything it is to get a wriggle on when it comes to my 'need to cook list'! Unfortunately, that list grows all the time…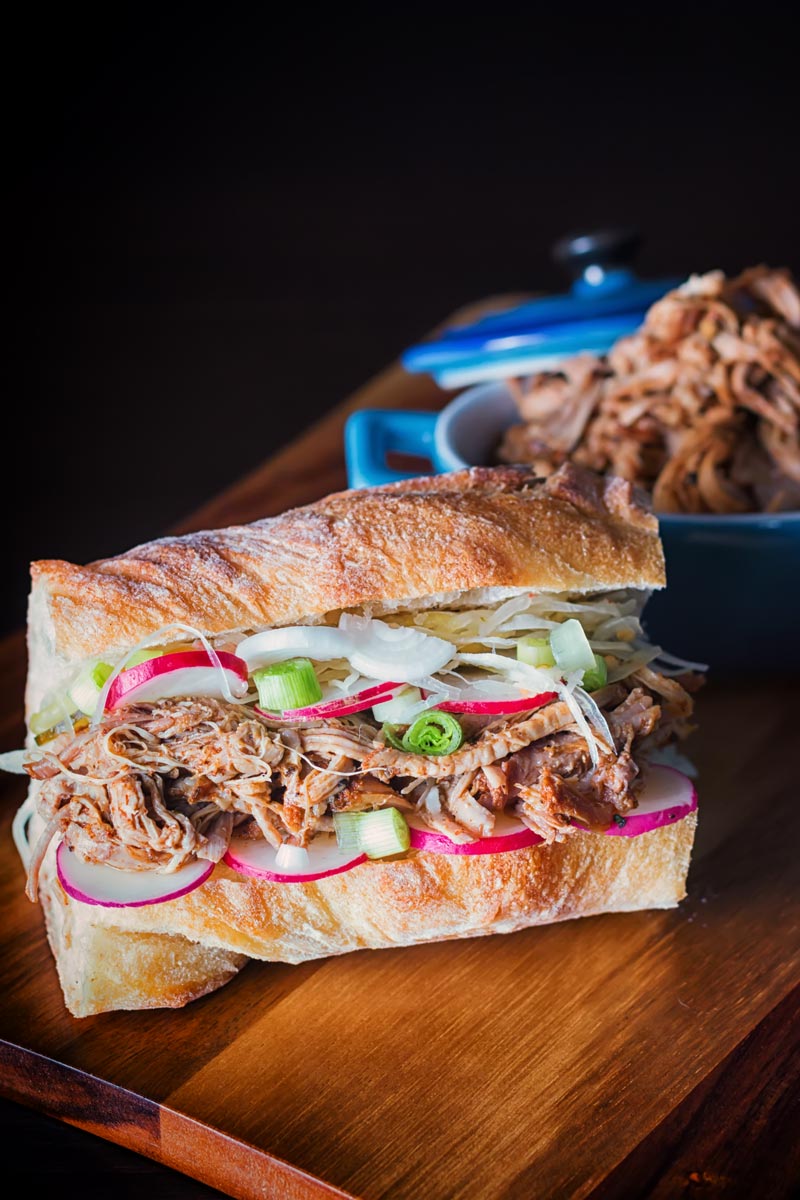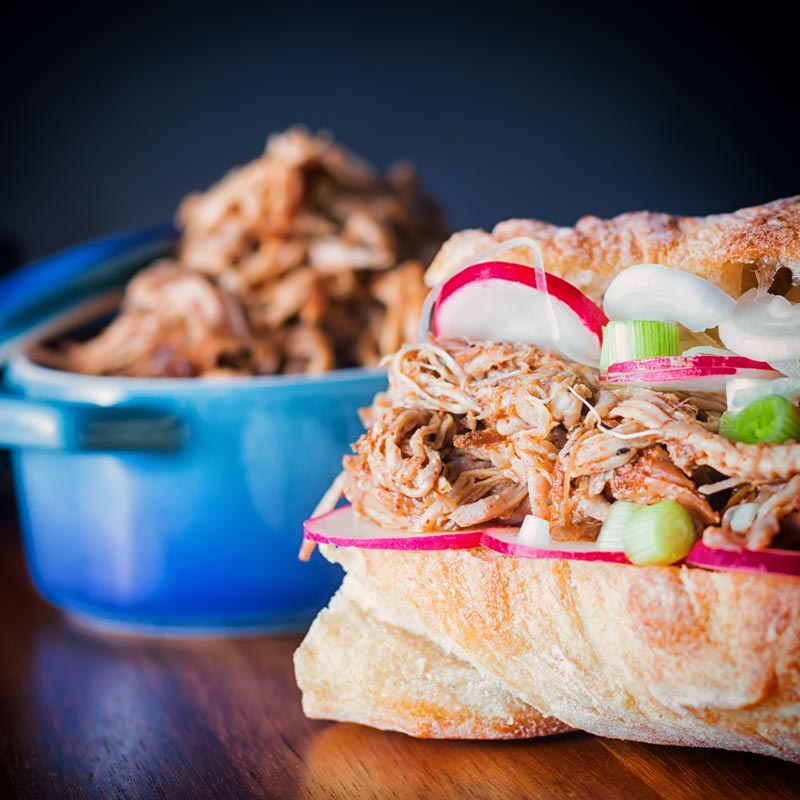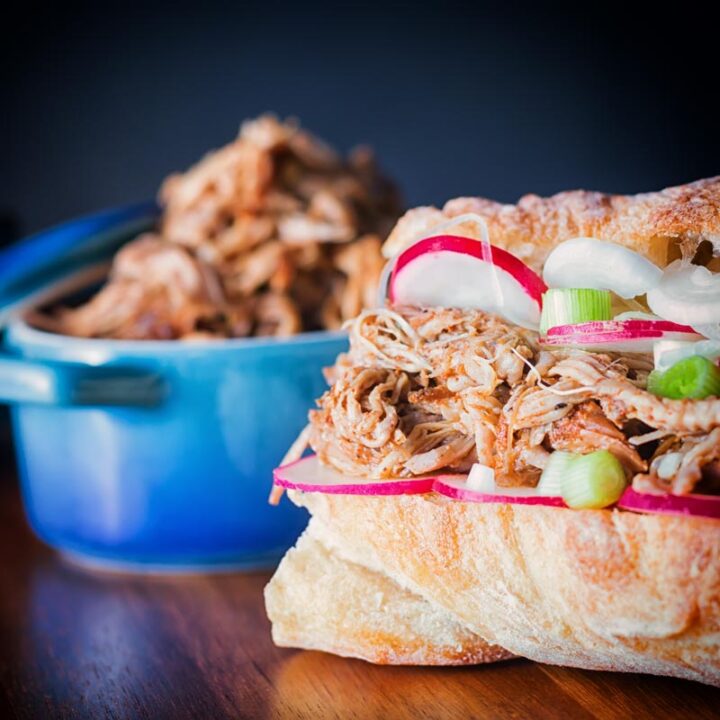 Slow Cooker Pulled Pork
Total Time:
8 hours
10 minutes
Pulled pork is a fantastic thing, I personally prefer a slow cooker pulled pork and this is my recipe., simple and requiring just 10 minutes of your time before walking away and letting the crock pot take the strain.
Ingredients
2 kg Pork Shoulder
2 Tbsp Cider Apple Vinegar
3 Tsp Black Pepper
2 Tsp Spicy Paprika
1 Tbsp Carraway Seeds, Ground
2 Tbsp Sweet Paprika
1 Tbsp Dried Oregano
2 Tbsp Brown Sugar
1 Tbsp Coarse Sea Salt
1 Tsp Garlic Powder
For the Pulled Pork Sandwich
Ciabatta Style Loaf, But use your bread of choice
Radish, Finely sliced
Sauerkraut
Salad Onions
Instructions
Take all of the ingredients with the exception of the vinegar and mix together and then rub thoroughly into the pork shoulder.
Place the shoulder and any remaining rub into a large bag seal and set aside in the refrigerator over night.
The following day, place the pork in an oiled slow cooker on low (pre-heated depending on your model), add the vinegar and cook it for 8 hours.
When your time is up remove the pork from the slow cooker and shred with a couple of forks.
Depending on your pork you may want to remove some of the fat from the 'sauce' left in the bottom of the pot. Hungarian pork is butchered at a much older age so is typically fattier than the pork I was used to growing up with.
Return the pork to the pot and stir.
For the Pulled Pork Sandwich
Not sure what to say here you have seen my ingredients, but go to town... But pickles and the peppery nature of radish work so well against the soft and fragrant pulled pork.
Nutrition Information:
Yield:

8
Serving Size:

1
Amount Per Serving:
Calories:

1024
Total Fat:

57g
Saturated Fat:

20g
Trans Fat:

0g
Unsaturated Fat:

31g
Cholesterol:

225mg
Sodium:

1648mg
Carbohydrates:

56g
Fiber:

5g
Sugar:

10g
Protein:

68g
Calorific details are provided by a third-party application and are to be used as indicative figures only.