Wild boar is a fantastically underused meat that makes the most wonderful autumn or winter meal, this wild boar stew really showcases its flavour!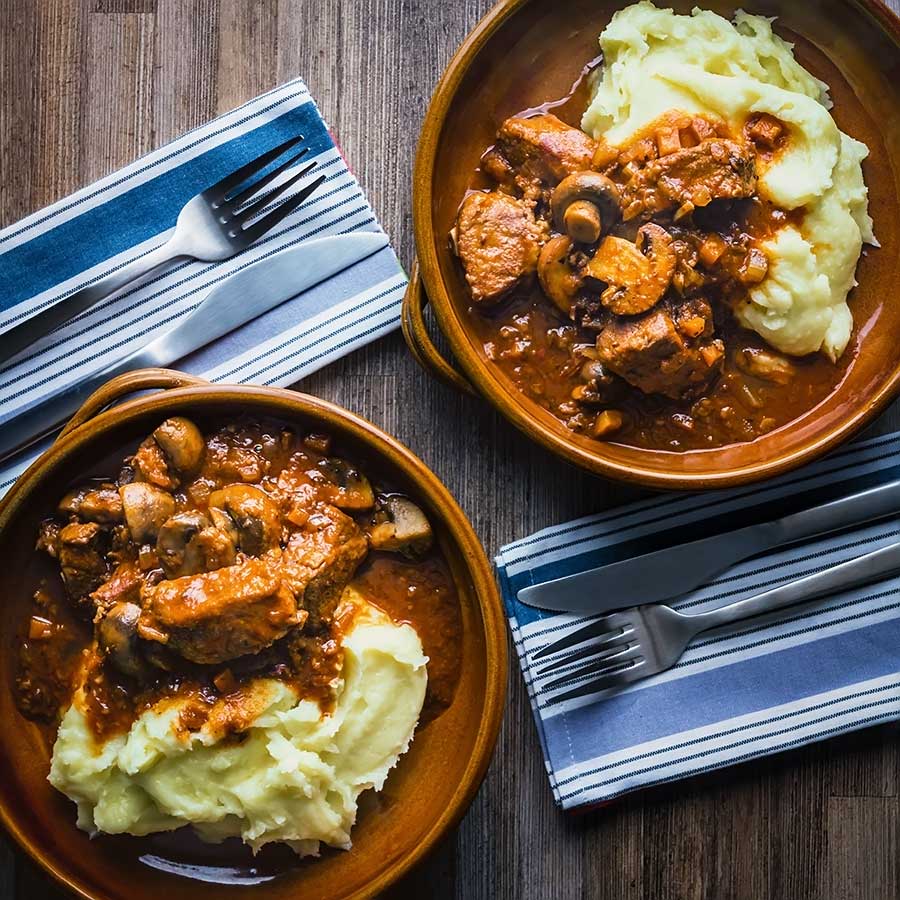 Slow Cooker Wild Boar Stew.
We get access to some wonderful game out here in the Hungarian countryside. This wild boar stew is one of my very favourite Autumn and Winter stews.
I have been a little reluctant to post game or offal here as I know they are not exactly the most popular or even easiest cuts of meat to get your hands on.
However, you have all been here a while now and know that I am not one of those weirdo Bear Grills (is that even his name) type of cooks.
I am definitely a cook that loves to cook with game, pheasant, rabbit, deer and wild boar are all tops of my 'nom nom' list. So here is my first foray here on Krumpli into the world of game cooking a wild boar stew with mushrooms.
Now don't worry if game aint your game or you struggle to find it. I make this exact same dish with shin of beef.
The only difference is I cook it for a couple of hours longer in the slow cooker and it rocks!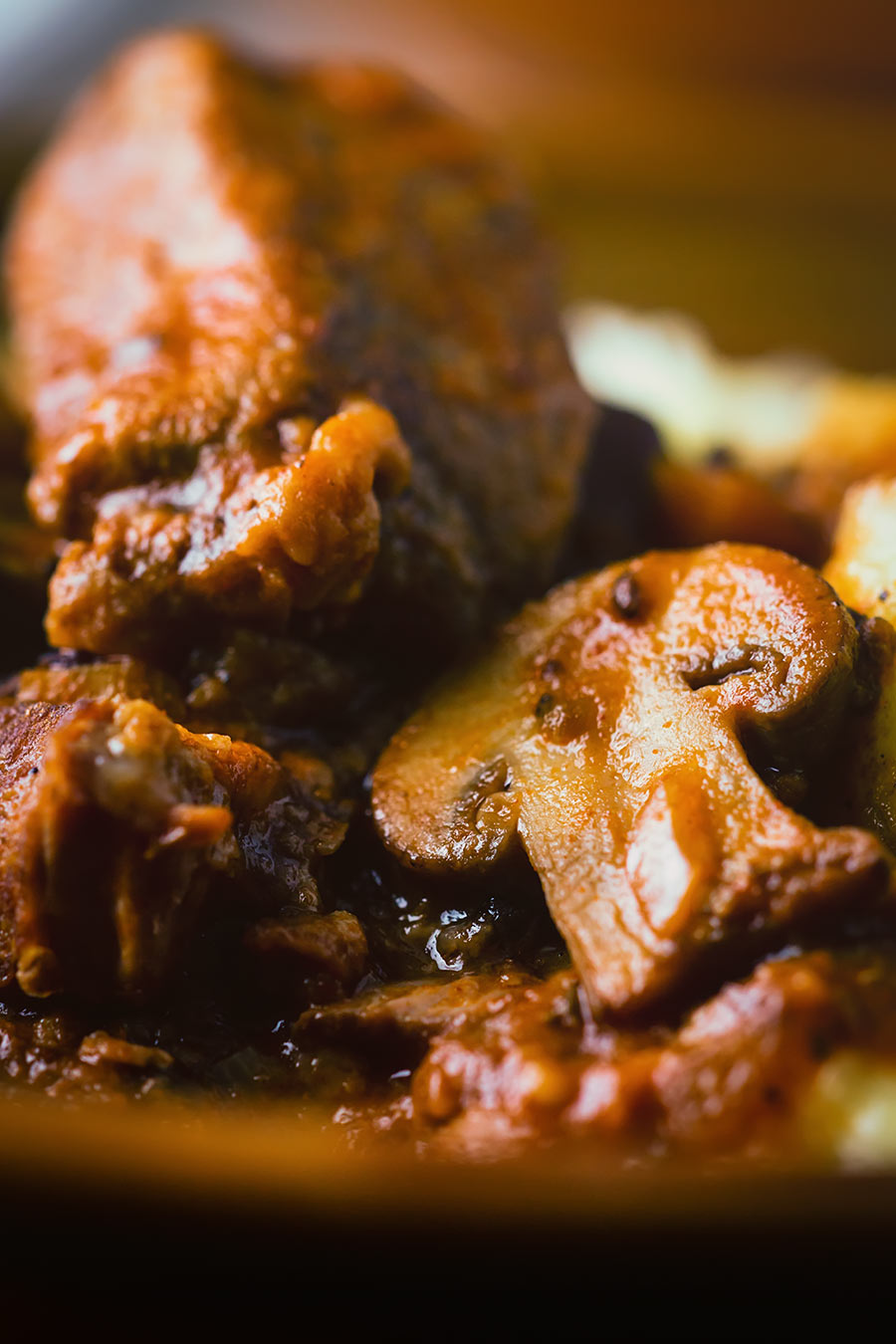 What Does Wild Boar Taste Like?
Well, the simple answer is, erm… Wild Boar.
If you are expecting pork then you will be surprised. I guess the closest I can think of is a cross between pork and beef.
Wild boar has very little fat and I love to slow cook it, I have tried faster cooking and it has not quite worked out.
In order to cook wild boar quickly, you need to score the meat of a younger boar which is difficult guarantee with wild meat.
This wild boar stew cooked in the slow cooker works perfectly.
The meat is fork-tender, aint no need for a knife with this bad boy. In all fairness, there is little need for chewing it just kinda melts but still has a texture.
I only wish that I could get my hands on some fresh or even dried porcini mushrooms but that is not to be out here. Using chestnut mushrooms works an absolute treat.
The perfect side for this stew is some creamy mashed potato.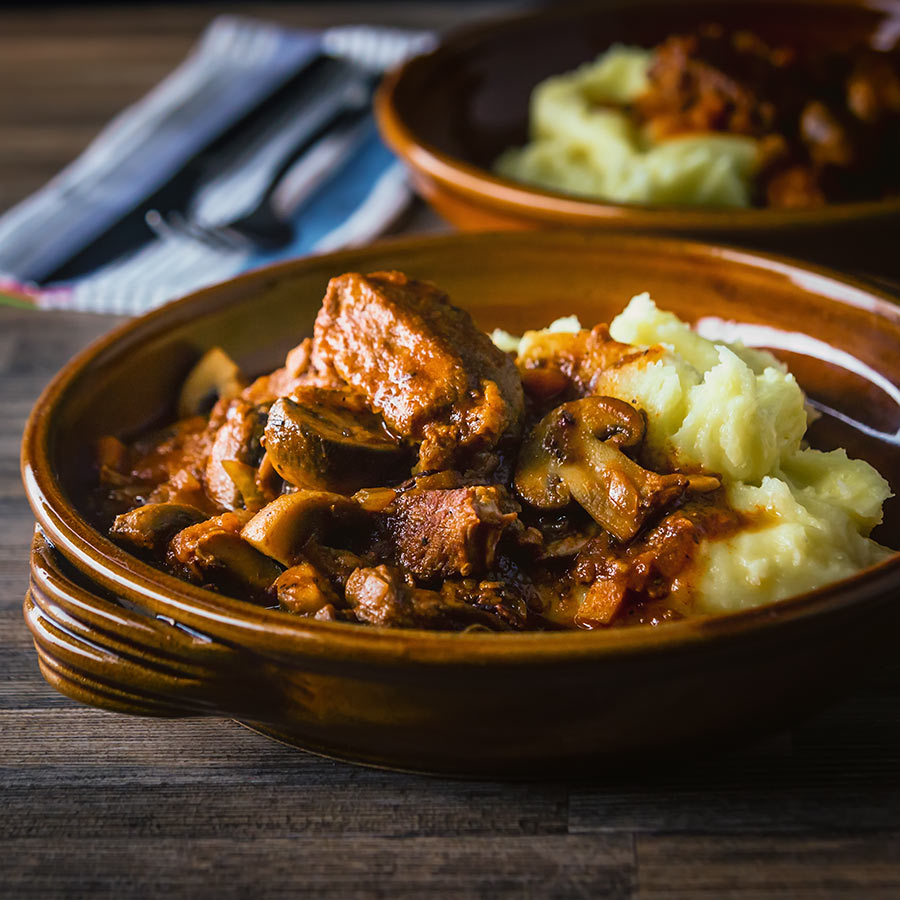 Regional Stew Recipes.
This wild boar stew is definitely influenced by where I live.
Stews in the UK tend to be very vegetable heavy like my British Beef Stew with Dumplings.
This however, has much more in common with a Hungarian pörkölt a slow-cooked meat dish made from frugal cuts of meat. Generally cooked long and slow with a thick heavy sauce.
Definitely a dish I will be sharing with you at some point in time over winter.
Many of the flavour profiles in this dish are full on Hungarian pörkölt or gulyás. Everything from the caraway to the paprika through to the tomatoes and the wine.
In fact, a good trick if you are using beef in this recipe, particularly shin of beef would be to marinade the beef in the wine overnight.
It really adds the most incredible 'something' to the dish!
Alongside a great stew wild boar makes wonderful sausages!
It is often found as the core ingredient in things like salami but also makes the most incredible linked sausage.
But it also makes the most wonderful Italian style ragu to serve with pasta.
The French call Wild Boar Sanglier and it pops up all over French menus. This roasted whole leg of boar definitely needs to make it to my table real soon!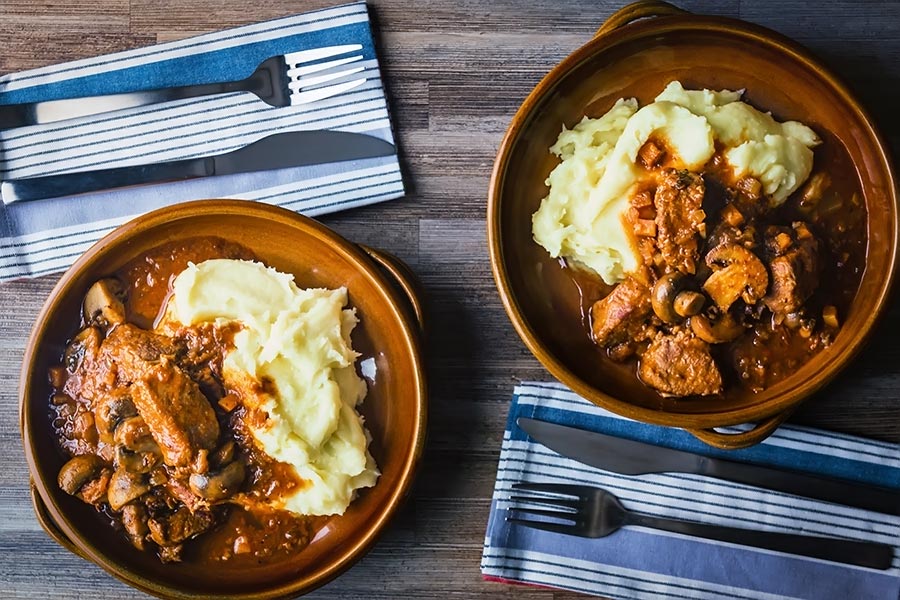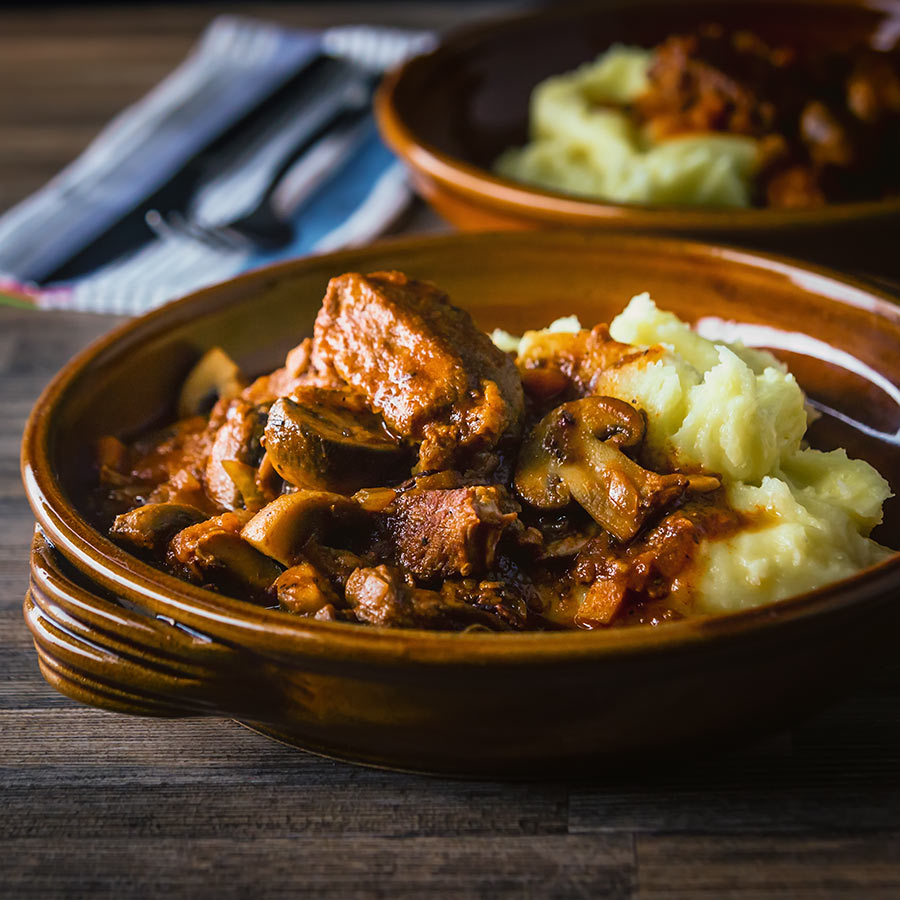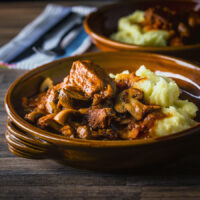 Slow Cooker Wild Boar Stew with Mushrooms
Total Time:
6 hours
30 minutes
Wild boar is a fantastically underused meat that makes the most wonderful autumn or winter meal, this wild boar stew really show cases its flavour!
Ingredients
500 g Wild Boar, Trimmed and cut into a 2cm dice
2 Tbsp Flour
1/2 Tsp Salt
1/2 Tsp Freshly Ground Black Pepper
3 Tbsp Cooking Oil, Neutral
50 g Celery, Finely diced 3-5mm Dice
75 g Carrot, Finely diced 3-5mm Dice
200 g Onion, Finely diced 3-5mm Dice
5 Cloves Garlic, Sliced
250 ml Red Wine
100 g Smoked Streaky Bacon, Cut into 2mm batons
1 Tbsp Caraway Seeds
250 ml Tomato Passata
200 g Tomatoes, Cut into quarters
2 Bay Leaves
1 Tbsp Dried Marjoram
2 Tbsp Sweet Paprika
250 g Mushrooms, Cut in half or bit sized pieces
50 g Butter
Instructions
Add the carrot,celery and onion to the slow cooker.
Heat a frying pan over a medium heat and fry off the bacon until crispy.
Transfer to the slow cooker ensuring you keep the fat in the pan as much as you can.
Season the wild boar with salt and pepper and then add the flour and mix to coat.
Now brown the meat in the pan in batches and transfer to the slow cooker.
Throw in the garlic to the pan and cook for 60 seconds before adding the red wine and reducing by 2/3rds.
Pour in the tomato passata, tomatoes, caraway seeds, bay leaves and marjoram and bring to a boil before adding to the slow cooker.
Sprinkle in the paprika and stir before adding 250ml of cold water and stirring and leaving to cook for 6 hours.
30 minutes before serving saute off the mushrooms in the butter and add them to the slow cooker.
Notes
I like to serve with some buttery mashed potato, because mashed potato duh!
Nutrition Information:
Yield:

4
Serving Size:

1
Amount Per Serving:
Calories:

455
Total Fat:

31g
Saturated Fat:

10g
Trans Fat:

1g
Unsaturated Fat:

19g
Cholesterol:

52mg
Sodium:

828mg
Carbohydrates:

24g
Fiber:

6g
Sugar:

8g
Protein:

13g
Calorific details are provided by a third-party application and are to be used as indicative figures only.