This wonderfully filling salad utilises a much-underused meat, smoked pork loin, wonderfully tender, smokey, perfect alongside the honey and mustard dressing.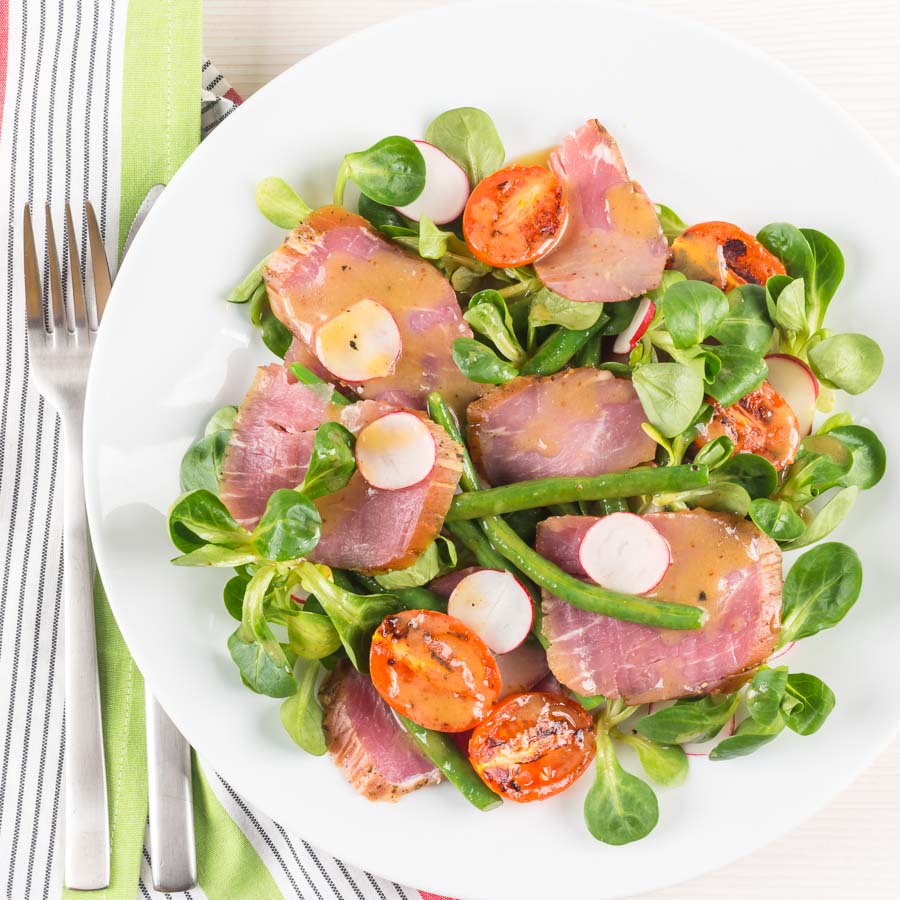 You Need Smoked Pork Tenderloin In Your Life!
Smoked pork loin is an ingredient I don't see very often when floating around the internet. But it is one that I see all the time here in stores.
I have been using this smoked pork tenderloin as the meat element in salads for a few years. I love it, it has a smoky tinge as you would expect and the most wonderful texture.
For this reason I find it stands together much better in a salad than your normal sliced ham.
Sure as an ingredient it is fairly expensive but a little bit goes a long way.
You do need to ensure that you buy hot smoked pork loin though for this recipe. Cold smoked pork loin needs cooking!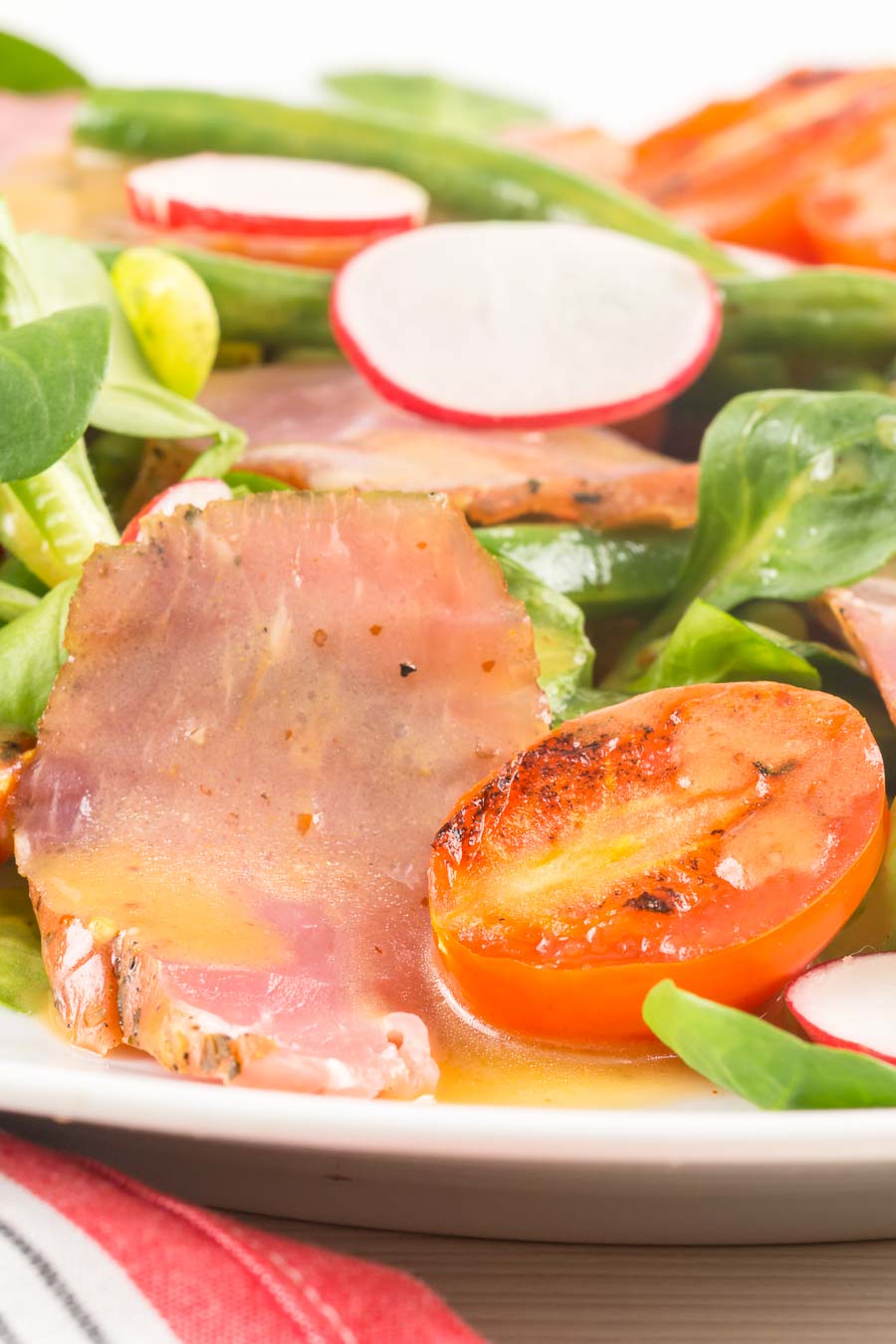 Smoked Pork Loin Salad.
This smoked pork loin salad is a really simple collection of spring flavours that unquestionably work really well together.
Green beans and early season cherry tomatoes join the gloriously peppery radishes in this pork salad.
Whenever you are using simple ingredients it is really important to make sure you really optimise the opportunity to add flavour.
As a result simple but often overlooked process of seasoning and searing the tomatoes and putting the hot beans into the dressing really make a huge difference. Particularly given that we are using early season tomatoes here which inherently have less flavour.
All great salad salads need a good dressing and the honey mustard dressing here gets a helping hand. The combination of balsamic vinegar and apple cider vinegar is the perfect combination set against the smokey pork.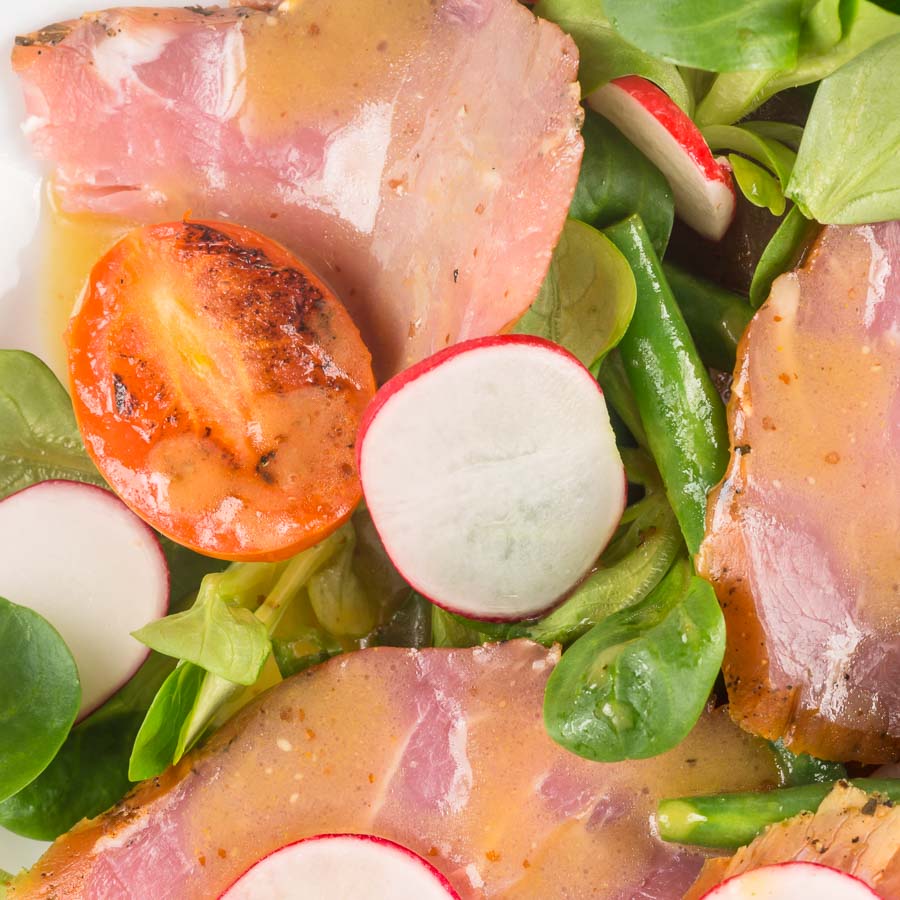 Salads Aint Boring!
It took over 18 months for me to add salads to my site. not because I do not like them but because I never really thought they would be popular with readers. I was of course completely wrong… I know, how on earth could that happen?
In fact, some of my salad musings have been the most popular summer posts.
Surprisingly (maybe) my spring ham hock salad from last year is personally my favourite recipe on my site. Not just for the way it looks but also for the way it tastes. But also because it has puffed pork crackling on it, teehee!
I'm pretty sure there is some unwritten rule about food bloggers not declaring their favourite recipes, a bit like parents and children… But admit it you all you parents secretly have a favourite child.
Anyway the point being that salads are not about flaccid lettuce and tasteless tomatoes.
The devil is in detail as with all cooking.
Those little details add up to salads being anything other than boring.
So go ahead hunt down some smoked pork tenderloin and fill your boots, or bellies, what ever works for you!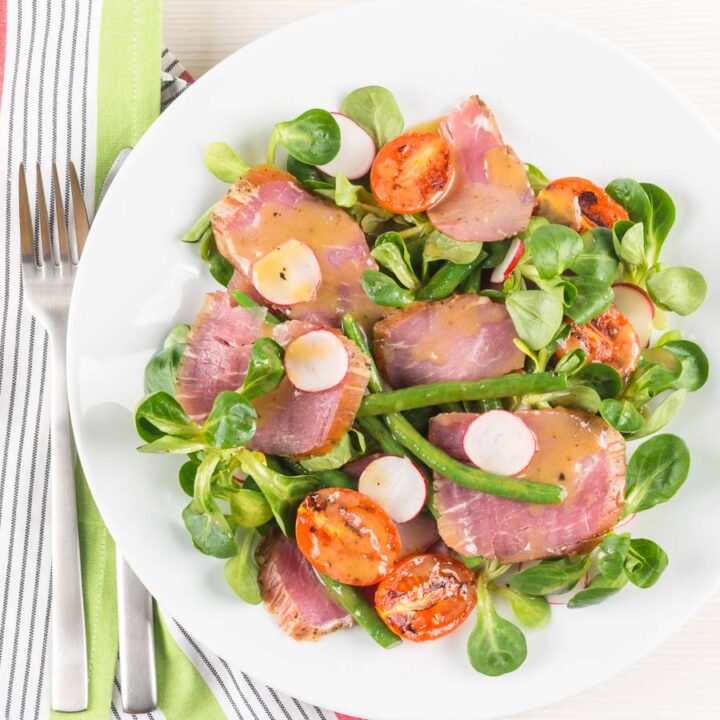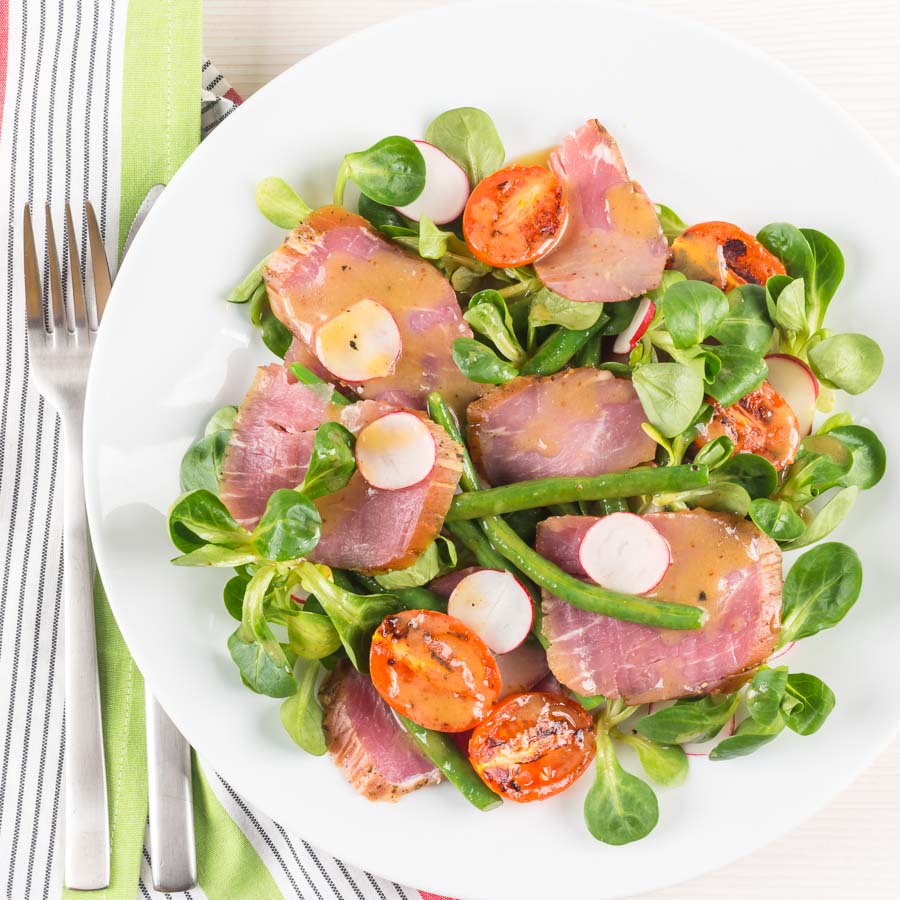 Yield:

2 Servings
Smoked Pork Loin Salad
This wonderfully filling salad utilises a much underused product, smoked pork loin, wonderfully tender, smokey and perfect along side the honey and mustard dressing.
Ingredients
250 g Smoked Pork Loin
200 g Green Beans
150 g Cherry Tomatoes
50 g Radishes
75 g Lambs Lettuce
1/2 Tbsp Dijon Mustard
1/2 Tbsp Honey
1/2 Tsp Balsamic Vinegar
1 Tbsp Cider Vinegar
50 ml Rapeseed Oil
Salt and Pepper
Instructions
Begin by bringing a pan of salted water to the boil and heat a large nonstick frying pan over a medium high heat.
Afterwards prepare the dressing by mixing together all of the ingredients and whisking adding salt and pepper to suit your tastes.
Begin slicing the pork, tomatoes and radishes and topping and tailing your green beans.
By now your frying pan should be hot so season the cut side of the tomatoes with salt and pepper and add cut side down to the pan and sear for 2 minutes.
Drop the green beans in the salted water and boil for 3 minutes.
Drain off your beans and whilst hot drizzle with some of the dressing.
Now dress the lambs lettuce and build your salad and add a final drizzle of dressing when plated.
Nutrition Information:
Yield:
2
Serving Size:
1
Amount Per Serving:
Calories:

527
Total Fat:

35g
Saturated Fat:

5g
Trans Fat:

0g
Unsaturated Fat:

27g
Cholesterol:

100mg
Sodium:

323mg
Carbohydrates:

18g
Fiber:

5g
Sugar:

11g
Protein:

37g