An indulgent and wonderfully rich alternative for roasting a Leg of Lamb.
As I mentioned in my Pork Pie recipe there are some foods that I miss greatly since my move to Hungary and lamb is right at the top of that list, couple that to my love of spice then what could be better than Smothered Indian Roast Lamb? It is not like sheep are not bred here but rather that and 'sheep' eaten tends to be mutton and not widely available, I am also sure that there is an awful lot of lamb produced but it is all exported as it will almost certainly achieve a higher price elsewhere in Europe than it will here. So I was very excited to have an opportunity some time ago to source some great quality lamb, I know the beasts were well looked after and fed well as they belonged to a neighbour and were constantly breaking out of their 'compound' and strolling down the street 🙂 Home butchery is relatively common out here and I have been known to butcher the occasional duck, goose and chicken, it really is not a nice job however witnessing and or butchering animals has certainly given me much more respect for meat, how it is treated and where it comes from and has certainly reduced my overall intake of meat. But as today is Easter Sunday have lamb in the freezer I figured I would treat myself and my wife to a slow roast leg of Lamb!
Now there are a whole host of things you can do with a Leg of Lamb all of which are beautiful, but as a 'Brit' there is a cuisine that is very close to my heart, Indian… I suppose that sounds very odd to folk from some parts of the world, but Britain and India have a longstanding, all be it occasionally fractious relationship, added to that significant migration from India to the UK that really took off in the sixties you end up with a British food scene that has massive Indian influences! It is just food I grew up with, having said that I was not particularly knowledgeable and in many ways still am not, but thanks to some very generous interwebby folk and a significant collection of books then my ability to produce Indian inspired food has really improved.
Naturally my well stocked spice collection is not easily come by here in the East of Hungary, fortunately there are a few Asian stores in Budapest some 160km away. Such is our love of Asian food that we make the trip to Budapest every few months to stock up on our precious stock of spices, as we no longer drive this involves a lengthy train journey, a night in a hotel and an evening on the tiles in what I consider to be one of the most beautiful cities in the world… It's a tough life but someone has to do it!
Todays offering of Smothered Indian Roast Lamb is a variation on a Rik Stein recipe from his Indian adventure, a book that provides me with the starting point for a load of scrumptious recipes I served this with some cumin roast potatoes and some carrots glazed in butter and sugar, purposely very simple as I have a very exciting plan for the left overs tomorrow, watch this space!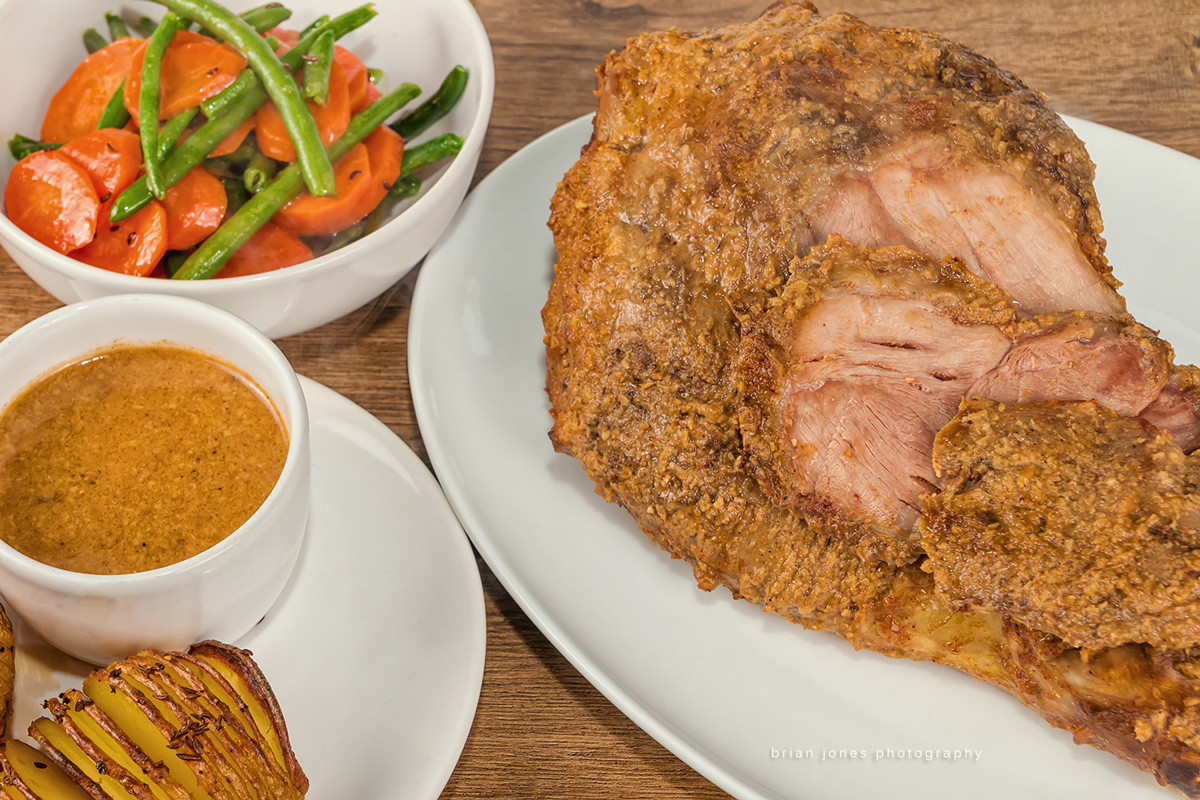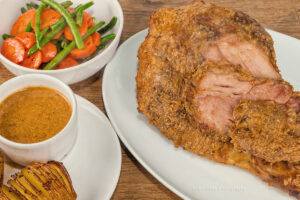 Smothered Indian Leg O' Lamb
An indulgent and wonderfully rich alternative for roasting a Leg of Lamb.
Total Time
4
hours
45
minutes
Ingredients
1.8

kg

Leg of Lamb

Bone in

2

Onions
For The Marinade
1

Tbsp

Cooking Oil

Neutral

250

g

Onions

Finely sliced

50

g

Ginger

Roughly chopped

50

g

Garlic

Roughly chopped

75

g

Cashew Nuts

75

g

Fresh Coconut

Roughly chopped

3

Tbsp

Red Wine Vinegar

250

g

Natural Yoghurt

2

Tbsp

Garam Masala

(please take time to make your own it really is easy and much better than anything you can buy)

4

Tsp

Kashmiri Chili Powder

Vary this as you wish

1

Tsp

Salt
Instructions
Cook the onions in the Sunflower oil until they have taken on a similar colour to the colour you would want on onions for your burger about 15 minutes.

Add the remainder of the ingredients for the marinade into a food processor and blend to a paste.

Make lots of shallow cuts (25mm) into the Leg of Lamb, I find a stabbing motion very therapeutic although maybe a little psychotic and then begin to massage in the marinade pushing it into the cuts.

Then place the lamb into a large bag with the rest of the marinade and let sit for a couple of hours.

Preheat an oven to 150°c and slice 2 onions in half and place cut side down on a roasting tray and use as a 'trivet' to hold the lamb out of the marinade.

Add the remainder of the Marinade with 200ml water, cover with tin foil and place in the oven.

Baste with the juices every 30 minutes and cook for as long as you want, I used a meat thermometer to aim for the upper end of a medium finish as it will work better for my left over plan for tomorrow. Internal temperature 67°c but please cook it to they way you like your lamb, if I was planning to eat on the day I would have cooked it to a lower temperature.

Leave to rest for a minimum of 15 minutes but it will be better left for 30 minutes.