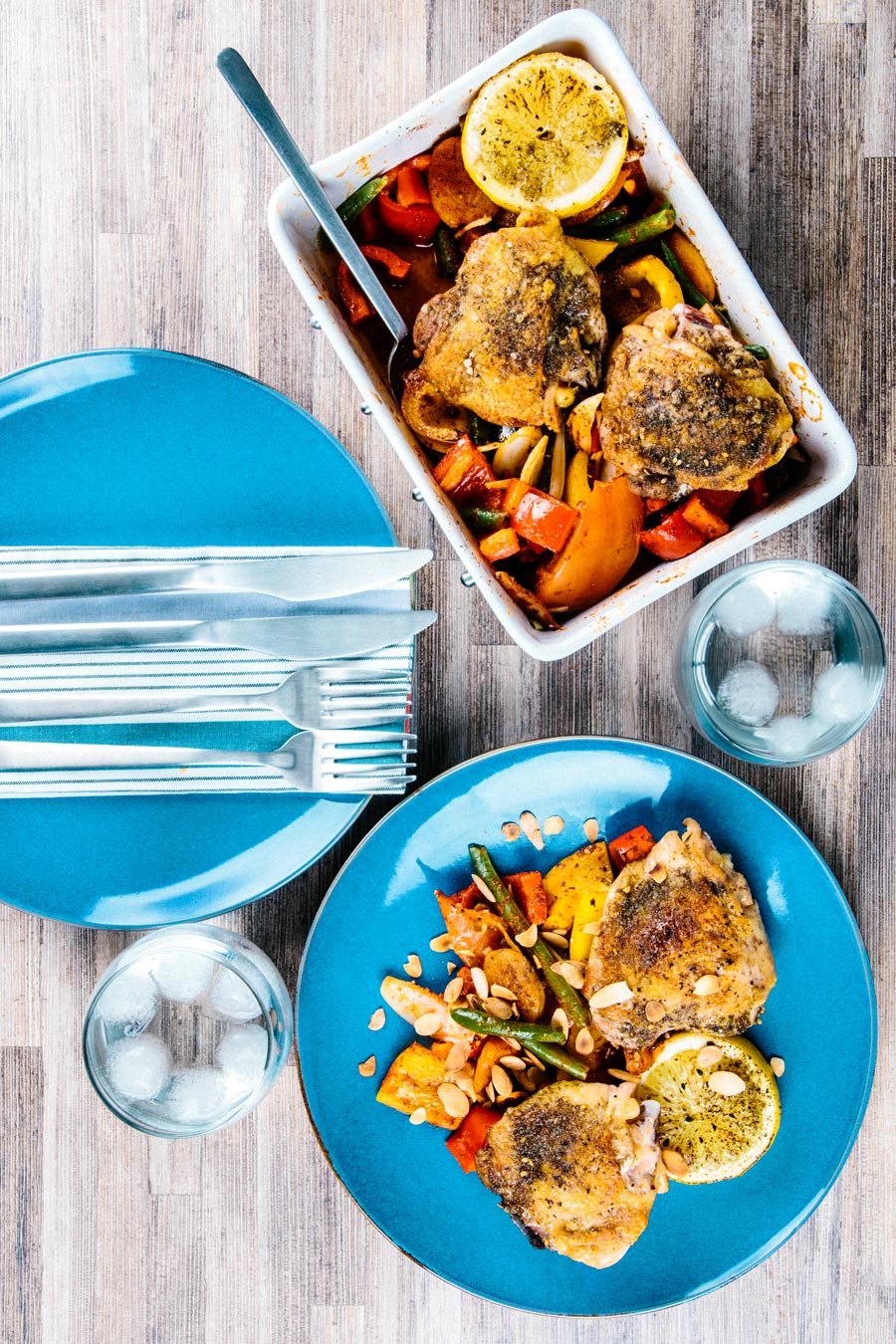 Woohoo it is March later this week, consequently that means spring is closer and that the colours in this Spiced Baked Bell Pepper Chicken recipe will be a little less forced. Secondly it means that we will be welcoming our fist visitors of the year, my Mother in Law and I celebrate another Birthday.
It also means that we break our hibernation and we once again commence our pitched battle with mother nature in other words we begin to plant our crops for 2018. I have to confess that we did not check the calendar when we set this date because we did not realise how early Easter fell this year and as such we really are keeping our fingers crossed for good weather!
In truth this recipe was definitely developed for dinner in just in case the weather does not play ball.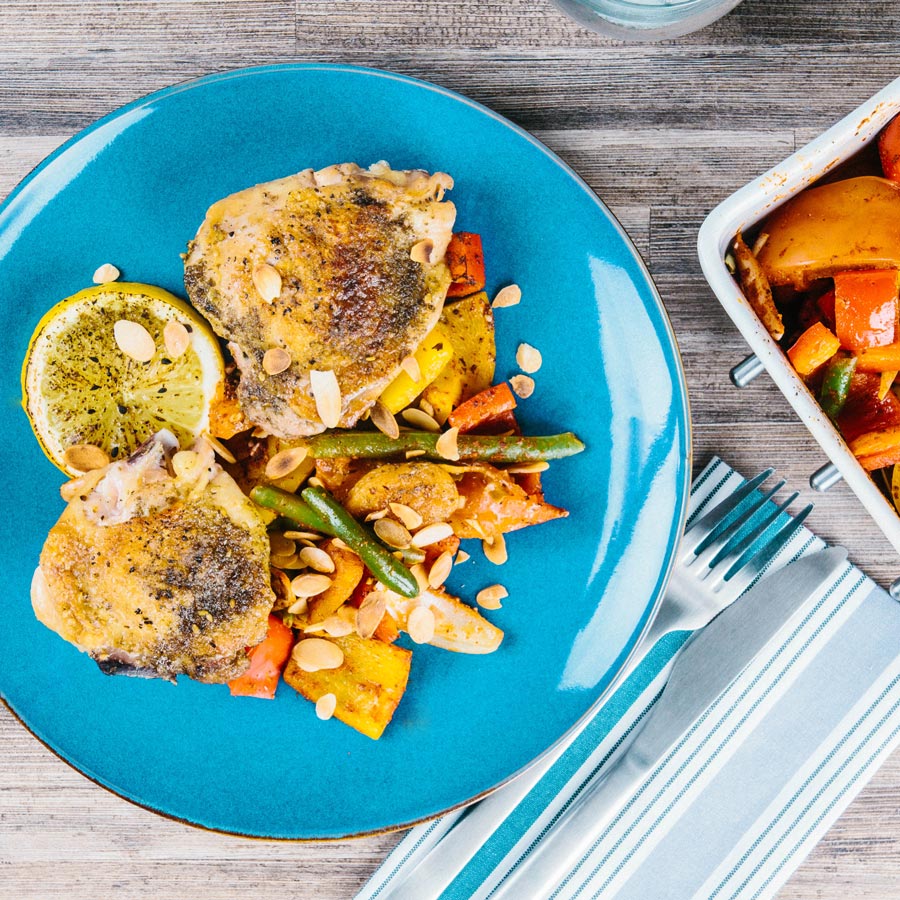 As can be seen this pepper chicken dish is definitely loaded with many North African flavours that I have been so keen on this winter. I've been cooking with za'atar and sumac for what feels like an age, but surprisingly I had never heard of either when I left the UK 10 years ago.
Unsurprisingly this dish is super simple, chuck it all in a dish, sear the chicken thighs and chuck it in the oven and grab a glass of something you fancy. In many ways this recipe shares many ideas in common with my za'atar chicken but it has been scaled back with my Mother in Law in mind.
Even though it is my Mother in Law visiting it does not mean that our consumption of 'a glass of something you fancy' goes down… In fact it probably goes up, A LOT!
Consequently I am slowly building up my tolerance and getting in a bit of boozing practice this month, it would be rude not to, right?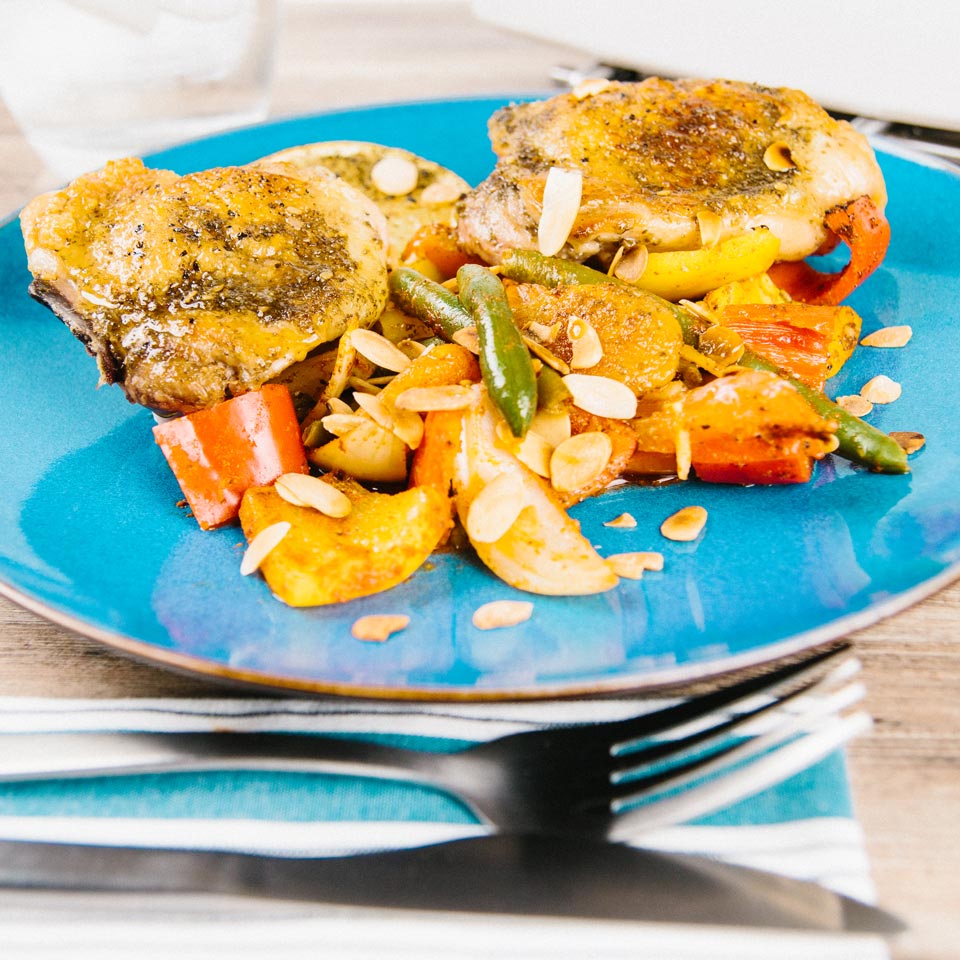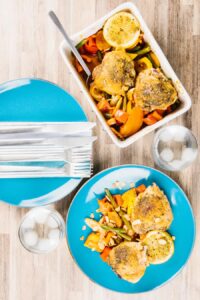 Spiced Baked Bell Pepper Chicken
This spiced baked bell pepper chicken is so easy it hurts and is packed with North African and Persian flavours providing a ray of winter sunshine!
Ingredients
200

g

Bell Pepper

Diced into 2cm cubes, I went for red and yellow but what ever you like

50

g

Onion

Cut into wedges

120

g

Tomatoes

Deseeded

1

Lemon

cut 2 fat slices around 1 cm thick

1

Chili

Diced

20

g

Ginger

Cut into thin matchsticks

75

g

Green Beans

Frozen is fine

100

g

Dried Apricots

1/2

Tsp

Cumin

1/2

Tsp

Sumac

1

Tsp

Paprika

1

Tbsp

Olive Oil

4

Chicken Thighs

Go for something small (around 600g in total) one in and skin on

1

Tsp

Zaatar
Instructions
To begin with take all of the chopped vegetables and dried apricots with the exception of the lemon and layer in a casserole dish.

Afterwards mix the cumin, sumac and paprika with a good pinch of salt and pepper and then use this to season the vegetables.

Heat a frying pan over a medium high heat and then add the olive oil and sear off the skin side of the chicken thighs which have been seasoned with salt and pepper until they are golden on both sides.

Pour the oil from the chicken thighs over the vegetables and then nestle in the thighs and then the lemon slices in the same way.

Sprinkle with the zaatar and then bake in the oven at 180C or 350F for 40 minutes (this will very much depend on the size of your thighs... Well when I say your thighs I mean your chicken thighs of course!
[/fusion_text][/fusion_builder_column][/fusion_builder_row][/fusion_builder_container]