This spicy bean burger features a mix of beans and lentils with a spicy fiery kick with a quick and easy sweet and salty peach chutney!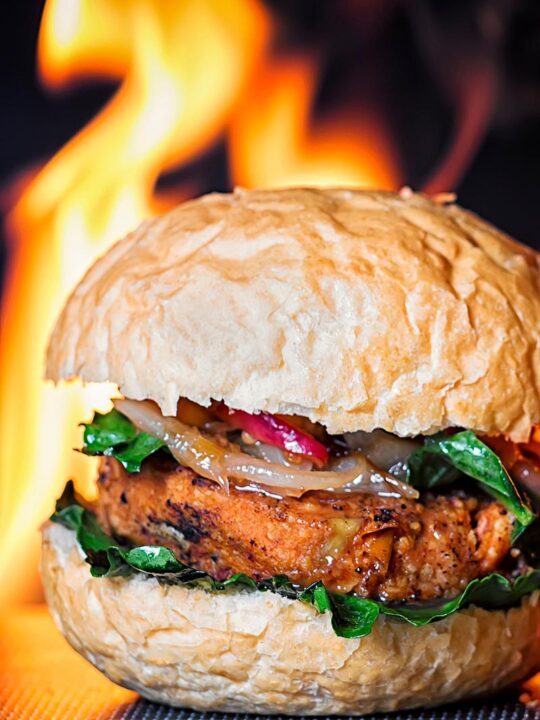 The Perfect Veggie Burgers
Most veggie burgers I have eaten fall into one of two categories, a soggy mushy mess or a dry slab of polystyrene. Unless of course, they are halloumi burgers, which always have a great texture!
Now most of them have been very tasty, just texturally disappointing!
For me, texture in food is just as important as flavour and aroma.
You have to tread a fine line to get the texture right. My 'secret' to achieving this with these bean burgers is adding uncooked couscous whilst the bean 'mix' is still warm.
It helps to draw out some of the moisture from the beans and lentils but still allows them to hang together.
The couscous almost 'cooks' in the moisture and steam from the pattie mix but gives it all back when you bite into the burger.
I use white beans in this recipe but you could replace them with black beans or even kidney beans if you like.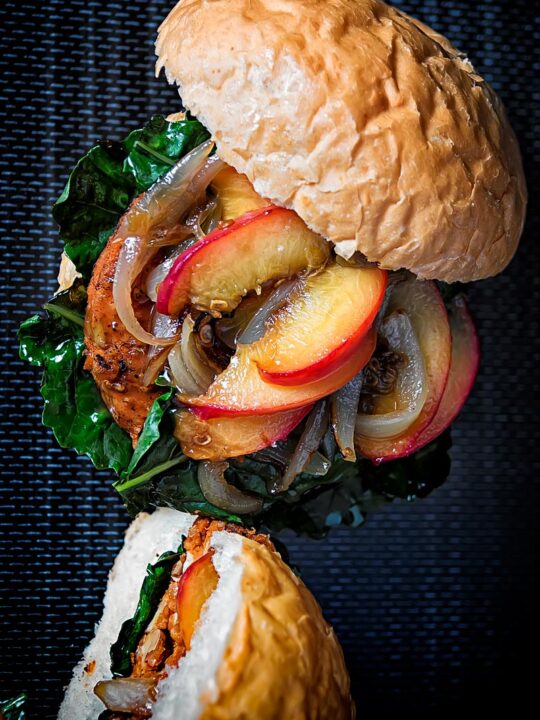 The Toppings.
A burger recipe always lives and dies on its toppings and this one is no different.
Whilst I have a few 'traditional' toppings for burgers on my site I love to play with different ideas.
I always aim for sweet, salty, sour and often spicy.
The toppings on my Indian Lamb Burger, jerk chicken burger and shredded duck burger with a cherry chutney are both examples of this.
This recipe goes Asian using honey, mirin and soy sauce to achieve that flavour profile.
It is really quick to make and goes superbly with the burgers, it is also a recipe I have used on all sorts of sandwiches.
An alternative topping for this spicy bean burger that would work well is this lightly spiced onion marmalade.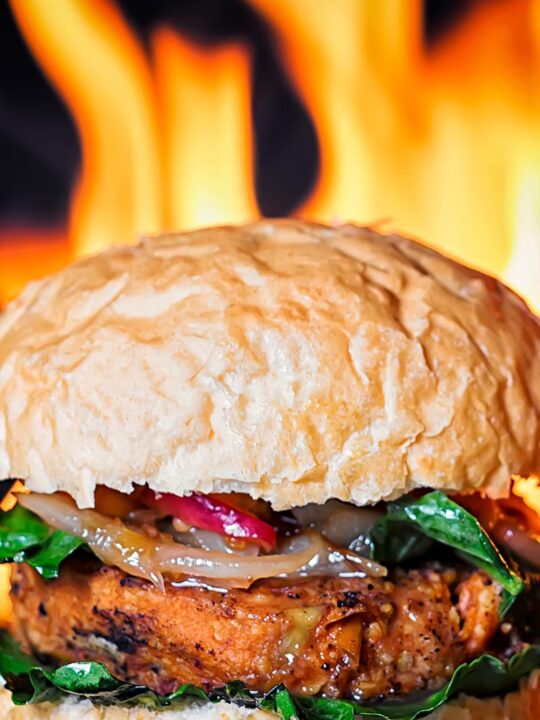 Alternative Cooking Options.
Unlike a "meat" burger, all of the ingredients are already cooked.
As a result, we do not need to cook in a conventional sense.
We need to get the pattie hot all of the way through and get a nice caramelisation on the outside.
If you are cooking on a BBQ then you should ensure that the heat is not too high. There is no "fat" in the recipe to prevent the parties from scorching.
It is also a little more fragile than a meat pattie so you do need to be careful when flipping your bean burger.
I usually begin by placing the pattie on the indirect heat and close the lid for 5 minutes. Then move to the direct heat just before it is ready to add colour and a bit of BBQ flavour.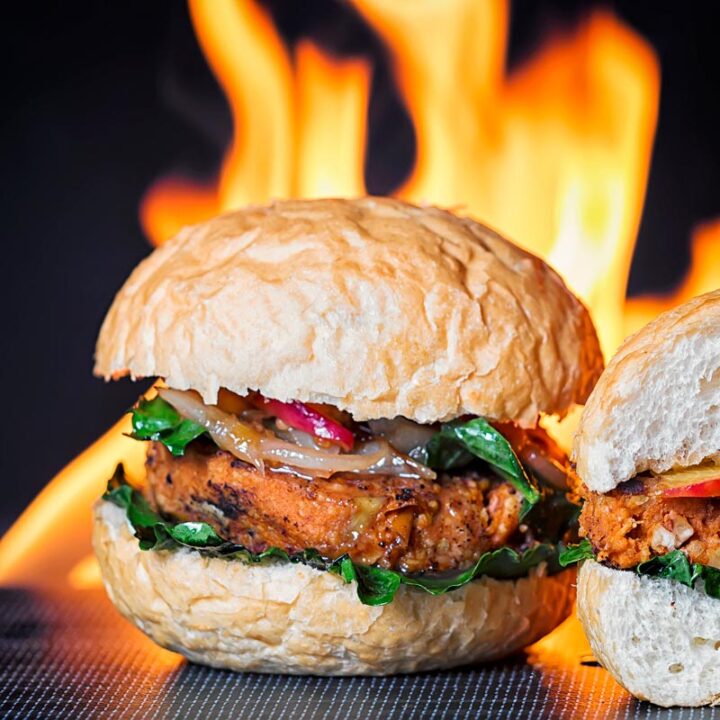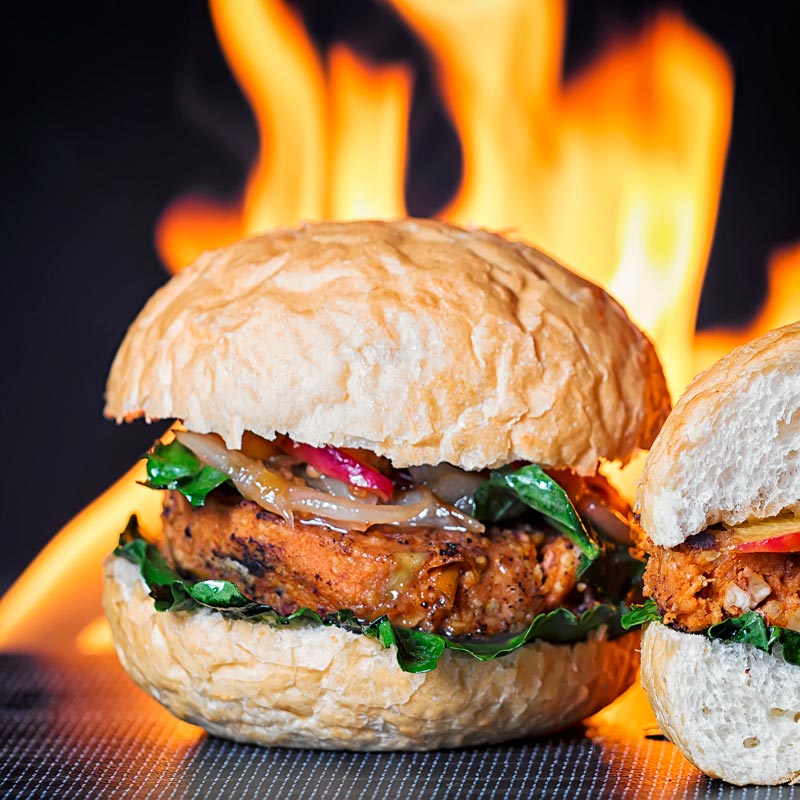 Yield:

4 Burgers
Spicy Bean Burger Recipe
Total Time:
1 hour
40 minutes
These spicy bean burgers are not just for the vegetarians, a wholesome mix of beans and lentils with a spicy chilli kick served with an Asian inspired sweet peach chutney!
Ingredients
For the Pattie
150 g (2 Cups) Cooked White Beans
150 g (3/4 Cup) Red Lentils
150 g (1 Cup) Onion
1 Tbsp Sweet Paprika
5 Pickled Chilli Peppers
75 g (3/4 Cup) Walnuts
50 g (1/4 Cup) Couscous
1 Tbsp Oil
Salt, To taste
Black Pepper, To taste
4 Burger Buns
For the Topping
2 Peaches
2 Small Onions
1 Tbsp Honey
1 Tbsp Light Soy Sauce
2 Tbsp Mirin
2 Pickled Chilli Peppers
Instructions
For the Patties
If using dried beans soak them over night and then cook in boiling water until cooked (1-2 hours depending on type of bean).
Cook the lentils in boiling unsalted water so that the finish at the same time as the beans, these will take around 20 minutes.
Finely dice the onion and fry until golden brown the oil.
Combine the beans with half of the lentils and blitz to a paste using a food processor.
Chop the pickled chilli and walnuts.
Add the cooked onion, pickled chilli, walnuts, remaining lentils and paprika to the paste and mix.
When the mix is thoroughly incorporated add in the uncooked couscous, it is important to do this when the mix is still hot.
You should taste test at this point for seasoning. Be prepared to add quite a lot of salt as none of the grains or pulses have been seasoned as ye!t
Form into 4 patties around 150g (5oz) in size.
Wrap them in cling film and refrigerate to firm up for an hour.
Finally, fry the burgers over a high heat until hot all of the way through.
This should take 2 minutes over per side.
For the Chutney
Cut the onions for the chutney into 8 segments.
Remove the seed from the peaches and again cut into 8 segments.
Heat 1 tbsp of oil in a searing hot pan and throw in the onions fry for 2-3 minutes, you are aiming to get a nice caramel dark edges.
Add the peaches and a pinch of salt and stir fry for one minute.
Then add the chillies and fry for a further minute.
Finally add the honey, soy and mirin and boil for just a minute and it is ready
Build your Burger
Choose your bun, add some salad leaves to the bottom bun. I used some baby kale that we have growing in our garden and flash-fried it for 30 seconds, but sorrel or spinach would work really well
Add your burger and top with a little more green stuff.
Then generously heap on the chutney and you are good to go.
Nutrition Information:
Yield:
4
Serving Size:
1
Amount Per Serving:
Calories:

528
Total Fat:

19g
Saturated Fat:

2g
Trans Fat:

0g
Unsaturated Fat:

15g
Cholesterol:

0mg
Sodium:

744mg
Carbohydrates:

76g
Fiber:

12g
Sugar:

25g
Protein:

19g
Calorific details are provided by a third-party application and are to be used as indicative figures only.